Since its founding in 2008, Time4Writing has helped thousands of elementary, middle and high school students improve their writing through various online courses.
With classes ranging from general grammar to more advanced mechanics to formal essay writing, many parents, unsure about their own ability to objectively evaluate their child's writing, found great success with Time4Writing.
While the program has become something of a well-regarded staple in many homeschools across the country, many new and returning users were saddened to be met by the following message when they visited the company's webpage or social media profiles: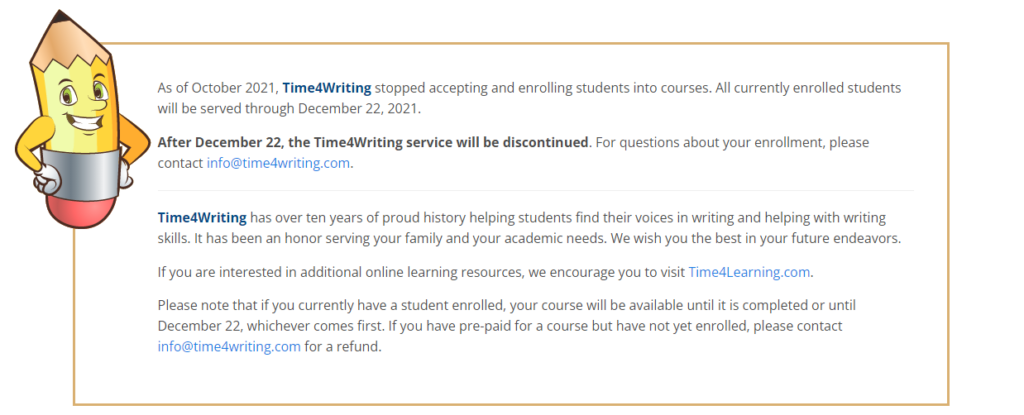 While certainly disappointing to those looking to sign their child up for Time4Writing's courses, parents can take heart in the fact that there are a number of other effective alternatives out there.
To help parents out, we've created a list of those we think can deliver a high quality educational experience that can help improve their child's writing skills.
What is Time4Writing
Time4Writing was an online writing curriculum that was designed to help students in elementary through high school improve their writing skills.
A sister program to Time4Learning, Time4Writing offered students access to a variety of grade-appropriate eight-week online courses, such as Grammar Skills, Narrative Writing, Essay Writing, Writing Research Papers and more.
Through the web-based app, students received lessons on various topics, complete challenges, quizzes and tests and were given writing assignments to complete each week to put what they learned into practice.
Each student was assigned an actual teacher at sign-up, and these teachers were responsible for evaluating the student's writing assignments, returning papers in a day or so with detailed feedback about what they liked about the student's writing, as well as what specifically needed improvement and how to do so.
Each Time4Writing course cost just under $120 (excluding any discounts or offers), as well, making them surprisingly affordable to parents compared to one-on-one tutoring and similar individualized learning options. 
What components make Time4Writing so useful?
Time4Writing was considered a valuable resource for homeschoolers and parents looking for writing enrichment for a variety of reasons.
Full lessons for students
For one, the program offered students a number of short, eight-week courses on specific areas of and skills in writing.
Rather than sitting through a full, multi week middle school course in writing, for instance, students could take a specific course in a problem area, such as in writing paragraphs or writing informative pieces.
These courses were fairly complete, as well, offering students instruction, exercises, quizzes and exams to make sure that they were absorbing the information they were being presented.
In this way, Time4Writing was able to provide a more effective and targeted solution for students and parents, providing very specific help in precisely the areas the student required. And, of course, students were free to take as many (or as few) classes as they required to improve their writing.
Real teachers as writing coaches
When students signed up for Time4Writing, they were assigned a certified teacher to act as a personal writing coach and who would go over and provide feedback on their writing assignments.
Aside from making the learning experience far more individualised to the student, these certified teachers tended to provide more detailed, professional and constructive advice than many parents could reasonably provide themselves.
Similarly, they tended to take a lot of the burden of correcting essays and written work off of parents, which was perfect for busy homeschools.
Objective, third-party evaluation
Although it does have clear rules and guidelines to it, writing is often a very personal endeavor and can be very tightly connected to the writer's own emotions, opinions, interests and beliefs.
As a result, parents often find that offering constructive criticism about their own child's writing can be trickier than they thought.
Staring at the very personal work of their child, parents may find themselves going too easy or being too harsh, while the student isn't always the most receptive to having their work criticised by their own parents.
By using Time4Writing, parents could avoid the minefield altogether and allow an objective, trained and professional third party to step in to offer specific thoughts on the student's writing.
Some Great Alternatives to Time4Writing
Note: Prices correct as of writing. All prices in USD.
As can be seen, Time4Writing's feature set could be very useful for parents and it is perhaps no surprise why some newcomers have expressed disappointment at the fact that they aren't able to sign their kids up for the service.
Fortunately, in recent years there have been a number of similar programs offered on the market that offer many, if not all, of the important benefits provided by Time4Writing's curriculum (lessons, coaches and objective evaluation).
Below we've listed some that have caught our eye and that we think can be very helpful.
WriteAtHome
A fairly similar program to Time4Writing with flexible, high-quality online writing courses
For: Grades 5-12
Price: From $179 per course.
Much like Time4Writing, WriteAtHome is a self-paced program designed to help students in grades 5-12 develop stronger writing skills through a combination of technically-oriented lessons and assignments and personalized writing coaching.
Much like Time4Writing, WriteAtHome offers students writing instruction in the form of short online lessons and assessments that are centered around a specific topic in writing. Students are then given writing assignments that they complete before a deadline, and the whole process is overseen by a personal writing coach, who is specially trained to provide highly detailed, specific and personalized feedback on their writing, as well as a score.
These writing coaches are all from the US, are strictly background checked and are a good mix of certified language arts teachers and professional writers, the latter of which bring a good deal of practical, real life experience to the program.
The whole program is centrally managed from a Canvas-powered online learning platform and students access all their course material, submit work, view feedback and even message their coaches all from one, easy to use dashboard.
WriteAtHome is very flexible when it comes to course structure and length, with students able to take a complete and comprehensive year-long writing course that covers a variety of topics in writing, an abbreviated semester-long version of that course, or (like Time4Writing) an assortment of writing workshops that are 8-weeks long and focus on individual skills and concepts.
In this way, students can use WriteAtHome as a complete homeschool writing curriculum or for more targeted skill development.
In terms of price, WriteAtHome's workshops are a little more expensive than Time4Learning, but their full year and semester curriculum packages are surprisingly helpful and affordable and far less expensive than some other options out there.
One potential downside that parents may find is that WriteAtHome doesn't really teach much in the way of formal grammar, and they do assume some basic ability to compose sentences, so it's probably not the ideal course for those under grade 5.
Bottom Line
WriteAtHome, although slightly more expensive than Time4Learning, offers much of the same features and high-quality individualized coaching, as well as a greater variety of scheduling options, from full courses to workshops.
For more information about WriteAtHome, check out our in-depth review
BraveWriter Online Classes
A variety of courses that offer a gentler, child-centric approach to learning to write
For: Grades K-12
Price: Between $100-300 per course
In addition to its well-known Charlotte Mason-inspired language arts and writing curriculum, Brave Writer also offers a variety of online classes in writing for both students and parents.
Similar to Time4Writing, these classes are a few weeks in length, focus on specific subjects and topics and are taught online by writing coaches who are themselves published authors.
Also similar to Time4Writing, via an online learning environment students receive writing instruction, receive assignments, upload their work and get individual feedback from the class's coach.
In addition, students can browse and read other student's writing and examine the feedback left for them, which both broaden student's exposure to writing styles and ideas and lets them safely and positively learn from each other, making the classes more collaborative, which is pretty cool and a little different.
As with BraveWriter itself, the online classes and the feedback that students receive are designed to be as supportive as possible to the student and the discovery of their own writing talents.
While the coaches certainly provide detailed constructive feedback, they are trained to be sensitive and to phrase things quite gently and positively and do their best to encourage students to take chances with their writing, making the program particularly useful for highly reluctant writers.
One thing that we enjoy about BraveWriter Online's courses is that there are a wider variety of courses to choose from than most other programs.
There are core programs that teach the fundamentals of writing and writing mechanics, such as those that focus on grammar, form and structure, as well as interest-based classes that can get kids excited about writing, such as those in songwriting or film and tv.
Interestingly, there are even classes for parents, helping them learn how to better support and guide their students in the writing process.
On the downside, however, while BraveWriter Online offers gentle instruction and a greater diversity of courses it is a little more expensive than Time4Writing, with classes ranging in price from about $100-300 depending on length and topic complexity.
Bottom Line:
With a diversity of interesting online writing classes, a collaborative learning environment and highly supportive writing coaches, Brave Writer Online can provide gentle, but effective, writing help to both parents and students, and can be particularly beneficial to reluctant writers.
For more information about BraveWriter (and their methodology), read our in-depth review.
Or, check out Brave Writer's Online Classes.
Night Zookeeper
Students hone their writing, play games and get professional coaching feedback with this cool, feature rich online writing program
For: Ages 5-12+
Price: Starting at $9.92 per month
Probably one of the more interesting approaches to teaching kids to write, Night Zookeeper is an online language arts platform for kids ages 5-12 that takes place in an animated video game world.
Taking on the role of zookeeper, kids follow a variety of interesting storylines that have them take on various challenges and activities, usually in the form of writing prompts, so that they can charge up their flashlight and explore the game's map and unlock (and save) more animal friends.
In addition to built-in digital assessment software that guides students' writing and helps check their spelling and grammar, student's writing samples are sent to real-life tutors, educational professionals working for the company.
These tutors provide some guidance and assessment and help individualize the learning to a greater degree.
In addition to the game and the tutors, students also have access to animated lessons that teach them various concepts in writing, as well as a section dedicated to free writing where they can try their hand at writing, stories, poems, letters, scripts and more.
There is also a section with a variety of fun minigames that can drill students in things like typing, spelling, grammar and more, and a section where students can join like minded groups across a variety of interests and submit their own writing samples in a moderated environment.
On the downside ,while Night Zookeeper's automatic assessment system is very technically advanced and capable, the tutor assessments tend to be shorter and to the point than some other programs out there and students don't get their own personal tutor.
Bottom Line:
If you have a videogame-loving student between the ages of 5-12 that could use a little help with writing, Night Zookeeper's immersive animated world, myriad of activities, powerful tools and staff of educational professionals can do so in a way they'll actually enjoy and want to use.
Check out our in-depth review of Night Zookeeper for more information
Conclusion
Time4Writing was a highly-respected program that homeschooling families loved using to help their students learn to write. Unfortunately, it is no longer offered to new students.
If you are interested in a writing program that can give your student the individualized learning and evaluation they need to improve their writing skills, rest assured that there are high quality alternatives that can provide many of the same benefits as Time4Learning and that can help your child become the best writer they can be.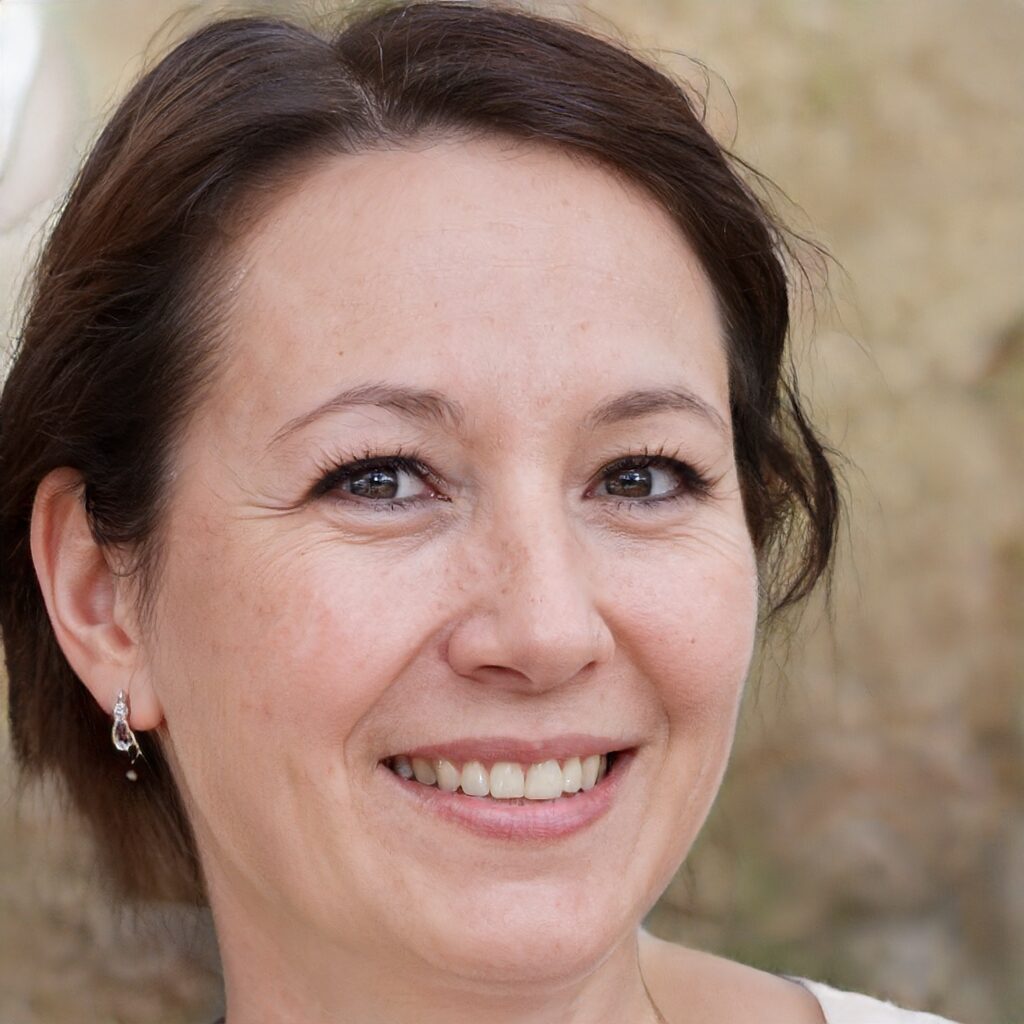 About the Author
Anne Miller is the editor of The Smarter Learning Guide and is a passionate advocate for education and educational technology. A mom of two, she majored in English Language and Literature and worked as a substitute teacher and tutor for several years. When not writing she continues to root for the Yankees and the Giants.