"With high quality Bible stories and durable, faith-based projects arriving monthly to your door, there's no doubt that HelloBible is a solid choice [….] In a world that seems to have a book box for every one, it's nice to see a company produce quality christian subscription boxes for kids."
What is HelloBible
Founded by two Christian moms in 2016, HelloBible is a Christian subscription box for kids. Alongside their (adorable) mascots Bella the Butterfly and Donny the Donkey, they focus on sending children faith-based books and related activities each month in order to spark and strengthen their connection with God, Jesus and the Bible.
Price: How Much Does HelloBible Cost?
(Prices correct as of writing)
HelloBible has two faith subscription box options, based on your child's age.
Junior (ages 3-5)
| Month to Month | 6 Months | 12 Months |
| --- | --- | --- |
| $29.80 | $28.80 | $26.80 |
| + $5 shipping and handling | + $5 shipping and handling | + $5 shipping and handling |
Explorer (ages 5-10)
| Month to Month | 6 Months | 12 Months |
| --- | --- | --- |
| $24.90 | $23.90 | $21.90 |
| + $5 shipping and handling | + $5 shipping and handling | + $5 shipping and handling |
If you want to add supplies for an additional child, you can do so with the Explorer box for up to 4 children. The box starts out with enough material for 1 child, and each additional child is an extra $4.90.
The Junior box, however, contains enough material for 2 kids but doesn't have an upgrade option yet.
Pricewise, HelloBible represents pretty good value for money. Sure, compared to pure book boxes, the boxes are slightly more expensive per month. However, HelloBible is more of a craft-book box, meaning it mixes in arts and crafts rather than focusing only on books. At under $30 it is therefore more affordable compared to some other craft-book boxes we've reviewed, which start at well over $30 a box.
While it would be nice to get free shipping (isn't it always?), we like the fact that they offer $5 flat-rate shipping and handling.
Unfortunately, as with many other book box subscriptions, HelloBible automatically renews its monthly subscriptions so make sure to cancel at the end of your subscription period or you'll be billed again.
How it works
When you go to sign up for a HelloBible subscription box, you're offered a choice of two box types, the Junior and Explorer boxes. Each box contains 1 book, lesson plans with discussion questions, and assorted art projects and activities that connect to the theme of the book. The Junior boxes (ages 3-5) contain enough material for 2 children while the Explorer box can be upgraded to accommodate 4.
Following check out and order processing, your box will generally ship out around the 26th of each month. So if you order at the beginning of a month, your box will ship out towards the end of that month.
Age Range
Currently, HelloBible is geared towards children between the ages of 3-10. Overall, we think that this age range is more or less accurate, although children in that age range who are advanced readers may find these books a bit simple and enjoy the activities more.
Early childhood is a critical age for inspiring a lifelong love of reading, and a very important time to begin connecting children to their faith. Offering books geared towards the 3-10 age range is therefore very admirable. However, you shouldn't expect to find any books geared towards advanced or older readers.
What kind of books are we going to get?
HelloBible is, at their core, a faith subscription box for kids. Each book is a faith-based Bible story, generally from Arch books. The books themselves relate to the Bible, obviously, and relate to important stories and sections of the Old and New Testament, such as Jesus Calms the Sea or the story of the fall of the walls of Jericho.
The books are colorful, well-written and nicely illustrated stories that effectively entertain children and never fail to stay true to the central message of faith each is trying to convey. Overall, we think these books will capture your kids attention even in this digital age and we believe they are a great and easy introduction to the Christian faith and the Bible.
The only issue we have is that generally these books are soft cover and younger, more boisterous readers may damage them by mistake.
What condition are these books (new, used)?
These books are new.
How are these books curated?
The books are picked by the company's own staff.
Flexibility of Subscription
HelloBible isn't the most flexible and adaptable subscription box when it comes to customer plans.
While the company allows you to freely change your plan between Junior and Explorer, if you've bought a prepaid plan (6 or 12 month plan) or have just renewed the changes will only take place on the next renewal date. So this option is really only effective for month to month plans or those about to renew. This isn't so helpful, for example, if you've bought a yearly plan and realize your child is too advanced for it.
What kind of offers do they have for families with multiple kids?
We believe HelloBible to be a pretty good offer for families with multiple kids. The Explorer boxes start with enough goodies for one child, but can be upgraded to fit 4 kids for only $4.90 per additional child, while the Junior boxes are designed from the start with enough material for two individuals. Oddly, the Junior boxes don't have the immediate option to upgrade.
If you have a mixed household with kids of a wide range of ages, however, you may find that this subscription box service may not be the most ideal since you'll have to buy several boxes or plans.
Are there any goodies in the box?
Part of HelloBible's appeal lies in it being a craft-box, meaning it encourages literacy and faith through both a book and a variety of fun activities for kids. Like many other craft-book boxes, HelloBible is a little light in the book department (you'll get 1 book per month). However, it does have a lot of fun activities included.
In addition to things like stickers and magnets, which are a delight for kids, each box contains several crafts that keep kids entertained and connect back to the main theme introduced by the book. Generally, past subscribers report them as being fairly sturdy and able to be kept as keepsake items. Examples of past crafts include scrapbooks, lanterns, and decorating wooden crosses.
We liked the fact that the boxes contain pretty much everything you need to start and finish the projects, so there is no need to suddenly run out and buy something as can often happen.
One thing to keep in mind is that subscribers have reported that some of the projects can be a little challenging and even frustrating to younger children without some (and sometimes a lot) of parental help. So it's not a set and forget activity.
Can HelloBible fit into a Homeschool plan?
We think HelloBible can be a good addition to faith-based, Christian homeschooling of younger children. Each box contains a number of activities that can be parent-led and integrate easily into bible study.
Each box also contains Parent Guides that can be used to initiate discussion, create worksheets and generate ideas for additional learning activities that involve both parent and child.
Does the Company Give Back Socially?
True to the tenets of charity and giving, with each purchase HelloBible donates $2 to the Kilgoris project- Christian faith-based organization that strives to educate and care for children in rural Kenya by working with the local Masaai community, which is pretty cool.
How giftable is this subscription box?
We feel HelloBible is a decently giftable subscription box overall.
From the outset when you sign up you can have the boxes delivered to a gift receiver's address, which makes things pretty easy.
While there is no individual gift wrapping option, the boxes themselves are really nicely decorated and give kids the feeling of receiving an individual present.
At this time, the company does not include personalized gift notes, which is a gifting draw back. However they do come with bible verse cards that are "sent" to kids from the company mascots, which is cute.
Conclusion
With high quality Bible stories and durable, faith-based projects arriving monthly to your door, there's no doubt that HelloBible is a solid choice for Christian parents looking to bolster both literacy and faith in their kids. In a world that seems to have a book box for every one, it's nice to see a company produce quality christian subscription boxes for kids.
FAQ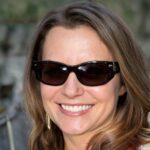 Jennifer Keenes is a writer and a new mom living in Florida. She studied education and, prior to becoming a freelance writer, worked as a substitute teacher at the elementary and middle school level. She is a big fan of the beach, working out and homeschooling her two daughters.
Jennifer