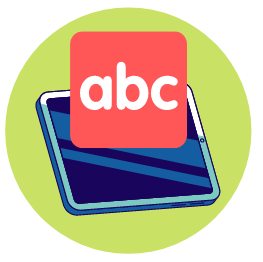 With an affordable price, a colorful, game-like environment, strong phonics connection, simple gameplay and cast of colorful animated creatures, Teach Your Monster To Read can be a fun and exciting app that can help get kids reading without too much stress.
What Is Teach Your Monster To Read?
Developed in the UK by the Usborne Foundation, Teach Your Monster To Read is an online, phonics-based educational game designed to help students learn to read in a fun and interactive way.
To do so, the app provides families with access to a colorful online world where students play minigames, win prizes and customize their characters all while developing key synthetic phonics skills, such as letter sound recognition, blending, segmenting and more.
What Ages Or Grades Is Teach Your Monster To Read Intended For?
Aimed at students just beginning their journeys into reading, Teach Your Monster To Read is intended for kids around the ages of 3-6, or approximately pre-K to grade 1.
The program itself is made up of three games, each of which more or less represents a stage of reading skill development. These are:
| | |
| --- | --- |
| Game | Examples of topics covered |
| First Steps | Introduction to letter sound relationships, simple CVC words and more |
| Fun With Words | Word/letter combination, 3 and 4 word sentences, sight and unusual ("tricky") words and more |
| Champion Reader | Sentences, more sight words, unusual pronunciations and more |
Of course, as an independent learning app, there is no real set age or grade limit to Teach Your Monster To Read.
On the whole, we feel that most younger kids should be able to use these games to work on their reading needs and goals, whether they are precocious learners working a bit ahead or even slightly older students who are a bit behind and need a friendly, low-stress app to help.
That said, the games' colorful graphics, music, sound effects, humor, easy gameplay and monster/creature-filled world definitely seem aimed at younger children, although we do feel that some older students may get a kick out of its style, particularly if they are fans of whimsical humor and mobile games.
Parents should be aware that there are no placement tests when it comes to Teach Your Monster To Read, and do need to rely on their own judgment when it comes to placing a student at the right level, something that can make things a bit more tricky for new parents.
The company does, to their credit, offer a good deal of resources and help on their website, which we always appreciate.
Program Look, Feel and Style
Available for desktops (as a browser-based program) and most mobile devices (as an app), Teach Your Monster To Read is a game-based reading program that takes place in a virtual world filled with different places, creatures and monsters that kids can interact with.
In general, the games are filled with colorful 2D cartoon graphics, animations and elements that we feel most kids at the Pre-K to 1 range should find pretty appealing.
The cartoon designs are fairly modern (even if they are 2D) and very colorful, and the game is often filled with silly humor and fun animated sequences that should be quite attractive to young players.
Although the game does involve users controlling cartoon monsters, they are pretty friendly-looking and resemble characters out of the Minion movies or popular kids programs such as Super Simple Songs more than anything else and, therefore, are unlikely to scare children.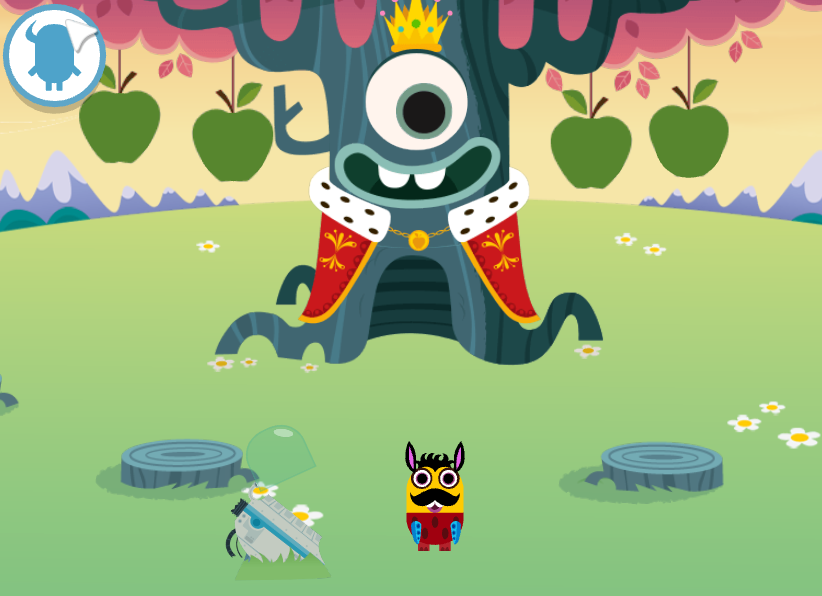 Animation-wise, we found the games to be smooth and speedy on both desktop and iOS, with short loading times and no choppiness or lag that we could notice, even on a standard internet connection.
In terms of play, the game combines elements of a 2D side scroller (where users move from side to side across the screen) and a top-down adventure game (where users look down on their monster from above), so should be familiar to most students who've played mobile games in the past.
Users explore the levels by clicking or dragging their character around the screen to different locations, either with a mouse or on a touch screen, and accomplish various tasks to move forward in a level or when completing a minigame.
When logged in or accessing the game as a student, things are kept pretty straightforward and simple, something that's always a plus when dealing with younger children.
When the game starts, it largely guides students through gameplay and offers few options or menu items for kids to get lost in beyond character customization.
As a result, kids can more or less start up the app and play and are unlikely to get distracted and click off screen or get lost in the administrative end of the program.
One thing parents should be aware of, however, is that Teach Your Monster To Read is a UK-developed program and, like programs such as Reading Eggs, its British-accented instructions and voices can seem a bit unfamiliar for younger US-based children and can take some getting used to.
As might be expected, Teacher Your Monster to Read also gives parents their own account and, interestingly enough, has a dedicated option for homeschooling families.
A homeschooling account gives parents many of the tools that teachers in a traditional classroom would receive, such as the ability to set classes and groups, as well as the traditional administrative functions found in educational games, such as the ability to track progress, set game levels, add or remove students and manage individual student accounts.
Generally speaking, the parents account is also pretty easy to use and simple to navigate.
The program tends to have a fairly clean and organized look to it and there are no complex lists of features and options spread out across the screen, making using the program fairly intuitive even for parents who are a bit less tech savvy.
Interestingly, students can access gameplay from both their own account (as a separate log in with their own password and ID) or directly from the parent account.
This means that parents can determine for themselves just how independently their students use Teach Your Monster To Read, a feature that can be helpful for those who prefer to monitor their children when accessing online apps and mobile devices.
Finally, progress tracking with Teach Your Monster To Read is quite helpful and easy to understand.
The program gives parents a snapshot idea of where a student is in the game at any given time and gives a fair idea of how they are doing, the areas in which they are strongest and, perhaps most helpfully, where they might be struggling (to the level of a particular grapheme or word).
Although perhaps not the most complex or detailed tracking tools we've seen, in our opinion Teach Your Monster's insights offer more than enough data for parents of young kids to help keep tabs on learning and, importantly for those with larger families or in co-ops, to help manage children across different levels of reading development.
Interestingly, student results can be exported as an excel function.
Although perhaps a bit more useful for traditional teachers, this might be an interesting function for co-ops and for individual parents who are a bit more organizationally-minded.
How Teach Your Monster To Read Approaches Reading
Self-study
Although we feel parents will need to keep an eye on things, largely due to the young age range of its intended user base, by and large Teach Your Monster To Read is a self-study phonics program.
In other words, the game is capable of carrying students through its levels, lessons and practice in a structured and logical manner without a lot of direct parental involvement or teaching.
As a result, parents can step back into a more administrative role and don't have to do much of the direct early reading instruction themselves, something that busier homeschooling families, new parents and those uncertain about their own ability to teach essential phonics will certainly appreciate.
Synthetic Phonics
Although its approach is a bit different, Teach Your Monster To Read is, at its heart, a synthetic phonics program.
In other words, the program teaches reading progressively by first teaching letter-sound recognition (in First Steps) before progressing to basic word blends and segments (Fun With Words) until students can decode words and short sentences by themselves (Champion Reader).
Generally speaking, synthetic phonics is considered a highly effective and systematic way to teach kids to read and Teach Your Monster To Read is aligned with current best practices for literacy.
The program carefully and explicitly teaches students letter sound connections and blending/decoding skills, as well as common CVC words and unusual word forms, and reinforces this learning through interactive minigame practice.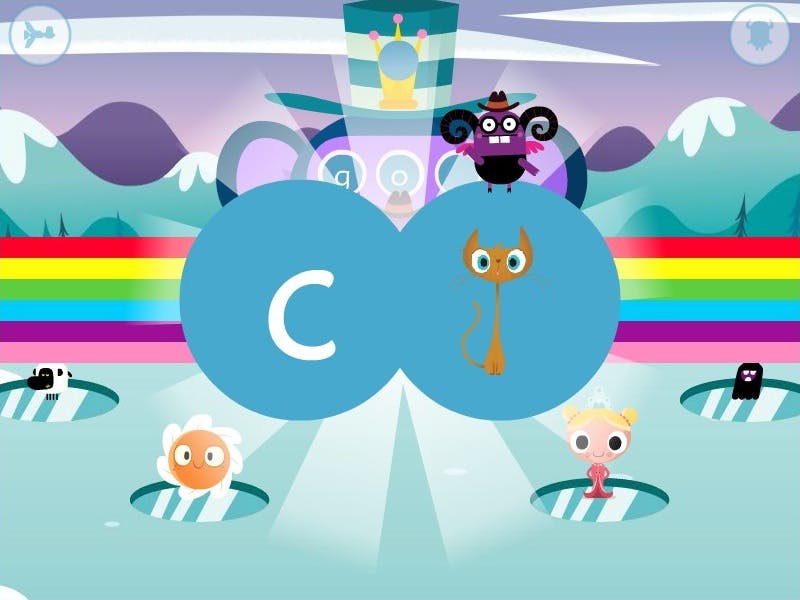 Something parents should keep in mind, however, is that in order to solidify skills and grapheme familiarity there is quite a bit of repetition and review in the games.
While also in line with best practices for reading instruction, and while it is cloaked to a degree in the form of minigames and activities, working on a particular concept again and again can be a bit much for some kids, particularly those who pick up reading easily.
Game-based Environment
As mentioned previously, Teach Your Monster To Read is a series of educational learning games.
Rather than using workbooks or a written curriculum, learning takes place in an explorable digital world filled with tons of fun animated creatures, environments and monsters for students to discover and interact with.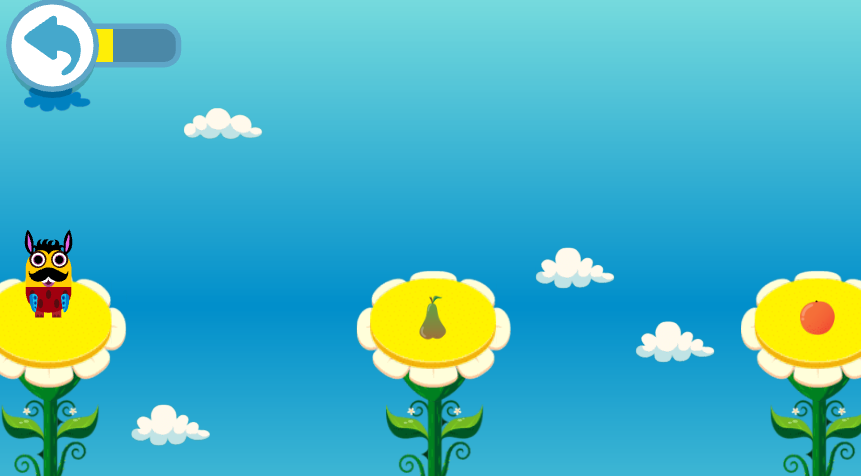 As they progress through the game, children get practice in various letter-sound recognition and reading through an assortment of entertaining, arcade-like minigames, such as moving a flock of ducks to a "CH" pond or "ZZ" pond depending on an auditory prompt.
Turning a reading program into a playable video game makes learning a lot more multisensory, engaging and interactive, immersing kids into their learning in a way a more traditional, paper-based program simply can't.
It also makes the process of learning to read a little more intriguing, particularly for children who may not be all that excited about reading but who love cartoons and games.
On the downside, as a video game-based learning program, Teach Your Monster To Read will increase the amount of time students spend in front of a screen.
Although the recommended 20 minutes or so per week isn't all that bad compared to some other digital learning programs we've seen, it still can be an issue for parents who are already struggling to reduce a child's screen time.
The game does, however, allow users to play offline once they've created a monster, which can be very useful for parents who don't want to leave their child alone with an internet-enabled device.
Parents should also know that Teach Your Monster To Read is also a fairly comprehensive program that spans 3 full games.
As a result, it can take some time to work through all its levels – about 2 years from start to finish.
Gamified Learning
Finally, Teach Your Monster To Read is a gamified learning program.
This means that, like VocabClass, ABCMouse and others, the game incorporates a diverse number of in-game rewards and features that children can earn for progressing through the game successfully and achieving certain goals. 
This gamification of learning is designed to add a more engaging and interesting element to play, keeping kids wanting to come back and use the program and, perhaps more importantly, keeping their motivation to learn high.
On the whole, Teach Your Monster To Read has quite a few of these gamified elements and they do add a touch of whimsy to its lessons.
For example, throughout the game kids can collect stars as they move around and earn various items and accessories for their monster character as they successfully learn (and demonstrate their skill with) new words and graphemes.
As with other learning programs we've looked at, such as ABCMouse and Reading Eggs, students can even customize their personal monster friend pretty freely, giving them different faces, arms, horns and more depending on their personal whims and preferences.
Finally, like most other gamified learning programs we've seen, there is a shop where students can trade in the stars they collect for in-game virtual purchases, letting them buy unique items for their monster, such as ties, hats, wings and more.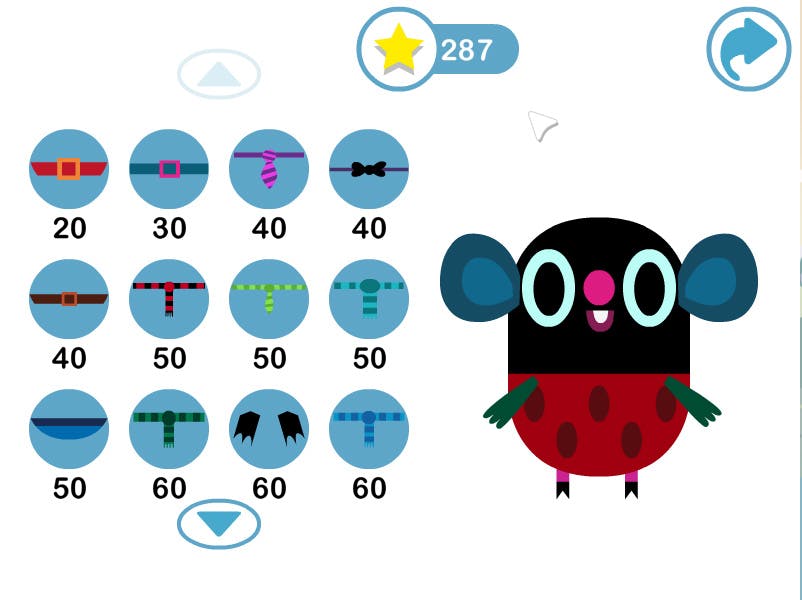 While some families may feel uncomfortable with in-game resource collection and transactions, this is a feature common to online games that students really enjoy and is something that both encourages them to keep working hard and to be creative when personalizing their monster, which is always nice.
How It Works
Using Teach Your Monster How to Read to teach phonics is pretty simple.
The games are available for free on the company website as a browser-based program and for a fixed fee as a mobile app.
To get started, parents sign up with an email and create an account.
Interested homeschooling parents can, as we mentioned earlier, sign up for a home learning account, which provides access to some potentially useful student and course management tools, or simply stick with creating a parent account.
Following this, parents can then add their student(s) to the program, which assigns them a unique ID/classcode that they can use to log in.
Depending on their students' needs, parents can start their kids off with First Steps, which introduces basic letter recognition and sounds, or start them off on one of the more advanced games, which work on simple words, irregular spellings and sentences.
It is important to note that there is no placement quiz or test, so parents will have to largely use their own judgment and knowledge of a child's abilities when selecting their start point.
Once a student does get started, however, they will find themselves in control of their very own monster, which they can customize to suit their own tastes whenever they'd like.
With their monster personalized, the game then takes them to a start point to begin the game (e.g .the monster's spaceship has crash landed on a planet and they must collect parts to get home).
Much like a typical video game, students can control their monster and explore their environment pretty freely.
Instruction tends to come in the form of audio-visual cues, either delivered off screen or by a character on screen, which introduce children to phonetic concepts and skills such as letter-sounds, letter combinations, three and four letter words, unusual spellings, blending, segmenting and more.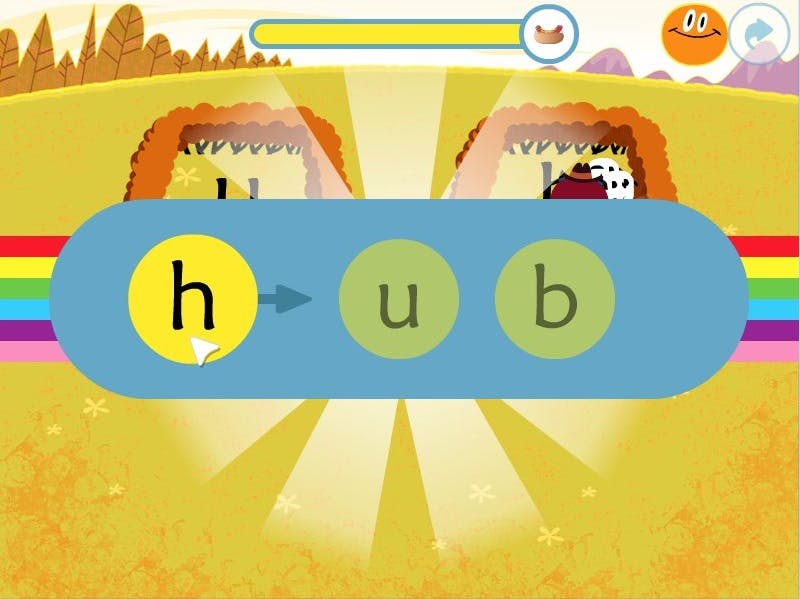 Once a student has been introduced to a general concept, they are then free to explore a level's various minigames, which provide the essential practice and drill for what they've just learned.
The program has a wide number of different types of games available to play and they do change up their format as a student progresses, which can help prevent boredom.
Games might include, for example:
A platform jumper where a user's monster must follow the correct path (indicated by particular letters or combinations) to collect points and win
A space race where users must clear a path for their starship by listening to a word and finding its constituent letters
A game where students must climb a building and evade an opponent by finding letters for a particular word
A block building game where they must build a tower on the moon to match a word using a tractor beam and some giant bricks
A game where students must free a creature by leaping to the correct flower petal (marked by a particular grapheme)
And much more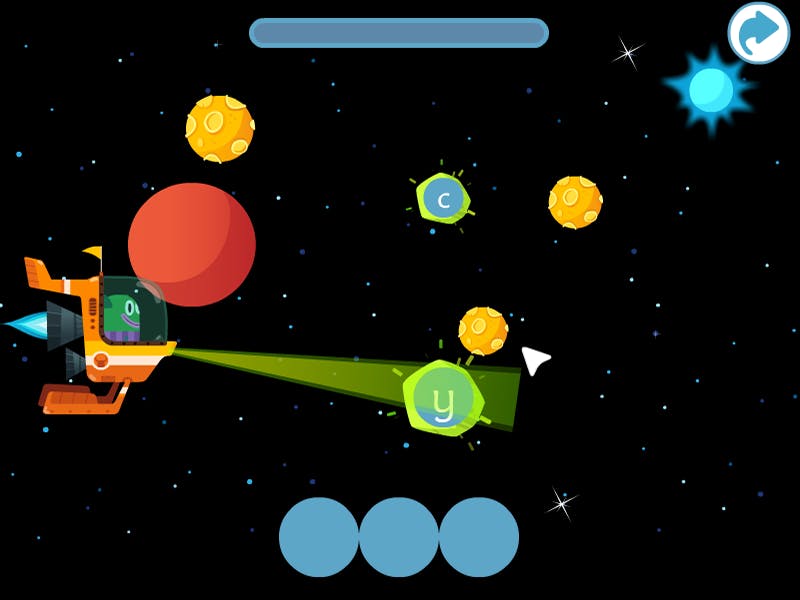 There isn't a lot of in-game instruction for these minigames, and while they are pretty intuitive for students who have some experience in mobile gaming (as they aren't too different from those found on most app stores for kids of this age), some parents may want to stick around initially to help students get started.
With each game, students collect plot-relevant items (e.g. parts for a spaceship to get them offworld) and can win accessories for their monster that immediately appear on their bodies.
These accessories tend to be pretty whimsical and can include anything from a special hat to amusing underwear.
Interestingly enough, the program is adaptive and while it rewards students for getting things right, should a student struggle with a particular concept or area of phonics, the program will actually increase the amount of practice for that area in-game and make a note of it in its progress tracking area.
This gives students more opportunity to hone the skills they need to work on, which we always think is pretty cool.
Finally, once a child reaches the end of the game, their monster blasts off from the planet and the child can move on to the next, more advanced game in the series.
Pros and Cons
Pros
Very Affordable
Available for free through a browser (and far less than $10 in app form), Teach Your Monster To Read is a highly affordable phonics program that should be able to fit most family's budgets.
Solid phonics learning
Teach Your Monster To Read is based on current best practices for synthetic phonics instruction, meaning that in the long run it should be as effective to use for reading instruction as it is to play.
Fun, game-based learning
Rather than traditional books and exercises, which can be a bit boring, Teach Your Monster To Read takes place in a colorful, animated game world where students can explore different levels, interact with different creatures and play fun minigames to help hone their reading skills.
Beautiful 2D cartoon graphics and animations
Teach Your Monster To Read is a beautifully made game, as well, with lots of silly humor, colorful and smoothly animated creatures and gorgeously designed environments and backgrounds that are sure to thrill younger players.
Gamified environment keeps students engaged
In addition to exploring and playing games that help them learn to read, much like a real video game students can win items, collect stars and customize their monster avatar to suit their own tastes and whims, making the game something that kids will want to come back to and play over and over again.
Multiple games for different levels of reading skill
Teach Your Monster To Read has three levels, or games, available.
In addition to teaching letter sound connections and basic words, they also cover longer and more unusual words, blending, decoding and segmenting, and simple sentence reading, making the program far more comprehensive and suitable to students at different stages of reading development.
Can be used offline
Interestingly enough, the Teach Your Monster apps can be used without an internet connection, something that might be of interest to parents who are uncomfortable leaving their kids alone with an active internet connection.
Cons
British-accented audio may take time for kids to get used to
Developed in the UK, Teach Your Monster To Read's voice over narration and instructions have a British accent that may be unfamiliar to some younger children in the US.
Not a huge amount of initial minigame instruction
Although the game is pretty intuitive, there isn't a huge amount of detailed instruction when it comes to some games, meaning parents might need to initially stay around and help kids who aren't quite as experienced gamers get used to things.
Who Is Teach Your Monster To Read Ideal For?
Those looking for a digital synthetic phonics program
While it is a fun program, Teach Your Monster To Read is rooted in best practices for synthetic phonics instruction, making it a great option for those interested in a modern, digital take on phonics-based learning instruction.
Busy families looking for a more self-study introduction to reading
Teach Your Monster To Read is capable of more or less guiding students through the process of learning – introducing phonics concepts and then practicing them repeatedly through games and activities.
As a result, it doesn't require quite as much intensive parental oversight and interaction as some other learn to read programs, which can make it a good option for those who lack time or who aren't sure about their own teaching skills.
Children who love video games and animations
Teach Your Monster To Read is simply a fun, colorful game-based program and can be a more enjoyable experience for younger children who love mobile apps and games compared to traditional workbook exercises and flashcards.
Those looking for a more multimedia, digital approach to teaching phonics
Teach Your Monster To Read is highly interactive digital program that contains a large number of multimedia lessons filled with games, music, animations and audio instruction.
As a result it can be a great option for students and parents who prefer a bit more of a digital, multisensory experience.
Families on very strict budgets
At just over $5, the Teach Your Monster To Read app is quite inexpensive and the browser-based version is completely free to use.
As a result, the program is able to fit into even the strictest homeschool budgets.
Who Is It Not Ideal For?
Those looking to reduce screen time
At the end of the day, Teach Your Monster To Read will increase the amount of time students will spend in front of a screen each week (albeit not by a huge amount), which can be an issue for some families.
Parents who want to take a more direct, hands-on approach to teaching phonics
While some parents appreciate a more independent learning program, there are those who prefer to have more control in teaching their children to read and may look forward to the process, seeing it as a valuable bonding opportunity.
Although it can certainly be used to supplement more traditional reading programs, Teach Your Monster To Read is a bit more of a self-study program compared to more traditional reading resources.
Price
Note: All prices are correct as of writing, all prices in USD.
Interestingly, Teach Your Monster To Read is actually free when used in its browser-based form (i.e. on desktops and laptops).
For those who want to take their learning on the go, the program is also offered as a paid iOS, Amazon and Android app, costing around $5.99.
Check out Teach Your Monster To Read
Is It Worth The Money?
Although extremely affordable as a phonics program, we feel that Teach Your Monster To Read can provide a great deal of value for homeschooling families.
It is based on proven best practices for phonics instruction, systematically taking kids from understanding basic letter sound connections all the way through reading more complex words and simple sentences.
Its 2D game-like environment, meanwhile, is a joy for kids to explore, smoothly animated, populated with colorful creatures and filled with an assortment of fun minigames that help students practice their reading skills without feeling too much like drill.
Finally, the program is able to carry students through learning without constant parental oversight and instruction, which allows busy parents to tackle the many other tasks they might have on their plates and which can come as a relief to new parents and those unsure of their own ability to teach reading skills.
Bottom Line
With an affordable price, a colorful, game-like environment, strong phonics connection, simple gameplay and cast of colorful animated creatures, Teach Your Monster To Read can be a fun and exciting app that can help get kids reading without too much stress.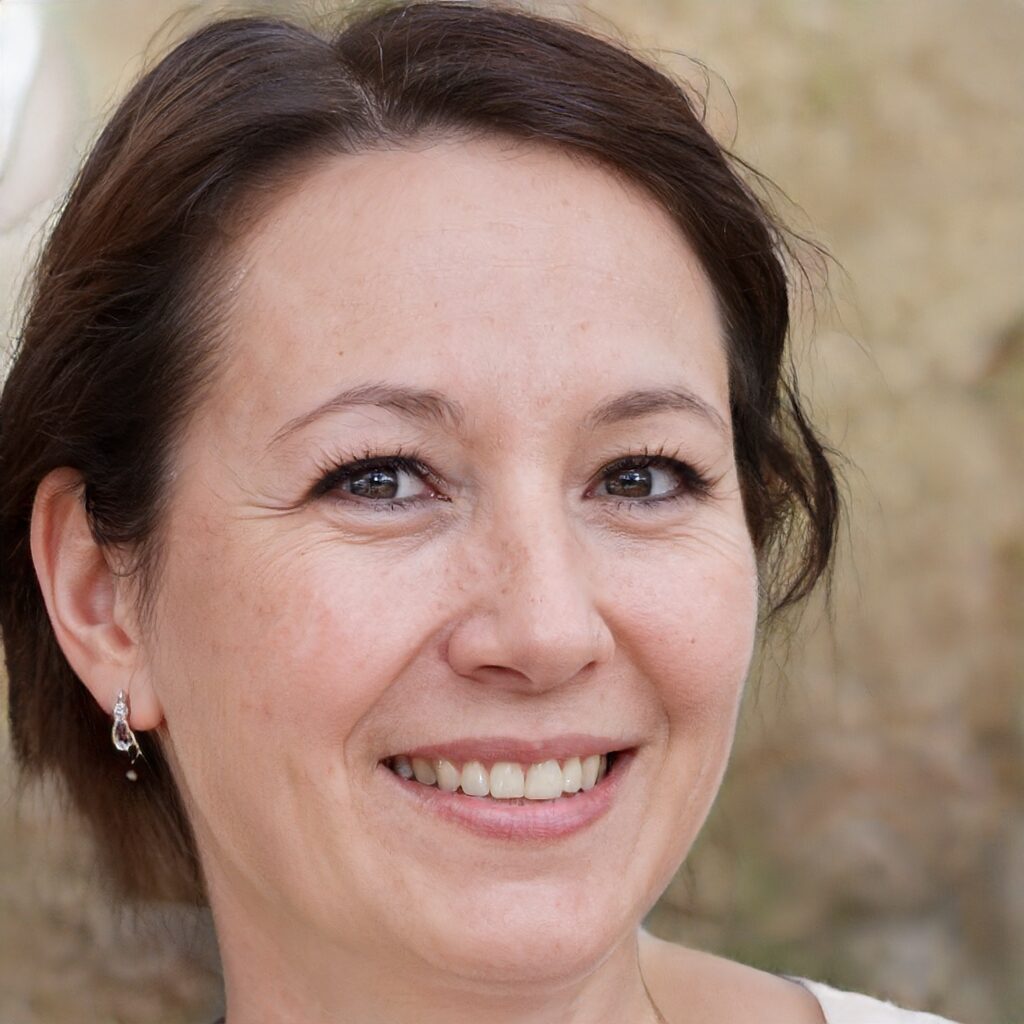 About the Author
Anne Miller is the editor of The Smarter Learning Guide and is a passionate advocate for education and educational technology. A mom of two, she majored in English Language and Literature and worked as a substitute teacher and tutor for several years. When not writing she continues to root for the Yankees and the Giants.