Critical to STEM and coding, as well as business and even many trades, helping your kids develop a strong understanding of math can give them a real edge in both school and the real world.
For homeschool families, a good math curriculum can help kids become fearless learners, helping them learn to tackle even the most challenging puzzles and problems school (and life) can throw at them with confidence.
If you're a homeschool parent, sorting through the many options and finding a program that fits your needs can sometimes be a challenge.
That's why we've created this guide to help parents find the best homeschool math curriculum for their students.
In A Rush? Check Out Our Top Picks
What We Look At In a Homeschool Math Curriculum
Price
With textbooks, workbooks, instructor's guides, assessments and more to buy, it's important to find a math curriculum that can fit a typical homeschool budget.
After all, there's not much point in considering a curriculum if their instructional material is unaffordable.
That said, it's important not to get too carried away thinking about dollars and cents.
After all, math is a core subject that is critical to a variety of educational fields (and everyday life) and can be a subject that kids can easily develop phobias about.
As a result, while we certainly look favorably on programs that keep their cost under $100, we tend to consider those in the $100-150 range fairly reasonable for a full year's learning.
Ease of Teaching
One thing we look for in a homeschool math program is how easy it is for parents to teach with.
This means that we tend to favor programs that:
Are well-scripted – we like a program that provides detailed guidance and instructions for parents to carry out lessons,
Are familiar – parents should have a reasonable idea as to what they are doing and why they are doing it and shouldn't get confused by the way in which a program teaches math
Offer clear instruction and visuals – These can be very helpful in conveying information to a student
Don't involve too many moving parts – Although we do like hands-on learning, generally speaking we also favor programs that don't involve parents having to buy, store and organize a ton of material each year.
Open and Go
Similar to a program's overall ease of teaching, we favor homeschool math programs that don't require a lot of preparation of materials before each lesson.
After all, homeschooling parents are parents first and may not always have a lot of time to pour over lesson plans and organize things each night.
Rigor
We always look at a program's rigor when recommending it as a curriculum.
A rigorous homeschool math curriculum should provide comprehensive instruction in its math topics, treating them seriously and provide a good amount of challenging exercises and word problems for students to hone their skills with.
We should note that we don't feel that a rigorous program necessarily has to be an advanced or challenging curriculum, as topics can always be explained clearly, understandably and in an in depth manner.
Grade Coverage
Not all math curricula are K-12.
Many programs specialize in providing effective instruction for certain grades (preschool, elementary, middle school and/or high school), and this is something that parents should know about.
Some may place a strong value on program continuity and consistency, while others may be looking for a specialized approach or methodology and may be willing to change programs in time.
Conceptual vs Procedural (Traditional)
Another thing we look at in a math program is whether it is conceptual or procedural.
When people refer to a program being conceptual, they tend to mean that it focuses on math concepts, dealing more with why math processes work and why they're being used, rather than solely focusing on the steps needed to solve them.
Such programs tend to be more word problem oriented, emphasizing critical thinking and logic skills and often teach and practice multiple strategies for solving problems
Procedural programs, on the other hand, are more traditional in style and tend to focus on developing math fluency, i.e. how to solve problems quickly and efficiently.
Such programs tend to focus more on having students memorize math facts and procedures, on doing math drills and generally offering a bit more computational exercises compared to word problems.
In recent years there has been a definite shift to conceptual math, but many homeschools still value a traditional emphasis on math fundamentals and problem solving accuracy,
Mastery or Spiral
In addition to conceptual and procedural math, we also look at whether a curriculum is spiral or mastery in its approach.
Spiral approaches to teaching math tend to break big math concepts down into smaller bits and then teach them a little at a time, periodically introducing new concepts and ideas, and spreading the learning out over the year.
In contrast, a Mastery approach goes deeper into a single concept, taking time to explore all it in its entirety, only moving on to another concept when a student demonstrates proficiency at it, or mastery.
Which is best really depends on how a student learns best.
Some students get bored of exploring a single topic for a long time and want some novelty, they may forget concepts over time if they don't pop up now and again, or they may better understand math if they see how different topics relate to each other holistically.
For those students a spiral approach may be a better fit.
Others, however, may find they need time to explore concepts and work on one skill at a time, or prefer to do so deeply and thoroughly, or just find moving from topic to topic jarring or annoying, in which case they may do better with a mastery approach curriculum.
Our Picks
Best K-8 Conceptual Program – Singapore Math
| | |
| --- | --- |
| Price: ⭐⭐⭐⭐ | Grades: K-8 |
| Ease of Teaching:⭐⭐⭐⭐ | Conceptual/Procedural: Conceptual |
| Open and Go: ⭐⭐⭐⭐⭐ | Mastery/Spiral: Mastery |
| Rigor: ⭐⭐⭐⭐ | Common Core: ✔ |
| | |
| --- | --- |
| Pros | Cons |
| Proven, comprehensive and thorough math curriculum | Not as much repetition & drill as some others |
| Multisensory, often hands-on , approach to teaching | May introduce concepts a bit earlier than other programs |
| Explains abstract ideas very clearly to students with step-by-step process | |
| Known for building strong understanding of concepts and strategies | |
| Tons of resources, support and supplements available | |
| Encourages critical thinking and creativity in math | |
The math program that transformed Singapore into a world leader in math, Singapore Math is a well-known mastery math program that has quite a strong emphasis on developing a thorough and flexible understanding of math concepts.
Most well known for its CPA ( Concrete, Pictorial, Abstract) approach, Singapore Math aims to make abstract concepts in math more concrete and understandable to young kids and thereby develop their overall understanding of math concepts.
It does so by gradually moving them from hands-on, real life examples of a math concept, usually with manipulatives and activities, then shifting into pictorial format and finally turning these ideas into abstract equations.
This approach can be quite effective in quickly and effectively developing a conceptual understanding of the material, particularly with young kids, although it can take a little bit of time for parents to get the hang of.
Despite often introducing topics earlier and going into some depth, Singapore Math is actually a math program that can be used by most students – after all, it is used to great success for kids in Singapore's public schools.
At the same time it is quite adaptable to student ability.
Students who want enrichment can enjoy challenging problem sets in the course's supplemental workbooks, while the program's supplements for building up mental math and other computation skills can really help those who usually struggle with math.
There are two popular curricula options available for Singapore Math on the market, Dimensions (produced by Singapore Math the company) and Primary Mathematics (the popular Singapore school math curriculum adapted to the US/international market).
For more information:
Read our review of Singapore Math (including Dimensions)
Or
Check out our review of Primary Mathematics
Best K12 Procedural Math – Saxon Math
| | |
| --- | --- |
| Price: ⭐⭐⭐⭐ | Grades: K-12 |
| Ease of Teaching:⭐⭐⭐⭐ | Conceptual/Procedural: Procedural |
| Open and Go: ⭐⭐⭐⭐⭐ | Mastery/Spiral: Spiral |
| Rigor: ⭐⭐⭐⭐ | Common Core: ✔ |
| | |
| --- | --- |
| Pros | Cons |
| Strong emphasis on math fundamentals and fluency | Strong emphasis on drill and repetition not for all students |
| Uses hands-on work at lower grades | Lots of different editions and volumes floating around, can be confusing |
| Easy to teach with | |
| Lots of resources and support out there | |
| Lots of review and revision opportunities | |
| Full K-12 math program | |
If you're a parent who wants their child to focus more on how to solve math problems and don't mind not focusing as much on the why, Saxon Math's complete K-12 curriculum might be right for you.
Compared to other programs out there, Saxon is much more of what we like to call a back to basics program.
With its strong emphasis on memorizing math facts, learning rules and techniques and getting tons of practice, Saxon really gives students an opportunity to develop their computational math skills in ways more conceptual curricula do not.
In doing so, it can help students develop better math fluency and help them learn to solve math problems quickly and efficiently when it comes time for assessments, albeit with less focus on exploring creative solutions to problems.
And because Saxon math often revisits previous topics, mixing them into exercises and problem banks, it tends to keep kids on their toes while reinforcing essential knowledge and skills.
It is also one of the easier programs out there with which to get started teaching. Saxon includes guides, solutions, prompts and even full teaching scripts that can be used by unfamiliar or inexperienced homeschooling parents to help implement the program for their kids.
For more information read out our in-depth review of Saxon Math
Best Gentle Math Program – Math U See
| | |
| --- | --- |
| Price: ⭐⭐⭐⭐ | Grades: K-12 |
| Ease of Teaching:⭐⭐⭐⭐⭐ | Conceptual/Procedural: Conceptual |
| Open and Go: ⭐⭐⭐⭐ | Mastery/Spiral: Mastery |
| Rigor: ⭐⭐⭐1/2 | Common Core: ✔ |
| | |
| --- | --- |
| Pros | Cons |
| Gentle approach explains math in common sense way | Can be a little slow paced for some |
| Hands-on activities all the way to Algebra 1 | Not as many challenging word problems as some other curricula |
| Very easy to teach with video based instruction for parents | |
| Very flexible, easy to supplement or modify | |
| Fair amount of review and practice | |
| Full K-12 math program | |
| One set of manipulatives for entire program | |
Math U See is a complete K-12 curriculum that is known for teaching math in a more straightforward, approachable way.
Using videos, workbooks and a strong emphasis on manipulative blocks (that continue until Algebra 1), Math U See spends time delving into math concepts, breaking down and explaining why the math works to both parents and students in an often easy to understand way, which is great for students who are a little math-phobic.
Math U See lessons tend to go slowly, with opportunities to review previous material (unlike many other mastery options) and offers a lot more practice problems for kids to work on, which can really help students recall information and perform come test time.
There is also a great deal of opportunity to slow down and explain things carefully to kids so they can better internalize concepts, and the combination of video, manipulative use, writing and oral summary also makes the lessons quite multisensory.
As a result, while not the most advanced curriculum out there, Math U See is a one of the better options for struggling students and kids for whom math isn't exactly a favorite subject.
For more information read our in-depth review of Math U See
Best K-8 Advanced Math Program – Beast Academy
| | |
| --- | --- |
| Price: ⭐⭐⭐1/2 | Grades: 2-7 |
| Ease of Teaching:⭐⭐⭐⭐ | Conceptual/Procedural: Conceptual |
| Open and Go: ⭐⭐⭐⭐ | Mastery/Spiral: Mastery |
| Rigor: ⭐⭐⭐⭐⭐ | Common Core: ✘ |
| | |
| --- | --- |
| Pros | Cons |
| Highly rigorous elementary school math program | Not for every math student – aimed at talented students |
| Strong emphasis on critical thinking and logic skills | Online app requires purchasing separate accounts for siblings |
| Taught through colorful, monster-filled comic books | |
| Offers online learning as well as offline | |
| Challenging word problems and puzzles hone student skills | |
| Answers to questions are detailed, with step-by-step solutions | |
If you have an elementary school student who is showing a particular aptitude for and interest in math, and is maybe even considering entering math contests, they may benefit from a math program that's a bit more rigorous than most but that won't bore the passion out of them.
If that's the case, Beast Academy might be the math curriculum you're looking for.
Available in book and online form, Beast Academy is designed for what the company refers to as "math beasts." That is, young students with a talent, aptitude and interest in math.
Consequently, the Beast Academy curriculum is quite a bit more challenging than most other math curricula out there.
Developed by a former math Olympiad winner, Beast Academy aims to instill higher order thinking skills, such as logical reasoning and problem solving, alongside mathematical knowledge, and therefore delves very deeply into math concepts.
Recognizing that, even for so-called math beasts, it can be hard to reach young kids with deep dives into math concepts, Beast Academy engages kids and teaches them important math concepts through a clever use of comic book-style guidebooks.
But don't let the fanciful artwork fool you – Beast Academy tends to cover concepts in far more depth and rigor than other programs.
In fact, because it introduces ideas and topics earlier and with less review than some other curricula, parents are strongly encouraged to use placement tests before jumping in.
There is ample practice to be had, as well.
The curriculum offers relatively fewer computational problems compared to other programs and provides more complex and challenging puzzles and word problems that students will spend time thinking through.
So if you are looking to challenge your elementary school student with a deeper analysis of math concepts and help them develop the problem solving strategies and critical/logical thinking that can help them in math contests or in enriched math courses, Beast Academy might be the curriculum for you.
For more information read our in-depth review of Beast Academy
Best Middle/High School Advanced Math – Art of Problem Solving
| | |
| --- | --- |
| Price: ⭐⭐⭐⭐⭐ | Grades: 8-12 |
| Ease of Learning:⭐⭐⭐ | Conceptual/Procedural: Conceptual |
| Open and Go: ⭐⭐⭐⭐ | Mastery/Spiral: Mastery |
| Rigor: ⭐⭐⭐⭐⭐ | Common Core: ✘ |
| | |
| --- | --- |
| Pros | Cons |
| Challenging, enriched middle school and high school math courses | Aimed at talented math students |
| Dives exceptionally deeply into math concepts for strong understanding | Can take some time to work through problems |
| Teaches and emphasizes strategic thinking and using multiple approaches to solve problems | Discovery approach to learning not for everyone |
| Lots of complex and challenging word problems | |
| Offers hints and solutions that boost learning | |
| Casual tone and interesting examples can make learning less boring and formal | |
Art of Problem Solving is a curriculum designed for outstanding math students in middle and high school and is a natural progression for fans of Beast Academy (being made by the same company, although there are no comic book guides here).
Originally designed to help talented math students prepare for competitions, Art of Problem Solving offers a problem-based and rigorous approach to math that goes deeper into middle and high school math topics, examining concepts more rigorously, more thoroughly and with more challenging problems than they would otherwise be able to do in other math courses.
This curriculum focuses heavily on getting students to independently solve problems with the underlying belief that by discovering how to solve certain problems, kids will develop a deeper understanding of the material.
Consequently, AoPS offers short and to the point explanations and lessons that are followed by a good deal of exercises, some of which are taken directly from previous math competitions.
Overall, there is a far heavier emphasis on logic and proof than other curricula, making Art of Problem solving an excellent homeschool math curriculum for outstanding or talented math students looking to hone their math skills, and can be particularly valuable if students plan on taking math-heavier STEM subjects in university later on.
For more information read our in-depth review of Art of Problem Solving
Best Affordable Conceptual Program- Math Mammoth
| | |
| --- | --- |
| Price: ⭐⭐⭐⭐⭐ | Grades: 1-7 |
| Ease of Teaching:⭐⭐⭐⭐ | Conceptual/Procedural: Conceptual |
| Open and Go: ⭐⭐⭐1/2 | Mastery/Spiral: Mastery |
| Rigor: ⭐⭐⭐⭐ | Common Core: ✔ |
| | |
| --- | --- |
| Pros | Cons |
| Very affordable | Not a lot of hands-on, multisensory work |
| Highly flexible – learn as full curriculum or focused skill development | Can be reading heavy |
| Self-study | |
| Strong conceptual, mastery-based learning | |
| Clearly written with lots of diagrams and visuals | |
| Free video lessons on concepts | |
Available digitally for less than $50 per year, Math Mammoth is one of the more affordable math curricula out there.
Yet, while affordable, the program doesn't skimp on the learning and is a very comprehensive and pretty rigorous concepts-based mastery math program.
Available as a full curriculum and as focused skill-review books, Math Mammoth covers elementary school math concepts in a fair amount of depth, providing clear explanations, and generally encouraging students to understand what they are doing and find different ways to reach solutions.
Interestingly, it is also designed as a self-study program.
Written to the student, the books are written using clear and understandable language, use plenty of visuals and diagrams to help with learning, offer an above average amount of dedicated review for a mastery program, and generally do a good job at guiding students step-by-step through each concept…even if it doesn't have quite all the hands-on learning and bells and whistles of more expensive programs.
There are also a wide array of free concept-linked videos and practice exercises available on the company website, to help students if they get lost.
This can be of great benefit for busier parents who may be working or dealing with the many other tasks that homeschooling requires, although parents will probably still need to spend some time at the beginning of the year setting up a learning schedule.
Finally, the program is also fairly rigorous.
It introduces some concepts ahead of grade-level and offers a good variety of challenging word problems and puzzles, as well as optional, supplemental workbooks.
For these reasons, we believe Math Mammoth can be an excellent option for homeschooling families who are on a stricter budget but are still interested in a strong, conceptual mastery math program.
For more information, read our in-depth review of Math Mammoth
Best Online Math Program – CTCMath
| | |
| --- | --- |
| Price: ⭐⭐⭐ | Grades: K-12 |
| Ease of Teaching:⭐⭐⭐⭐⭐ | Conceptual/Procedural: Conceptual |
| Open and Go: ⭐⭐⭐⭐⭐ | Mastery/Spiral: Mastery |
| Rigor: ⭐⭐⭐⭐ | Common Core: ✘ |
| | |
| --- | --- |
| Pros | Cons |
| Multisensory – uses interactive multimedia instruction and real time questions | Doesn't really use a ton of cartoon or advanced animations |
| Ongoing diagnostic testing, question bank wizard can personalize learning | Younger kids may take time to adjust to Australian accent of presenter |
| Can be taken offline with printables | |
| Comprehensive conceptual math instruction | |
| Detailed progress reporting for parents | |
| Full lesson planning and customization options | |
| Parents and students can select from any grade, concept in system to learn | |
If you're looking for a complete and comprehensive online solution to help teach math at home, Australian-based CTCMath might be the right curriculum for you.
CTCMath is a browser-based digital learning platform that covers the full suite of K-12 math and, while its not Common Core aligned (being based in Australia), there is a specific US curriculum that homeschooling parents can choose from.
Lessons are taught through short videos, narrated by the program's creator (who works offscreen) and serve to introduce math concepts in a straightforward, easy to understand manner while also providing visual examples and demonstrations on screen.
Although not the flashiest program out there, CTC Math does make learning math a lot more understandable compared to other options.
After each video, students answer a series of on-screen interactive questions before progressing to printable PDF worksheets, quizzes and occasional revision tasks.
The program is a conceptual mastery program, allowing students to spend as much time on each topic, and is fairly strong in terms of conceptual math teaching, delving deeply into the why behind math and providing strategies and challenging questions for students to complete.
We also feel that the program provides an excellent array of customization tools, such as a powerful question bank wizard, scheduler and the ability to easily pick and choose topics from different grades, which can be used to personalize learning to a fair degree.
Overall, while not the cheapest self-study math curriculum out there (usually costing somewhere around $200 per year), as a digital math learning option CTC Math offers a fairly rigorous curriculum with a wide variety of personalized teaching options, clear and effective instruction and a high level of flexibility that all combine to help it stand out from the rest.
Read our in-depth review of CTCMath for more information
Coolest Project-based Program – Redbird Math
| | |
| --- | --- |
| Price: ⭐⭐⭐⭐⭐ | Grades: K-7 |
| Ease of Teaching:⭐⭐⭐⭐ | Conceptual/Procedural: Conceptual |
| Open and Go: ⭐⭐⭐⭐ | Mastery/Spiral: Mastery |
| Rigor: ⭐⭐⭐⭐ | Common Core: ✔ |
| | |
| --- | --- |
| Pros | Cons |
| Online, self-paced option | Can be fairly challenging and may require parental help at times |
| Engaging multimedia lessons and practice | Fairly reading heavy |
| Integrates cool STEM projects | Not really designed for students who have a hard time with math |
| Fun games to play | |
| Adaptive questions and practice keeps things challenging | |
| Pretty affordable | |
| Emphasizes applications of math in real world | |
Developed at Stanford, Redbird Math is a pretty interesting math curriculum for students in elementary school that exposes students early on to the potentially important applications of the math they are learning.
As a conceptual mastery math program, Redbird places a strong emphasis on explaining and exploring math concepts, as well as critical thinking and mathematical reasoning, and explores concepts at a pretty high level, being somewhat designed for gifted math students.
It is also a self-paced, digital math program that teaches through audio-video lessons, digital manipulatives and on screen math applications, as well as an extensive bank of adaptive questions that become more challenging as students master the material.
Where it differs from most homeschool math programs is that Redbird integrates project-based learning into its curriculum.
After a few units students are presented with a challenge (such as designing and creating a video game, building a wind turbine or figuring out how to make a city more traffic-efficient), which gives them the opportunity to review and synthesize the math that they have learned, as well as honing their logic and planning skills.
These projects are done digitally and the program provides students with a wide array of interesting and interactive virtual equipment and tools to help them get the job done.
As a result, Redbird isn't just a program to teach kids math concepts, but also can be very valuable in integrating other STEM skills and get them to better appreciate how what they are learning can be used to solve problems in the real world.
Read our in-depth review of Redbird Math for more information.
Best K-3 Math Program – Miquon Math
| | |
| --- | --- |
| Price: ⭐⭐⭐⭐⭐ | Grades: K-3 |
| Ease of Teaching:⭐⭐⭐⭐ | Conceptual/Procedural: Conceptual |
| Open and Go: ⭐⭐⭐1/2 | Mastery/Spiral: Can be used as either |
| Rigor: ⭐⭐⭐⭐ | Common Core: ✘ |
| | |
| --- | --- |
| Pros | Cons |
| Affordable | Can feel unusual for new parents |
| Extremely flexible | Can be time intensive |
| Good, hands-on and multisensory integration | Not as much drill and practice as some other programs |
| Deeply conceptual and exploratory | |
| Discovery-based learning encourages critical thinking and problem solving | |
| Advanced but still understandable | |
Miquon Math was directly developed from the research and innovations of educator Lore Rasmussen at the respected Miquon School in Pennsylvania.
Designed for students at the earliest stages of math education (K-3), Miquon is rooted in the principles of child-centric/guided learning and allows students a good deal of freedom to explore and discover math concepts for themselves, often rewarding out of the box thinking.
In the program, students are presented with a variety of exercises and problems and are encouraged (under the gentle guidance and assistance of parents) to make maximum use of their creativity, imagination and logic to figure things out rather than relying on drilling math facts and doing exercises.
Numbers, shapes, operations and equations are modeled out using a wide array of manipulatives (rods, shapes, and so on), with hands-on activities and tools being tightly integrated into the program far more than most others.
The program is divided into a number of color-coded books, each of which contains an array of math topics (referred to as threads) that run throughout the program.
Parents can choose to follow a single thread and use the program as a mastery math curriculum, or go book by book and revisit topics as they come, i.e. as a spiral program.
While many parents might feel that a discovery-based approach would lead to a slower pace and coverage of material, the opposite is actually true.
With its discovery-based learning, carefully crafted exercises and parental guidance, Miquon Math is actually pretty rigorous and is capable of teaching fairly advanced concepts to K-3 students, such as fractions, inequalities, factoring, series and progressions, sets, graphs and more.
Yet, as it is very discovery-based, child-centric and rather open, the program still manages to be fairly gentle and un-intimidating, which is always a plus when dealing with very young students.
Read our in-depth review of Miquon Math for more information
Best Christian Math Curriculum – Horizons Math
| | |
| --- | --- |
| Price: ⭐⭐⭐⭐⭐ | Grades: K-8 |
| Ease of Teaching:⭐⭐⭐⭐ | Conceptual/Procedural: Procedural |
| Open and Go: ⭐⭐⭐⭐ | Mastery/Spiral: Spiral |
| Rigor: ⭐⭐⭐⭐ | Common Core: ✘ |
| | |
| --- | --- |
| Pros | Cons |
| Affordable | Does have a lot of drill and reputation |
| Strong faith-based component | Lack of full scripting can make things a little more time consuming for new homeschooling parents |
| Comprehensive, traditional math learning with strong emphasis on building fundamentals | |
| Easy to teach, open and go | |
| Full color illustrations | |
| Advanced | |
If you're looking for a math curriculum with strong, Christian values but that still provides a rigorous level of math learning, then Horizons Math might just be the right curriculum for you.
Produced by Alpha Omega Publications, Horizons Math is a spiral, procedural program that offers students a strong foundation in math, helping them learn to assess and solve problems quickly and accurately through a strong, traditional emphasis on learning math facts and procedures and providing lots of review and practice.
Interestingly, and perhaps unlike many other procedural programs, it integrates a wide variety of hands-on learning activities and exercises into each lesson, even in upper grade levels, which can make learning more understandable and more engaging for students.
It is also fairly advanced as a math program, covering topics in-depth and often ahead of grade level, for example by introducing fractions and operations in Kindergarten.
Yet, at the core of the program are strong Biblical values, with each book in the series containing a wide array of maxims, inspirational messages, scriptural quotes and references to the bible and biblical values.
As a result, Horizons Math can be considered an excellent opinion for faith-based homeschools looking for a program that contains both rigorous and faith-based learning.
It's also quite affordable, too, with a complete year's learning typically coming in at less than $100.
Read our in-depth review of Horizons Math for more information.
Best Literature-based Math – Life of Fred
| | |
| --- | --- |
| Price: ⭐⭐⭐⭐⭐ | Grades: K-12 |
| Ease of Teaching:⭐⭐⭐⭐ | Conceptual/Procedural: Conceptual |
| Open and Go: ⭐⭐⭐⭐ | Mastery/Spiral: Spiral |
| Rigor: ⭐⭐⭐1/2 | Common Core: ✘ |
| | |
| --- | --- |
| Pros | Cons |
| Affordable | Not a huge amount of practice compared to some other programs |
| Extremely flexible | Not very multisensory |
| Very gentle, yet comprehensive way of learning math | |
| Learning based on stories that are fun to read | |
| Can be reused with many students | |
| Covers math from K to college years | |
| Compact with not much to buy and store | |
Life of Fred is one of the more interesting and unique math curricula we've seen so far.
Rather than teaching with a textbook, videos or lecture, Life of Fred actually teaches math through an engaging series of novels about a young math prodigy/math professor and his various adventures.
The books themselves are packed with knowledge and weave clear math learning and demonstrations into an overall storyline, which contains a good deal of playful humor and fun illustrations.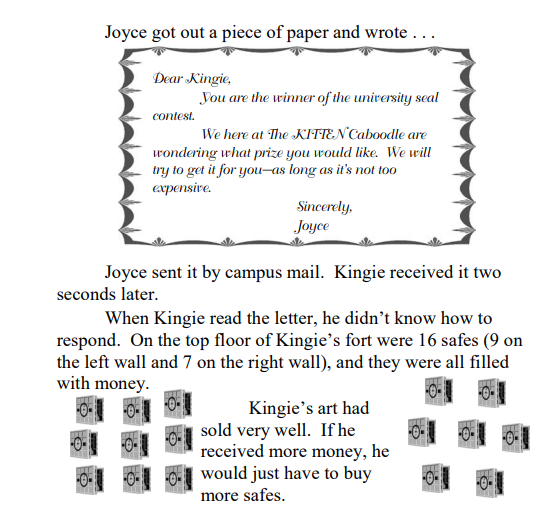 As a result, while perhaps a bit roundabout in its style of teaching, the program manages to make even complex math topics seem a lot less intimidating and a lot more doable.
While this literature-based approach is highly unusual in the world of math, its overall coverage of math topics is actually quite extensive.
Progressing from kindergarten through to college-level math, Life of Fred's stories cover everything from simple addition and subtraction all the way to linear algebra and calculus, as well as real and complex analysis.
The combination of an approachable presentation and extensive topical coverage means that Life of Fred can be an excellent go-to resource for students who suffer from math-phobia, have had a hard time learning it in the past or who are using another program but could benefit from another perspective on things.
More than that, however, Life of Fred's engaging literature-based approach makes it a somewhat natural fit for homeschoolers interested in teaching using living books, such as those following a Charlotte Mason or eclectic approach.
Finally, Life of Fred is also quite affordable.
With its softcover books typically costing less than $20 to buy, it should fit easily into most budgets, either as a curriculum or as a supplement.
Read our in-depth review of Life of Fred for more information.
What Parents Should Consider
Student Needs
Like pretty much everything else in education, math instruction tends to go through phases and best practices for teaching tend to be influenced by research of the time and the general cultural zeitgeist.
As a result, it can sometimes seem as if there is a new "transformative way of teaching" coming out every few years.
While innovations in teaching and methodology are certainly important, homeschooling parents should never lose sight of the fact that they are in a unique position to really tailor learning to their child.
With math being at once a critical subject and also one that can end up inspiring fear and frustration if taught wrong, it is extremely important that parents consider the needs and ideal learning style of their child over anything else.
Some students, for example, may learn best with tons of review and drill, others may hate multisensory and activity-based learning and actually prefer simple, direct instruction.
If a student is comfortable with a program and understands what's being presented they are often less likely to feel frustrated or intimidated by what's being taught.
How Much Review
Review is a tricky thing with math.
Review and practice are the main way in which skill fluency in math is developed, and all students need some…and some students need a lot.
At a certain point, however, too much review and practice can result in "drill and kill," where a student's motivation to learn is destroyed by what they see as boring busywork.
Too little and students tend to forget or fail to master key skills.
As a result, parents really need to examine a program, view it in light of their student's and their individual needs and preferences and perhaps even be willing and ready to modify or supplement the program as needed.
Word Problems vs Drill
In recent years there has been a debate between including more word problems vs. straight computational problems and drill, particularly at the K-8 level.
Some argue that word problems foster critical thinking, logic and creativity a little better and others argue that students need more practice in becoming faster and more accurate at calculating.
Without wading into the debate ourselves, it is something that parents will have to consider.
Hands on learning
It sometimes seems like a no-brainer and that hands-on learning in math is the way to go.
While we are certainly fans, feeling that it can help students (particularly younger ones) better grasp abstract concepts, it is important that parents go into hands-on math programs with their eyes fully open.
Math manipulatives and hands-on activities do require parents to buy and store more materials for each child, they can get distracting for some kids and they can extend the length of each lesson significantly, something that not every family has the time for.
Common Core Alignment
Not every homeschool math curriculum is common core aligned, with many following their own pace, scope and sequence.
While some homeschooling families may be fine with an unaligned curriculum, others may be bound by local statutes on homeschooling or just may prefer following a more standardized program.
By and large, there usually isn't much of a downside either way and it is largely an issue of personal preference.
Level of Rigor and Challenge
We always like it when a math curriculum is rigorous and thorough in its teaching of math concepts, and we appreciate it when their practice materials can push a child to think a little more deeply when solving problems.
That said, a program's rigor and difficulty needs to reasonably match the ability, skill and preference of a child.
If a program is too advanced, too complex and moves too quickly, a child can quickly find themselves lost, frustrated and hating math.
Time Commitment
Homeschooling can be something of a 24/7 lifestyle and math isn't the only subject and activity that a child will have over the course of a year.
Some math programs have short lessons that are easier to slide into schedules, while others may have longer ones with more activities packed into them that can help reinforce learning.
To prevent chaos and a general feeling of hurriedness, a math curriculum needs to be able to fit into the general lifestyle and day to day schedule of the family learning from it.
Level of Parental Involvement
Finally, parents need to consider just how much time and effort they can devote to a single child in a single subject.
While every parent would like to say that they are willing to devote everything they have to their kids, the reality of homeschooling (particularly with larger families) is that life often gets in the way of ideals.
As with other homeschooling curricula, some math programs are very parent intensive and require parents to teach directly and sit through lessons, interacting and monitoring students as needed.
Others may be more self-study, with the program itself teaching the student on a day to day basis and parents stepping back into an oversight role by making sure students are keeping up with their work.
As with other factors, there is not one size fits all and it is a choice that all parents have to make at some point.
Bottom Line
Finding the best homeschool math curriculum for your needs can certainly take time, requiring a good deal of research and a realistic evaluation of both your own teaching philosophy and style and your student's needs, abilities and sometimes even their personality.
Yet math is a critical component of everyday life and, sadly, a subject that is often taught in a way that frustrates and discourages students.
As parents we want our children to have the most advantages they can in school and in life, and strong mathematical confidence can certainly be one such advantage, even if the student never pursues a career in STEM.
So as you pour through the various scope and sequences, just remember that the time spent finding a way of teaching math that fits will be well worth it in the end.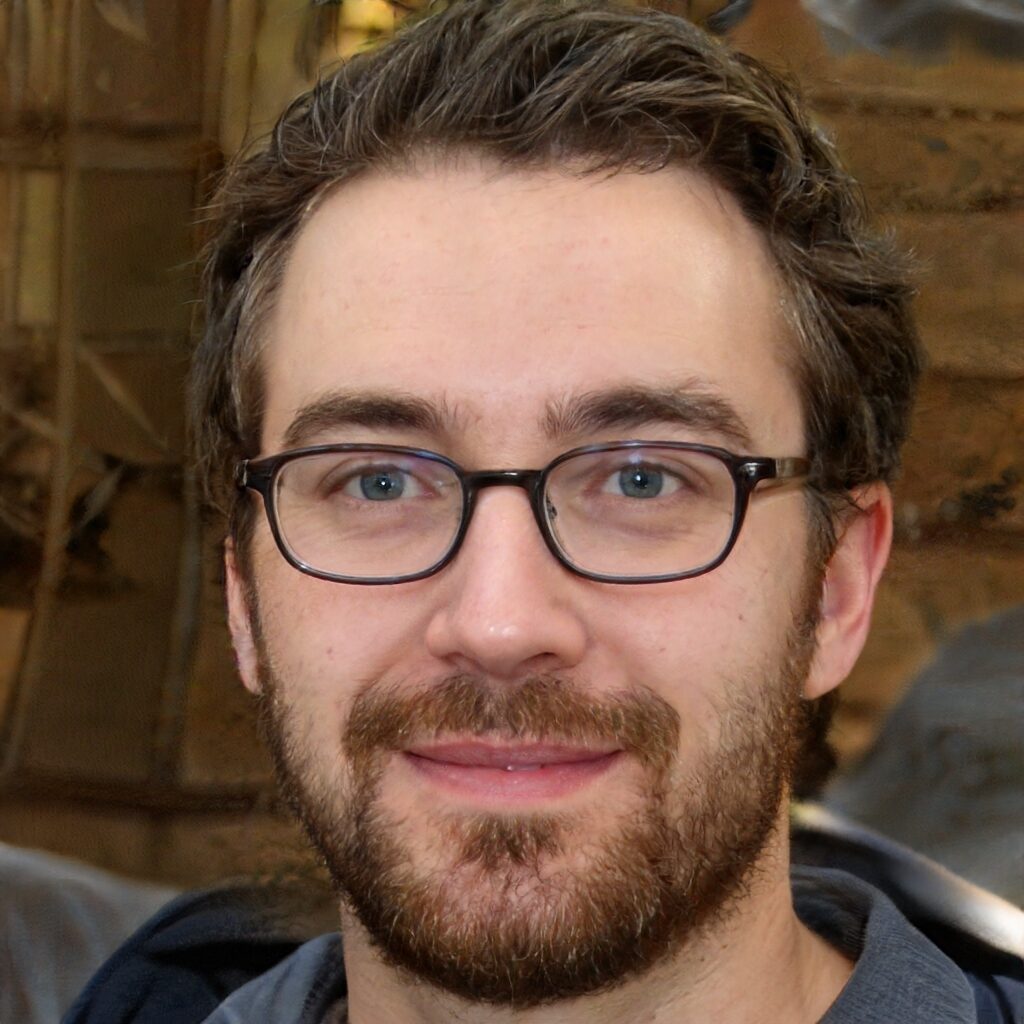 About the Author
David Belenky is a freelance writer, former science and math tutor and a tech enthusiast. When he's not writing about educational tech, he likes to chill out with his family and dog at home.