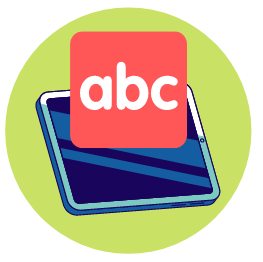 With their activity-rich lessons, online resources, clear and easy to use lessons and frequent review, Savvas' D'Nealian Handwriting series can offer students and parents an easier, more engaging and affordable way to learn cursive.
What Is Savvas' D'Nealian Handwriting Program?
Savvas' D'Nealian Handwriting program is a series of books that help students learn letter formation and, eventually, transition to cursive using the D'Nealian Method.
Formerly published by Scott Foresman, the course has been around since the 1970s and has undergone a significant update under Savvas.
New editions of the course blend traditional and digital homeschool learning, with students learning through illustrated and consumable pen and paper workbooks while also being able to enjoy digital audio-video demonstrations online.
What Is The D'Nealian Handwriting Method?
Developed in the late 1960s by educator Donald N. Thurber (the program's name is something of a portmanteau of his name, Donald Neal), the D'Nealian method is a way of teaching students letter formation designed to make transition from print letters to cursive a little easier.
To do so, the D'Nealian method uses a continuous stroke method, where students are taught a particular way of creating letters that minimizes ( and in some cases eliminates) the need to periodically raise their pencil off the page.
Many letters in the D'Nealian method look a little different than traditional lettering or typeface, with a notable slant and little strokes, or "monkey tails" as they are commonly referred to, attached to the end of them, as can be seen below.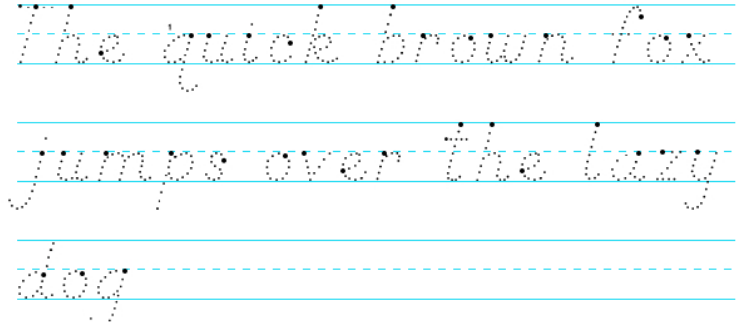 Compared to other methods, such as the popular Zaner-Bloser approach, fewer letters change shape when moving to cursive and there's no need for students to suddenly learn to slant their lettering.
Instead, students simply need to learn to connect their letters together rather than needing to learn a new style of letter formation.
What Ages Or Grades Is This D'Nealian Handwriting Program Intended For?
Savvas\ D'Nealian Handwriting is a complete course in handwriting intended for students in the K-5 age range, i.e. those just starting to learn their letters all the way through to those starting their formal cursive instruction.
To do so, the program offers five books, each aimed at a different grade.
The series begins by teaching students the very basics of handwriting, with students in K-1 (Manuscript) learning pre-writing skills (spacing, letter and page orientation, posture, etc.), and beginning to learn to print letters in the D'Nealian style, covering lowercase, uppercase, numbers and basic punctuation.
Starting around grade 2 (Transition to Cursive), students begin practicing lower and uppercase print together before learning and reading cursive strokes.
They then begin to work on upper and lower case cursive lettering and then round the course off with some practical experience in using what they've learned with simple writing tasks, such as addressing letters, writing short notes, lists and so on.
The series concludes in grades 4 and 5, where students work completely in cursive, practicing their lettering while working on their slant, neatness, speed of writing and so on.
At the same time they get more practical experience with their handwriting, working on more complex writing prompts, such as recipes, poems, titles, lists, letters and more.
Although intended for students in K-5, as a homeschool handwriting program, Savvas' D'Nealian Handwriting series can be started and used by students outside of its suggested age range.
The fairly straightforward and visual approach it uses means that precocious preschoolers can, of course, try their hand at learning their letters, assuming they possess the necessary coordination and attention span.
In a similar vein, the series can also be an effective way to help older students who struggle with cursive, assuming that they don't mind the colorful, sometimes cartoon-like illustrations or the fact that grade levels are fairly prominently printed on the workbook covers.
One thing that parents should keep in mind when switching into D'Nealian Handwriting, or really any program using a continuous stroke approach, is that it can be very different from the more traditional "ball and stick" methods of handwriting parents and students might be used to.
Such a change can be a bit jarring for a student who has already started learning their letter formation, so some students jumping into D'Nealian Handwriting at a later grade might be well-served by picking up a workbook from earlier grade levels to get extra practice before starting at a more advanced level.
What's Included In Savvas D'Nealian Handwriting?
As a handwriting program, D'Nealian Handwriting is pretty expansive in terms of the materials offered by Savvas.
While the core of the learning, as with other such programs, is largely contained in the workbook practice, the company also offers Teacher's Editions, digital tools and even some more hands-on practice materials.
D'Nealian Handwriting Student Editions
The D'Nealian Handwriting Student Editions are where students will spend most of their time while using the program, containing more or less everything a student will need to practice D'Nealian handwriting, including some stroke instruction, practice exercises, tips, reviews and evaluations.
The Student Editions are softcover consumable workbooks with dedicated three- and two-lined spaces (depending on the grade level) for student response. 
The workbooks are printed in color and are pretty nicely illustrated, using pictures and cartoonish style drawings that should make using them a little less boring for students, and are an improvement over older editions of the series that were largely black and white. 
Thankfully, unlike some other handwriting workbooks we've seen, the illustrations do become more infrequent and less cartoony as the grades progress, so older students shouldn't feel like they are too babyish.
By and large, the Student Editions are pretty straightforward to use, containing clear and simple writing and instructions.
As a result, once they become more fluid readers, students should be able to use them on their own, making the program a little more self-study (and more appealing to busy homeschools) than some other options out there.
Teacher's Guides
The D'Nealian Handwriting Teacher's Edition books are softcover, full-color instructor's manuals that are designed to accompany the workbook-style Student Editions.
The Teacher's Editions act as a framework to the course, offering complete and systematically structured lesson plans, filled-in examples of student pages, suggestions for teaching and further practice and an activity bank filled with various exercises and activities that can help extend and enrich student learning.
The Guides are pretty well-scripted, providing parents with a detailed, step-by-step method and plan to follow throughout a lesson.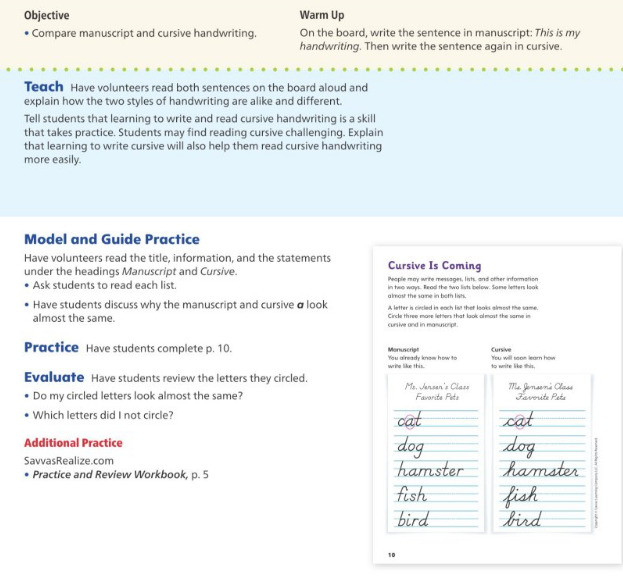 They don't really provide a complete dialogue to follow, however, so parents will have to improvise a little bit here and there to get their point across.
That said, this does mean that parents can more easily add their own touch to lessons and should feel more free to speak naturally with their child.
Parents should be aware, however, that the Teacher's Guides are written for a classroom setting and do frequently make references to that effect, such as mentioning student groups or classrooms, which can occasionally annoy some homeschooling parents.
Given the fact that the Student Editions are pretty clearly written, it is natural to wonder whether the Teacher's Guides are strictly necessary for a homeschool setting.
We feel that this is a decision that is best left up to the individual homeschool, but feel that the Teacher's Guides can provide essential and systematic structure, formal lesson guidance and teaching tips that many will find useful.
Further, they offer a variety of interesting and ready activity ideas that can spice up otherwise boring handwriting practice. 
As a result, we believe that, on the whole, the Teacher's Guides do offer a lot of value to parents, particularly those new to homeschooling and those uncertain about their own ability to teach proper handwriting.
Digital Resources
In addition to the Student and Teacher's Editions, Savvas has also linked D'Nealian Handwriting to its Realize digital learning portal, providing the curriculum with a modern assortment of interesting digital learning tools that homeschools get a year's access to.
The Realize portal is pretty user-friendly and full-featured, providing students and parents with downloadable/printable copies of the course books, as well as a variety of practice and review questions for each lesson and an assortment of printables on offer, such as tracing cards for letters and numbers.
Interestingly, and perhaps most useful for students, is that the company has created a number of video animations for the course that demonstrate, step-by-step, the D'Nealian letter formations, which can be of great help to audio/visual learners.
Overall, the digital resources offered by Savvas can be quite useful, allowing parents and students to take learning on the go and generally serve to take D'Neilson handwriting instruction into the 21st century.
More than that, they can help make lessons more engaging and multisensory by adding multimedia capabilities to lessons.
That said, it is important to note that Realize is ultimately designed for schools and so many of its more intriguing capabilities (Google classroom integration, curriculum tailoring, classroom management tools, etc.) won't necessarily be as relevant to the average homeschool.
It also introduces a little more screen time and internet usage into lessons, which some parents may not be thrilled about.
Physical kits and tools
Finally, as with some other programs such as Handwriting Without Tears, D'Nealian Handwriting also offers optional, physical handwriting supplements that parents can pick up.
These include things like letter and number tracing cards, which students can use to trace letters using their hands, as well as whiteboard-style cards for quick and convenient writing and erasing, and generally serve to add more of a kinesthetic touch to the program.
They are, however, sold separately from the rest of the course (at time of writing) and seem to be more aimed at classroom and school use, rather than homeschools.
Approach To Teaching Handwriting
D'Nealian Method
As the title of the series might suggest, D'Nealian Handwriting teaches the D'Nealian method of letter formation.
As we've discussed, this is a methodology that uses a unique set of print letters that resemble cursive from the start, helping students more easily transition to cursive by having fewer transforming letters and by teaching them to simply connect their print lettering.
Beyond making it easier to switch into cursive, there can be significant advantages to this approach for students.
As a continuous stroke program, students, for example, won't need to lift their pencil off the page quite as often as with other methods.
This can lead to fewer reversal errors than other programs, which in turn can make it an interesting option for students with reading and writing difficulties, such as dyslexia.
Similarly, although more a matter of taste, the D'Nealian letters can be very cool and nice to look at, with the little monkey tails on each letter adding a bit of flourish to a child's writing.
On the downside, D'Nealian handwriting can be unfamiliar to many parents, who might have learned to write using a more traditional "ball and stick" method, and who will need to familiarize themselves with the program and its style.
Further, it is important to note that the D'Nealian style of lettering isn't as prominent in books or media as more simplified print, so there might not be as many real world examples for students to be exposed to or inspired by.
Systematic Handwriting Instruction
D'Nealian Handwriting lessons offer students step-by-step, explicit instruction on how to create their letters and numbers in a particular way.
Each lesson lays out exactly how a letter is created, from the initial dot through the complete motion, using detailed and clear instructions, and the beginning of the series includes units with tips on proper posture (for both left- and right-handed students), spacing, sizing and more.
This direct and fundamental instruction can go a long way in helping prevent handwriting problems before they start and provide students with a consistent and logical methodology to follow as they go.
Multisensory
D'Nealian Handwriting is a fairly multisensory program, as well.
Throughout each level, students are encouraged to watch and listen to instruction on the course website, trace letters with their fingers, write them down, participate in the various hands-on activities and crafts featured in the Teacher's Guide, and more.
Going beyond simple writing drill, lessons tend to engage a variety of different student senses, making them more suited to students with different learning styles (visual, auditory and kinesthetic), as well as making handwriting a little less intimidating to students who have a hard time with pencil work.
And, because multisensory learning can engage multiple learning pathways, there is evidence that it can be more effective when it comes to long term retention of skills and knowledge.
Activity-rich
D'Nealian Handwriting workbooks don't just involve simple letter and word formation exercises.
Particularly at the upper grade levels, the program offers a wider variety of writing activities that can get a student practicing their letters in a more relevant and interesting manner than some other handwriting workbooks out there. 
Throughout a year, students might, for example, do copywork, write a letter, create notes and lists, draw, do arts and crafts, make posters and much more, all of which can help them practice their letters while boosting their skills in other areas, such as language arts. 
The use of activities also serves to keep the program from getting too boring or repetitive, which can help keep students from zoning out.
That said, it does mean that parents might have to spend more time preparing (or even going out and purchasing) materials and the learning space ahead of time compared to more workbook-based programs.
How It Works
D'Nealian Handwriting is a pretty straightforward handwriting program, all things considered.
It is designed to be teacher-led, with parents working from the Teacher's Guide and students completing their work in the workbooks.
As we've mentioned earlier, the workbooks are pretty clearly written and are pretty intuitive, however, so more experienced homeschooling parents, quick studies and those who are perhaps themselves familiar with the D'Nealian method and lettering may be able to work from the workbooks and digital resources alone.
Each book in the series is made up of several units, with the first being something of a review of previous concepts.
In earlier levels, they include a general review of things like proper left/right-hand posture, letter discrimination, spacing, size and so on. 
At the upper levels, which are aimed at older students, these reviews are more about refreshing a student's familiarity with D'Nealian letters and numbers.
The remaining units of each book are dedicated to handwriting instruction and practice.
The lessons themselves generally follow a 4-step format (Teach, Model and Practice, Practice, Evaluate), which is outlined in full in the Teacher's Guide.
Parents first teach proper letter formation, using the online videos if needed or so desired, demonstrating for students each stroke in turn, pointing out the order of each step explicitly as they go.
Parents and students then move on to modeling and practicing, where parents and students trace the lesson material step-by-step, orally reciting the description of strokes until the student feels comfortable enough to try things out on their own.
After this, students can then turn to the workbook and begin practicing that lesson's worksheet on their own, using the exercises and related activities to do so.
Each workbook does include a fair bit of built-in brief  but clear and intuitive instruction and demonstration, which can help students refresh their memory and keep things on the right track.
As students develop in their reading skill, they also allow students to increasingly work on their own and with less direct supervision, something that can help busy parents and free them to work on the many other homeschool tasks that require their attention.
Finally, parents are expected to go over the work with their students, checking for any errors in both procedure and letter formation, sometimes ending the session by having students circle the very best example of their own work.
Having parents work together with students is a bit unusual for a curriculum, but it is something that we appreciate as it can help students develop a more critical eye towards their own work and help them learn to recognize (and hopefully avoid) making the same mistakes in the future.
If students need it, D'Nealian Handwriting does include additional printable practice problems online.
These are typically fairly brief and include a brief concept review and some simple practice exercises.
Following each lesson, parents can use the parents guide as a resource for some hands-on supplemental activity ideas.
These can range from simple discussions, such as having students think up words starting with certain target letters or completing some puzzles that parents create, to full on arts and crafts activities, with students drawing, cutting, pasting and so on.
These activities can add a bit more fun and dynamism to lessons, which can increase student engagement, as well as providing more opportunities for multisensory learning.
That said, lessons are usually kept pretty short with D'Nealian Handwriting and these activities can increase a lesson's length quite a bit, especially if a student is having a good time and loses track of time.
They also can involve the use of a variety of household materials, which parents will have to find (or buy) and set up, which can increase a lesson's prep time, as well.
Finally, as a handwriting program, D'Nealian Handwriting includes quite a bit more review and evaluation than many other homeschool handwriting program's we've seen.
Every few lessons there is a general practice and review session, where students are challenged to write words and sentences using what they've learned from their lessons.
These are usually followed by an evaluation lesson, which are a page or so of writing exercises that students work on to see if they can manage on their own.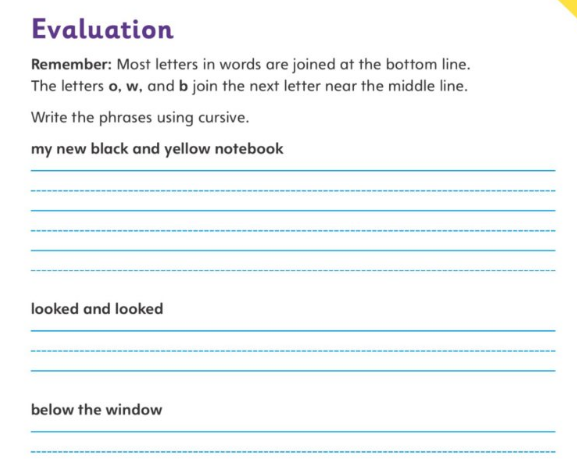 These quizzes are a little different than most other curricula we've seen and are kind of interesting as they are treated in the Teacher's Guide like a little lesson, with parents and students working together to evaluate the work.
Like the lesson evaluations, this can help students develop better handwriting/self-editing skills (which is really the point of these programs), and can feel more familiar and perhaps a little less intimidating for students in the long run, which is nice.
How Easy Is D'Nealian Handwriting To Teach With?
By and large, D'Nealian Handwriting is a pretty easy program to use.
The Teacher's Guides are pretty well laid out, clearly written and scripted, and should guide even less experienced parents through handwriting lessons without much of an issue or a lot of lesson review.
At the same time, they aren't so scripted as to feel stifling for homeschooling parents, who should be able to converse naturally and add their own style of teaching to a lesson.
Similarly, the Student Editions offer brief, but clear instructions and nice, large stroke and direction illustrations that should make them easy for students to follow, either on their own or with parental help.
If students or parents do get a little lost, the digital videos available for the program do an excellent job at demonstrating letter formation and can be of immense help to students working on their own or those that have different learning preferences.
As a result, D'Nealian Handwriting can be said to be a pretty open and go program, with very minimal prep work requirements beyond getting any activity bank materials ready.
The only real issue that parents might have with D'Nealian Handwriting is that it can be an unfamiliar method of letter formation for those raised on traditional methods and it can require some parents to take their time and do some research before starting the course.
Pros And Cons
Pros
Affordable
A full year's learning with Savvas' D'Nealian Handwriting can cost less than $30, which can make it suitable for just about any homeschool budget.
Clearly written, open and go
D'Nealian Handwriting books are clearly written and very intuitive to use, offering students easy to understand, step-by-step diagrams and instructions for letter formation, and parents well-scripted lesson plans.
As a result, although the handwriting method can be a bit different than most, there's not a lot of prep work or planning required when using the program.
Colorful and illustrated
D'Nealian Handwriting workbooks are a lot nicer than many others to look at and use, being full color and using fun, cartoon-like illustrations that can make things more interesting for kids.
Multisensory
Whether it is in tracing letters with their fingers, watching animations online, or engaging in some fun, hands-on activities, students in D'Nealian Handwriting tend to get a good deal of multisensory instruction, which can make learning more effective in the long run, particularly for students with different learning styles and preferences.
Scripted, but not overly so
Parents who use the Teacher's Guide will find that lessons are pretty well structured and scripted, guiding them step-by-step through teaching, practice and evaluation.
At the same time, the program doesn't weigh parents down with a word-for-word dialogue, which encourages parents to put their own spin on the learning and be more natural with their students.
Lots of digital resources available
In addition to the workbooks and teacher's guides, parents and students can access a variety of digital tools online, including helpful letter formation videos, extra practice problems, extra review, various printables and so on.
Lots of review
Every few lessons, D'Nealian Handwriting includes dedicated review and evaluation lessons, which can help students (particularly those who are prone to forgetting things over time) refresh their knowledge, get more practice and periocally assess their learning.
Promotes independent learning
Although intended to be teacher-led, D'Nealian Handwriting does go a long way in promoting independent learning.
The workbooks are well-designed and clear, and older, fluid readers should be able to do much of the work on their own.
More than this, the program often gets students to evaluate their own work, both in lessons and evaluations, which can help them develop a more critical eye and allow them to learn to more independently and effectively edit their own work later on.
Can include a lot of interesting activities in lessons
The D'Nealian Handwriting Teacher's Guides offer a variety of interesting activity ideas that parents can integrate into lessons to deepen and enrich student learning.
These can range from simple puzzles and dialogues to more complex and interesting hands-on, handwriting-related arts and crafts exercises.
Cons
Handwriting style may be unfamiliar to some parents
D'Nealian Handwriting in general can be pretty different than what most parents, particularly those raised on "stick and ball" writing styles, are familiar with.
As a result, the style of lettering may not seem very intuitive and parents may need to spend some time at first getting familiar with the program's methodology.
Activities can lengthen lesson and require more prep from parents
Although often a lot of fun, and certainly more engaging than standard worksheets, D'Nealian Handwriting's activities can require a little more work from parents, as they might need to plan, buy, store, maintain and set up materials before lessons.
Who Is Savvas D'Nealian Handwriting Ideal For?
Those looking for a high quality D'Nealian handwriting course
With its hands-on activities, fun workbooks, clear and sequential instruction and digital resources, D'Nealian Handwriting is one of the most high quality and effective D'Nealian courses we've seen and can be a great fit for those interested in this approach.
Those looking for a straightforward and easy to use handwriting course
Method aside, Savvas' D'Nealian Handwriting course is very intuitive and easy to use as a handwriting program.
Lessons follow a logical and sequential method, the workbooks are quite clear in their instruction and exercises and there are a plethora of digital resources to help with teaching.
As a result, there is very little risk of parents or students getting too lost with the instruction, and there is very little prep required for each lesson.
Those who are looking for a handwriting program that is supported by useful digital tools
When purchased as a bundle, each book in D'Nealian Handwriting comes with a year's subscription to Savvas' Realize online platform, which provides parents with access to videos, digital copies of the texts, additional activities and review pages, various printables, scheduling tools and more.
Fans of activity-rich handwriting curricula
D'Nealian Handwriting's Teacher's Guides offer a good number of engaging activities and exercises in each unit, usually two per lesson, that can go far beyond the usual letter formation practice and can involve things like arts and crafts and various puzzles.
Students who need a lot of review and evaluation to get concepts
D'Nealian Handwriting offers students a lot of opportunities for review, providing dedicated refreshers and quizzes after every few lessons, which can help periodically reinforce the learning.
Who Is It Not Ideal For?
Those looking for a traditional handwriting course
With its continuous stroke method and cursive-like print letters, the D'Nealian method can be quite different from most other handwriting programs out there, particularly those that favor a simple, ball and stick approach, as well as from most digital lettering seen in the real world.
Parents and students who want a more natural handwriting course
A very systematic and explicitly-taught handwriting program, D'Nealian Handwriting may not be a great option for parents who want a more student-led approach that lets a student's handwriting develop more naturally.
Students who are already somewhat proficient at handwriting
Students who have begun and have learned a good deal of handwriting from a non-D'Nealian program may have a bit of a harder time adapting to the program's very different lettering and style.
Such students may actually have to go back and relearn much of their lettering, as well as D'Nealian Handwriting's way of doing things, which can be frustrating.
Price
Note: Prices correct as of writing, all prices in USD.
In general, parents can pick up Savvas D'Nealian Handwriting as a bundle, which includes a consumable workbook and a year's access to the Realize digital learning platform (where they will have access to the Teacher's Guide), for $24.97.
There are physical copies of the Teacher's Guide available at the Savvas website, but these can be expensive and generally can only be purchased by institutions.
As always, parents should always check for current prices, as well as for any discounts or offers that might exist. 
Or
Is It Worth The Price?
For homeschools looking to explore a D'Nealian approach, Savvas' D'Nealian Handwriting series is an affordable option that offers a lot of value.
The books are well-illustrated and fairly intuitive, allowing parents and students to follow along and sequentially learn this rather unique handwriting style through clear and step-by-step instructions.
Going beyond simple writing practice, the series can also include a lot of fun activities, which allow students to practice and learn their letters in a much more active, dynamic and engaging manner.
They also can include various copywork and writing exercises, which, in addition to help students along with their related language arts skills, can help give students some more relatable and real world application of their skills.
Finally, the program is quite multisensory and capable of suiting a wide variety of learning styles.
In addition to the various optional hands-on activities, students frequently do tracing work, orally recite letter formation steps and, at any time, can make use of a variety of online audio-visual resources on the Savvas learning platform.
Bottom Line
With their activity-rich lessons, online resources, clear and easy to use lessons and frequent review, Savvas' D'Nealian Handwriting series can offer students and parents an easier, more engaging and affordable way to learn cursive.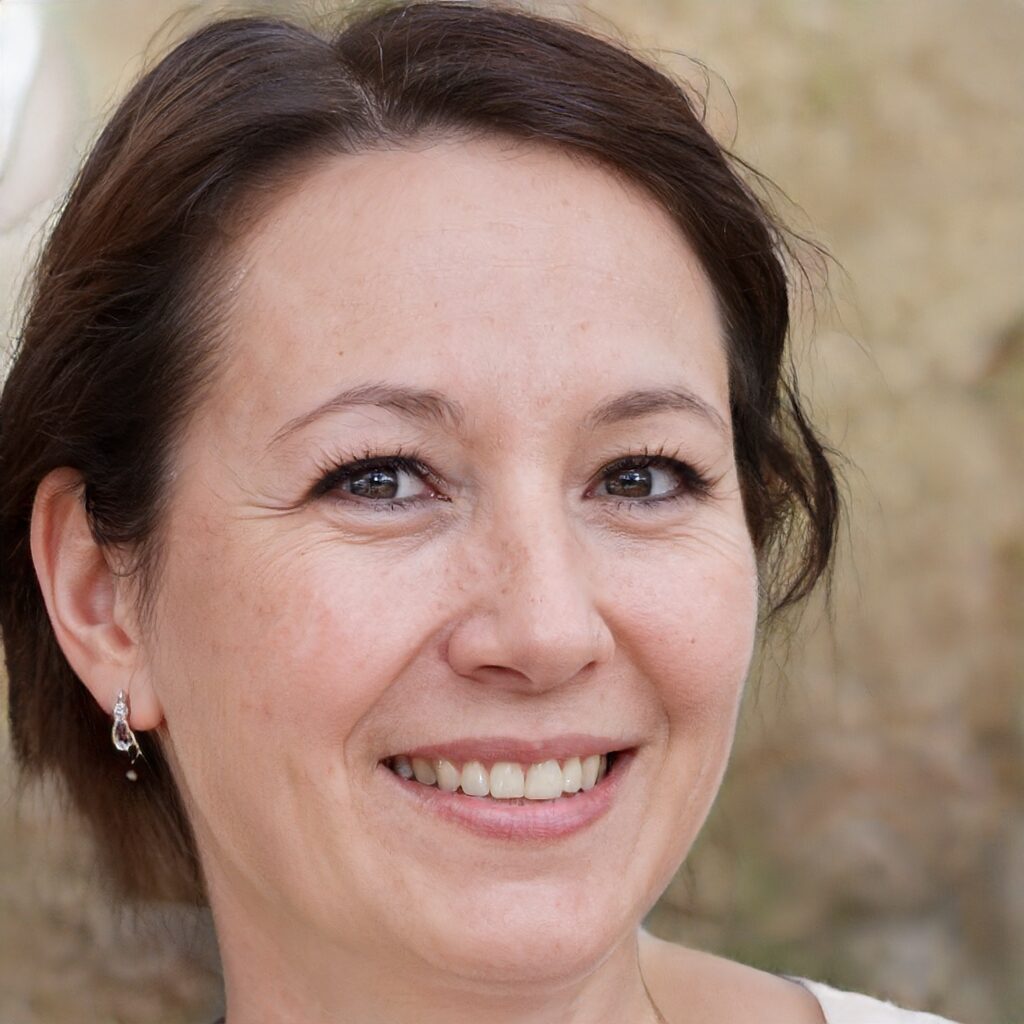 About the Author
Anne Miller is the editor of The Smarter Learning Guide and is a passionate advocate for education and educational technology. A mom of two, she majored in English Language and Literature and worked as a substitute teacher and tutor for several years. When not writing she continues to root for the Yankees and the Giants.