With its adaptive question algorithm and powerful analytic and diagnostic tools, IXL's online learning platform gives parents and students a surprisingly effective way of finding and honing in on any gaps in learning across several core subjects. As long as you don't get over focused on drill and scoring, its gamified system of prizes, challenges and awards can even let kids have a bit of fun while they learn, too.
What is IXL
Founded in 1998, IXL is a personalized, online subscription-based learning platform for students pre-K-12.
Available both on desktop and mobile, and covering a variety of subjects form Math to Social Science, IXL uses an algorithm to adapt practice questions to the user's skill levels, challenging and engaging students while offering in-depth, real-time reports on any skill or learning gaps that they may have.
Due to its ability to quickly and effectively assess student progress, as well as its ability to identify and target areas of skill improvement in real time, IXL has become popular with both teachers and parents looking to supplement their child's learning with effective and personalized practice.
Price of an IXL Membership
Note: Prices correct as of writing, all prices in USD.
IXL has options for school districts, individual classrooms and for home use. For this review, we're looking at home use.
Schools, microschools and those interested in classroom packages can contact IXL and receive a personalized quote.
Family Packages
| | | | |
| --- | --- | --- | --- |
| | Single Subject | Combo Package | Core Subjects |
| | 1 subject | 2 subjects | 4 subjects |
| Subjects | Math or Language arts or Spanish | Math, Language Arts | Math, Language Arts, Social Science and Science |
| Price per month | $9.95 | $15.95 | $19.95 |
You can add on Spanish for an additional $5 per month and multiple children can be added for an extra $4/month (or $40/year) each.
Is IXL worth the price?
Starting at $9.95 per month, we found IXL to be competitively priced with other online learning apps and systems and has a lot to offer for its price.
For the money, you do get quite a bit of content, as membership to IXL gives users access to thousands of unique topics and skills for each subject area. Even at lower grades (Pre-K to 1st grade) you'll find well over a hundred skills to work on, rising to hundreds of skills at higher grades.
IXL also has plenty of high-tech features that parents will find useful.
In addition to its adaptive learning algorithm, IXL offers real-time skill assessment, diagnostics and individualized analytics for students that can help personalize learning and give parents deeper insight into their kids strengths and weaknesses for each subject.
For parents with multiple children additional accounts are fairly inexpensive as well, at just just $4/month or $40/year, and they come with completely seperate profiles, accounts, awards and diagnostics. This makes it pretty helpful for larger families looking to learn at home.
We also liked the fact that IXL offers a 30 day satisfaction guarantee that provides a full refund to customers if they're unhappy.
That said, IXL is a subscription service and that means that family accounts do automatically renew, which is something we never like.
So, remember to cancel your membership before the end of your membership or you'll be billed again.
What subjects does IXL cover?
IXL covers several subject areas, including Math, Language Arts, Social Studies and Science.
Math
Language Arts
Grades Covered
Pre-K to Grade 8
plus
Algebra 1+2, Geometry, Pre-calculus and calculus
Pre-K – Grade 12
Content
4500+ skills covered
2000+ skills covered
| | | |
| --- | --- | --- |
| | Social Studies | Science |
| Grades Covered | Grade 2- 8 | Grade 2- 8 |
| Content | 1400+ skills covered | 700+ skills covered |
Perhaps unsurprisingly, due to many students' difficulty with the subject, the largest amount of content in IXL is in Math, which offers skill development in most math topics from learning to count in Pre-Kindergarten to high school calculus.
That said, the topics and skills covered in IXL's Social Studies, Science and Language Arts sections are fairly comprehensive and cover most (if not all) of the subject material required for the grades they cover.
In fact, IXL Math, IXL Language Arts, IXL Social Studies and IXL Science standards are aligned with Common Core Standards, while IXL Science is also aligned with Next Generation Science Standards.
While this may not be all that relevant for those not following common core standards, such as homeschoolers, faith based schools and those following alternative schooling, the fact that IXLs subjects are broken up by topic and skills makes it very easy to pick various skills and topics and align the software to your own preferences.
IXL Spanish
Recently, IXL has also introduced beginners Spanish as its first foray into language learning. Interestingly, the course doesn't just include interactive questions but also includes audio and information about South American countries and cultures, which gives learning a fresh twist.
The courses cover elementary vocabulary, grammar and contextual speaking exercises, which involve reading, writing and listening to native Spanish speakers (from Latin America) speak about various casual topics in Latin American society.
Although not particularly advanced, the Spanish courses are aligned to ACTFL World Readiness Standards (Level 1 – Novice) and we think are a fun way to get kids in middle and high school started learning Spanish fairly quickly and effectively.
Given that IXL often offers deals where you can add Spanish to most courses for a discounted rate, it can also be pretty good value.
How it works
Once you sign up for an IXL membership, you'll get an account and a personal, unique profile for every child subscribed to the program.
From there, parents can select the subject they'd like to work on and the appropriate grade level for the student.
Each grade level's curriculum is well-organized and easy to sort through, with every section broken into smaller topics. These topics are then further broken down into easier to digest chunks, known as skills.
For example, eight grade math has topics about number theory, integers, rational numbers, exponents and roots, etc. And number theory, is then further broken down into skills such as
Factors
Divisibility rules
Prime factorization
Determining Greatest common factor
Sort factors of numerical expression
Determining Least common multiple
etc
For students, this breakdown can be extremely effective as it makes lessons shorter and easier for students to manage concepts that might be difficult for them.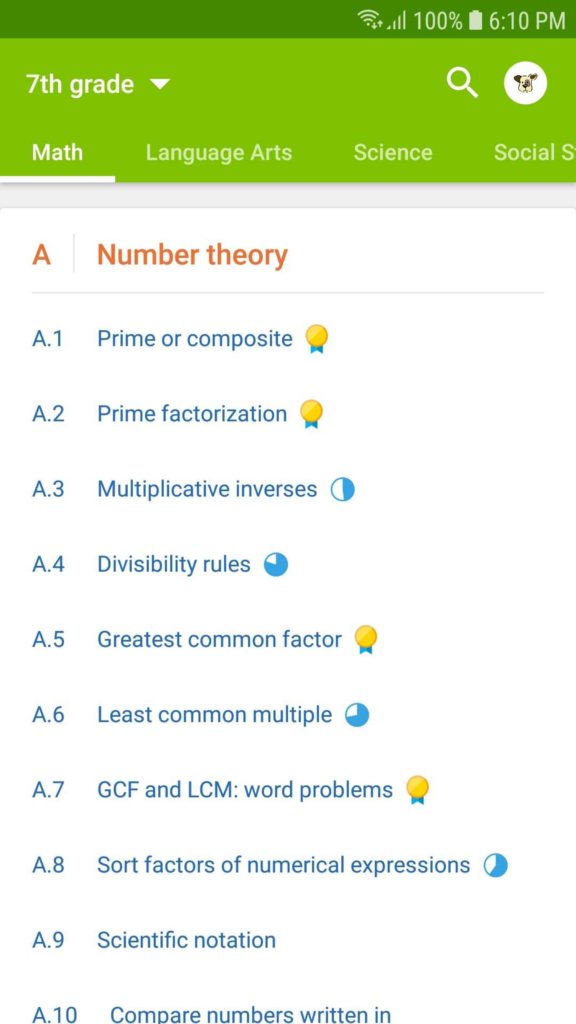 For parents, this subdivision of skills can also be really helpful since their kids might have very specific gaps in knowledge that might otherwise go unnoticed. A student may seem fine with exponents but struggle with understanding and working with exponents with decimal bases, for example.
By splitting the subject into more fine tuned lessons, parents and teachers can better understand where a student is doing well and where they need more practice and even more focused help.
Immediate feedback and adaptive learning
Students work on these skills by solving practice questions and receive a score based on how many questions they get right – what IXL calls a SmartScore.
Correct answers raise the score and incorrect ones lower it (sometimes much to students' irritation) in real time, giving parents a more quantitative idea of their child's strengths and weaknesses in certain topics.
Where things get interesting with IXL is that instead of using a simple question bank that randomly presents questions for students to work on, IXL uses adaptive learning technology. Questions of variable difficulty are offered depending on how the student is performing on previous questions.
If a child is answering questions correctly and quickly, for example, the next question presented will be harder. If they then get that question wrong, IXL's software will then make the next one a bit easier until it gets to an appropriate skill level.
One thing we thought was really helpful for parents was that IXL's practice bank goes a step further than just offering up questions for practice. If a child answers a question wrong, the program will also give them an on-screen, written step by step explanation of the question to help them learn the skill more effectively and help them succeed on that kind of question in the future.
Interestingly, under every skill question IXL also offers recommendations of supporting skills that a student can review if they're having a problem.
That means that if they're stuck on a question type or skill, they have an easy way to go back and review related fundamental concepts before trying again. It's also helpful for both students and parents to figure out which skills are related and necessary for getting a better understanding of certain topics.
What IXL does, in effect, is create a personalized practice experience that is more student-centered, almost like having a tutor sitting there creating questions to challenge the student and discover any weak spots.
Kids who are struggling will be given easier, more fundamental questions to build up their skills more gradually, while kids who have stronger skills will be challenged with more complex problem sets that take things a step forward.
IXL's Gamification of Learning
As with most adaptive learning technologies, some students don't like question-based practice when it comes to topics they don't have a lot of confidence in, and may feel discouraged or anxious by a program that keeps testing and scoring them.
Providing a supportive environment and reducing pressure for these students is critical, as IXL's adaptive learning can be extremely good at closing gaps in skills and learning when used correctly.
To overcome this, IXL tries to take some of the pressure off by offering kids virtual prizes for meeting certain goals, turning practice into more of a game-like environment.
As kids go through different sections and complete challenges, they can win virtual medals and prizes, which encourages them to keep practicing. IXL will also let them know how many questions and skills they have to work on to win more, which can be helpful in letting kids know how they're doing and how far along they've come.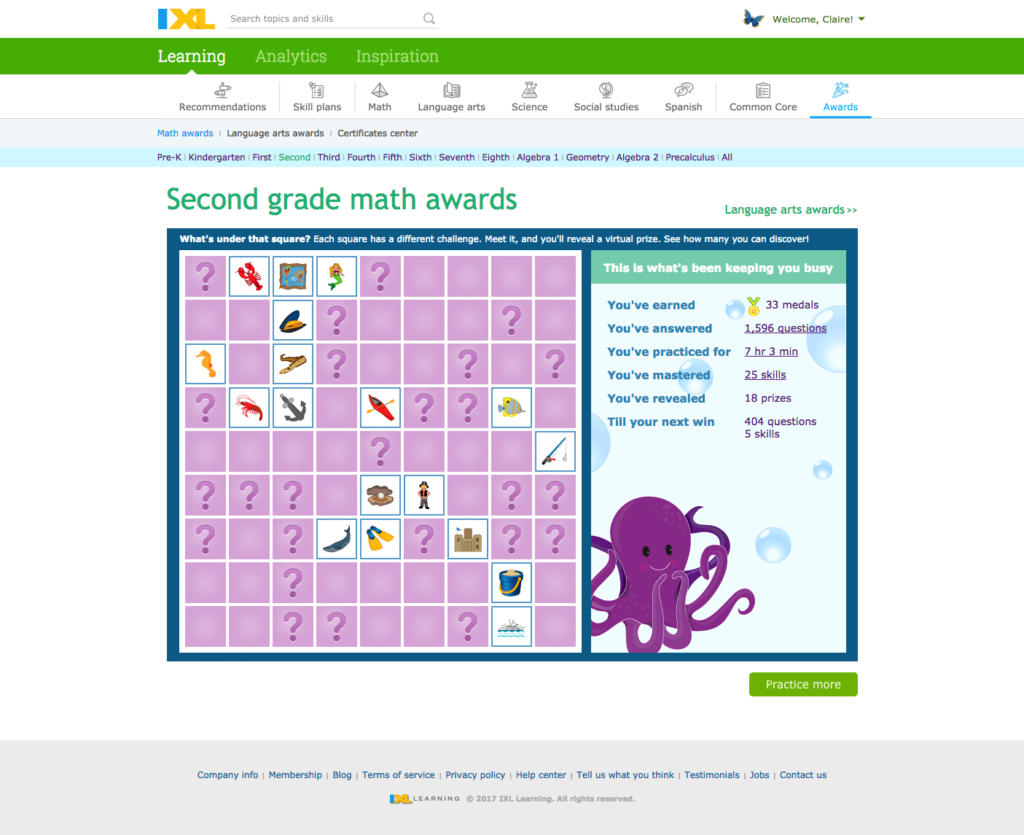 Now, this isn't the most sophisticated gamification out there. There are no movies to unlock, secret items or internet scoreboards with worldwide contests, for example.
That said, keep in mind this is a personalized educational platform not a multiplayer competitive video game.
Ultimately, this gamification system is well designed and integrated into the app, and seems built with children's interests and understanding in mind.
It is something we think can make learning interactive, if not a bit more fun. It lets kids understand their own progress in more meaningful ways compared to just a numerical score and helps balance out the drill-like feeling that the adaptive question system may cause in kids.
Diagnostics, Analytics & Recommendations
One of the most useful parts of IXL, we believe, is the diagnostic and analytic insights that it can give parents. These reports can give parents some pretty strong insights into their child's understanding of the material.
IXL Analytics
With analytics, parents essentially are given a dashboard of sorts where they can track their child's use of IXL, how many questions they've answered, their answers, what they're working on, how long they are taking to answer, and their relative score for every section.
The analytics reports give parents a sort of birds-eye view of what their kids are up to and how they're doing with the app, which is always good for keeping track of overall student progress.
The analytics are laid out pretty intuitively and are pretty easy to understand, giving parents pretty comprehensive coverage of their kids' work.
One thing we found particularly useful is the skills progress and improvement tracking report, which lays out scores for every particular skill for each topic and, at a glance, gives parents a more granular understanding of a child's mastery of subject material.
For example, if a child is studying the topic of operations with integers, a parent can track how they are performing along each skill – e.g. adding and subtracting integers, multiplying and dividing them, evaluating expressions and how they do with word problems.
IXL Diagnostics
Taking things a bit deeper, IXL also helps parents by providing real-time learning diagnostics and diagnostic tests that students can take at any time, which we found impressive and potentially quite useful for parents.
The diagnostics are available to take at any time and can assess grade level proficiency in various subjects as the student goes along, helpfully breaking it down into how the student is performing across different "strands," or different topics within that subject.
In math, for example, periodically doing IXLs diagnostic tests can let parents know how they're doing relatively across things like Algebra, Geometry, Fractions and more, thereby giving a more complete picture of a students understanding of the subject matter.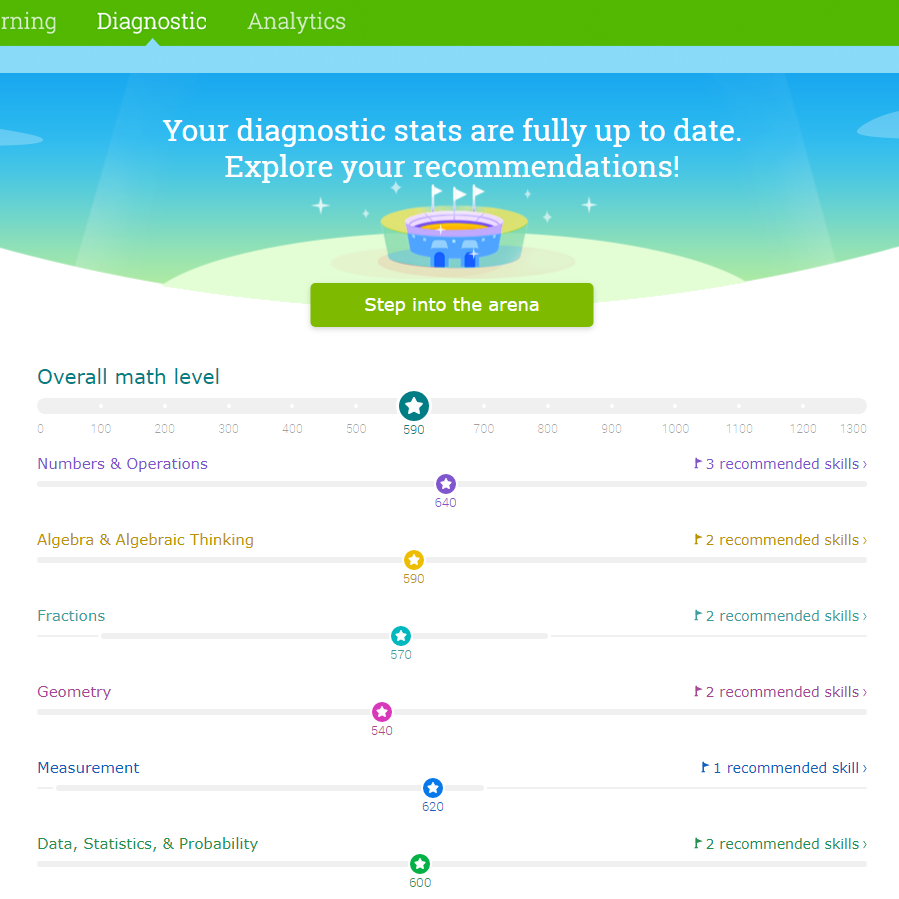 Going a step further, IXL will also then recommend related skills the student should work on and generate an action plan to help improve scores in the future and their learning in general.
The diagnostics are, like the analytics, pretty detailed but, due to the extensive use of graphics, still very intuitive and easy to understand. It also stays up to date, changing its results depending on what areas the student works on and what gaps are narrowed as time goes on.
We really liked this feature since it doesn't just leave parents with the knowledge that their student has specific gaps in learning, but actually outlines the exact topics and skills to work on to help remediate those problems.
In fact, this guidance can become extremely important if parents are using IXL to cover multiple subjects where parents may have less expertise in the subject and be less sure of how to progress once weaknesses and gaps are identified.
But is IXL stressful?
In short, no. IXL isn't particularly any more stressful than other learning programs – how it's used is really key and the misuse of it kids often seem upset by it.
One of the more controversial issues with IXL is that kids often complain of feeling stressed or anxious while using it, usually because of the drill and adaptive nature of the questions.
Kids often feel pressured, often by schools, to achieve a minimum skill score (e.g. 85 in Math for example). Because the questions are adaptive, as a child works on problems the questions get harder, and every wrong answer incurs a penalty, making them work even harder to raise the score they can get frustrated.
It can become a negative cycle in some ways.
With that said, this isn't really an issue with IXL, or adaptive educational technology in general, but rather how it's being used by some schools and teachers.
Adaptive educational technology, in our opinion, shouldn't be a set and forget style of learning, but used to tailor learning to a student's needs.
That means not getting bogged down in data and quantitative analysis and goals, but to use them as guidelines to figure out where a child needs to spend their time to learn more effectively.
Requiring students to achieve a certain score, rather than using it to personalize learning (which is where IXL really excels) is, to us anyway, a misuse of the software that causes needless stress and, frankly, is a waste.
Use IXL more effectively
To make the best use of IXL, we think parents and teacher should focus less on the absolute score itself and instead focus on the actionable insights that the scores can give you into your child's education, which IXL makes clear and easy to understand through its analytics and diagnostics reports.
Parents should focus on using IXL to identify particular skill gaps and use the practice to see improvements in specific areas, which should lead to an overall better understanding of the material.
After all, it's not as important to see an improvement from 80-85 in multiplying fractions as a whole as it is to use scoring as a guideline to notice that a child has a hard time grasping mixed numbers and working on it.
With the powerful and easy to understand reports IXL generates, this is actually quite easy to do, and the scores can then be properly used to look for improvement trends, which are far more useful.
Bottom Line
Overall, we think IXL is an excellent practice tool that is best used to supplement learning.
When combined with higher level thinking skills that learning is supposed to foster, we think it can provide much needed, targeted practical experience and reinforcement of skills.
IXL is an extremely well-organized and easy to access learning platform that breaks topics down into lots of smaller, easier to grasp skill sets.
We believe it is highly effective at helping students hone in on and target specific learning gaps, as well as helping kids practice and strengthen what they do know through adaptive questions that continually challenge them as they get better.
At the same time its gamified nature, with awards and points for skill mastery and work completion, can help give kids a sense of progress (if not fun) and a sense of understanding over their own learning development.
This can be especially important for younger kids who have a harder time understanding and judging their own skill mastery. They may not understand a score of 80 in Math, but most kids can understand earning medals, points and winning prizes.
Finally, IXL's analytics and diagnostic tools can give deeper and more granular real-time insights into their kids strengths and weaknesses in core topics, with in-depth reports of skill proficiency, something that parents don't always have access to but may need in order to ensure the best outcomes for their kids in school.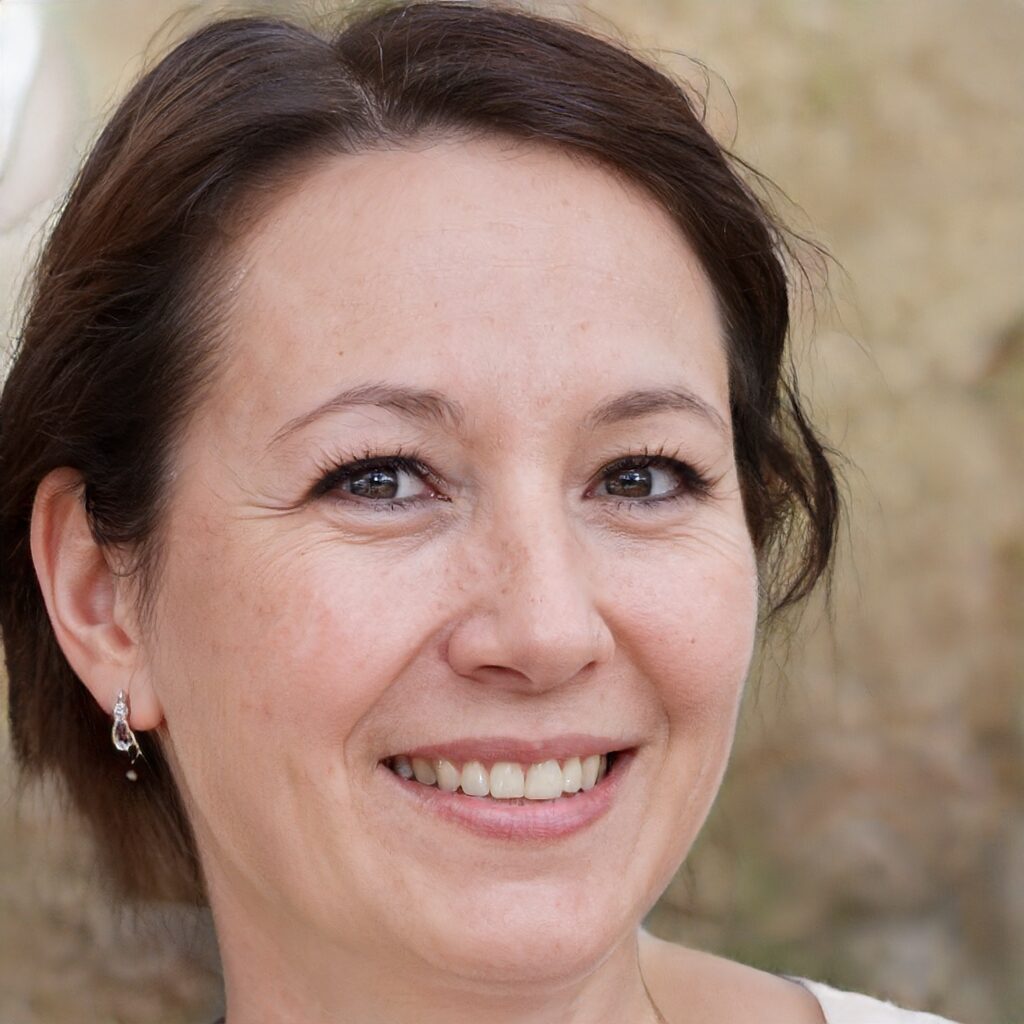 About the Author
Anne Miller is the editor of The Smarter Learning Guide and is a passionate advocate for education and educational technology. A mom of two, she majored in English Language and Literature and worked as a substitute teacher and tutor for several years. When not writing she continues to root for the Yankees and the Giants.