Overall, with its vast amount of content and the fun gamified nature of its learning system, we think you'd be hard pressed to find a more interesting and flexible learning option for kids under 8 than ABCmouse.com® Early Learning Academy.
What is ABCmouse
Designed in collaboration with experienced educational professionals, Age of Learning, Inc's ABCmouse.com® Early Learning Academy is a subscription-based, educational website for children aged 2-8, i.e. pre-K to 2nd grade.
How much does ABCmouse.com cost
Note: all prices are in USD and are accurate at time of writing.
ABCmouse is pretty straightforward with its subscription plans. They have several options depending on how long you'd like to sign up for:
| | |
| --- | --- |
| Monthly | Per Year |
| $9.95 per month | $79.99 |
Despite not using any third-party advertising on their site, which we like, ABCmouse keeps their subscription plans pretty affordable and sensibly laid out with parents able to try the program for under $10 a month and being able to get fairly decent price breaks for longer subscriptions.
They also offer the ability to pay in installments, which is nice.
ABCmouse frequently runs special offers and pricing options, often giving new subscribers a free month of access or similar promotions, so it's worth checking what's currently being offered if you're interested in their services.
That said, you should know that because ABCmouse is a membership/subscription service, your membership automatically renews at the end of your subscription period unless you cancel it. So be sure to cancel ahead of when your subscription is supposed to end, or you may be billed again.
There are also no refunds for prepaid accounts, which isn't that uncommon in these types of app memberships, but it is something to be aware of. If you're really uncertain, we recommend can try the monthly plan, which gives you the helpful option of being able to easily cancel in the first 30 days without being charged.
What subjects are taught in ABCmouse?
Currently, ABCmouse covers four core subjects, Math, Reading and Language Arts, Art and The World Around Us (a combination of Science and Social Studies).
We feel the curricula is, all told, pretty comprehensive. It covers most everything that a pre-K to Grade 2 student would need to know, from phonics, grammar and basic numeracy and arithmetic to the solar system and the environment.
It should be noted that ABCmouse is not designed around common core standards. That said, its curricula do align pretty well in many places and we don't think parents who prefer to follow those standards will have an issue one way or another.
How it works
Available to use through your web browser or as an app, ABCmouse can be accessed through a PC/Mac, laptop, or mobile device.
Parent and Child Accounts
Setting up and managing accounts with ABCmouse is very simple and straightforward.
Once parents download the app or sign up on the website, they can set up unique profiles for themselves and up to three kids.
Each child has their own unique profile with their own unique cartoon avatar (representation of themselves) that they can choose.
If you're concerned about privacy, you can give your child a nickname or just make something up on the fly, which is nice.
Parents have a master account that lets them manage their children's profiles and accounts, view account settings, as well as access an overview of their child's progress and app usage.
My Learning Path
The Step-by-Step Learning Path is really the heart of ABCmouse, where their curriculum is broken down into various levels that your child can move through in a step by step progression, visually represented as a game-like trail for kids to follow.
The learning path is broken up into grades, from preschool to grade 2, and parents can simply choose where to start their kids off based on their child's grade and skill/knowledge level.
As students complete each level, they progress to the next and receive more complex activities and different topics.
As we know, skill and knowledge aren't always linked directly to age and kids tend to learn at different rates. Helpfully, ABCmouse recognizes this and gives parents some control over their children's progress, notably parents can always change the path their child is on, depending on how fast they're progressing so they don't get too bored or frustrated.
All in all, ABCmouse's learning paths are pretty comprehensive and logically laid out, and includes a wide variety of lesson types, including over 450 books, songs, puzzles, and games.
There are 10 levels (at time of writing), generally two per grade level, with the learning and content building in difficulty and complexity along the way. here is even a toddler time for parents of kids 18-36 months who want their children exposed to songs, simple puzzles and read-aloud stories and the like.
We liked the visual representation of the learning path as a trail, since it gives kids an intuitive sense of how they're progressing, which can prevent frustration,as well as a handy progress bar to make sure they know they're moving along. We also liked how the "trail" moves through a variety of environments, offering handy facts about each area's climate and vegetation.
The Classroom
In addition to the Learning Path, students can also access a more free-form learning environment in the Classroom.
The Classroom is a sort of central hub where kids can access pretty much all of the learning content from one central area. With a click of a button, you're taken to your student's puzzles, games, learning material, songs and more.
The Classroom doesn't really interact with the Learning Path, although they do access the same material. Completing activities in the Classroom doesn't complete them in the Learning Path mode, although kids can still earn rewards for completing lessons. Think of it as more of a free-structured way that kids can access content they want to play with and learn from.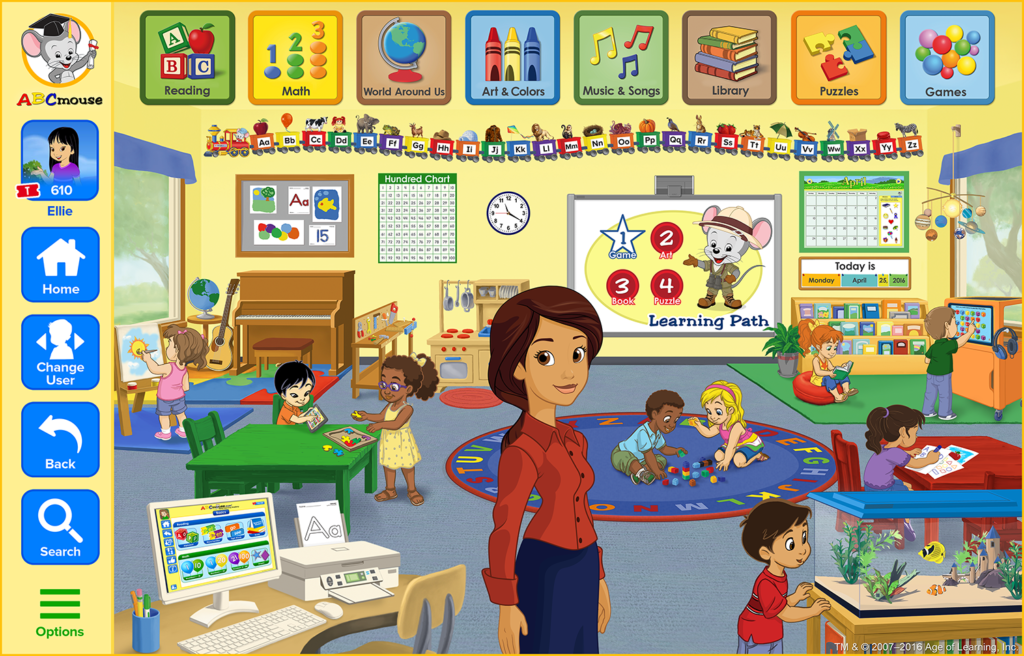 Essentially a cartoon representation of a school, the Classroom lets kids navigate the various activities and menus from the buttons located on top and to the side of the screen, as well as by clicking the various objects in the classroom.
Each item is, in fact, a conceptual representation of a category of course material. For instance, click on the globe and you'll be taken to a map to work on US states and capitals, click on the musical instruments and you'll be taken to music videos and other musical activities.
Interestingly, just like in real life, the classroom artwork changes as the student progresses through their learning path and is able to access different activities and learning content.
Pre-K and Kindergarten classrooms, for example, are filled with younger looking kids and are filled with things that you might find in a kindergarten (such as an alphabet train, days of the week calendar, etc), while grades 1 and 2 are filled with older kids, desks and so forth.
We feel the classroom itself is actually a clever idea.
Instead of a bland menu, the classroom puts kids in a school frame of mind while remaining approachable and un-intimidating- it's brightly colored, easy to understand and, well, actually kind of cute.
The only real issue we had with it is that, due to the great deal of content available, the screen does get kind of cluttered with icons and clickable items and sometimes it can be hard to know where to start. That said, it doesn't take a long time before you become used to it and kids seem to take to it pretty quickly.
Zoos, Aquariums and Other Fun
In addition to the more direct educational material that ABCmouse offers, the program also has a number of virtual (and educational) areas that kids can explore, notably a zoo and a farm.
Each of these virtual locations are highly interactive and filled with realistic sounds. Interestingly, students don't just watch these fairly realistically drawn animals move around, they can click on maps and icons, learn all kinds of interesting related facts and even enjoy some related educational puzzles, games and activities.
Mobile apps
Included with a subscription to ABCmouse's Early Learning Academy, there are a growing number of additional apps that users can download and use on their mobile devices at no extra cost. These include:
ABCmouse Language Arts Animations
ABCmouse Mastering Math
ABCmouse Mathematics Animations
ABCmouse Science Animations
ABCmouse Music Videos
and ABCmouse Zoo apps
Many of these apps add more focused content to the content provided by Early Learning Academy, acting as small, stand alone programs that offer unique animations, curriculum information, more sophisticated music videos and more.
We thought Mastering Math was quite interesting and worth a special mention due to its use of adaptive technology, of which we are big fans.
With 30 adaptive games and 130+ activities, Mastering Math uses adaptive learning algorithms to change up the sequence of activities and difficulty level to match your child's actual skill and responses and offering a more personalized learning experience.
In other words, it doesn't simply offer activities based on grade but offers up more or less difficult activities based on how well your student actually knows the material, which we think is a really cool and forward thinking and definitely worth a look.
How does ABCmouse teach its material?
ABCmouse uses a great deal of interactive and multimedia content that are built into the program to teach subject matter.
There are educational video games, subject-related puzzles, music, digital artwork, printables and even a pretty substantial library filled with regular and read-aloud children's books.
The general idea is to capture and maintain the child's interest with engaging content so that they won't just click off the app. The program does this pretty well and the content is actually of pretty high quality.
There are lots of songs and fun stories as well as some pretty fun games that span reading, math and even the solar system. If you're familiar with classic math blaster style games and puzzles, they are something like that.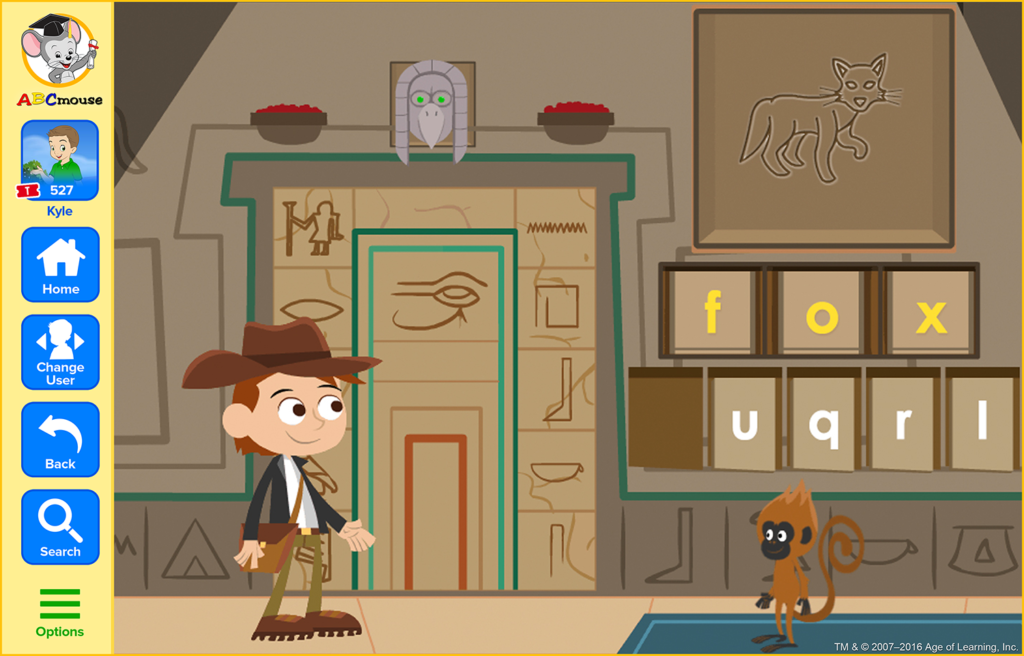 More than just capturing kids interest, we like that ABCmouse's content is really set up to accommodate a variety of learning styles. Whether your child learns better through listening and song (aural/verbal learners), or by observing and watching (visual learners), by doing puzzles and reasoning things out (logical/mathematical learners) or by taking a hands-on, interactive approach (kinesthetic), there is educational content for pretty much any type of student, which is not something you typically see in these kinds of educational apps and is something we appreciate.
Tickets
ABCmouse has a built in reward system to encourage kids to keep learning. As they complete lessons along their learning path, they earn "tickets." Completing more difficult material yields more tickets, and as they accumulate those tickets kids can "buy" virtual rewards for their account that are then accessible in specific locations in the program.
These are usually virtual items used to decorate their classroom, virtual fish tanks, animals etc.
One item that we particularly enjoyed was a virtual hamster. Upon purchasing the hamster with some tickets, the program then activates a My Hamster section and gives kids their very own virtual hamster to play with. Kids can use tickets to buy and build virtual items and habitats for the little guy and even use their creativity to build some really crazy mazes for it to run through.
While some parents may express concern that this ticket system is a lot like in-app purchases or may be distracting to kids, we feel it can be very beneficial.
Gamification of learning is highly encouraged and a pretty well-regarded concept in education today. In addition to the obvious fact that making learning fun makes kids want to continue, turning learning into a game can make educational material more engaging and interactive, resulting in greater knowledge retention.
Further, this ticket system can foster in kids a sense of accomplishment, control and responsibility over their learning, in particular letting them see a direct consequence over their choices and actions.
The only real downside we see is if kids spend more time, say, decorating their virtual hamster cage than learning but that can be easily overcome with minor parental oversight.
Progress tracking
Perhaps as important as the content, ABCmouse gives parents the ability to monitor each child's app usage and learning progress through a progress dashboard.
Here parents can view their children's accomplishments, see how they're progressing in their learning and lessons, and even view where their kids are spending most of their time (in case they are getting distracted by the programs many cute features).
Some parents see analytic features as a bit intrusive, but we feel that the reality is they are quite important for keeping parents involved in their children's education.
By providing an analytics dashboard, ABCmouse very helpfully gives parents the necessary insight to see not just how their kids are using the app itself but gives them clues as to where their kids may be having difficulties with subject matter (e.g. getting stuck or ignoring certain subjects altogether).
With this knowledge, parents can then modify their educational plan, usage of the app and even come up with an action plan to close any skill gaps.
ABCmouse Assessment Center
If you want more in-depth data on your child's progress, ABCmouse also offers an interesting Assessment Center add on to the Early Learning Academy.
Developed in collaboration with the University of Chicago, the Assessment Center allows kids to assess their skills in things like literacy, math and language through a variety of short tests that are usually under 9 minutes long. And access is unlimited, so kids can periodically assess their skills.
With hundreds of assessments along thousands of items, the Assessment can give parents a personalized report on their child's skills in various subjects and even goes a step further, helpfully recommending specific lessons that can help them improve their outcomes.
The idea here is to help parents get a better understanding of their child's learning progress in specific areas as they go along, and to help guide learning paths – finding areas of strength and finding where kids need more help so that both students and parents can focus their effort and time to where its more needed.
Combined with the in-built ABCmouse progress tracking, we believe the Assessment Center give parents deeper insight into how well their kids are learning and their child's learning and academic readiness as a whole.
We also think it can be especially useful to parents who may not have access to these types of informal assessments locally.
While powerful and potentially quite useful, unfortunately the assessment center isn't included with the basic ABCmouse subscription, although you can purchase the Assessment Center from the main app itself or as a separate subscription when you sign up.
How safe is ABCmouse?
ABCmouse is quite safe for kids and we don't think it requires more than light parental supervision, largely to make sure that kids aren't getting too distracted. We think kids should have no problem using this program independently.
They are fully compliant with the Children's Online Privacy Protection Act, and the apps and website contain no ads or pop-ups that can distract, sell products, link to other external websites or inject malware.
And in this day and age, that's nothing to sneeze at.
Bottom Line: is ABCmouse worth it?
We think that Age of Learning, Inc's ABCmouse.com® Early Learning Academy is a unique and extremely useful supplementary learning tool.
The program seems well made and designed around the needs and interests of young children. The 2D graphics are colorful, well made and animations are clear and crisp – ABCmouse's style sort of remind us of the classic Magic School Bus in many ways
The graphics don't match the sophistication and realism of some of the top games that kids play these days, but keep in mind this is an educational app. You don't necessarily need the greatest 3d graphics – or really want them since they can distract and detract rather than enhance learning.
It's also not the fastest loading app out there, with loading times between different activities and sections a little long, taking a couple seconds to load, probably due to the large amount of interactive content and files involved. The content does reliably open and you sort of get used to it after a while and our kids didn't seem to mind much.
That said, for the money, the program provides a great deal of educational value to parents and students. There is an enormous amount of content in one place, with 9,000+ individual learning activities and over 850 lessons, as well as 10 separate learning levels that can be adjusted depending on your child's level.
Additionally, when you purchase a membership, say on desktop, you get access to a number of interesting mobile apps as well that can really expand your learning options with new content.
Further, unlike many web-based and app-based programs out there, ABCmouse is also extremely safe. There are no ads or popups, which can help protect privacy and, frankly, makes things less annoying.
Finally, the app gives parents what we consider pretty useful progress tracking student analytics that can give parents a better understanding of their child's learning and can better help them guide their kids' learning path in a more effective manner.
Overall, with the vast amount of content and the fun gamified nature of the learning system, we think you'd be hard pressed to find a more interesting and flexible learning option for kids under 8 than ABCmouse.
FAQ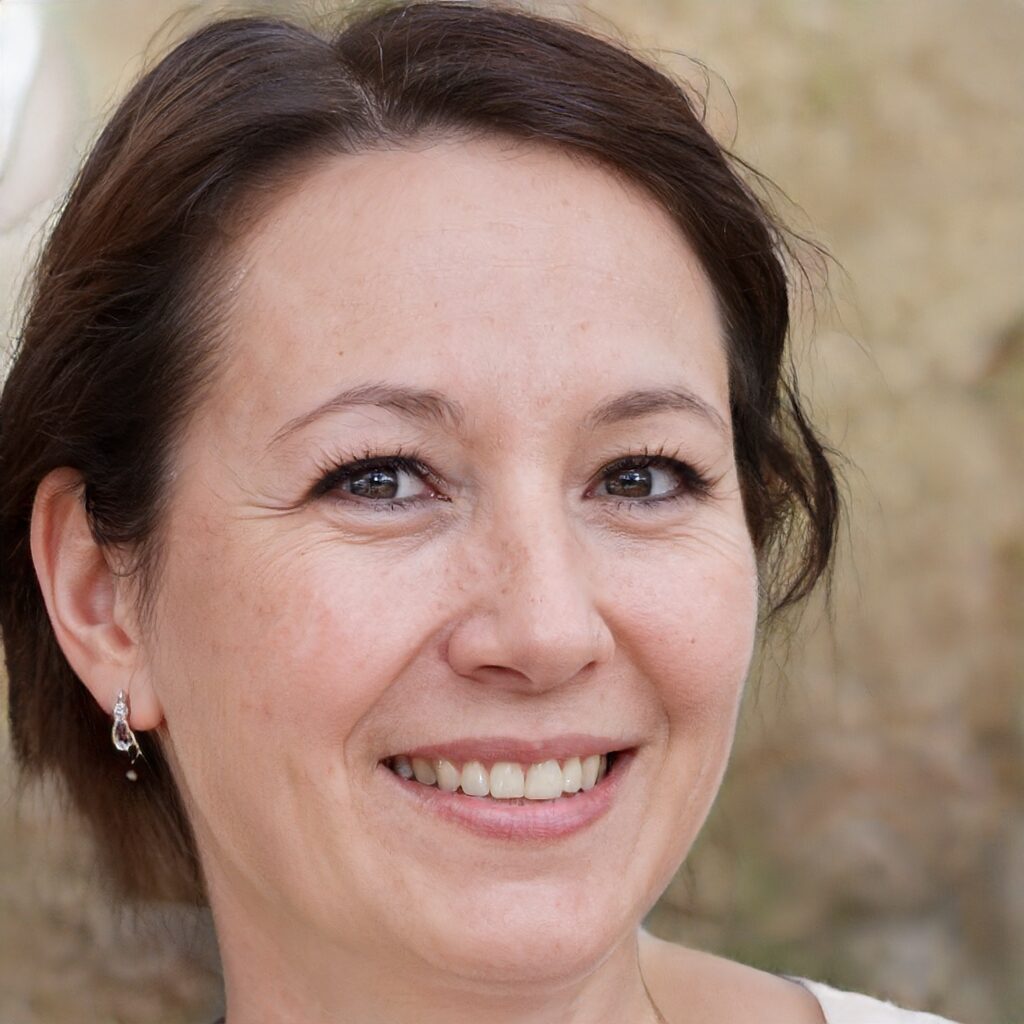 About the Author
Anne Miller is the editor of The Smarter Learning Guide and is a passionate advocate for education and educational technology. A mom of two, she majored in English Language and Literature and worked as a substitute teacher and tutor for several years. When not writing she continues to root for the Yankees and the Giants.