"With its wide variety of secure and affordable online courses covering both academic and life skills classes, we think that Outschool is an attractive option for enriching your child's education. Whether you're a homeschooling parent, a traditional schooling parent looking for some enrichment, or someone who's looking for a microschooling alternative, Outschool might be just what you're looking for."
Minimum Requirements
Browser
Chrome, Safari, Firefox, Edge
Hardware
High speed internet (Zoom capable -3 Mbps)
Webcam/video requried for live classes
Audio and headphones

Ad Blocker
Turn off, or add outschool.com as exception
Whether you want your kids to learn advanced math and science, or if you simply want your kids to learn a new hobby, there are tons of online courses that promise to enrich your kids learning from the comfort of home.
Outschool is one such program, aimed exclusively at K-12, that lets parents sign their children up to any number of live online courses covering a variety of interesting topics.
But is this type of small, online class really worth it? To find out, we did our research and decided to take a look at Outschool for ourselves.
What is Outschool?
Launched in 2017, outschool is an online learning platform based around a marketplace of online classes for kids (K-12). These classes take place in smaller learning groups and are run by people who are screened for their familiarity with the material and credentials.
In that way, Outschool is almost like an on-demand microschooling solution. It allows parents to supplement their homeschool curriculum or traditional school learning by letting their kids take classes in things that interest them or are important to them in a small-group environment.
How much does Outschool cost?
Outschool is free to join, you pay only for the classes you enroll in. Class prices themselves vary depending on the class being taught. They can start as low as as $5 per lesson and, well, the sky's the limit, really.
Prices are ultimately set by the instructor and can be a small, one time fee or a larger fee for multi-week/subscription courses. When evaluating a course on Outschool, we believe you need to consider two things:
Total price the of course
Price per lesson (not hour since length of lessons vary)
To give you an idea of what it might cost you, here's what we found for a variety of classes:
Academic courses
| Course | Teacher Experience | For Ages | # of lessons | Price per lesson | Total Price |
| --- | --- | --- | --- | --- | --- |
| Chemistry 101 | Certified science teacher | 11-16 | 5 | $12 | $60 |
| Learn to Code Through Robotics (pt 1) | Certified science teacher | 12-17 | 4 | $20 | $80 |
| Algebra for Young Learners | Certified teacher/college teacher | 7-11 | 8 | $18.75 | $150 |
| 6th Grade Literature – Perspectives | Writer/BA English | 9-14 | 16 | $10.90 | $175 |
Life skills/hobby courses
| Course | Teacher Experience | For Ages | # of lessons | Price per lesson | Total Price |
| --- | --- | --- | --- | --- | --- |
| Introduction to Reptiles: With LIVE Snakes, Lizards & Turtles! | Animal Sanctuary owner | 4-9 | 1 | $16 | $16 |
| Watercolor Animals for Beginners | Art Teacher | 8-12 | 8 | $20 | $160 |
| French Enrichment 12-Week Camp | French language teacher | 7-12 | 36 | $8.30 | $299 |
| STEM Candy Science | Certified teacher | 8-12 | 8 | $15 | $120 |
What ages is Outschool appropriate for?
Outschool is open to any child ages 3-18, which makes it pretty useful for both homeschoolers and people looking to enrich their child's K-12 learning.
However, due to the nature of online learning, and the difficulties in maintaining attention digitally and having meaningful discussions/interactions we would probably not recommend this for children under 5.
Leaving aside screen time issues (the WHO recommends less than an hour a day for kids this age) there is simply the issue of wrangling toddlers in front of a screen. That said, if you are a parent of a child aged 3 or 4 and you live in an area where there are few, if any, early childhood options available to you, then Outschool may be a good option for you.
Ultimately, it's really up to your child and their ability to sit and pay attention to a zoom meeting for about 60 minutes.
What subjects do they offer?
Kids can take classes in pretty much any subject that a K-12 student would be interested in.
There are academic courses and interest courses (things that aren't academic but might be really interesting or useful to kids – exercises classes, ASL, video game coding, drawing classes, etc).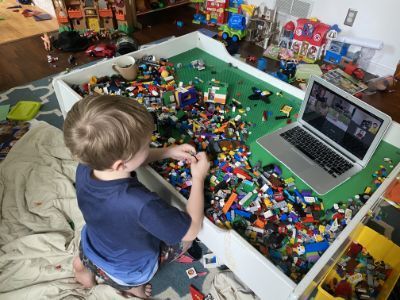 We also found classes that we considered in the middle of the two, things that are intellectually rigorous and maybe really useful but not part of a standard K-12 curriculum, such as introduction to the stock market, courses on starting a fashion business or general entrepreneurship, for example.
Despite the content screening the company provides, we still think parents should apply some critical thinking to the courses they select. How well a course translates to online learning varies depending on the course. After all there are limitations to what can be effectively learned on zoom and other online classrooms (not just limited to Outschool, obviously.

When considering a course is something that a parent should consider based on the subject (we have doubts about singing classes done online over zoom with 12 kids) and their child's ability to learn online in this format.
All in all, however, we found that the breadth and variety of courses offered and their focus on things that are needed by and of interest to K-12 students really sets Outschool apart from other online course providers.
Who teaches this stuff, anyway?
Well, it depends on what class you take. The qualifications on who teaches each online class varies between classes.
We feel that Outschool really takes a more microschool approach to teaching. Some classes are taught by certified teachers who have experience in teaching the subject, others are taught by people with a strong background in and passion for the subject.
And this makes sense since not all classes are academic in nature – some are more interest or hobby-based. After all, you don't necessarily need a 4 year teaching degree to teach kids to bake or draw for example, but you might when teaching middle school chemistry.
Ultimately, we found that the classes we looked at tended to have certified teachers when teaching academically inclined courses, which we like and feel is quite important.
We also like that the teachers are listed on each class with a short bio so you can assess their background easily and decide if the class is right for you. To their credit, Outschool does do a background check and screens class/teacher profiles for accuracy, which we like.
How does Outschool work?
At its heart, Outschool is a community marketplace of online courses. Parents can browse or search through their extensive marketplace of classes (and, unusually for some online services, you can do so without signing up first, which is nice).
Signing up
Signing up is pretty straightforward. You can sign in with your Facebook account or with an email and password (one per parent).
You then enter some very brief information about your kids (as many as you'd like), particularly their first names and ages. From there, your account is set up and you can fill in information about yourself, your kid(s)' interests, your preferred class times (during the day, afternoons/evenings,weekends), your preferred educational approach (traditional public/private schooling, homeschooling, unschooling, etc), privacy settings and more.
We really like the flexibility offered both in preferred schedule times and educational approach. It really lets you tailor your Outschool options and class recommendations around your schedule and needs, whether you are looking to fit it into a homeschool program, a microschool program or just as enrichment.
Finding classes
Outschool makes it really easy to find a class based on what you need or your child's interest. At the top of the page is a search bar that lets you throw out topic ideas/teacher names and yields results that you can filter by:
Start date
Time of day
Age
Subject
Format (live/recorded)
Length
What we really liked and found unusual (in a good way!) for an online service is that you don't even have to register to look at classes, you can do it from the Outschool homepage itself, which makes it really easy to assess if Outschool is right for you.
Figuring out class lengths
There are five different types of class lengths available with Outschool classes.
Semester courses – run a full school semester (8 weeks)
Short course – meet 1-4 weeks, 1-4 times a week
One time classes
Ongoing classes – meet weekly with no end date, kind of like subscribing to a class. You pay for these on a weekly basis rather than one time.
Camp courses – run multiple days per week for several weeks
While it might be confusing at first (it confused us!), we think this assortment allows for great flexibility in scheduling and courses. Outschool can offer anything from a one time demonstration to entertain and educate kids to almost a tutoring like, ongoing class where they can get more in-depth exposure to a subject.
Which class type is right for you
There are two kinds of learning schedules that are currently available in Outschool:
Live classes
These are taught through Zoom and use an internal messenger system, email and internal forums to communicate, give/receive feedback, discuss material and receive assignments and homework.
Students are in small groups and can interact live with an instructor, ask questions, engage in discussions in real time.
Flex Classes
Basically another way of saying recorded classes.
Lectures are pre-Recorded and are essentially designed for schedule flexibility. Your child can access lectures when they need to without having to attend classes live, which is great if you have an already packed schedule.
Like the live classes, assignments are given/submitted and due dates are posted through the Outschool classroom portal. Instructors and students use the messanger system, email and internal forums to send messages and discuss things asynchronously to ensure there is as much interaction as possible when not live.
We think this is probably best if kids can't attend classes live and are good at self-study.
We should note that both types of classes yield transcripts for the course taken, which is pretty useful for homeschoolers and those looking to keep track of their kids progress.
Assessing classes
Each class page is well laid out, offering of information to help you decide, including (but not limited to):
Description of the class
Learning goals
Teacher expertise
Homework and assignments given (if any)
Supplies needed (if any)
Estimated time commitment
Past student reviews (if any)
We feel you if you take your time to go through it, you can easily get a good sense of what each class will be like and how/whether it can fit your schedule.
Paying for it
Once you decide what class you are interested in, you can pick what available class time best fits your schedule and click enroll to sign up for each class. You only pay for the classes you want, as many as that might be. It's really a la carte in that way, which we like.
As of writing, you can pay for Outschool with your credit card or debit card.
Now interestingly, some charter schools actually recognize outschool as a home-study program, and may let you use the charter funds for it (weekly subscription/ongoing classes are not able to be funded this way)
Obviously, check with your charter school and the person responsible for funds beforehand.
How does Outschool stack up against other online learning courses?
Outschool is, obviously, not the only online course provider out there. Not by far. So it's only fair we look at it compared what's typically out there.
Price
Prices vary, of course, between online courses. We found that once broken down to an hourly, they're about on par with what you might find in places like udemy kids (between $9-20 per hour).

Class size
Class sizes in Outschool are smaller compared to most live MOOC (Massive Open Online Courses) courses, which can have thousands of students logging in at one time. Live Outschool classes are capped at 18 students, but you can usually find classes with fewer students than that, creating a more personal learning experience.

Live instruction
Many other online course systems aimed at kids are pre-recorded. While outschool does have flex schedules, most classes are live, meaning kids can interact with the teacher and each other. They can ask questions, have debates and socialize online in a safe environment in real time.
Wide, wide variety of courses
Outschool has a wider variety of kid-oriented online classes offered compared to most competitors. And they're not just academic. Kids can find courses in just about anything which is cool and useful, particularly for homeschooling parents looking to supplement their own teaching ability or foster an interest for something within their child.
Designed for kids
Outschool is offered uniquely to kids under 18, making it the main focus of their business and subsequently make an effort to offer as engaging classes as possible. Other online class providers usually offer classes to kids as a product extension, meaning their main focus is on adult learning.
Can Outschool fit into a homeschool curriculum?
Overall we think Outschool might be an interesting addition to a homeschool curriculum. There are a wide variety of classes taught by experts and enthusiasts, which is great if you're struggling with a particular subject or want to introduce something you may not be an expert in, and the schedules are flexible enough to fit even the most complicated homeschool schedules.
The one time classes, we feel, may be a particular supplement as they tend to be a very short and entertaining look at an area you may already be covering. An exciting seminar on volcanoes might be a treat if integrated into a geology packet, for example.
One thing to note, particularly for faith-based homeschoolers, is that while there are a lot of different classes to choose from, and while Outschool does try to enforce an objective and neutral teaching stance, all classes are taught from a secular point of view in order to reach the widest audience possible. That means a religious studies class will likely be taught from a secular, analytic POV rather than a faith-based perspective.
That said, Outschool does have strict guidelines to try and steer classes away from "hot button" topics to ensure people are as comfortable as possible and to prevent conflict. Also, we feel you can easily use common sense to stay away from classes that may be a problem.
All in all, if you've toyed with the idea of introducing microschooling to your homeschool curriculum, we think Outschool is really worth a look.
Is it safe?
When dealing with anything involving the internet and kids, safety is usually on everyone's mind.
Overall, we think Outschool does an excellent job making sure that its classrooms are as safe as possible for kids.
For one thing, adults can't sign up for classes or participate in them…at all. Unlike many other online course providers, this one is designed exclusively for kids under 18.
We also like that teachers are screened, both in terms of a criminal and identity background and as a review of their familiarity with what they're teaching. This ensures safety, as well as a level of quality and competence. Outschool also reviews and monitors class descriptions, which is also nice since you'll tend to get what you signed up for.
In terms of the classroom, kids can opt out of using a camera (once they've verified they actually are children), and classes are recorded (streamable, not downloadable) and monitored for quality and safety, with the recordings deleted after 6 months. All in all, pretty safe.
In the end, the tech behind the live meetings is Zoom, which may be of concern to some parents. Zoom, however, despite its bad press for "zoombombing" is easy to use and set up, providing fast and dedicated live meetings to small classrooms.
Zoom is also pretty safe once meetings are password protected, which Outschool does. Since you also have to log in to your account before accessing a class, there is an extra layer of protection to meetings by default.
Refunds
While we don't think you'll need to seek a refund, hey sometimes life happens.
Unfortunately, Outschool's refund policy can get a little complex to sort through.
The basic policy is pretty standard to online classes, and may be familiar if you've ever taken online tutoring.
| The Situation | The Refund |
| --- | --- |
| I want to cancel up to 24 hours after I signed up (up until the class begins) | Full |
| Teacher cancelled class | Full |
| Teacher misses a one time class | Full (upon request) |
| Class start time is rescheduled | Full (upon request) |
| Part of a class is rescheduled | You can get a refund of the balance of lessons remaining if you won't attend |
| Teacher doesn't teach the number of lessons promised | You can get a refund of the balance of lessons they didn't teach |
| I miss a class | No refund |
| I miss 3 classes | I forfeit my fee, class may be cancelled |
| I'm more than 10 minutes late to class | Class that day can be cancelled, no refund |
Beyond the standard refund, each course's teacher can set limits on the refunds for that course based on their own preference:
Flexible – Outschool will refund you in full until the class begins, and after the start date adjust the refund based on how many lessons have occurred.
Moderate: Full refund for 24 hours after enrollment and up to a week before the first lesson. After that, it's a 75% refund for the first week of class.
Limited: Full refund for 24 hours after enrollment and up to a week before the first lesson.
Ongoing Classes are a separate matter, being more like a subscription. You're billed for the next week's lesson(s), although you can cancel future meetings and not get charged for them at any time.
Overall, Outschool's refund policy is pretty complicated. There is a standard policy that applies to all purchases, which can be restricted by the teacher depending on the class.
That said, despite the complexity, Outschool is pretty generous with refunds. Generally speaking, though, the company will refund you at least most of your money in most cases (assuming you don't skip classes – and even then they offer you 3 chances).
Just make sure you read the details before signing up.
Conclusion
With its wide variety of secure and affordable online courses covering both academic and life skills classes, we think that Outschool is an attractive option for enriching your child's education. Whether you're a homeschooling parent, a traditional schooling parent looking for some enrichment, or someone who's looking for a microschooling alternative, Outschool might be just what you're looking for.
FAQ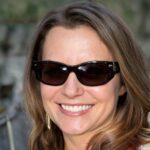 Jennifer
Jennifer Keenes is a writer and a new mom living in Florida. She studied education and, prior to becoming a freelance writer, worked as a substitute teacher at the elementary and middle school level. She is a big fan of the beach, working out and homeschooling her two daughters.