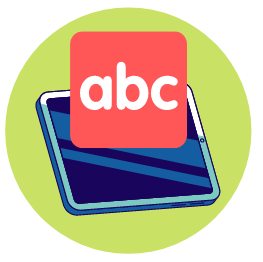 With its library of entertaining and in-depth math and science videos, as well as its comprehensive suite lesson plans, worksheets and other learning material, Generation Genius can be an affordable homeschool supplement that can help K-8 kids learn and connect to STEM subjects in a more fun (and effective) way.
What is Generation Genius
Founded in 2018, Generation Genius is an online platform that offers a host of on-demand educational videos and ready learning materials covering a variety of science and math topics.
Designed as a STEM-learning supplement, Generation Genius aligns with common core math and Next Generation Science Standards (NGSS) standards to the middle school level, and provides lesson plans, quizzes, activity ideas and reviews in addition to entertaining video instruction.
The site offers specific subscription plans for both teachers and schools, as well as for parents looking to supplement their child's learning.
What Grades is Generation Genius Intended For?
Generation Genius is intended to help teach math and science to students in grades K-8 and, aligned to common core/NGSS standards, meets the scope and sequence for these grades.
The site's videos and lessons are subdivided into three broad groups:
K-2
Grades 3-5
And Grades 6-8
While its content is standards-aligned, parents should note that Generation Genius is something of an à la carte service.
In other words, parents and students can more or less choose the videos and topics they'd like to explore, and there is no real prescribed route or pathway to follow.
For homeschoolers, this means that they have to approach the program with some kind of overall plan in place to make use of it most effectively.
That said, it also means that Generation Genius can be a very open and flexible supplement.
Parents can freely integrate videos and materials into their lessons based on student interest and curricular needs, something that is helped by the fact that lessons and videos are more or less self-contained and don't rely on information presented in previous videos.
Similarly, while Generation Genius is aligned to K-8 grade standards, its flexibility means it can also feasibly be used as a helpful tool by slightly older students who need a little extra brushing up on the basics of math and science (assuming they don't mind the colorful and high energy video).
How it Works
Generation Genius likes to call itself the "Netflix for the Classroom," and (similar to some other educational streaming sites aimed at older students and adults) operates much like a digital streaming service. 
Parents subscribe to the program, creating an account that allows them and their students free access to the site's content, either for math, science or both (depending on the plan they choose).
Within the site, parents and students can choose the grade level of videos they'd like to watch (K-2, 3-5, 6-8).
Each video is actually a complete and self-contained lesson with multiple learning components.
The core of the learning is a video, which introduces and explores the topic in some depth, using a variety of entertaining demonstrations and on-screen drawings/animations to clarify and connect students to the learning.
Following the video, parents and students then have ready access to lesson materials, i.e. a variety of supplemental learning, review and practice items, for each individual topic.
Common to both Science and Math are:
Discussions Questions
Generation Genius provides a list of discussion questions that parents can easily integrate into their own lessons, and can serve to help broach and introduce topics, as well as to engage students and get them thinking a little deeper about what they're learning.
Designed to integrate into a traditional teaching plan, discussion questions are divided into pre- and post-video, i.e. questions to be used to broach a topic and get kids a bit more curious about and connected to the day's topic (e.g. is toasting a piece of bread a chemical change) and questions that can be used to see if they've understood what they've just watched (e.g. what is the difference between a positive slope and a negative slope).
For those parents whose own knowledge or memory of K-8 math and/or science may be a little rusty, the company does helpfully provide short and ready answers to their questions as well.
Vocabulary
Each lesson also comes with a pull-down menu of important terms and topic-specific vocabulary.
In science, the site offers short and to the point definitions of scientific terms and concepts, while in math they offer short explanations as well as a concept's relevant equations, if applicable, which is nice and can be quite useful.
Reading Material
In addition to the video, each lesson in Generation Genius offers a short written, almost textbook-style, explanation of each topic and concept.
Available online or as a PDF, these written explanations are very colorful and come with lots of pictures, drawings, graphs and charts to keep things visually stimulating and interesting.
Overall, the written material can offer a good, and rather in-depth review for students, as well as a good option for students who absorb information better through reading or who get distracted by video content.
Interestingly, the written component also comes with built-in read aloud functionality when accessed through the website.
At the click of a button, a (rather robotic) computerized voice will read each section aloud to the student, highlighting each word individually as it goes.
This makes Generation Genius' a little more accessible for students who have difficulty or challenges with reading, as well as making it a little more usable for younger students as a self-study supplement.
Lesson Plans
Interestingly, Generation Genius offers teachers and parents a full lesson plan for each of the topics its videos cover.
Fairly complete, these lesson plans detail how the lessons fit within common core and NGSS standards, the suggested lesson duration, and even include some kind of warm up activity or discussion to get kids thinking about the topic in question, as well as instructions for introducing the discussion questions, lesson activities, practice and quizzes.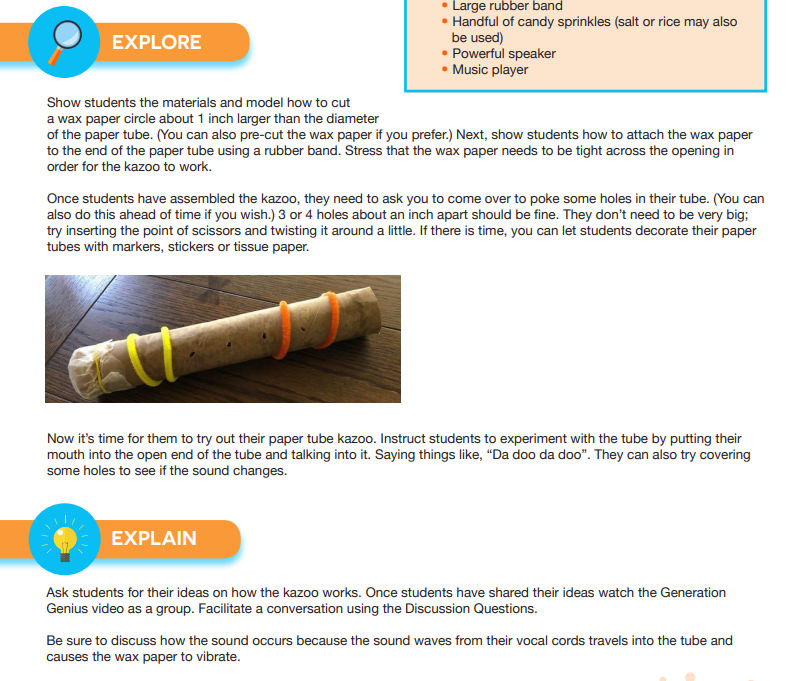 Overall, the lesson plans are well structured and well-scripted, doing a pretty good job at guiding parents through the lessons and their accompanying materials.
It is important for homeschooling parents to note, however, that the lesson plans are written for teachers.
As such, there are a lot of references to classrooms and formal teaching environments and there is some (although not much) assumption of pre-existing teaching knowledge and ability.
For example, while the lesson plans will indicate to parents where they should initiate a discussion about a topic, as well as the overall content and flow of that discussion in broad strokes, they won't provide a word for word or precise dialogue to follow, as some a dedicated homeschool curriculum might.
Otherwise, these lesson plans are pretty open and go as far as things go, and most parents shouldn't have much of an issue using them.
Those new to homeschooling, however, may wish to review them ahead of time and examine the teacher's guides so that they are a little more prepared.
Teacher Guides
Supplementing the lesson plans are teacher's guides to each topic.
These are a couple pages of fairly detailed background information on each topic that can serve as a fairly thorough overview of the material that can help parents fill in gaps in their own knowledge and answer student questions more effectively.
Depending on the topic, they can be fairly densely packed with information, but can be essential reading for those parents whose own STEM knowledge has become a little rusty.
They can also be an excellent resource to parents who are new to teaching math and science, as they outline common misconceptions students have or mistakes they tend to make, as well as offering some teaching tips for making concepts more easily understood by students.
Assessments
Finally, Generation Genius offers parents readily accessible quizzes and assessments that students can take for each topic.
The quizzes are usually in the form of short (usually under 10 questions) PDF worksheets that can be printed out and worked on.
In math these are usually computational or short word problems, while in science they are usually short questions that cover the essentials of the topic at hand.
Generation Genius also uses Kahoot!. In Kahoot! kids can log in and competitively answer questions in a game-like format against other players online.
Students can also make use of Quizizz for certain topics (Science, at time of writing), which we prefer for homeschooling.
This is an online quiz system that acts much like a game, with students answering questions and earning points for correct answers.
Along the way they can earn power-ups (such as the ability to immunize yourself against a penalty for a wrong answer), and generally enjoy some fun animations, sound effects and even memes that make the experience quite fun.
Quizizz also keeps track of student performance, with a little chart at the end showing their accuracy and performance, their responses (as reviewable flashcards) as well as their rank on a leaderboard, which is kind of cool.
Other Materials
Due to the slightly different ways in which math and science are taught, there are also learning materials unique to each subject.
With the math lessons, each lesson offers a few practice problems, both computational and word problems, that students can work on.
Available as a PDF, these are pretty short, containing up to about 5 questions, and aren't particularly overly challenging, seemingly more designed as a method for immediate review than for formal practice sessions.
With the science lessons, rather than provide practice problem sets, Generation Genius provides students with a ready, relatively short (30-60 minute) hands-on lab activity that they can try out, usually using common household items.
Being designed for schools, however, sometimes these activities may require more specialized items that parents may not have on hand, like LED lights.
That said, these are relatively rare and Generation Genius does provide a helpful list of required materials (and costs) at the top of the activity sheet, so parents can check things out ahead of time to either get them or choose to replace the activity with something else.
Answer sheets are also available and accessible from the main (parent) account menu.
What Are Generation Genius Videos Like
Generation Genius' main method of instruction is its videos.
These videos are standalone lessons that cover a particular concept in either math or science. As they are self-contained, they can be watched in any order or according to student interest.
Overall, the videos are short (at around 12 minutes long), highly animated and fairly energetic, and they tend to follow a common format: a topic is introduced, there is some kind of demonstration or demonstrations, a section connecting the top to real world applications and, with science, a related DIY experiment that students can try themselves.
The science videos are hosted by Dr. Jeff Vinokur, a PHD in Biochemistry, Molecular & Structural Biology and co-founder of the company.
Along with his cast of young assistants, Dr. Jeff explores concepts in science through straightforward explanations, entertaining and dynamic activities and experiments, a variety of brightly colored props and on-screen animations, and even field trips to real life locations, all of which serve to engage and fascinate their young audience.
At times it is very reminiscent of past shows like Bill Nye the Science Guy or Beakman's World, only with a more up-to-date feel, higher quality effects and a far deeper and more focused exploration of educational concepts.
A sample of one of their lessons can be found below.
The math videos take the same overall approach as the science videos.
Hosted by a cast of young actors, K-8 mathematical concepts are explored in some depth. Although, being math, there aren't as many wild experiments, the videos do use a lot of colorful props, on screen animations and video clips that are highly entertaining and engaging to watch.
One thing we did quite enjoy with the math videos in particular is that they frequently take the time to try and connect math concepts to everyday and real life situations and ideas, which can help young students better grasp the more abstract concepts of math.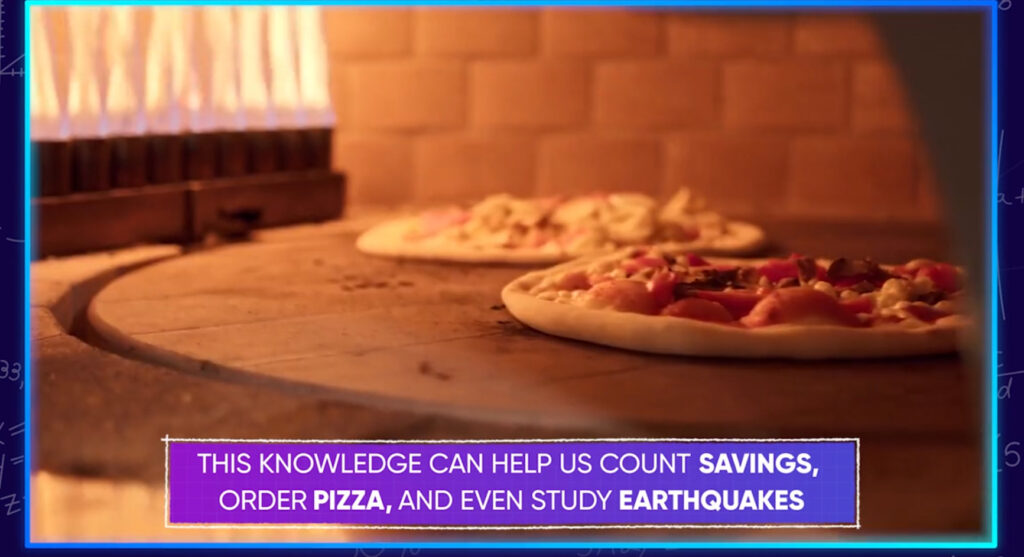 Overall, Generation Genius' videos do an excellent job at conveying key information in science and math clearly and effectively, and can be an excellent supplement to traditional textbooks.
They are not overly long and their effects and the entertaining and animated personas of their hosts should keep kids interested and engaged for their duration.
If students need, they can, of course, pause, rewind and replay the videos as necessary and, increasing its accessibility for some students, there is closed captioning with subtitles in both English and Spanish, as well.
Is Generation Genius a Complete Curriculum?
Although it meets common core and NGSS standards for math and science, Generation Genius is designed to be used as a supplement, and is not itself a full curriculum.
That said, combined with a textbook or math curriculum set with more thorough practice problems and assessments, we feel that Generation Genius can be an effective and useful asset to many homeschooling families for K-8 math and science.
The videos themselves can be an excellent and highly entertaining way of helping students get an essential understanding of a topic or concept.
In addition to the videos, Generation Genius offers parents a full suite of lesson plans, discussion questions, activity ideas and supplemental review materials (quizzes, worksheets) that can help them more effectively teach students at home.
How Much Parental Involvement is Required?
Generation Genius is not really a self-study program and does require a fair amount of parental involvement if it is to be used as a homeschool educational supplement.
Aside from the videos, which are aimed at younger students Generation Genius is teacher/parent-led, with parents expected to select and introduce topics, lead the discussions, ask leading questions, set up and introduce activities and so on.
It is not, therefore, an educational program that busy parents can really set their students to independently.
Similarly, some homeschoolers may find that it does not leave as much room for students to lead the learning process as they might be able to with other homeschooling programs.
That said, it is highly flexible with very little in the way of prescribed learning.
As a result, homeschooling parents are free to use it however they'd like and take what they need.
Homeschooling parents can, for example, use their own lesson plans and use the quizzes, lesson activities or videos, or just simply use certain videos to supplement their own complete curriculum here and there.
This is especially true given the rather affordable price of Generation Genius, which comes to under $10 a month in some cases.
Is Generation Genius a secular program?
Generation Genius is a secular, standards-aligned science and math program.
Parents should know that certain videos cover topics such as evolution, the geological age of the earth, the natural origin of the universe and so on.
While there's certainly nothing stopping parents from picking and choosing videos to suit their preferences, it is something that faith-based homeschools should be aware of.
Generation Genius Pros and Cons for Homeschools
Pros
Affordable
Generation Genius is an affordable supplement overall. In general, parents using it at home can get full access to both science and math learning, at all grades, for just $145 or so a year, or just over $12 a month.
Entertaining, engaging and in-depth videos on math and science topics
Unlike some other homeschool video-based programs, this isn't simply a teacher with a whiteboard.
Generation Genius offers HD videos hosted by an entertaining and energetic cast, who explain concepts clearly and in-depth using lots of props, animations and connections to the real world.
Comprehensive, standards-aligned K-8 math and science learning
Generation Genius offers a comprehensive exploration of both math and science, aligning with K-8 common core and NGSS curriculum standards.
Multisensory STEM learning
With its combination of videos, written material, audio and hands-on activities, Generation Genius offers a multisensory approach to learning that can suit any number of preferred learning styles.
Lots of accessibility options
Generation Genius can be easily used by a wide range of students of different abilities.
It offers closed captioning, ideal for students who are hard of hearing, and read aloud functionality, ideal for students who have difficulty with reading.
Spanish captioning
For students whose first language is not English, Generation Genius has captioned its videos in Spanish, as well.
High quality lesson materials
In addition to its engaging videos, Generation Genius also can provide parents with access to lesson plans, written explanations, teacher's guides, quizzes, practice questions and more, making it a pretty comprehensive educational math and science supplement.
Fun and high quality quiz options
Unlike many other homeschool programs, Generation Genius' quizzes can be fun to use, with many gamified and competitive elements to keep kids entertained.
Well scripted lesson plans and helpful teacher guides
Generation Genius is pretty open and go as far as lesson plans are concerned, being capable of guiding parents through lessons and requiring little in the way of preparation beyond making sure that they have all the components needed for the program's DIY activities.
Highly flexible
In the end, Generation Genius' à la carte approach to its videos and materials allows parents to essentially pick and choose what they like from the program, which allows its content to be easily integrated into any number of homeschooling programs and philosophies.
Cons
A la carte selection of videos means homeschooling parents need to structure and plan their use ahead of time
Generation Genius' flexibility can be a double-edged sword, however.
As with other streaming services, there is no real prescribed route or pathway to follow and so, to be most effective as a learning supplement, parents should have some kind of structure or plan of how they will integrate Generation Genius into their homeschool learning.
Can be a little top down in terms of instruction for some homeschools
Designed primarily for schools and for teachers, Generation Genius is somewhat teacher-led, with the lesson plans having teachers initiate and lead discussions and explorations.
As a result, there tends to be a little less room for student-led questions and initivatives as there might be with other homeschool programs.
Who is Generation Genius Ideal For?
Students who are having a hard time connecting to math and science
Generation Genius' videos are led by an entertaining cast of hosts, including the always fun and informative Dr. Jeff, and use a variety of props and animations to help students both understand science and math topics, as well as how they can relate to the real world.
As a result, they can be a great way to introduce math and science to students who are having a hard time with a more conventional approach.
Parents looking for a way to spice up a boring pen and paper curriculum
Generation Genius' informative and fun videos, interactive quizzes and hands-on suggested activities can be a valuable and engaging addition to a thorough, but bland, homeschool science and math curriculum.
Students who love audio-visual learning
Some students learn best when presented with the option for video-based learning, and Generation Genius' videos explore math and science topics in an in-depth, comprehensive and highly entertaining manner.
Parents who are looking for a more fun way to work on math and science with their students
Should parents choose to use all of Generation Genius' supplemental learning material, they will have an opportunity to spend some time together jointly exploring and discussing math and science topics in a fair amount of depth.
Hands-on learners
In both science and math, Generation Genius offers parents a number of suggested ideas and experiments for connecting students to their various concepts and ideas through hands-on activities and experiments.
Homeschools looking for secular science and math curriculum support
Generation Genius is a secular program aligned to NGSS and common core standards, and can be an interesting option for secular homeschoolers looking for additional curriculum supplements.
Families on a budget
Finally, Generation Genius is quite affordable, costing under $15 a month in many cases for total access to videos and a suite of learning materials.
Who is Generation Genius Not Ideal For?
Stricter, faith-based homeschools
Faith-based homeschools should be aware that Generation Genius is a secular, standards aligned program that covers topics such as evolution and takes a naturalistic approach to topics such as geology and the universe.
Parents looking for a complete math and science curriculum
While it is an excellent supplement, unlike curricula such as Supercharged Science or Mystery Science, Generation Genius is not intended to be a full math and science curriculum and may not provide the in-depth study, review, practice and assessment that students may need.
Students who enjoy self-study
Ultimately, Generation Genius is a teacher-led program, with lessons, discussions and activities being led by a parent or teacher rather than explored or initiated by the student.
Consequently, it may not be ideal for students who like to explore and learn on their own.
Busier homeschools looking for independent learning options
Similarly, Generation Genius' learning materials can require some time from homeschooling parents, about 30-60 minutes per lesson, as there is quite a bit of teacher-led guidance and interaction with most of its lesson plans.
Homeschools that are a little busier may find they prefer more of a self-study program instead.
How much does Generation Genius Cost?
Note: Prices correct as of writing and are subject to change. All prices in USD.
Generation Genius is a subscription streaming platform and, originally designed for schools, has several pricing options ranging from classroom to district usage.
For homeschools, however, things are pretty straightforward.
Generation Genius costs $145 per year for all access to both math and science, or $95 per year for access to either math or science (i.e. subject-specific subscriptions).
On a per month basis this works out to $12.08 per month for all access (science and math) or $7.92 per month for single subject access (science or math).
Parents can also choose to prorate their subscription to the school year, reducing the cost by however many months are left in the school year at time of sign up, which is nice.
It is important to know that the homeschool option is limited to accessing one device at a time.
Larger homeschool families may wish, then, to subscribe to the Classroom subscription, which costs slightly more, $175 per year, but allows for multiple devices and up to 35 students, which should be more than enough for most families.
With all that said, Generation Genius does run specials and discounts from time to time, so it is always worth checking out their latest prices.
Is Generation Genius Worth the Cost
Overall, as an educational supplement to STEM learning, we think Generation Genius provides a lot of value for the money.
A subscription to the service provides access to tons of high quality, high definition and fun videos that introduce and explore science and math topics clearly and in a fair amount of depth.
With a lot of energy and solid production values, these aren't videos that will bore students to tears either, and they do a good job at helping students understand how math and science topics relate to their lives and the real world.
Beyond the videos, Generation Genius also includes various standards-aligned learning materials for each topic, including lesson plans, teacher's guides, practice material, interactive quizzes and more.
Combined with the videos, these learning materials mean that Generation Genius offers parents a pretty comprehensive and wide ranging learning experience that can be used to enrich and supplement just about any homeschool textbook or curriculum.
Bottom Line
With its library of entertaining and in-depth math and science videos, as well as its comprehensive suite lesson plans, worksheets and other learning material, Generation Genius can be an affordable homeschool supplement that can help K-8 kids learn and connect to STEM subjects in a more fun (and effective) way.
FAQ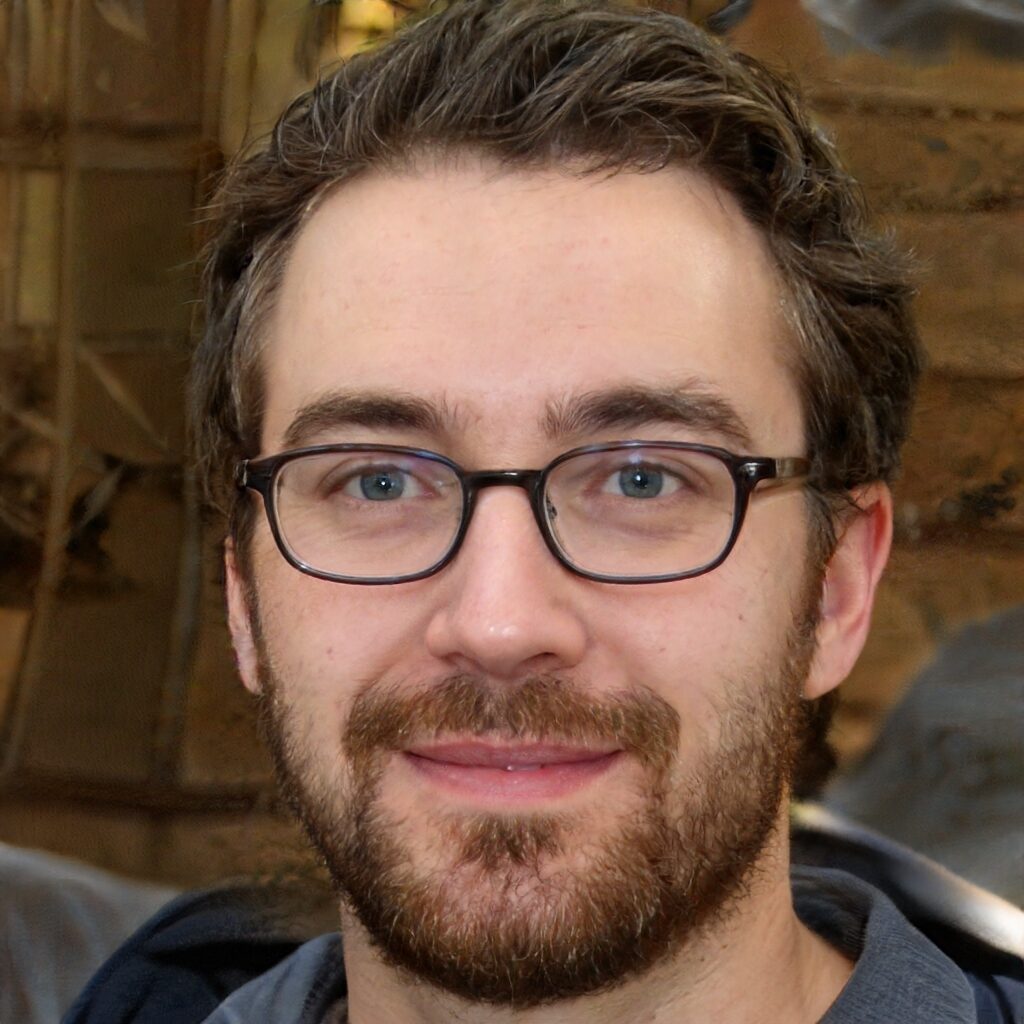 About the Author
David Belenky is a freelance writer, former science and math tutor and a tech enthusiast. When he's not writing about educational tech, he likes to chill out with his family and dog at home.