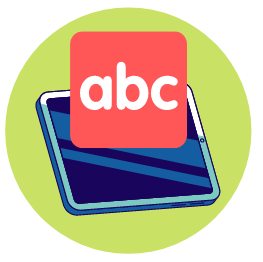 With its student-centric and inquiry-based approach, highly illustrated, colorful and easy to read interactive workbooks, wide variety of digital tools and resources and practical, hands-on demonstrations and experiments, Science Fusion can provide homeschools with a rigorous, yet approachable, science program that students can actually get excited about. 
What Is Science Fusion?
Published by Houghton Mifflin Harcourt (HMH), Science Fusion (aka ScienceFusion) is a comprehensive, inquiry-based STEM program designed for elementary to middle school students.
Blending digital and print learning, the program teaches through a combination of direct instruction, interactive workbook explorations, hands-on experiments and demonstrations, online media, virtual labs and more.
What Ages or Grades is Science Fusion Intended For?
Science Fusion is intended for students in K-8, or from early elementary to middle school science.
The program itself is split into two different structures, one for K-5 students and one for grades 6-8.
At the K-5 level, as is common with most elementary school science programs, each level contains a blend of different units, touching on life, physical and earth science.
In contrast, at the upper levels (6-8), each level contains 11 individual and self-contained modules (labeled A-K) that parents can choose from, depending on interest and need. These include:
Life Science
Cells and Heredity
Diversity of Living Things
The Human Body
Earth Science
Ecology and the Environment
The Dynamic Earth
Earth, Water and the Atmosphere
Physical Science
Matter and Energy
Motion
Forces and Energy
Sound and Light
Introduction to Science and Technology
Because of this unique dual structure, the program is a little different compared to other science programs we've seen when it comes to grade alignment.
While the K-5 series is technically grade aligned (with levels progressing in language and topical complexity), the books are well-suited for teaching students learning outside of a traditional grade progression, such as precocious learners or those who are a bit behind, as they make no obvious references to grades and are therefore less embarrassing or intimidating to students.
At the grade 6-8 level, however, parents are free to select the modules they would like their students to work on and the order in which they would like to study them.
As a result, at this level the program becomes more interest-based than grade-leveled, something that can be ideal for homeschoolers moving at their own pace.
That said, parents of more precocious science students should know that, beginning in grade 6, there is a shift to more formal labs and reports compared to the hands-on demonstrations and explorations of earlier grades.
These more formal demonstrations can require more writing, critical thought and reading on the part of students and can therefore represent a noticeable shift in skill that some younger students may have a harder time with if their language arts skills are not on par with their science comprehension skills.
What's Included In A Science Fusion Curriculum?
Science Fusion is a rather unique science program in that it includes both print and digital learning materials.
The program includes print and digital teacher's manuals and Student Interactive Workbooks, access to various interactive teacher and student tools and resources on Thinkcentral (HMH's learning management system), flipcharts, science handbooks and even a variety of leveled science readers at the K-5 level. 
As a result, Science Fusion is a very flexible and resource-rich program, but it does involve a lot of moving pieces that parents will need to select, manage and keep track of.
As a result, it isn't exactly what we might consider a compact science curriculum.
Science Fusion Teacher's Manual
Each level in Science Fusion comes with a teacher's manual, which is available as a spiral bound printed book and as an online ebook.
The teacher's manual is a fairly traditional one, containing a broad outline of the program's teaching methodology, guided lesson plans, outlines of science concepts, copies of student pages, various questions and answers, enrichment activities, differentiation ideas and more.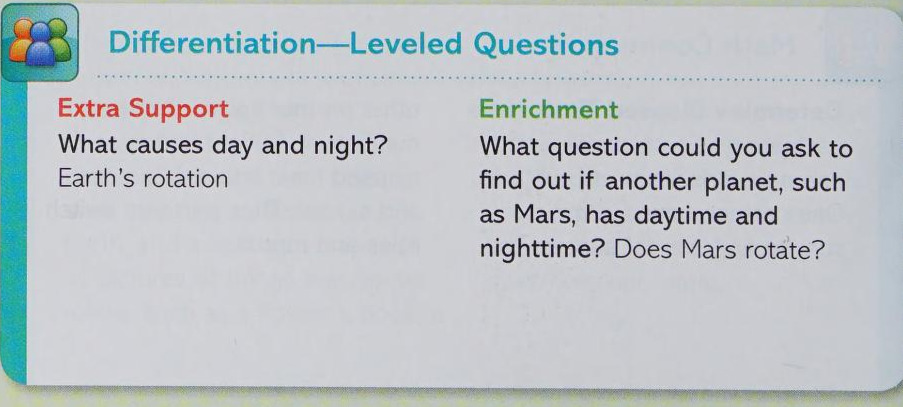 Interestingly, these teacher's guides also contain a lot of tips for teaching and to help adjust lessons to student needs and abilities, as well as for identifying and correcting common scientific misconceptions students might have.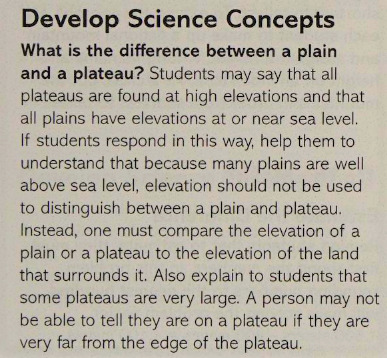 We feel that these tips can be very useful for new homeschooling parents and for those whose own science skills are a bit rusty.
The teacher's manuals also contain a good deal of information regarding how to access and use the Thinkcentral website, which is useful given the sheer amount of resources and tools for the program contained therein.
Homeschooling parents should be aware, however, that the manuals aren't always all that scripted.
While they provide a good outline and structure to lessons, and while they do a good job at guiding parents through a lesson, they don't always provide parents with a precise dialogue to follow when it comes to teaching concepts or engaging in activities. 
As a result, those with little experience in teaching their child may need to prepare a bit more before a lesson.
In a similar vein, parents should also note that the manuals are written for a traditional classroom and may need to be adapted to fit a homeschool setting.
Online Teaching Tools
In addition to a fairly comprehensive teacher's manual, with Science Fusion homeschooling parents can also access a variety of course management tools on the Thinkcentral website.
These include a digital copy of the teacher's manual, digital copies of student materials, progress tracking, the ability to assign and view student work, schedulers and even automatic scoring and grading of the program's multiple choice quizzes and tests. 
By and large, the teaching tools included in Science Fusion are fairly robust, intended as they are for teaching a full class of students, and may be pretty helpful for those who aren't using a separate digital homeschool planner.
Student Write-in Interactive Worktexts
The student workbooks are where students will spend most of their time in Science Fusion, and represent something of a significant departure from the look and feel of traditional homeschool science texts.  
Rather than being filled with long paragraphs of text, the student books look very much like a kids science magazine.
They are filled with pictures, illustrations, activities, colors, and pop out sidebars that make them pretty interesting and dynamic to look at. 
They are also "write-in" workbooks. 
In other words, students fill in various questions, puzzles, exercises and more as they go along though a lesson, something that keeps learning a little more entertaining and interactive than a traditional science workbook or textbook chapter.
They also tend to have short, to the point paragraphs of text, which can make them a little easier and less intimidating to use for students who might be struggling with reading comprehension and fluency.
The student texts are also written in a pretty casual and high energy way, which can make the learning a bit more approachable.
At the same time, however, they do treat the science they teach quite seriously and professionally.
As might be expected of a standards-aligned science curriculum, Science Fusion teaches students all the relevant explanations and scientific terminology they need to know, as well as putting a fairly strong emphasis on honing their quantitative science skills through dedicated "Do The Math" sections. 
The Student Interactive Worktexts in Science Fusion, like the teacher's manuals, are available in both print and digital formats.
Hosted on Thinkcentral, digital copies of the Science Fusion Student Interactive Worktexts are identical to their print counterparts and are used much like a digital flip book. 
With a click of a button, students can turn the pages and they are able to write directly in them with a digital pen.
They also contain a read aloud function (in Spanish and English), which can be useful for those with vision or reading difficulties.
Although convenient,  these digital workbooks will obviously increase screen time significantly and oftentimes the need to write things in them using a digital pen can be a bit clunky and inaccurate compared to a real pen and paper book. 
That said, parents can always print out pages from these student books, or download them as PDFs or ebooks for later use.
Flipbooks
Alongside these workbooks, students in K-5 also make use of flipcharts (also available in digital and print formats).
In print form, these take the form of fairly large spiral bound books that contain step-by-step directions for each lesson's hands-on learning component. 
Brightly colored, easy to read and filled with diagrams and pictures, they are pretty easy to read and serve as a nice visual outline of a lesson's key questions and line of inquiry.
Those who enjoy physical copies of their learning materials should be aware, however, that the printed flip books are intended for group use in a classroom and can be a bit big and unwieldy for a kitchen table.
Luckily, the teacher's manuals contain copies of each flip book page and they are also available online, which can be a better option for those whose learning space is a little more limited.
Student Interactive Curriculum
In addition to their Interactive Worktexts, students also have access to the Thinkcentral platform, whose student area contains a wide variety of learning resources designed to augment and deepen their learning. 
These include things like:
Digital copies of their worktext
Online videos, animations and pictures for teaching concepts
Virtual labs, scientific tools and projects
Biographies of various figures in science
Interactive exercises and activities
Review and testing
And more
As we'll discuss a little later on, how much online learning a student engages in is really up to the parent, but many of the resources available on Thinkcentral for Science Fusion approach the material in a slightly different manner, which means that they can serve as a valuable alternative to help students understand concepts in case they are having a hard time with the print lessons.
Like the parent's online course management tools, students may need a little time (or parental help) to get used to their digital account, as there can be a lot of resources on screen for them to sort through.
Sciencesaurus
Along with their worktexts and digital resources, students also make use of print or digital versions of Sciencesaurus. 
These are science handbooks that have the same colorful and dynamic look and feel of the Student Interactive Worktexts.
They are primarily used as an easy reference guide that students use to reinforce and review major concepts and methods across the different topics or modules that they are associated with.
Leveled Readers (K-5)
Finally, much like programs such as Elevate Science, Science Fusion integrates a good deal of literacy into its science learning through various leveled readers. 
These readers are engaging science-based books that allow students to explore various concepts in science and engineering in a little more depth (such as why weather is important, the history of flight or how crayons are made), while providing them with more practice in reading and reading comprehension through related activities.
Aside from being fun and interesting to read on their own, the integration of readers into Science Fusion can be quite useful and of particular interest and value to literature-based homeschooling approaches.
That said, as they aren't exactly living books , those following a more Charlotte Mason homeschool philosophy may not find them quite as in-line with their needs.
How Science Fusion Approaches Teaching
Inquiry-based lessons
Science Fusion is an inquiry-based science curriculum.
Students typically begin each lesson with essential or big picture questions or problems that help pique student interest and focus the course of study.
As they go along, students explore and gather information from the lesson material, activities and hands-on components and use it to find an answer.
For example, a chapter on plant structure may start off by asking whether the stem of a particular tree is different from those of other plants.
To answer the question, students go on to learn about different types of plants, their different vascular systems, what their stems are used for, their different leaves and their purpose, photosynthesis and so on.
By the end of a lesson, students have learned enough about a subject that they should be able to synthesize most of the information into a short answer.
This approach to teaching places students and their ideas at the center of the learning process and stands in fairly stark contrast to programs that use a more top-down, lecture style approach.
In inquiry-based learning the role of the parent, too, can be quite different, with parents acting as guides and facilitators rather than direct instructors.
Rather than giving students the answer, parents highlight key facts, ask pertinent and guiding questions, help with brainstorming and generally keep learning on track.
Parents should note, however, that this process is a little more unpredictable than a traditional lecture-style format, as students can often give wildly varying answers to posed questions or interpret something in a novel way.
In addition, as this method of teaching relies on student responses and critical thinking, students do need to have a degree of enthusiasm, curiosity and willingness to participate during lessons.
Parents of more reluctant learners and those with a stronger preference to more direct instruction may not find this approach all that easy to conduct over time.
Parent-led
Although Science Fusion may offer a wide array of online resources and instructional aides, unlike curricula such as Supercharged Science and some others it is not a fully self-guided program that parents can set their students to while they attend to other tasks.
Instead, parents take a critical guiding role in this program, helping students organize the information they're learning, asking guiding questions, introducing activities, administering assignments and quizzes, overseeing experiments and so on. 
As a result, while it can allow parents to have a lot of quality interaction with their students and can tackle subjects with a greater degree of sophistication (as there is someone there to prevent the learning from getting away from the student), it can be a bit demanding on parents' time.
Multimodal and highly flexible program structure
Unlike other curricula that are either in print form or digital, Science Fusion is multimodal and offers a mix of both, using traditional printed workbooks, their digital copies and a complete learning management system.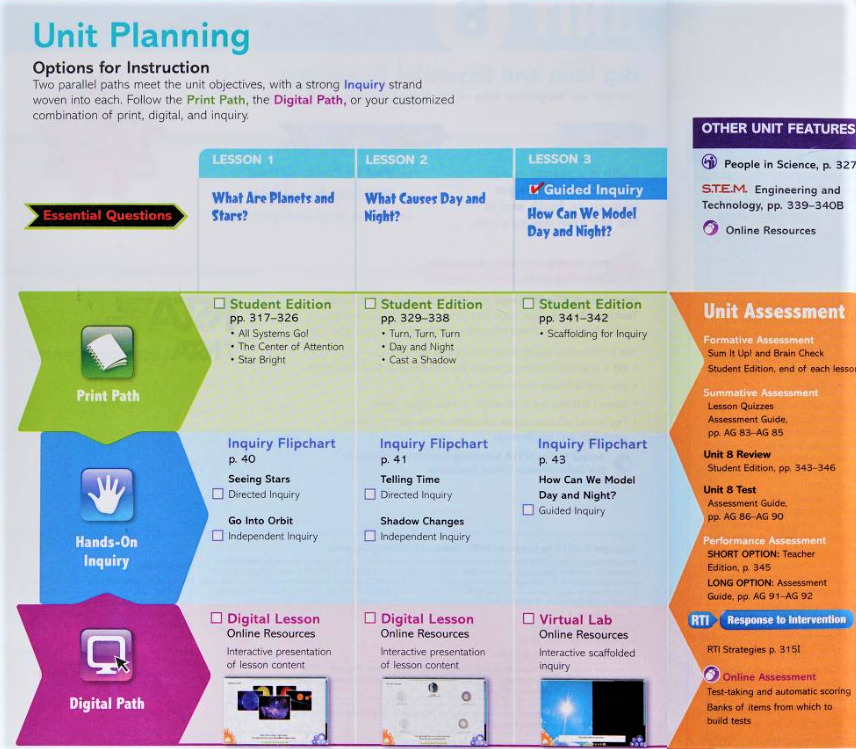 Further, there is significant overlap between the printed and digital resources, with both covering the same topics but in slightly different ways, meaning parents and students can use the resources they'd like without worrying about missing key ideas.
This gives parents the ability to really customize how they'd like their students to learn using Science Fusion.
Parents and students can learn using mostly print, mostly digital or a mix of both.
Ultimately, this multimodal flexibility seems particularly well suited for homeschooling, as homeschooling families can have a wide variety of ideas and philosophies on how much digital and multimedia content they'd like to include in their learning.
It does, however, mean that parents do have to do a little more planning ahead of time to figure out what would best suit their student's needs.
Hands-on science learning
Finally, Science Fusion contains a lot of hands-on demonstrations, experiments and explorations at all levels, with lessons containing at least one (and usually more) experiential activity.
This can make the program a far more engaging and dynamic experience for students, as rather than simply being lectured about scientific concepts they can get up, explore and get their hands dirty actually doing it.
As with many homeschool science programs, Science Fusion relies on fairly commonly found household goods for its demonstrations and experiments.
This is particularly notable as the program is originally designed for classrooms and the materials it uses are probably more easily gathered at home.
That said, there can be a few more unusual resources that parents will have to do some looking around for if they choose to conduct them in real life (and not virtually on Thinkcentral), such as pulleys, mass sets or even a skateboard.
While the activities and demonstrations in K-5 are woven into the lessons via the program's flipcharts, in grades 6-8 they take the form of more formal experiments and labs (both real life and virtual).
Whether its racing marbles down a slope or sending a doll on a skateboard journey, these labs all connect students to real world science concepts (acceleration, mass etc), and the program generally takes students and parents step by step through them with students filling out short, directed questions afterwards.
One thing we really liked is the fact that the program has specific engineering challenges where students are expected to design and build their own answer to specific real world problems, an activity that we feel really encourages problem solving, critical thinking and creativity.
Overall, the activities in Science Fusion are often quite a lot of fun, and can involve craft work, building models, kinesthetic and whole body activities, building, racing, melting, drawing, writing, coloring and much more.
The only real issue parents might have is that with so many experiments and demonstrations, it can increase the length of a lesson, particularly if students really get into them.
Additionally, as with many other strongly hands-on science programs, the greater number of experiments in the program also means that parents might have to go shopping for supplies a little more often.
How It Works
On a five day a week schedule, each grade in Science Fusion K-5 represents a full year's learning, and while the modules each vary in length they each represent about 3 months of learning.
In either case, parents and students have access to their online learning materials for 12 months when activated, which is pretty standard.
At the K-5 level, each book contains a variety of different units on life, physical and earth science, while in grades 6-8 each module represents a separate topical course, but is also broken down into various units and lessons. 
A parent-led program, parents generally work out of the teacher's manual and help guide or oversee their student's progress in their workbooks, periodically going online to take advantage of various online resources and activities, such as digital labs, virtual science tools, activities, online videos, interactive encyclopedia-like entries and more. 
Being an inquiry-based program, the exact nature and flow of each lesson can vary quite a bit but generally follow a pretty consistent pattern.
Lessons start by kindling a student's interest in the concept that is being introduced, generally by introducing an Essential Question (one that sets the tone and focus of the lesson) and, often with a demonstration of the concept or, optionally with K-5 students, with a hands-on activity from their flip chart.
Parents, in the meantime, using ideas and activities located in the teacher's manual, help the student think more critically about the concept and, often, its importance to real life.
Students and parents then begin to work through the instructional component of a lesson, either through the Student Interactive Worktext, through the interactive videos, animations and activities, or some combination of the two. 
As they go along, students begin to answer questions in their workbook, with parents periodically helping organize the information, introducing exercises, asking leading and guiding questions and generally pointing students in the right direction in order to keep learning on track and focused. 
At specific points during the lesson, students and parents will be directed to various activities (either in the text or online), such as active reading exercises in their readers (where they'll read, underline and highlight key terms and ideas), answer questions, do virtual labs, demonstrations or experiments, work on math, do reviews, engage in writing activities and so on.
The instructions and timing for each of these (as well as tips for success) are carefully laid out in the teacher's manual and online, which makes going through the lessons a lot easier and more fluid.
Exercises and activities can also be scheduled and assigned from the teacher's dashboard in Thinkcentral.
It is during this instruction and its related activities that students begin to synthesize answers to their Essential Question, which they will then answer in their text.
At the end of each lesson, students have a summary page (Sum It Up in K-5, Visual Review in 6-8), the occasional application exercise (challenging students to extend their knowledge to real world scenarios, and a light review. 
In K-5, these reviews are called Brain Checks, which generally focus more on helping students get comfortable with key terms and comprise a number of puzzle-like activities, such as word jumbles, cross words, and more.
In 6-8, students are given a general lesson review, which is usually a few exercises and/or questions to test their learning and, often, to get them to extend their learning with some practical questions.
Periodically, parents can administer lesson quizzes and unit tests on Thinkcentral (or with an optional paper-based assessment book).
These are typically multiple choice questions and those who use Science Fusion's learning management system for this can enjoy automatic corrections and grading.
Our Thoughts
Overall we feel that Science Fusion is a pretty strong science curriculum that should serve most homeschools pretty well.
While its brightly colored and heavily-illustrated interactive workbooks and videos make science concepts clear and easy to understand, it still can be quite rigorous in terms of its learning.
Science Fusion places a strong emphasis on helping students deeply understand science concepts, including important terminology and practical math, and goes a step further by getting students to think about (and even design their own) their practical applications to real world problems and scenarios.
Beyond the science learning, we liked the fact that Science Fusion also has a strong language arts connection, with the use of its leveled readers, rather creative in-lesson writing exercises and assignments, and periodic tips for improving reading comprehension featuring quite prominently in each unit. 
Similarly, we feel that the program's inquiry-based approach, STEM projects and engineering exercises can really encourage broader critical and creative thinking skills in students, largely by getting kids to state problems and concepts in their own words, extending their learning through open-ended application questions and periodically challenging them to design and execute their own practical projects. 
Moreso, and unlike many other science curricula we've seen, there is a strong emphasis in Science Fusion for parents and teachers to accept out of the box thinking.
The solution pages in the teacher's manual for exercises and activities often allow for a wide range of potential responses for each activity (within reason), making Science Fusion instruction far less of a paint-by-numbers science program.
When it comes to the lessons themselves, we enjoyed the fact that they support a good deal of multisensory learning.
Should they choose, parents and students can learn with text, imagery, videos, interactive games and exercise and more, all of which is further augmented by the program's strong hands-on learning component, with at least one experiment or demonstration per lesson (and usually more).
As a result, the program can potentially suit a wider variety of learning styles.
Similarly, we found the program's built-in flexibility to be quite refreshing.
Allowing parents to determine for themselves just how much online/offline content they want to include in their lessons gives parents a good deal more control over screen time and content and allows the program to suit a wider variety of homeschooling needs and values.
On the downside, Science Fusion is a very parent-intensive program.
As we've mentioned, parents play an important role as guide, facilitator and administrator, and need to be active and engaged throughout most parts of a lesson, whether that is in organizing student thoughts, offering questions to guide learning, clarifying certain points, introducing or overseeing various activities or administering tests.
As a result, really busy homeschools may have a harder time accommodating its learning style.
In addition, its inquiry approach and spread out learning materials may be unfamiliar to most parents, who will need to spend some time getting used to the program's methodology and resources.
Busy homeschools should also note that lesson length can vary quite a bit with Science Fusion.
A good part of the program's lesson length depends on a student's pace and their relative interest/inquisitiveness and sometimes the hands-on activities and discussions can run a little long, which can make it a little harder to fit into a packed schedule.
How Easy Is Science Fusion to Teach In A Homeschool Setting?
By and large, we found that Science Fusion is actually fairly easy to teach.
Its lessons and student texts are straightforward, easy to understand and fairly detailed, while the digital content (video lessons, automatic grading and scheduling) can make learning a lot easier and more interactive for many students.
Its teacher's manuals, although not exactly scripted, are quite in-depth and offer quite a bit of guidance, as well as lots of teaching tips and differentiation ideas that can really make it easy to tailor the learning to the specific needs of a student.
Further, the teacher's manuals also offer simplified explanations of science concepts, which can be good for parents whose own science skill and knowledge has become a bit rusty.
With all that said, we didn't feel that Science Fusion is exactly the most open and go science program out there.
Its lesson plans, while sequential and detailed, aren't all that scripted.
Aimed at teacher's in traditional schools, they seem to be designed to accommodate different teaching styles and methods and often leave much of the specific dialogue and presentation up to the instructor.
Although a distinct positive when it comes to the eclectic nature of homeschools and their varying philosophies, it does mean that new and inexperienced homeschooling parents may need to take time to review each lesson and plan their approach.
Similarly, the overall program is designed for maximum flexibility, offering parents the ability to choose between print and digital lessons, as well as different modules starting in grades 6-8.
While this gives homeschooling parents a good deal of control over their child's learning, it also means that parents will need to spend some time figuring out exactly how much print vs. digital content they want to use.
Finally, as Science Fusion makes use of a fairly sophisticated learning management system, parents may also need to take some time to familiarize themselves (and their student) with its layout and where things are located.
Is Science Fusion A Secular Science Program?
Yes, Science Fusion is a totally secular science program that makes no mention of God, the bible or any religious topics.
Further, the program teaches concepts that might be a bit more controversial to religious homeschoolers and those who want to follow a more neutral curriculum, such as evolution, the geological age of the Earth, the big and so on.
Pros and Cons of Science Fusion
Pros
Flexible, digital and print teaching
Science Fusion is a multimodal science program that allows parents to select just how much online or offline content and resources they want to use while teaching and, in later grades, even which topics of study they would like to teach and in what order.
All this allows homeschooling parents to really tailor the program to their particular needs and preferences, more so than most other science programs out there.
Colorful and interesting presentation of science concepts
Science Fusion's Student Interactive Worktexts are colorful, filled with interesting pictures and illustrations and replete with activities, questions and other interactive components.
As a result, they can be far more interesting and engaging for students to look at and read compared to a standard textbook.
Easy to read, easy to understand texts
Science Fusion's Worktexts convey information to students using short paragraphs and concise, easy to understand language that can make reading about science a lot easier and less intimidating, especially for students who aren't very strong readers.
Encourages critical and creative thinking
Through its inquiry-based approach and plethora of application-based exercises, Science Fusion challenges students to think broadly about and apply what they've learned to different situations and even has engineering challenges that get them to analyze, design and build a solution to a real life problem.
As a result, it tends to encourage and reward critical analysis and creative thought more than some other programs we've looked at.
Rigorous, multifaceted science learning
Although written in an approachable manner, the science taught in Science Fusion is rigorous and standards-aligned.
Aside from frequently challenging students to think deeply about what they are learning during lessons, the program stresses all the proper scientific terminology and has various specific activities that get students working on their quantitative skills.
Strong language arts connection
Beyond pure science, Science Fusion also includes a variety of leveled readers, vocabulary testing, tips for reading and studying texts and even writing activities that can help reinforce a student's language arts skills.
Lots of fun, hands-on activities
Science Fusion is a very hands-on program.
With multiple demonstrations, activities and even experiments in each lesson, students can really get a lot of experience doing science, rather than just learning about.
Cons
Parent intensive
Science Fusion is not a self-study program for students and does require parents to be heavily involved in lessons, which can require a good deal of effort and time on their part.
Not exactly cheap
With teacher's manuals usually coming in at over $200 per grade and student materials at up to $40, Science Fusion is not exactly the most affordable science curriculum we've looked at.
Who Is Science Fusion Ideal For?
Homeschools looking for a strong, NGSS standards-aligned curriculum
At the end of the day, Science Fusion is a rigorous, standards-aligned homeschool program that not only teaches math and science to a relatively high level, but also challenges students to critically evaluate and apply what they've learned to the world around them.
Secular homeschools
As Science Fusion also teaches topics like evolution and the geologic age of Earth, and as it contains no religious material whatsoever, it can be considered a secular science program and may therefore be of interest to secular homeschools who are struggling to find a curriculum that's neither religious nor neutral.
Students who have difficulties in reading
As its worktexts are broken into short, easy to read and easy to digest paragraphs, Science Fusion can be a good option for students who have a strong interest in science but are intimidated by or struggle with long blocks of text.
Those looking for a more student-centric approach to teaching
Not every homeschool is a fan of top-down, parent-led programs.
As Science Fusion places the student and their thought process and ideas at the heart of its lessons, it can be a more attractive option.
Students who have had a harder time learning science in the past
Although pretty rigorous, Science Fusion also teaches in a casual and approachable way, with lots of visuals and demonstrations, as well as various multimedia and digital resources, that can make learning a lot less intimidating.
Those who want finer control over online learning and screen time
Science Fusion allows parents a good deal of control over how much and what type of digital resources they choose to use during learning, which in term can give them maximum control over how long their student is online or sitting in front of a screen.
Fans of hands-on exploration and learning
With multiple active experiments and demonstrations in each lesson, Science Fusion gives students a lot of opportunity to get their hands dirty doing science, which can be great news for tactile learners.
Who Is It Not Ideal For?
Those looking for a self-study course in science
As Science Fusion typically requires a good deal of parental involvement throughout each lesson, it may not be the best program for busier homeschools and those looking for a more independent learning approach.
Religious homeschools
Science Fusion is a secular homeschool program that makes mention of any religious concepts and teaches concepts such as evolution, the geologic age of the Earth, the Big Bang and so on.
As a result, it may not be the most ideal for those looking for a faith-based or even neutral science program.
Those on a strict budget
A year's learning in Science Fusion can cost over $200, and although parents do get a lot of resources for their money, it can be hard to squeeze into a tight homeschool budget compared to some others.
Price
Note: Prices correct as of writing. All prices in USD.
As mentioned, there are quite a few components to Science Fusion, some digital and some print.
Prices for individual resources can vary in this program, depending on the grade level in question, and it is important to note that digital copies of many of the print resources (labs, assessment guides and even flip books) are included with a subscription for no extra cost.
Generally speaking, however, teacher's guides cost around $200 for K-5 and $57.20 or so per module.
Student Interactive Worktexts, on the other hand, cost around $20-40 per student depending on the level.
Flipbooks cost around $68, print assessment guides for K-5 around $60-70, while print assessment guides for 6-8 cost around $29.95 per module.
Parents should keep in mind that while the print resources of the curricula obviously can be used for as long as needed, access to the digital tools is usually available for 12 months from activation.
Finally, print versions of the lab manuals are available for about $61 per module.
As always parents should check for the latest prices for this curriculum, as well as for any discounts or offers that may apply.
Or 
Is Science Fusion Worth The Price?
Although it's not particularly cheap as a homeschool science curriculum, overall we feel that Science Fusion can be a very valuable program for the right homeschooling families.
The program provides students with easy to use, highly engaging and approachable science lessons that not only gets them more involved in their lessons, but can also help them learn to apply STEM concepts and critical reasoning to everyday problems.
The lessons themselves are highly interactive and engaging, placing students at the center of their own learning journey and getting to think deeply about what they're learning through an inquiry-based approach, which is further augmented by videos, interactive labs, experiments and more.
Further, while the program is very approachable, it also treats its science material quite seriously and strongly emphasizes and tests students on all the proper terminology and even the mathematics behind important concepts.
Finally, Science Fusion often goes beyond the teaching of pure science and, through various exercises and readers, can help students develop stronger literacy, writing and study skills.
Bottom Line
Learning science at the elementary to middle school level doesn't have to be a chore.
With its student-centric and inquiry-based approach, highly illustrated, colorful and easy to read interactive workbooks, wide variety of digital tools and resources and practical, hands-on demonstrations and experiments, Science Fusion can provide homeschools with a rigorous, yet approachable, science program that students can actually get excited about.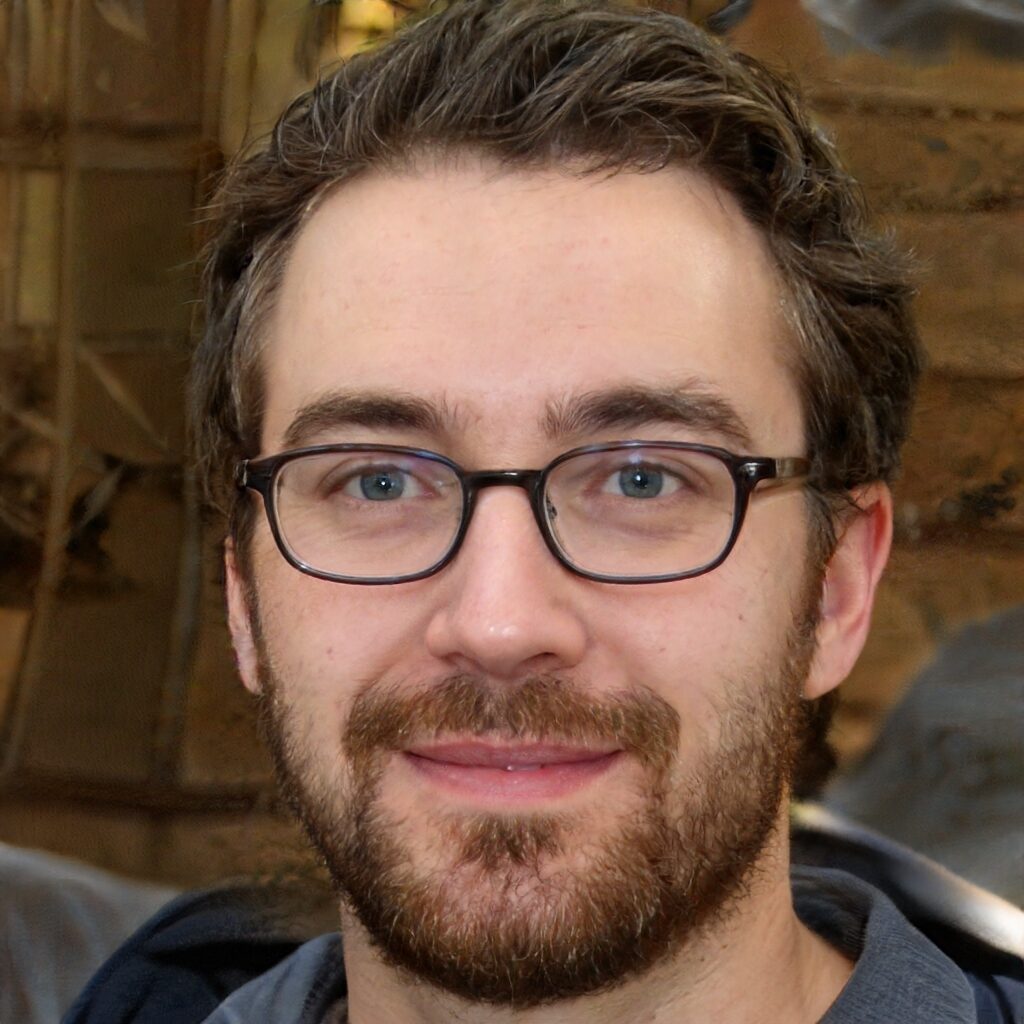 About the Author
David Belenky is a freelance writer, former science and math tutor and a tech enthusiast. When he's not writing about educational tech, he likes to chill out with his family and dog at home.