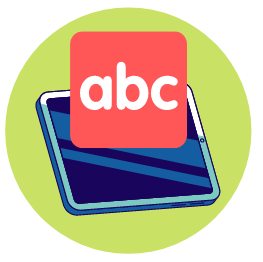 With its considerable database of math lessons, worksheets, activities, puzzles, games and more, we feel Math Is Fun can be a highly valuable free resource for homeschooling families to use alongside their main math learning. 
What Is Math Is Fun?
Around for over 20 years, Math Is Fun is a website that aims to provide an assortment of online math instruction and practice for students in preschool through high school.
To do so, the site offers a wide range of freely-available resources, such as online lessons, practice problems, worksheets, printables, puzzles, online tools and even games and activities.
What Ages Or Grades Is Math Is Fun Intended For?
By and large, Math Is Fun covers math topics at around the Pre-K to Grade 12 levels, with content ranging from counting and place value all the way to Calculus, Algebra and even Data Analysis, and largely aligning to common core standards in math for these grades.
That said, although it does offer suggested curricular pathways for each grade, Math Is Fun is a freely accessible and navigable website that puts no real limits on the use of its content and resources.
As a result, parents and students can browse through the various topics taught and practiced on the site and learn what they wish, meaning it can be used by families with students of any age or grade level and regardless of whether they are working ahead, on-grade or in need of remedial help.
Being a resource website, however, Math Is Fun doesn't really offer a placement test or scheduling assistance for parents beyond a general grade-level suggestion of topics to study.
As a result, parents looking for a place to start will have to assess their child's learning and skill and make a judgment call based on their needs and interests.
Math Is Fun Look and Feel
Math is fun is an educational website that is accessible from any web browser and allows students and parents to access online math lessons, practice problems (on-site and hosted on other websites), as well as a host of other math resources, such as:
a dictionary of math terms
various calculators and tools
printable worksheets
and even some interesting physics topics students can explore.
The website itself is pretty clean and uncluttered, with the main site information and content prominently located in the center of the page and without a lot of elements at the margins or sides of the website.
As a result, the site itself isn't very distracting to use, which can be a big plus for younger students and independent learners.
There are also quite a few ways for students and parents to find topics of study, which is always helpful.
There are, for example, various icons and buttons located prominently on the front page.
These are organized by topic and provide quick navigation to various broader concepts in math (money, numbers, data, geometry, measurement and calculus), as well as some tools to help with learning and practice (worksheets, activities, puzzles, games and so on). 
These broad topics are also largely replicated at the top of the page as a text-based navigation bar.
These are again replicated as part of a mobile-style menu located to the top right of the page, which seems a bit redundant although it can make things a lot quicker to find for students who may have been raised on tablets and phones, rather than mouse-based desktops and laptops.
The site also provides a general index page, where parents and students can select topics by broad grade range, such as:
From this index page, there are also links to a "Curriculum" page, which provides access to specific grade-level topical coverage, as well as a "Common Core Standards" page, which allows parents to browse through and access content based on math standards. 
Finally, there is, of course, a search bar that allows users to find individual topics and contents through text-based search.
By structuring the site in this way, Math Is Fun tends to give parents a lot of choice when it comes to finding things and organizing their studies, allowing the site to be used for on-the-spot review and practice or as more of a deeper and long term curriculum supplement, depending on a family's needs.
That said, finding things on the site can sometimes involve some clicking around as some options (such as its "Curriculum" or "Common Core Standards" pages) aren't necessarily obvious from the front page or accessible from their main navigational menu.
Interestingly, the site's clear and clean design also extends to the site's content.
Math instruction is pretty clearly written and is kept pretty to the point, using short paragraphs that are easily read and not that intimidating to go through, even for students who may be a little afraid of the subject.
 The text is also interspersed with helpful illustrations, boxes, charts, helpful diagrams, the occasional playable animation and even an occasional interactive element, such as the number line shown below that moves from side to side with a mouse hover.
They may also include the occasional embedded animated gif, which can help students visualize concepts more easily, as well as examples, exercises and interactive practice problems to help get the point across. 
These graphical elements are even given highlighting and colored text that can help them stand out from the site's background.
It is important to note that, while Math Is Fun is quite easy to go through and use, it is a bit old school (keep in mind the site is 20+ years old) and lacks some of the more slick elements and stylistic choices that might be available on some other educational sites, such as XtraMath or ABCya.
As a result, while the site's simple design can keep kids more focused on math and learning, it may not offer the most exciting or engaging user experience out there.
Parents, particularly those looking to integrate the site's use as part of their broader math curriculum, should also keep in mind that as a completely free site, Math Is Fun does not have any student or parent accounts.
As a result, the site lacks some of the administrative features that they might otherwise like on a digital resource, such as student progress tracking, record keeping, performance reports, game scores and so on, all of which will have to be kept and recorded manually.
Notable Features
Math Is Fun offers parents and students access to quite a few different resources that can make learning and practicing math a bit easier.
Math Instruction
Math Is Fun offers instructional pages for hundreds of different topics in math, from preschool math through high school calculus.
This math instruction is online and text-based and largely resembles a typical textbook format, with straightforward definitions and explanations followed by on-page demonstrations of concepts.
The language, however, is usually kept a little more informal compared to a typical textbook, at times being written directly to the student in a more informal way that tends to make things a little easier to understand and less intimidating. 
As mentioned, these lessons are brief and to the point, with explanations being kept pretty short (usually a sentence or two) and with plenty of examples, charts, graphs and other visual elements sprinkled in for clarity.
The lessons also contain frequent hyperlinks to related concepts, which can be good for review if a student has forgotten them, and each lesson includes a series of online practice questions at the end (in a section called "Your Turn"), which are hosted on Mathopolis.
As a result of all this, the site's lessons tend to be a little easier to read and tend to avoid the lengthy, paragraphs-long explanations that might intimidate some students, which is nice and its design and layout reminds us to some degree of Math Mammoth and other similar full math curricula.
With all that said, it is important to note that, while it does offer clear and to the point explanations, Math Is Fun is not really a full math curriculum on its own.
While there is a huge amount of material on the site, it doesn't really guide students through a directed course of study, there is no real schedule or pace to follow, there are no tests or progress tracking to speak of and, of course, there isn't much in the way of review.
Being text-based, the lessons themselves aren't all that multisensory, either.
Unlike Math Mammoth, Mr. D Math and others, the site doesn't really offer a ton of audio or video-instruction (although there are some cartoon animations on certain pages), which can be helpful for students who have a hard time with reading, those who prefer to be explained to by a teacher and those who simply learn better through multimedia instruction. 
Worksheets
In addition to its lessons, Math Is Fun also offers parents and students access to a wide variety of worksheets for practice, which are separate from the lessons.
These worksheets cover a number of different math subjects, including operations, decimals, fractions and even algebra, and generally have the look and feel of a classroom exercise sheet, testing a student's computational skills with a page of questions and having room for the student to write their name and date on them. 
When it comes to topical coverage, the worksheets are arranged incrementally in their difficulty, allowing students and parents to slowly build up their skill fluency on a given topic, such as by splitting Algebra worksheets into one-step, two-step and multi-step problems.
They are also, at times, offered with different difficulty levels (beginning, easy, medium and hard), which can be very useful as a way for those who tend to struggle with math or suffer from math phobia to ease into practice.
One thing we liked about these worksheets is that there is a considerable database of them available for each math topic and they are randomly generated with each click (as well as through a "Try Another" button at the top of the page), which dramatically reduces the likelihood of a student running into the same sheet twice.
It is important to note that, while they are online-based, the worksheets aren't interactive or automatically corrected/graded, meaning that students will have to work on a separate sheet of paper and will need someone to go through their work afterwards.
They are, however, easily printable, which allows parents and students to take learning away from the screen altogether and is always nice to see.
Parents of students learning on their own should also be aware that there is an answer button located at the top of the screen, which when pressed will fill the screen in with the appropriate answers.
Although this can be very helpful when it comes time to correct student work, parents will have to keep a close eye on things to prevent cheating.
Games and Puzzles
In addition to its practice questions and worksheets, Math Is Fun also has a selection of math-related puzzles and games that can help students hone their skills in a less computational manner.
Puzzles
The puzzles are a collection of on screen brain-teasers, activities and word problems and tend to directly challenge a student in several areas of math (numbers, geometry measurement, algebra, for example) while pushing them to stretch their general logic and critical thinking skills.
In general, there are quite a few different types of puzzles to work with, with some being more directly and explicitly related to specific concepts and others challenging students to figure out how to approach and solve them altogether. 
Like the student worksheets, these puzzles are presented online but they are designed to be worked on offline – there is no place to input student responses and receive a response.
Also like the worksheets, there is a link to a puzzle's solution on the page, which can introduce an easy opportunity for cheating if parents aren't careful.  
Games
Similar to ABCYa, Legends of Learning and other educational websites, Math Is Fun also includes a few games that students can play online.
Many of these games are directly math related, allowing students to drill and test their math skills in a bit more of a fun manner compared to worksheets and exercises.
Math Match, for example, is a memory-style game that has students flip cards over to reveal an equation or an answer.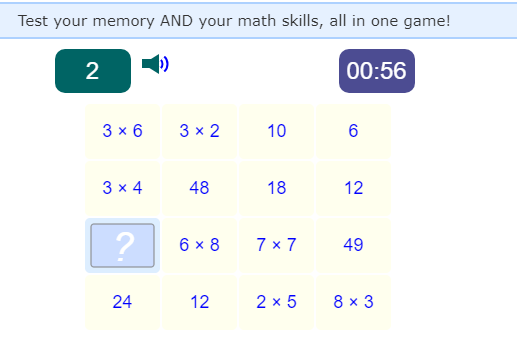 To win students must, of course, match the right answer to its equation.
It is important to note that not all the games are directly math related, with many being variants on traditional online games such as chess, checkers, four in a line, tanks, balloon pop, battleship and so on.  
While these can provide a nice break from studying and practice, parents should make sure that students aren't getting too distracted as there are no real limits to gameplay access on the site.
Further, although they can be fun, the games are pretty simple and old-school, especially compared to the richer animations and more advanced games found on some competing paid sites.
While they can be a nice short division or reward, they probably won't impress or engross younger students who have been raised on the latest 3D games all that much.
One thing we appreciate, however, is that many of the games are now available as HTML5, rather than being based in Flash animation (as they were in the past), which should make them usable on a greater number of modern devices.
Math Activities
Finally, Math Is Fun also contains a rather extensive list of math activity ideas that parents and students can access and use in their lessons.
These activities include craft ideas, hands-on work, short excursion ideas, experiments, thought experiments, chart games and much more, all of which are intended to further explain and demonstrate important math concepts in a more fun and engaging way compared to traditional worksheets and drill.
They can also add a welcome dynamic and multisensory element to just about any lesson on their respective topic, with students drawing, cutting, baking, painting and even getting up and moving around as they work on their math. 
In our opinion, these activities can spice learning quite a bit, being a welcome supplement, allowing families to freely add hands-on/kinesthetic learning to their preferred math curriculum.
How It Works
As we've mentioned, Math Is Fun is a freely-available and freely-accessible website with math lessons and resources.
The site is ad-supported, meaning it pays for its infrastructure and maintenance from ads that pop up here and there when using it.
These ads can be turned on or off from an easily accessible button at the top of the page with no loss of functionality or access to the site, which is surprisingly unlike most other sites we've seen, although certainly most welcome.
There are no accounts to sign up (or pay) for and no student or parent pages to manage learning.
Instead, parents and/or students simply open the website and select an area of learning or a practice resource that they are interested in.
This can be done from the front page/nav bar by general topic, by grade level through the Curriculum page or by its relevant Common Core Standard.
In this way, parents and students have the option to approach topics in order and in a method similar to a curriculum or simply use the site as needed for focused practice and learning.
As we've discussed, because the site does not create accounts or save user data, there is no way to track and record student activity, learning or performance over time (including its worksheets and practice questions) and so parents interested in using Math Is Fun alongside a typical curriculum will need to do this themselves before ending a session.
Pros and Cons
Pros
Free to use and access
Math Is Fun is a free website that lets parents and students access its content without restriction, making it a very budget friendly educational resource.
Ads can be turned off
Although it does have ads, the Math Is Fun website allows users to turn these off if they'd like.
Covers pre-K to Grade 12 math concepts
Math Is Fun is also pretty comprehensive as a math resource,offering lessons and practice for topics from across the Prek-12 grade range.
Short, clear lessons
The site's lessons are short and to the point and are written in a clear and casual manner, making them very approachable to read.
Tons of worksheets, games and puzzles
Math Is Fun offers tons of free worksheets, games and puzzles that can be used for math practice and skill building.
Quite a few activity ideas
Math Is Fun also contains an entire section filled with math-based activities that can be used to add a multisensory and fun component to existing math curricula.
Cons
Site is a little old-school looking
Created over 20 years ago, Math Is Fun can look a bit old school or outdated compared to some of the flashier websites out there and lacks some of the modern style and advanced games that these may offer.
Finding things can involve a bit of clicking around
Although it does contain a good deal of math teaching resources, which are even organized by grade level and standard, finding them can sometimes involve a bit of clicking around or searching, which is annoying.
Who Is Math Is Fun Ideal For?
Those looking for tons of easy to read explanations of math concepts
Math Is Fun contains lessons and explanations for math concepts up to grade 12.
These are clear and easy to read, making the site a very approachable resource for parents and students who may not consider math to be their favorite subject.
Those looking for a free resource for math worksheets and practice resources
Math Is Fun offers parents and students access to a massive database of worksheets and other practice resources for free, which can potentially save families a good deal of money.
Those looking for activities and hands-on learning ideas for their curriculum
Math Is Fun also offers parents free access to interesting and fun activity ideas that can help students explore math in an engaging and multisensory manner.
Those on very strict budgets
At the end of the day, Math is Fun is a free website and can therefore fit practically any budget.
Who Is It Not Ideal For?
Those looking for a complete curriculum in math
While Math Is Fun does offer quite a few resources, it lacks the testing, cumulative review, reporting and grading options that a full curriculum can provide.
Those looking for a full online learning platform
Similarly, as there are no student and parent accounts, Math Is Fun doesn't offer the same progress tracking, automatic grading, assessment, scheduling and digital reporting options that some more fully featured, paid learning platforms can offer.
Those looking for sophisticated multimedia learning and games
While the site does offer lots of clearly written and easy to read explanations for math, it does lack some of the richer multimedia options (e.g. video instruction, digital whiteboards) and sophisticated 2D/3D games that some other sites and platforms can have.
Price
Note: Prices correct as of writing, all prices in USD.
Math Is Fun is a free educational resource and allows parents and students to use its content without the need for an account or any payment.
Is It Worth The Price?
Overall, we feel that Math Is Fun has a lot to offer math students and their families.
The site offers lessons on pre-K-12 math concepts that are short, easy to read and generally pretty unintimidating, making them solid explanations for those who find math a bit scary or who struggle with the subject.
In addition to its instructional resources, the site also hosts a huge number of worksheets across a wide range of math topics, helpfully split by difficulty level, which parents and students can easily print and use for practice.
There are also a considerable number of logic and math puzzles on offer, as well as a host of math-related and classic strategy/logic-testing video games that, while perhaps not the most advanced out there, can be a lot of fun.
The site also offers quite a few activity ideas that can be used to add a bit of fun kinesthetic/multisensory learning to just about any math program.
Finally, and most notably, all of this is completely free to use and is freely accessible, meaning that parents and students have a great deal of flexibility in how they would like to use the site's resources alongside their everyday math learning.
Bottom Line
With its considerable database of math lessons, worksheets, activities, puzzles, games and more, we feel Math Is Fun can be a highly valuable free resource for homeschooling families to use alongside their main math learning.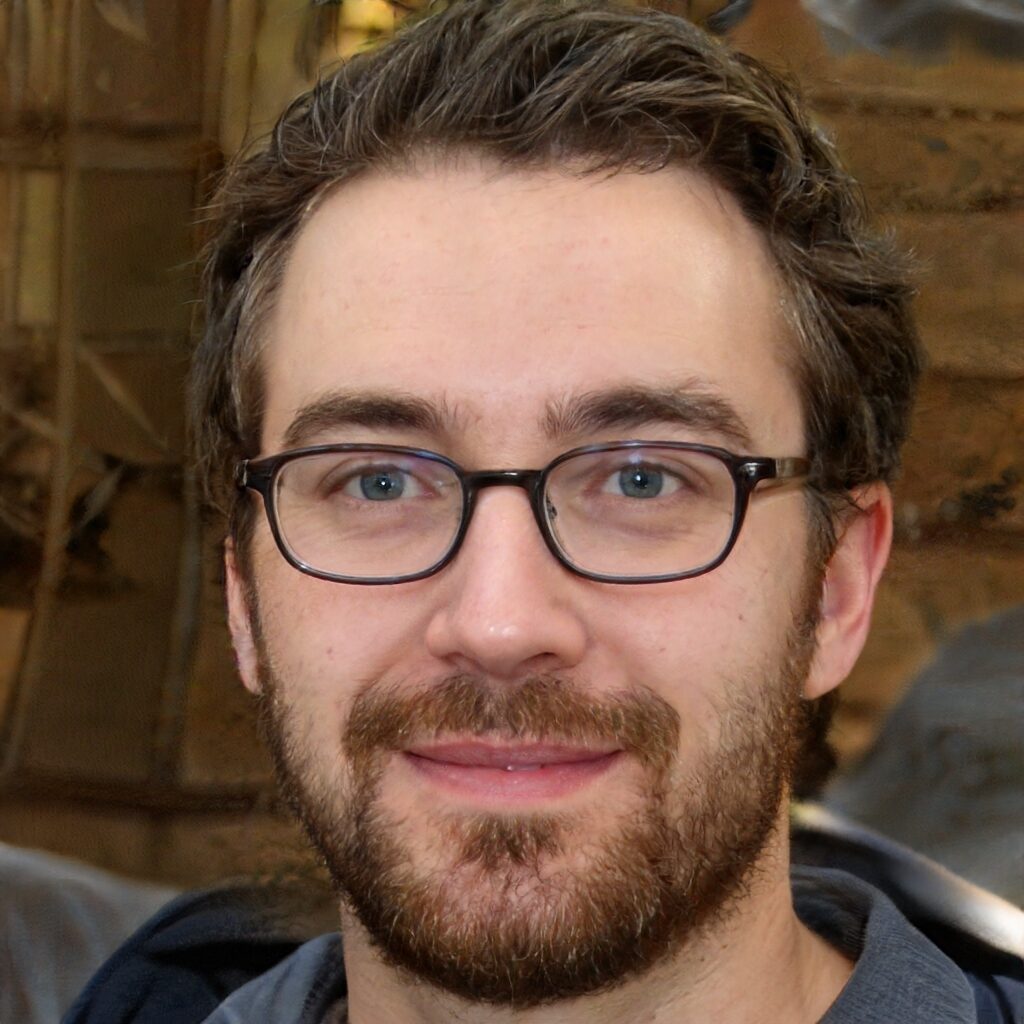 About the Author
David Belenky is a freelance writer, former science and math tutor and a tech enthusiast. When he's not writing about educational tech, he likes to chill out with his family and dog at home.