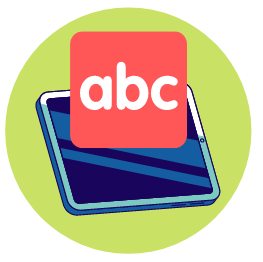 With its fun stories, colorful cast of characters, engaging multisensory activities and useful guidance, Alphatales can make this process a lot less intimidating and a lot more fun for all involved.
What Are Alphatales?
Published by Scholastic, Alphatales are a series of storybooks designed to help kids learn letter recognition and phonics.
Each of the 26 Alphatale books teaches and reinforces upper- and lowercase letter recognition and sounds through a combination of direct instruction, alliterative stories, cheers and a variety of suggested hands-on learning activities.
What Ages Or Grades Is Alphatales Intended For?
Alphatales is aimed at students who are just beginning their journey into reading and are ready to begin direct letter/phonetic instruction.
The company generally recommends the series to kids ages 2-5 or pre-K to grade 1.
This makes sense as the series is based around very fundamental skills (letter recognition, letter sounds) and doesn't require a lot of prerequisite knowledge or previous learning, which makes it ideally suited for very young students.
Homeschooling families should note that we feel that the series can really be used by kids of just about any age who are ready and able to start learning and remembering their letters.
This includes struggling older students looking for help with fundamental phonics, as the series' humorous and clever stories, simple writing style, cheers and multisensory activities can make its contents attractive and memorable.
That said, the series is definitely geared towards younger children and the look and feel of its colorful cartoon cast and humor might not appeal to significantly older remedial students quite as much.
Interestingly, the series' teacher's guide comes with an alphabet recognition assessment (a kind of matching game) that new homeschooling parents can use to determine the reading readiness level of their child, as well as which upper/lowercase letters they may already know.
This can be helpful in determining where to start and how much instruction and preparation will be required before lessons, particularly for families switching into the series from another program.
What Does The Series Include?
Alphatales books can be purchased individually, as a single anthology (The Big Book of Alphatales) or as a boxed set.
In our opinion the boxed set is likely the easiest and most effective way for homeschoolers and those learning at home to use the series.
Individual books can shared with students a little more easily than with a single large book, there is less temptation to flip around or get distracted and it makes things a little easier to introduce letters out of alphabetical order should a family choose to do so (out of interest or based on pre-existing letter knowledge, for example).
Regardless of the format, as a teaching resource Alphatales is made up of two components – a teacher's guide and the Alphatales books themselves.
Teacher's Guide
Each collection of Alphatales comes with its own teacher's guide.
A 128-page softcover book, the teacher's guide contains a variety of information that parents can use to help them introduce letters and their sounds to students.
The guide contains information about the series and its methodology, teaching tips and advice for introducing letters in an efficient and effective manner (including potential trouble spots, ideas for activities and games, instructions for making minibooks, skill assessments and more.
As a result, we feel that the guide can be very useful to parents, especially those who aren't yet following a more comprehensive and fundamental literacy curriculum.
Its tips and advice are often written by reading experts and can be very helpful for parents who have never taught a child to read before.
Further, its suggested activities, although largely kept in broad strokes, are instructive and detailed enough to be pretty easy to implement at home.
It is important to note that the teacher's guide is written for a classroom setting (which not every homeschooling parent appreciates) and does assume some pre-existing ability to teach lessons.
Consequently, it doesn't have much in the way of heavily scripted, step-by-step lesson plans for each letter, instead providing a general outline of how to use the series as well as a variety of useful ideas, suggestions and advice for conducting lessons in an enjoyable and effective way.
While this shouldn't be much of a problem for homeschooling parents who have a bit of experience in teaching kids or who enjoy having a more natural flow to their lessons, it might require new homeschoolers and those uncertain about their own teaching ability to think things through and prepare a bit more before each session.
Alphatales Books
The Alphatales series is made up of 26 short books, one for each letter in the alphabet.
They are softcover books that are filled with an assortment of anthropomorphic illustrated animals, such as Abby Alligator, Detective Dog, Olive the Octopus and others, who make up the cast of each tale.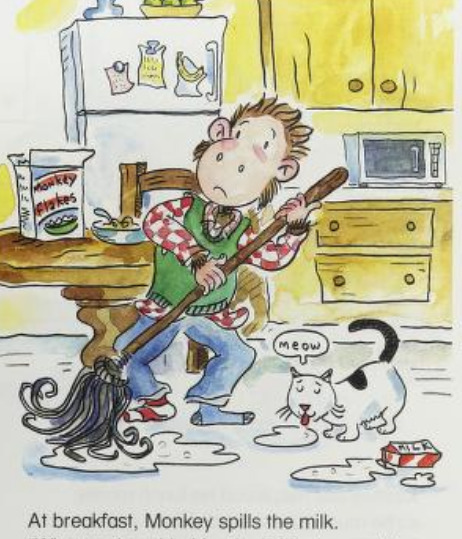 Each book centers around a simple but often clever and humorous story that has these characters get into a variety of situations and adventures.
Monkey might navigate a really bad Monday, Penny, Polly and Peter Pig might be having a picnic, Hippo might be playing hide and seek and so on.
At the top of each page are a variety of richly illustrated, full color illustrations in a classic, watercolor cartoon style.
The illustrations are richly detailed and often have short bubble dialogue, which can give parents and children plenty to look at and explore and a good reason to keep coming back and re-read the stories over time.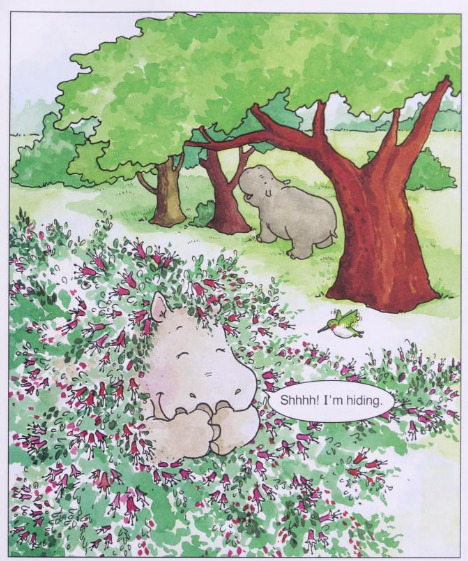 At the bottom of each page is a short text with a number of words that start with the letter in question, which (aside from being quite clever) provides students with a good amount of letter recognition practice over the 15 or so pages of each book.
Each page's text usually consists of a sentence or two, which is short enough to keep things from getting too intimidating but still usually provides kids with an opportunity to see each letter in both upper and lowercase forms in context, which is always helpful.
At the end of each book, Alphatales provides a short poem (referred to as a cheer) which is meant to be read or repeated aloud, a spread image that can be used to find particular items and a variety of suggested activities, tips and guidance to help reinforce learning.
Approach To Teaching Letter Recognition and Letter Sounds
Story-based Learning
Alphatales uses stories to help students learn their letter shapes and sounds.
Each book is centered around one letter of the alphabet and contains a wide variety of words beginning (and/or containing) the letter in question, both in uppercase and lowercase form, as well as in their long and short forms, if applicable.
In this way, letters are introduced and reinforced more naturally and, perhaps more importantly, in the context of proper writing.
In addition, the use of stories to reinforce learning can make lessons a lot more engaging compared to traditional lecture-style methods.
The stories use colorful cartoon characters in humorous and relatable situations, which can be of particular interest to younger children and can keep them interested and paying attention, which in turn will help them absorb and retain information in the long run.
For homeschools, the books can be used alongside their accompanying teacher's guide as something of a complete letter-sound introduction or, interestingly, used to supplement an existing but more formal and traditional literacy program as ready, literature-based resources, which is kind of cool.
Multisensory Activities
Both the books and the accompanying teacher's guide contain a variety of activities and exercises that can be used to help introduce letters and reinforce lessons.
These activities are quite multisensory, ranging from cheers (auditory), word walls (visual) to more tactile and kinesthetic activities such as finger tracing and creating minibooks.
The use of multisensory activities in teaching reading is very beneficial as it has been shown to be an effective way of helping students improve their recall of letters and phonics and can be a good way of engaging students with different learning preferences and styles.
By and large, although Alphatales doesn't really contain a huge amount of step-by-step scripting when it comes to formal lessons or letter introduction, it does provide a fair amount of detail and instructions when it comes to these activities, which (as we've mentioned) makes them fairly easy for parents and children to go through.
That said, as with any other activity-based program, it should be noted that the inclusion of activities in Alphatales can make lessons take a lot longer and may require prep time on the part of parents when it comes to buying materials and setting things up.
No Required Order
The 26 Alphatales books are independent of one another and there really isn't any particular order to the series.
Letters can be introduced in just about any order that parents choose, which means that letter introduction can be approached in many different ways.
Parents can, for example, introduce letters in alphabetical order, by student interest, based on any pre-existing knowledge of letters and sounds, as part of a unit study or in tandem with some other curriculum that introduces letters in a particular manner (such as is done in Jolly Phonics, for example).
As a result, Alphatales can be a very flexible series for homeschoolers that can be adapted to many different teaching styles, programs and personal needs, which is always something we appreciate.
How It Works
Using the Alphatales series is pretty straightforward and easy to do.
Parents first choose a letter to work on, either alphabetically or, as we've stated above, in some other order.
They then introduce the letter shape, name and sound to the student, either as uppercase or lowercase letters (or both).
The series itself suggests that parents of Pre-K students begin with uppercase letters for ease and start off K-1 students with lowercase letters due to frequency of use, but it really depends on student needs, preferences and, if applicable, any chosen curriculum.
The series doesn't really offer a lot in the way of specific sequential methods for introducing a letter – there are for example no step-by-step prescriptive instructions or dialogues as might be found in more formal and directive ELA curricula such as Logic of English.
That said, the teacher's guide does offer quite a few suggested activities parents can try to get kids familiar with letter shapes and sounds once they are generally introduced, such as wet-dry-try where kids practice shaping letters using a wet sponge on a chalkboard or with air tracing activities.
Following this, parents can then introduce the story character and try and pique student interest with a dialogue, discussing for example what the story might be about from the cover, why the author chose this story for this letter and so on.
Once the student is ready, the parent can read the book to the child.
This is generally done a few times, the first being to introduce the story and then in subsequent sessions to look for and pick out letters from the words on page, to pick out their capital and lowercase forms, to find objects that begin with the letter sound from the illustrations and so on until a student is demonstrably comfortable with the letter and sounds in question.
Following the story there are some activities that can help further reinforce the letter-sound connection.
As we've mentioned there are large, 2-page illustrations with various letter-related objects that kids can pick out (a for apple, t for tree, etc), as well as a cheer, which is kind of a mnemonic poem with many instances of the letter being used in different ways.
Finally, students can be given a double sided copy of the minibook pages from the teacher's guide to fold up and put together as their own little copy of the story, which is theirs to decorate and keep as well as use for any subsequent activities found in the Quick and Easy selection of exercises located at the back of each book.
Our Thoughts
Overall, we feel that Alphatales can be an easy and interesting way to help students learn and practice their letter recognition and phonemic awareness, whether used on its own or as a supplement.
The stories are cute, interesting and, importantly, understandable to young kids and their engaging, well-drawn cast of characters in relatable and/or humorous situations can really help make the first steps of learning to read a more positive and less stressful experience for all involved.
Additionally, we found the teacher's guide to provide a lot of good, actionable teaching tips and advice that new homeschoolers will appreciate, as well as providing a lot of fun activity suggestions that, in addition to being easy to implement, can really help make lessons more interesting and memorable.

Further, we liked the fact that the individual books are quite short.
At only around 15 or so pages long, much like Bob Books and other successful early reading resources, they shouldn't be too intimidating to younger children (or parents who have to read them aloud), too challenging for squirmy kids to sit through and they should be very easy to fit into even a busy day's learning.
Finally, we liked the flexibility that is built into the program.
There aren't a lot of hard and fast rules or prescription activities to follow in Alphatales, which means that homeschooling parents can really adapt it to their own teaching style or even another homeschool language arts curriculum.
On the downside, however, although the teaching guide offers some guidance and a lot of activities the lack of step-by-step directive scripting for each individual lesson (and letter) means that it does rely on a parent's ability to introduce and discuss things with their child to some degree, which can mean that lessons may require a little more thought and planning on the part of a parent.
Pros and Cons
Pros
Affordable
A complete set of Alphatales, including all its books and teaching materials, can be had for well under $100 (far less if purchased as an anthology) and its titles can be purchased on an as-needed basis as well, which means that the series can fit into even relatively tight homeschool budgets.
Flexible
There aren't a lot of hard and fast rules when it comes to using Alphatales and the series offers a diversity of tips and suggested activities rather than heavy scripting, which means it can be adapted to a variety of teaching styles and methods.
Fun and well-written
The Alphatales books themselves are quite fun to read and their cast of characters often find themselves in situations that should amuse younger children and keep them wanting to read more.
Beautifully illustrated
Alphatales books are wonderfully illustrated, with full color drawings, lots of fun details and a classic cartoon style that both kids and parents will love.
Lots of helpful teaching tips and guidance
The Alphatales teacher's guide offers a surprising amount of guidance and advice on teaching reading, most of it offered by experts, that can be quite useful for new and more experienced homeschooling parents alike.
Lots of multisensory activity and exercise ideas
Alphatales contains a number of fun and multisensory activity and exercise ideas that are not only entertaining but can help students better absorb information and allows the series to appeal to a broader range of learning preferences.
Cons
Not the most scripted
Although it offers a broad outline of how to introduce letters in general and a good amount of useful advice and tips for teaching, Alphatales doesn't really offer individually scripted, step-by-step lesson plans for each letter and sound, which can mean a bit more prep for new homeschooling parents.
Written for schools
The Alphatales series is written for (and makes references to) a traditional classroom setting, which may not be all that appealing to some homeschooling parents.
Who Is Alphatales Ideal For?
Those looking for a literature-based approach to learning letters and letter sounds
Alphatales' books and its story-based approach, which are both fun and introduce letters in the context of good writing, can be a great option for those interested in a more literature-based approach to teaching reading.
Those looking for multisensory ideas and activities related to letters and sounds
Alphatales offers a good deal of fun hands-on and multisensory activities in both its teacher guides and in each book, which, for fans of activity-based learning, can make it a great program on its own or as a resource for an existing curriculum.
Those looking for an easy to integrate and straightforward supplement to an existing literacy program
As we've mentioned, Alphatales is quite flexible and open-ended and can be easily adapted to fit a number of different teaching methods and curricula.
Who Is It Not Ideal For?
Those looking for heavily scripted lessons
Alphatales offers a lot of solid advice and a general idea of how parents can introduce letters but doesn't really offer comprehensive, step-by-step scripts for each individual lesson, which can be an issue for those looking for a program that will tell them exactly what to do and what to say at any given time.
Those looking for a comprehensive, all-in-one literacy program
Alphatales is focused mainly on teaching letter recognition and phonemic awareness and does so well.
The series itself does not, however, cover more advanced reading topics in phonics like digraphs, morphemes, blending, schwas, silent letters and so on.
Price
Note: Prices correct as of writing, all prices in USD.
Generally speaking a boxed set of Alphatales, including all books and the teaching guide can be picked up for around $69.99.
Or
Is It Worth It?
Overall, we feel that Alphatales can provide a lot of value to just about any homeschooling family.
The series manages to introduce letters and letter sounds in a fun and effective way, using short, wonderfully illustrated and fun stories that are likely to capture and hold young children's attention and create a more positive, memorable learning experience overall.
The teacher's guide also includes a lot of useful tips and advice when it comes to effectively teaching letters and phonemic awareness, and together with the books offer a wide variety of multisensory activities that can really help parents introduce and reinforce the learning material.
Finally, the series is nothing if not flexible and can easily be used on its own as a first step into reading or as a helpful, story- and activity-rich resource and supplement to another homeschool reading curriculum.
Bottom Line
Learning letters and letter sounds is an important first step along any child's path to reading.
With its fun stories, colorful cast of characters, engaging multisensory activities and useful guidance, Alphatales can make this process a lot less intimidating and a lot more fun for all involved.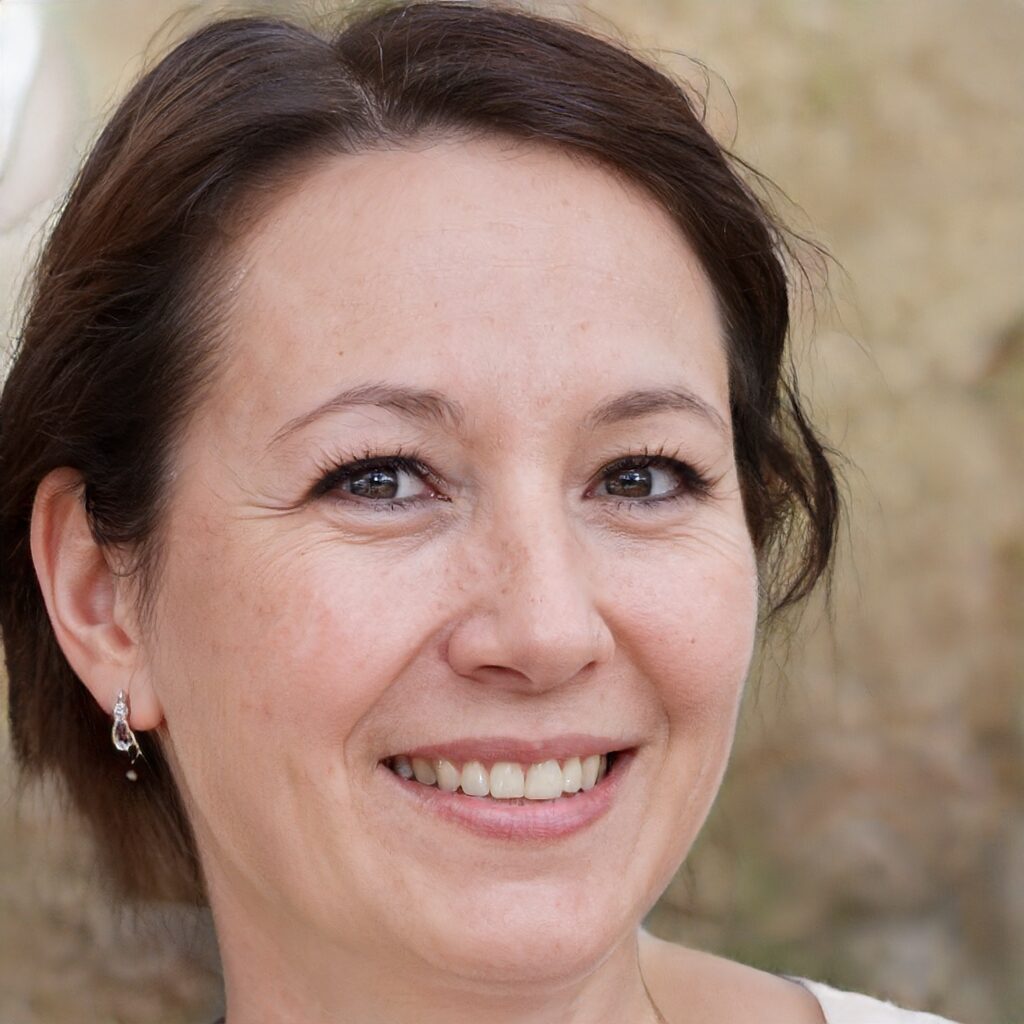 About the Author
Anne Miller is the editor of The Smarter Learning Guide and is a passionate advocate for education and educational technology. A mom of two, she majored in English Language and Literature and worked as a substitute teacher and tutor for several years. When not writing she continues to root for the Yankees and the Giants.