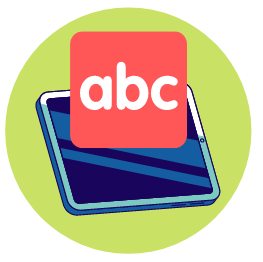 As a comprehensive, digital math curriculum for grades 3-12 with clear and engaging instructional videos, gentle but thorough practice problems, fun rewards and decent progress tracking, Teaching Textbooks is a great option for homeschooling parents looking for approachable math lessons that won't end in tears.
What is Teaching Textbooks
Founded in 2004 by brothers and educators Greg and Shawn Sabouri, Teaching Textbooks is a digital homeschool math curriculum for students in grades 3-12.
The program is largely a self-study program that teaches students math through a variety of instructional videos, ebooks, practice problems, quizzes and more.
What grades is Teaching Textbooks for?
Teaching textbooks is a full math curriculum offering courses for students in grade 3 to 12, i.e. from simple operations to precalculus.
Although intended for grades 3-12, as it is a homeschool math program students of precocious learners in earlier can make use of the program, especially given the very clear and visual nature of the videos, as well as on screen tools that help reduce the need for fine keyboard and mouse skill.
Similarly, while there is a good deal of on-screen text, Teaching Textbooks can still be easily used by developing readers as it reads most critical text aloud by default.
It is important to note that Teaching Textbooks is not a common core curriculum. It is an independent curriculum and moves through its own scope and sequence and to its own pace.
As a result, it can sometimes be a little more challenging for parents of students transitioning into the program from another to figure out where to start.
Fortunately, and something we appreciate with any math curriculum, the company does provide freely accessible placement tests that students can take to figure out at what level they should start, or for parents to look at in order to decide if the curriculum is right for them.
Teaching Textbooks' Approach to Math
Spiral Learning
Teaching Textbooks is a spiral curriculum, which means that math topics are broken into smaller bits and students encounter them again and again, in increasing depth, throughout their studies.
In other words, students learn one concept for a short period, move on to another and then eventually revisit that first topic in more detail later.
This is in contrast to a mastery program that will spend a great deal more time delving into one topic until completion, that is until a student reaches a certain level of understanding or proficiency, and then will move on without as much (or any) revision later.
This more classic or traditional approach to teaching math exposes students to a greater variety of math topics in a shorter period of time, and they aren't stuck spending too much time on one idea or concept, which can bore some students.
It also means that students get a lot more review compared to a mastery program, as concepts are repeated, reviewed and practiced more often.
In fact, with Teaching Textbooks, particularly in the lower grade levels, concepts (such as operations, fractions, decimals) are frequently reviewed from year to year, allowing students to really hone their skills over time.
Approach to Teaching Math
The program takes a very systematic approach to teaching math, directly teaching students formulas, math facts, equations and various procedures they can use to analyze and solve various math problems quickly and efficiently.
With Teaching Textbooks, students can expect to learn a lot of math facts, and generally do a lot of fairly straightforward and practical math exercises and hone their skills through traditional repetition, practice and drill.
As they do so, and as they repeatedly put what they're learning into practice in various different ways, the program can help them develop stronger math skill fluency – the ability to do math accurately and quickly.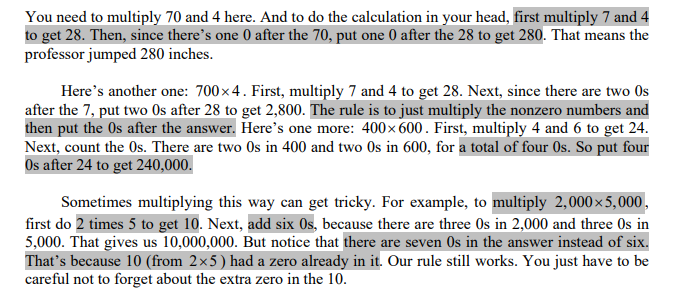 Other than helping students develop solid math fluency, this approach can be very helpful for students who have a hard time intuitively grasping math concepts and need to put in more work to become comfortable with them.
That said, Teaching Textbooks isn't a pure procedural math program, either.
The lessons do spend a decent amount of time explaining certain math concepts and their background, including exploring their theory and practical applications.
Interestingly, Teaching Textbooks also includes quite a few traditional topics in math that many other curricula tend to ignore, such as math history, Roman numerals and inductive/deductive reasoning and logic at the upper levels, that can be quite interesting and useful for students later on.
How Teaching Textbooks Works
While previous editions of Teaching Textbooks were more like a traditional math program, involving books and CDs, the current edition of Teaching Textbooks is a digital math curriculum.
There are no physical materials anymore, with learning largely taking place through materials available on an associated app/digital learning environment.
This does make the curriculum more affordable and up-to-speed technologically, although it may be a concern for parents who want to limit screen time or who prefer pen and paper curricula.
Setting up Teaching Textbooks
Getting started with Teaching Textbooks is pretty straightforward.
Parents first create an account with the company, as well as accounts for each student, then download an app to set up students and configure the course.
The apps are pretty widely compatible with most devices. Parents and students can work on tablets, computers or even smartphones (although we wouldn't personally recommend it due to the small screen size), and the course apps are available for Windows, Mac, Android, iOS and Kindle Fire.
Setting up Teaching Textbooks can take a little bit of time, as this is done through the related app and not the website itself. This means the app has to sync information, so there can be some loading times involved when accessing new materials.
These loading times aren't too bad, but are something to be aware of, especially for kids (or parents) who get easily impatient.
It's also important for parents of several students to know that there is an app for each course, which must be downloaded and configured separately, and courses are limited to a single student seat.
Once setup is complete, however, things tend to work pretty smoothly.
Student work is mainly done on the device through the app, and student information does sync if you install it on multiple devices, which is good for households who have to share and rotate between devices.
Teaching Textbooks Online Learning Environment
As with many other digital programs, there are two main sections to Teaching Textbooks: an administrative parental portal and a student portal, which is where the learning takes place.
Parents can access their portal and features either through the Teaching Textbooks website or through the app(s), while students mainly work though the app itself using their own account and login information.
Parent Portal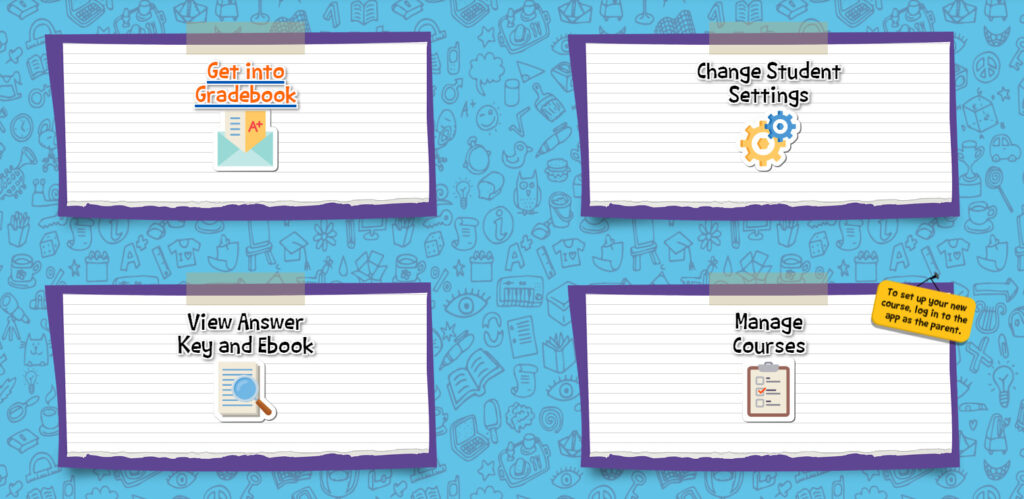 The parental portal is designed to help parents manage their students learning, and is made up of a few components:
Gradebook
Settings
Ebooks
Course Management
Adjusting settings and password
Gradebook
The Teaching Textbooks gradebook ;ets parents view, change and print out student grades for recordkeeping purposes.
It also acts as essential progress tracking, providing parents with the ability to view students' lesson progression as well as how they did at each problem and quiz.
It broadly details information such as how many problems the student got right and whether they used any hints or second chances.
Overall, this progress tracking is highly useful for parents to get more insight into how students are progressing with their learning on a lesson by lesson, topic by topic basis.
That said, Teaching Textbooks progress tracking doesn't have quite as much detail on student performance compared to some other digital math programs out there.
For example it doesn't provide a lot of information about how much time was spent on a lesson, on each question or playing with other areas of the program, which could be useful.
Although, to be fair, the program does have fewer distractions than many of its competitors, so many of these features aren't strictly necessary.
Settings
The settings area provides parents with a variety of tools to adjust how the program functions, such as when teaching a student during a lesson.
In fact, Teaching Textbooks is very flexible and highly configurable in this way, giving parents a good deal of control over the program and the way it teaches.
Parents can, for example, choose to turn hints on or off, turn animations on or off, turn quizzes on or off, and even allow/disallow second chances on assignments and quizzes.
Parents also have the ability to limit student pace, which is nice.
Parents can decide, for example, whether students need to complete 1,2,3 or unlimited lessons per day, which can help prevent students from simply breezing through the course or jumping around.
It also allows parents to be able to break up lessons over multiple days and take it a little slower, should they feel it is to the benefit of the student, and to configure whether students need to complete entire lessons, which can give them a little more freedom by letting them do a little and move on or work to a particular curriculum schedule.
Finally, parents can even pause the program, which can be useful as this is a digital subscription course with time limits per year (usually providing 12 months' access).
For instance, if a family is going on vacation or decides they need a break from math for whatever reason, parents can pause their subscription and then restart it when they need to.
It is important to note that there is a minimum of a week, so parents can't just pause it for a day or two, and a maximum amount of breaks a parent can take (3 months or so per year), which is something to plan for.
Ebooks
As with many other digital math programs, parents don't have direct access to the video lessons from their own portal (they would have to log into the student one or sit with their child to check things out).
Teaching Textbooks, however, does provide access to the written course material, providing parents with a textbook for each course.
This is actually pretty helpful because, while Teaching Textbooks is technically a self-study program for students, occasionally students may need help and parents may need a reference guide or text to work from, particularly for those parents whose own math skills are a bit rusty.
Student Portal
Student learning with Teaching Textbooks takes place within the student portal, which students access with their own login information.
As might be expected, the student portal is a bit more simplified.
From the student portal, kids have access to the video lessons, an ebook and their learning rewards.
Teaching Textbooks Lessons
While it depends on grade level and topic, Teaching Textbooks has about 120-140 lessons or so per course, with periodic review in the form of quizzes every few lessons, which is actually quite good for helping students retain information.
These lessons are downloaded individually onto your device, which usually takes a couple minutes, but then are available offline.
While the loading times can be a little annoying for less than patient users, we actually prefer this appraoch as it allows students to work when the internet isn't available (or on disconnected devices), which is helpful when traveling or for parents who don't want their kids on an internet-connected device without supervision.
The lessons themselves are audio/visual videos, voiced over by over by a narrator/teacher, something which can be seen in the sample video below.
Unlike some other video lectures in other math programs, students don't see the teacher but listen to him as he introduces and works through math concepts and problems on screen.
The effect is that Teaching Textbooks lessons are much like a teacher working on a white board, with a wide variety of digital animations with amusing sound effects that should keep most kids interested.
Overall, the lesson instruction is clear and detailed, with lots of visual examples and step by step solutions.
The lessons are also very interactive.
At various times students are required to input answers or solve problems in order to continue, which is good in that it keeps students engaged and on their toes and prevents them from zoning out.
Following the lessons, students are given a variety of practice problems (20-30 or so), which students complete in the app as well.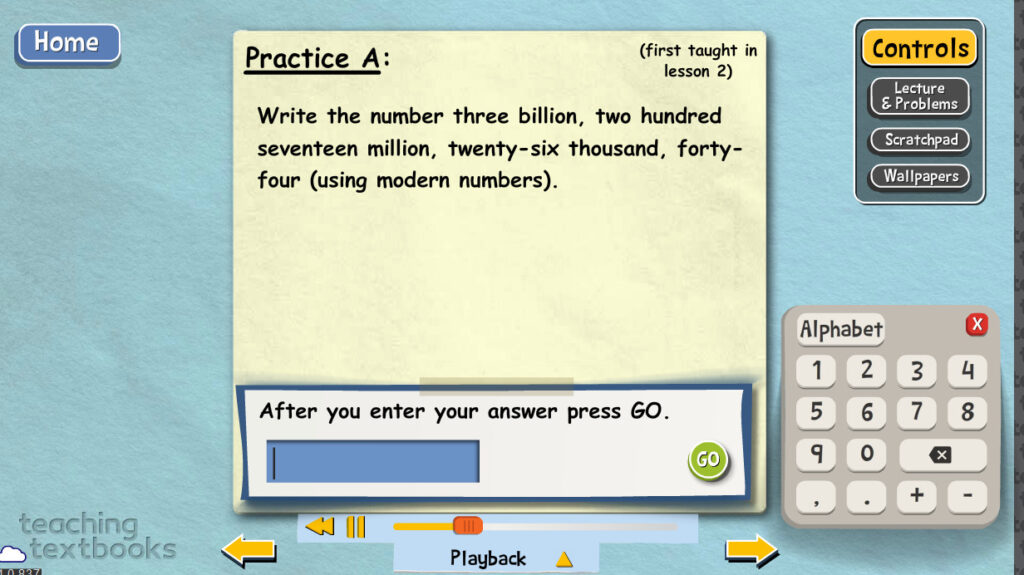 Students type their responses directly into the program, although there is an on-screen keyboard and number pad, which can really help students whose keyboard skills are a little sub par, which is something we thought was helpful.
Similarly, to help students work things out, Teaching Textbooks lessons also include Scratch Pad, an in-built drawing program that allows students to work out problems in program and digitally if they need to, rather than needing scrap paper.
Scratch Pad is kind of interesting and well-thought out, students can draw in the program, erase things, change the color of their pencil and then submit their answer.
As they get answers correct, students receive fun little animation screens, which our tester loved.
Interestingly, when they get answers wrong, the program offers them another chance to try and solve the problem.
This can be helpful for those with developing typing skills, and for those who perhaps struggle with math a little more as math can sometimes seem less intimidating if they know they have something of a safety net.
And if they take long enough to answer, the program will introduce a hint button, which is nice.
One feature we think is very useful is that after answering any problem, correctly or incorrectly, students can choose to watch a step by step tutorial that carries students through solving that problem.
This can give them a bit of extra help and reinforce learning, particularly when they come across tricky or unusual problems and is something that's not really available in most programs, especially those with as large a question bank as with Teaching Textbooks.
One thing parents should note about these lessons is that, while Teaching Textbooks really is an easy and intuitive method of self-study , parents will have to keep an eye on things from time to time during lessons.
The reason for this is that it is possible to cheat, especially since Google search can and will complete math problems for you.
A student can, using a second screen (or by opening a different screen) google certain answers, such as adding, subtracting, division, numeric conversions and even algebra, and then paste the results into the app.
While not a criticism of Teaching Textbook per se (more of an illustration of the common pitfalls of modern technology on education) it is something that parents should be aware of when using a program like this, especially if they are going to leave their student alone with it.
Rewards
As they complete lessons and problem sets, students are given rewards as a sort of incentive.
As they progress through the course, students accumulate animated, gif-style wallpapers and stickers that they can look at when they'd like.
This reward system isn't quite as sophisticated or fancy as some other math programs out there, some of which allow students to build out their own little digital environments or get access to video games they can play, but the stickers and wallpapers are kind of fun, frequently quirky and well-designed.
We think most younger kids will like them and, in fairness, they are a lot less distracting than some of the gamified options in other programs that have a tendency to consume students time and interest.
That said, given that teaching textbooks covers grades 3-12, we wonder how incentivizing these might be to the average high schooler.
Ebook
In addition to the teaching videos, Teaching Textbooks also offers students the ability to access digital versions of the course textbooks.
These can be a useful option for reviewing material or for students who simply prefer to read rather than listen or watch an instructor.
The ebooks are kind of like a little digital math textbook.
They are downloaded and broken into individual lesson chapters. Within the books, students can highlight text, search for items and even zoom in or out to increase the size of the text.
About the only thing that students can't do is solve problems directly within the ebooks.
If they don't want to work within the lessons, students will have to print them out.
To be sure, these aren't the most graphically beautiful textbooks ever produced, but they are fully featured as far as ebooks go and can be a very useful option for students (and parents as we mentioned earlier).
Gradebook
Finally, Teaching Textbooks allows students to access their own gradebook, should they so choose.
While they obviously can't modify or print their scores, this does help students keep track of their own progress, which can be beneficial in helping math-phobic kids recognize the progress they are making, and adds a little bit of transparency for students, which is nice.
Look and feel
In terms of look and feel, Teaching Textbooks has a sort of old-school, lighthearted and, at times, cartoonish look to it.
The program is very colorful and there are lots of animations sprinkled about, which can be helpful in making the program a little less stressful to use for kids.
The program itself is intuitive and easy to use, there are lots of help buttons and options for tutorials that explain what each component of the program does, so parents and students won't get lost.
And we feel Teaching Textbooks is quite friendly and approachable, both in terms of teaching and its evaluations.
During lessons and quizzes students get second chances and the program frequently offers words of encouragement to students, encouraging them to keep going or to keep trying and not give up, which can be quite helpful to students who are a little intimidated by math.
It's important to note that past users of Teaching textbooks have complained of it being glitchy, having been based on the now deprecated Flash software, but these issues seem to have been resolved with the latest releases.
Teaching Textbooks' apps worked pretty smoothly and reliably when we tested them.
The app and the learning did slow down a bit when switching between lessons or accessing new materials, due to the need to download and sync things between the server and device, but it wasn't too bad overall and, once things were downloaded, the program tended to run quite quickly and responsively.
How Rigorous is Teaching Textbooks
Teaching Textbooks is a full grades 3-12 math curriculum and does cover all the subjects that a student would need in these levels, progressing all the way through precalculus.
In terms of difficulty, it is not the most rigorous program out there.
While it is a college-prep curriculum that is on-level in terms of math learning, and covers everything students are required to learn through these grades, we feel Teaching Textbooks is, by and large, a more gentle and approachable math program.
Overall, it tends to move at a slightly slower pace with fewer complex, multistage and unusual math problems than can be found in programs like Singapore or Beast Academy/Art of Problem Solving.
While this means it is perhaps not the perfect solution for gifted math students, it can be a good choice for typical math homeschoolers and particularly for those who have had a hard time with math in the past.
How intensive is Teaching Textbooks on Parents' Time?
Teaching Textbooks is designed to be largely a self-study course and, as a result, doesn't place much of a demand on parents' time at all.
As a whole, the program's videos, guided practice, problem sets and quizzes do a pretty good job at carrying students through without much need for parental oversight.
Further, much of the day-to-day administration of the course, i.e. grading and tracking, is done automatically, lowering the demand on parents' time even further.
By and large, then, we feel parents can leave their kids with the program and go about completing the myriad of other homeschool tasks that need doing.
That said, as with any digital program, we would advise parents to keep an eye on their students to make sure they aren't using Google as an impromptu tutor or cheat sheet.
Teaching Textbooks Pros and Cons
Pros
Affordable
Having shifted to a digital format, Teaching Textbooks has been able to dramatically lower its costs over the years, and now a full year's course, including lessons and all practice material, comes in at less than $70.
This makes it an affordable math option for homeschoolers on a budget.
Highly flexible and configurable
Teaching Textbooks gives parents a fair amount of control to modify how the program teaches (toggling hints, second chances, animations and more on or off), to set the pace of learning and to select whether they would like to incentivize learning with stickers and animations.
Self-study, hands-off for parents
Teaching Textbooks does a good job at providing students with a self-study math program that will carry them through their lessons easily and effectively, and generally requires minimum parental oversight.
Lots of repetition and practice
Teaching Textbooks offers students lots of practice questions after each lesson, as well as periodic quizzes and lessons.
This adds up to a good amount of practice and review to go along with instruction, which can help develop stronger math fluency and skills.
Easy to use, Intuitive interface
Teaching Textbooks apps are easy to understand and use for both parents and students, with plenty of tutorials and help functions in case they get lost.
Lots of helpful, interactive digital tools
From automatic grading and progress tracking to the in-lesson Scratch Pad and on-screen keyboard, there are a lot of digital tools that can help students and parents make more effective use of the program for their homeschool.
Audio/visual and written learning available
Teaching Textbooks offers students engaging and fun audio/visual lessons, as well as access to an ebook with their course material, allowing them to read and review the material as necessary.
Approachable math teaching
With its clear and engaging instruction, hints, second chances and gentler pace of learning, Teaching Textbooks is a highly approachable math program for students in grades 3-12 that doesn't skimp on the learning.
Progress tracking and reporting for parents
In addition to its audio/visual lessons and interactive tools, Teaching Textbooks allows parents to keep track of their students' progress and keep an eye on their learning through an easy to access and intuitive gradebook system.
Mobile and desktop friendly
Teaching Textbooks can be used on both Mac and Windows desktops, as well as Android, iOS and Kindle tablets and mobile devices, making it cross compatible and very portable as a math program.
Cons
Loading times can annoy some users
With most of the work being done in an app that syncs and downloads material from the company servers, Teaching Textbooks can take time to load from time to time. While this keeps the overall size of the program small, it can annoy more impatient users.
Progress tracking not quite as in-depth as some others
Although it does offer the essentials of student progress tracking, i.e. their scores and proportion of correct/incorrect responses, Teaching Textbooks doesn't offer quite the same granular detail that is available on some more sophisticated learning platforms, such as time spent in-program, time spent on each problem, etc.
Incentives and rewards are great for younger kids, may not interest middle and high schoolers as much
Although the stickers and wallpapers are well-designed and kind of cool, older students may not find them as interesting or impressive as younger students.
Who is Teaching Textbooks Ideal for?
Parents new to homeschooling or who are uncertain about teaching math
As a self-study program, Teaching Textbooks guides students through their lessons fairly well and does a good job at teaching them math concepts and skills. As a result, it can be a great solution for parents who have never taught math before or whose own math skills and knowledge are a bit rusty.
Parents looking for a more independent, self-study math solution
With its comprehensive lessons, practice and automatic grading and progress tracking, Teaching Textbooks doesn't require a great deal of parental oversight and, as such, is great for busy homeschoolers and those looking to promote more independent learning habits.
Students who enjoy learning different topics over a period of time
As a spiral math program, Teaching Textbooks breaks larger concepts down into smaller bits and introduces them a little at a time, circling back to explore them in greater depth later on.
As a result, it can be a good program for students who tend to get bored learning one thing over a period of weeks and who benefit from periodic review and revision of material.
Parents looking for a more traditional, practical skills-oriented math program
Teaching Textbooks teaches students how to solve math problems accurately and correctly, teaching students math facts and procedures for solving math problems in a step-by-step and sequential method.
Similarly, the program makes frequent use of practical applications of math that connect the concepts learned to real-life and can help demonstrate how math is actually used, which can be beneficial to some students.
Students who do best with a gradual, gentler curriculum with lots of practice
Students who are intimidated by math or who have had a hard time with math in the past are likely to have an easier time with Teaching Textbooks as its instruction is clear, it offers a great deal of encouragement and second chances, its problems are fairly straight forward and there is ample opportunity for review and revision before moving to new topics.
Parents on a budget
With courses ranging from $43-67 or so per student per course, Teaching Textbooks offers parents a wide range of digital tools and teaching at a price that can fit most budgets.
Who is Teaching Textbooks not Ideal for?
Parents of students in Pre-K- Grade 2
Currently, Teaching Textbooks offers courses for grades 3-12 and is therefore obviously not an ideal solution for students in earlier grades.
Those looking for less screen time
While parents can print out and then use Teaching Textbooks' various practice questions and quizzes, ultimately it is a digital curriculum and does require students be in front of a screen for some time.
Students who prefer a hands-on approach to math
Teaching Textbooks is largely an audio/visual method of learning math and there isn't much in the way of hands-on activities or manipulative use, so it may not be as ideal for tactile learners.
Students who hate learning and memorizing math facts or doing lots of practice
Teaching Textbooks is a very practical, skills-oriented math program that does involve learning, drill and practicing math facts, which some students dislike.
Gifted math students
Although it is a solid 3-12 math program that can certainly be used as a college-prep curriculum, Teaching Textbooks isn't quite as rigorous as some other programs, such as Art of Problem Solving, that are geared towards enriched learning and therefore may not be the most ideal program for gifted math students looking greater challenge.
Price
Note: Prices correct as of writing. All prices in USD.
Teaching Textbooks is a digital, grades 3-12 math program that allows parents to purchase individual courses for each grade.
Each course is designed for one student and access is provided for up to 12 months.
Prices are per student, per course, per year.
Math 3 – Math 5: $43.08
Math 6 – Math 7: $55.08
Pre-Algebra – Pre-Calculus – $67.08
Recognizing that larger families might be interested in the program, Teaching Textbooks has helpfully included a particular plan for families with 4+ students.
Large Family Plan (courses for 4-8 students) – $199.08
In terms of pricing, Teaching Textbooks is actually fairly affordable as a math curriculum. It's most expensive curriculum costs only $67 or so, or about $5.58 per month.
Traditional pen and paper math curricula, such as Saxon, tend to run at well over $100 per year for a complete kit, while other full digital math courses tend to be a little more expensive, with those like CTC costing nearly $30 per month.
That said, it is always worth it for parents to check current prices and offers before making a purchase. 
Is teaching textbooks worth the price?
Although it is a fairly affordable math curriculum, we feel Teaching Textbooks offers parents and students a lot of value for their money.
For just a few dollars a month, the program offers students a solid but approachable math curriculum with approachable and high quality and animated audio/visual math lessons.
The apps themselves provide a lot of support and digital tools for both parents and students to use, including video lessons, ebooks, a digital work environment, automatically scored practice problems and quizzes, progress tracking, and more.
Finally, it does an excellent job as a self-study program, offering guided learning and automated grading that can promote independent learning and minimize the demand on parents time, making it perfect for busy homeschooling parents and those unsure about their own math skills.
Bottom Line
As a comprehensive, digital math curriculum for grades 3-12 with clear and engaging instructional videos, gentle but thorough practice problems, fun rewards and decent progress tracking, Teaching Textbooks is a great option for homeschooling parents looking for approachable math lessons that won't end in tears.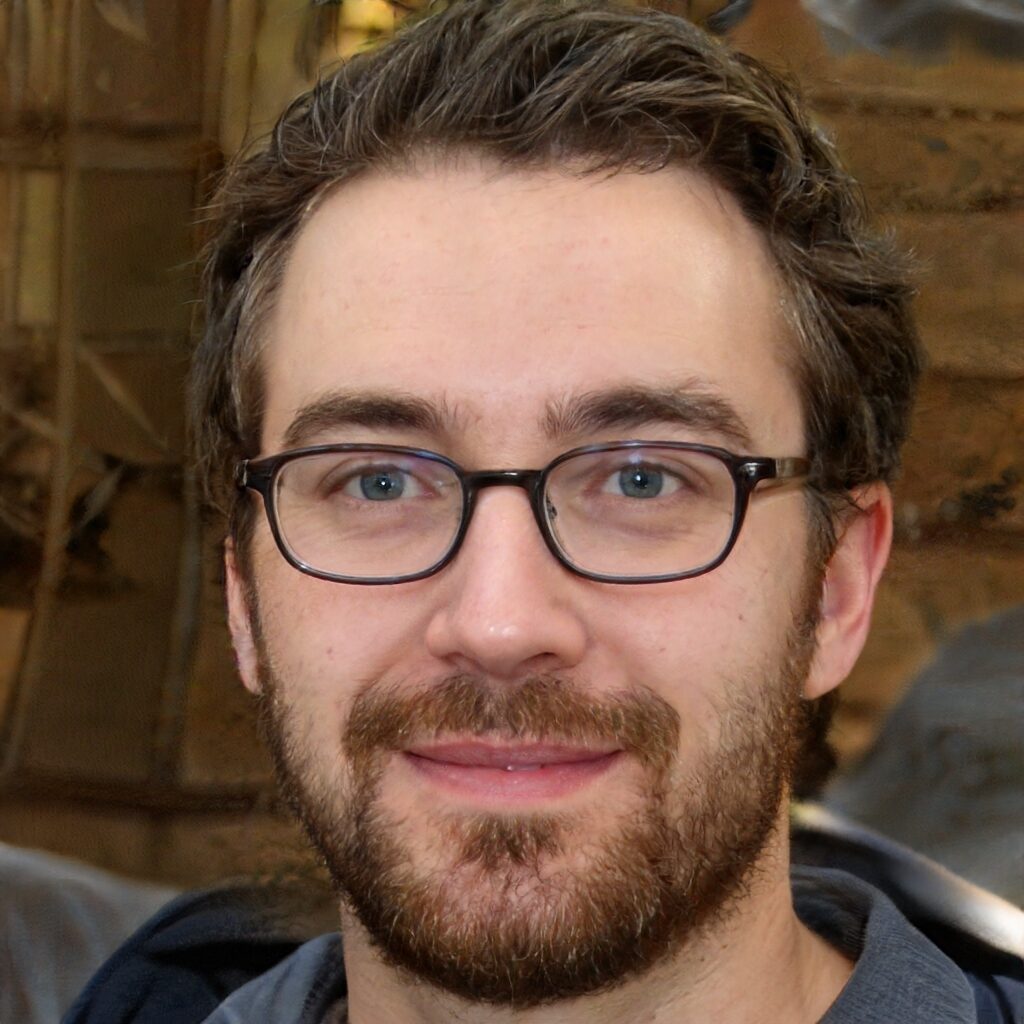 About the Author
David Belenky is a freelance writer, former science and math tutor and a tech enthusiast. When he's not writing about educational tech, he likes to chill out with his family and dog at home.