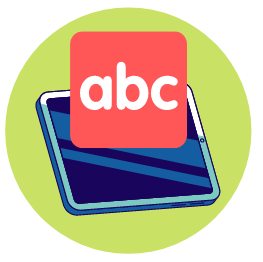 For some students, writing can be a very stressful and even frightening task.

With its clear and engaging video lessons, guided workbook exercises and systematic, step-by-step approach, Essentials in Writing is an independent learning program that can teach students to write, but more importantly can help them develop the self-confidence they need to really blossom as writers.   
What Is Essentials in Writing?
Essentials in Writing (EIW) is a complete homeschool writing curriculum for students in elementary through high school.
Covering composition, writing and essential grammar, Elements in Writing teaches students through a combination of short video instructions, workbook lessons and exercises and, of course, writing assignments.
What Ages or Grades is Essentials in Writing Intended For?
Essentials in writing is aimed at students in grades 1-12.
The program is broken up into 12 levels, each roughly corresponding to a particular grade. These are:
| | | |
| --- | --- | --- |
| Level | Grade | Examples of topics covered |
| Level 1 | Grade 1 | Word and sentence formation, basic punctuation, nouns, adjectives, verbs, lists, paragraphs, narratives and more. |
| Level 2 | Grade 2 | Essential sentence structure, subjects, nouns, pronouns, past and present tense, punctuation, capitalization, paragraphs, letters, personal and fictional narratives, and more. |
| Level 3 | Grade 3 | Sentences, subjects, predicates, nouns, affixes, antecedents, adjectives, tenses, punctuation, expository/persuasive/descriptive paragraphs and narratives, and more. |
| Level 4 | Grade 4 | Subjects, predicates, compound subjects and predicates, complex sentences, clauses, review of grammar, paragraphs, news articles, research project, the expository essay and more. |
| Level 5 | Grade 5 | Review of grammar fundamentals, prepositional phrases and sentences, figurative language and descriptive language, summarization, compare/contrast, persuasive writing, letters, paragraphs and more. |
| Level 6 | Grade 6 | Review of grammar fundamentals, prepositional phrases and sentences, figurative language and descriptive language appositives, points of view, expository essays, persuasive letters, a research project and more. |
| Level 7 | Grade 7 | Review of grammar, paraphrasing, summarization, exploration of different paragraphs, narratives, letters, expository writing, the research paper and more. |
| Level 8 | Grade 8 | Sentence structure, paragraphs and essay writing review, research papers, drafting, editing and rewriting, optional grammar intensive and more. |
| Levels 9, 10 and 11 | Grades 9-12 | High school level writing – review of sentence structure, paragraph construction, essays, research papers, literary analysis, MLA citation style, and more. |
While each level corresponds to an approximate grade level, parents should keep in mind that Essentials in Writing is a homeschool writing program and there is nothing really stopping students from learning outside of a typical grade progression.
Students who are a bit behind or are reluctant writers can, of course, take things slower and learn at a lower level that might be best suited to their skills and comfort level.
Similarly, although the program does recommend students begin at grade level, more precocious students can study at a grade level higher, especially since the program contains a good amount of concept review and repetition of methodology at each level.
One thing to keep in mind, however, is the fact that Essentials in Writing does have the levels pretty prominently displayed on the cover of each book, which can be an issue for students who are a little behind as they may feel embarrassed or awkward when they see it.
Placement Testing
By and large, EIW levels correspond to grade level and, as such, most students and parents switching into the program shouldn't have too hard a time figuring out where to start.
However, for students significantly above or below grade level in writing, proper placement can still sometimes be a challenge.
Helpfully, Essentials in Writing offers a digital placement program on their website that can help guide parents of such students to the right level.
After responding to some general prompts as to whether they actually need placement assistance and in which grade their student is currently studying, parents are then given a series of rather simple questions to respond to.
Should they indicate that their child is currently struggling with writing, the program will dive deeper and ask more detailed questions, such as whether the student has a learning disability, is dylsexic/dysgraphic, or is a reluctant writer.
Based on the response, the program will suggest whether the student should stay on grade level, try a grade below or (in the case of more serious challenges) contact a homeschooling specialist for more in depth and accurate assistance.
All in all, the placement program on the Essentials in Writing website is pretty simple, being more or less a question tree, and can guide parents to roughly the appropriate grade level without a long and detailed writing assessment that can stress students out.
On the downside, the placement is largely aimed at helping struggling students and on-grade students, and there really isn't a lot to help more advanced students.
What's Included, Required or Offered in Essentials in Writing?
Required
Video Lessons
The core of Essentials in Writing are its video lessons, which are available streaming video on the company website.
The videos accompany the lessons, presenting and explaining the material to students and cover everything from essential grammar to specific writing formats to revision and editing techniques.
Because Essentials in Writing tends to break concepts down into bite-sized chunks and introduce them a little at a time (more on that in a bit), this means there are quite a few videos per level, between 40-80, with each one discussing a specific topic in the course.
These lessons are hosted by company founder and former teacher Matthew Stephens, and largely replicate classroom instruction, with Mr. Stephens standing in front of a whiteboard creating samples of writing as he explains or highlights various concepts and techniques as can be seen in the sample video below.
By and large, Mr. Stephens explains the material clearly and concisely and injects a fair deal of enthusiasm into the lessons, making them a lot less of a chore for students (and parents) to watch compared to some other English language instructional videos out there.
The videos are also generally fairly short, with their length largely dependent on the age of the student (and their attention span).
At earlier levels, they tend to be around 3-5 minutes long, while at later levels they can be around 7 minutes long.
This means they tend to be long enough to give students a good introduction to the material, but not so long as to cause students to zone out or stop paying attention, always a good thing with lecture-style instruction.
For the most part, thanks to their short nature and straightforward instructional style, we feel older students (levels 3 and up) should be able to watch these videos on their own without much of an issue.
Younger students (levels 1 and 2, for the most part) will probably have to watch with a parent to make sure they pay attention, properly absorb the material and don't get too confused along the way.
One thing to note is that while the course used to offer its videos as physical DVDs by default, as with many other digital homeschooling courses out there, the company has switched to digital streaming (although parents can, as of writing, still order physical DVDs for a fee).
As a result, parents will have to create an account for their student on the website and students will need to be left with an active internet connection to use it, so depending on the age of the student some parents may still wish to stay around to supervise.
Additionally, the use of streaming does mean that the video instruction is more of a subscription service, with access being limited to 12 months by default.
That said (and very much to EIW's credit), parents can renew access if they need to for free with proof of purchase, which can be helpful for those working at a slower pace.
Student Workbook
In addition to the video instruction, Essentials in Writing also requires a student workbook. 
In print format, these workbooks are spiral bound and consumable, while in digital format they come in the form of printable PDFs.
While they are color and do contain some charts and the occasional illustration, the books are, for the most part, text-based. 
EIW workbooks are designed to correspond to the video lessons, with the content and order syncing up for the most part.
That said, many of the worksheets are split over multiple days, so there tends to be far more workbook lessons (100-140) than there are videos (40-80).
The workbooks contain various writing and composition exercises and activities to help strengthen learning and provide much needed practice.
They can include important additional step-by-step teaching material and concept reviews that reinforce the videos, various writing exercises and activities, writing prompts, checklists, samples of writing, answer keys/scoring rubrics and more.
For shorter assignments (paragraph rewrites and short compositions), the workbooks provide ample room for student responses, however students will have to use notebook paper for longer writing assignments, such as essays.
That said, as students transition into more complex writing at the upper grades, the student workbooks do provide them with visual organizers and planning sheets that are used (in accordance with the EIW methodology) to lay ideas out neatly beforehand.
One thing to note is that at the lower levels the books are split between formal grammar and composition, each given its own section, while in middle and high school grammar is integrated into the writing component.
Overall, the Essentials in Writing student workbooks aren't the most exciting for students to look at, being mostly text with some illustrations here and there, but they are well-laid out, fairly straightforward to go through and contain a variety of important information and techniques for composition and writing that students can refer back to when needed.
Teacher's Handbook
Recent editions of Essentials in Writing have started including a teacher's handbook, as well.
Unlike most teacher's guides, as Essentials in Writing is designed to be more of a self-study program, the teacher's handbook doesn't really contain a lot of direct teaching material or scripted lesson plans.
Instead, it is largely focused on providing information that can help parents keep track of and understand their students' learning.
For example, it outlines the main concepts of each unit, providing parents with a rough idea of what is being taught and why.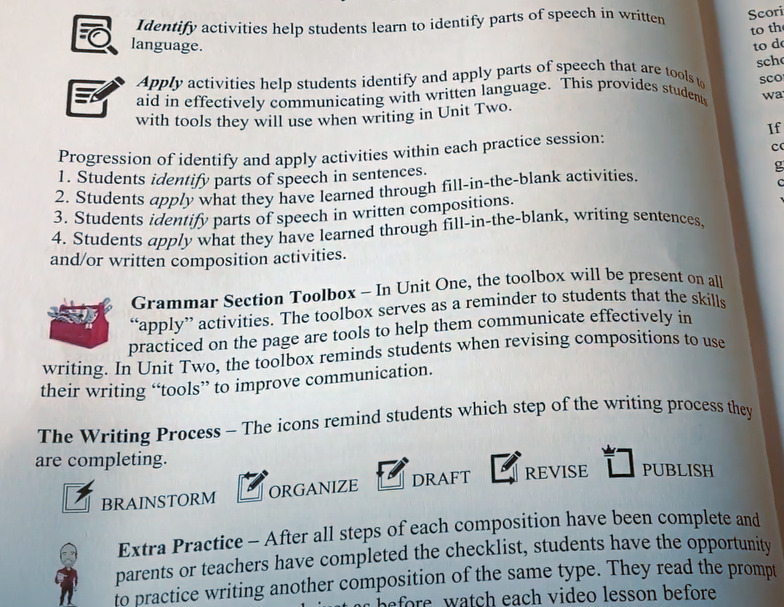 The teacher's manuals also provide parents with a good idea of how to structure lessons, as well as an easy to understand chart outlining the various video lessons and their corresponding workbook lessons.
Finally, there is also a duplicate answer key and, in upper level books, scoring guides with rubrics for evaluation and sample texts for comparison.
Being more of a reference guide to the course than a full instructor's manual, the teacher's handbook for EIW isn't quite as voluminous as with other curricula, but it does contain resources that can help parents, particularly those new to homeschooling, stay in the loop and better understand what students should be doing or focusing on in any given section.
Optional 
Assessment and Resource Booklet
For those who want to formalize the learning a little more, Essentials in Writing also offers an optional assessment booklet that parents can purchase for levels 1-8.
These booklets include a variety of assessments that parents can include at certain intervals in the course, such as after every fourth lesson or at the end of each unit.
The exact number and type of assessments in each book depends on the level and complexity of the course.
In level 4, for example,there are 18 assessments, while in level 8, there are 20.
By and large, these assessments cover both grammar and composition and utilize a variety of different question types, such as multiple choice, fill in the blank and writing tasks.
One thing we did like is that, in addition to providing parents with an assessment option, the books also include a variety of extra resources that can help out with student learning and writing.
The specific resources included vary by level, but can include things like extra graphic organizers, color-coded word lists, writing checklists, ready lists of descriptive adjectives to help with writing, sheets to create personal dictionaries and thesauruses and more.
Consequently, even homeschools that eschew formal assessment and testing can find some value in these assessment and resource books.
Scoring Service
Finally, for students in grades 6+, and somewhat like programs such as WriteAtHome or even Night Zookeeper, Essentials in Writing offers a Scoring Service, that is, the ability for students and parents to submit a composition or writing piece online to EIW and receive feedback, comments, tips and even a score for their work.
The Scoring Service is staffed by a variety of professionals, such as teachers, tutors and so on, which is quite helpful, and the feedback is personal and constructive, offering specific advice for students to improve their writing.
There are, however, some caveats that parents should be aware of.
It is an extra service that parents will have to pay for, costing about $107 per student per school year (e.g. Aug 1 to May 15).
Students can also only submit one composition or writing piece at a time, usually typed (except for grade 6) in PDF form, for correction.
That said, as Essentials in Writing generally relies on parents to score and correct student work, this service can, in our opinion, be quite beneficial to busy homeschoolers, as well as parents who are new to homeschooling or simply feel that their own English language skills are a bit rusty.
EIW Approach to Writing Instruction
Video-based, self-study
Essentials in Writing is designed to be a self-study curriculum in writing.
As mentioned above, and like programs such as IEW, rather than using a teacher's manual or textbook, the course teaches students writing, composition and grammar directly through its series of engaging, short videos and guided workbook lessons and exercises.
Although parents will have to help out here and there, particularly with younger students, by providing assistance, sounding out ideas and scoring work, by and large the course's videos and accompanying worktexts provide a considerable amount of instruction and do an excellent job at guiding students from introduction of a concept to its practice.
As a result, Essentials in Writing can be a good option for busy homeschools, those new to homeschooling and those uncertain about their own writing skills, taking the burden of teaching off of parents and allowing them to step back into more of a guidance and oversight role.
Gentle, Incremental Teaching
Essentials in Writing takes an incremental approach to teaching students proper composition and writing.
In other words, at all levels the curriculum tends to start with the most basic writing forms (sentences, paragraphs) and then builds towards more complexity (narratives, essays and papers).
At even the higher levels, middle school for example, students first work to create appropriate and correct simple and complex sentences and then learn to add flourish to them.
They then move on to review how to connect those sentences into a paragraph format (opening sentence, body, closing sentence), before learning to create different types of paragraphs (persuasive, descriptive, expository, etc).
Following this, they then learn the mechanics of connecting those paragraphs together (e.g. choosing a topic, organizing their thoughts, outlining a structure, creating a first draft, editing, writing a final draft) for each type of written work in that course before tackling increasingly complex writing pieces (narratives, then letters, then essays, then a research paper).
In this way, Essentials in Writing manages to break down the process of writing into smaller pieces, and allows students to focus in on and tackle each concept in a more approachable and gradual, step by step manner.
This step-by-step approach can make the process of writing a lot less intimidating for students.
By learning the mechanics of building a proper paragraph, and then successfully doing so, students gradually build up the confidence they need to realize they can create several and string them together to form their very own essay.
Similarly, the program stresses, and provides students with, graphic organizers for writing. 
These can help students get used to organizing their thoughts before starting to write, which can make writing longer structured writing pieces, such as essays, a less-intimidating and more step by step process.
They can also be a great tool for helping disorganized or dissembling writers stay focused.
Short Lessons
For the most part, EIW keeps its lessons pretty short and to the point.
Depending on the level and the student, lessons can take around 20 minutes to complete at the earlier levels and around 30-40 minutes at the middle and high school levels.
By keeping its lessons bite-sized, Essentials in Writing lessons are very focused and can be a lot less overwhelming for students to work through.
They can also be a good option for students whose attention tends to wander after an extended period of learning grammar or the mechanics of writing.
Parents should be aware, however, that by keeping lessons short and focused, it does mean that there can be a lot to go through at each level.
Depending on the level, it can take around 100-150 sessions (depending on the student, of course) to get through the material, which means parents may have to put in a little more effort to properly pace their student over the course of a school year.
Modeling
In order to help teach writing, rather than simply explain the writing process and use examples, Essentials in Writing uses modeled writing to teach and reinforce specific writing concepts.
In other words, in addition to explaining certain writing skill and topics, during the videos students listen as Mr. Stephens presents or creates an example of writing on the whiteboard.
As he writes down or presents a piece of writing, Mr. Stephens gradually goes through the process of its creation, in a very step-by-step manner, highlighting certain elements and verbalizing some of the reasoning or rationale behind its structure or certain narrative features as he goes along. 
In this way, EIW not only shows students how to write properly but helps them better understand the thinking process of a writer, including how they deal with mistakes.
Generally speaking, the models will focus on a single element of writing or grammar, such as run-on sentences, fragments and so on, which will form the basis of the related worksheet.
The process of modeling can be a little different than those used in other video-based writing curricula that parents might be familiar with.
There is more of an emphasis on showing, rather than telling, the writing process, and many students will find the video lessons to be a little more dynamic than a standard lecture, as Mr. Stephens writes (and sometimes quickly erases) things on a whiteboard while he verbalizes his thinking or discusses a topic.
Grammar
As a complete writing program, Essentials of Writing does include formal instruction and practice in grammar.
In the first few levels, to about middle school, grammar is given its own distinct unit and students spend a considerable amount of time learning and practicing subjects, predicates, subject/verb agreement, capitalization, adjectives, adverbs, sentence structure and so on before starting work on composition.
As with many other writing programs, beginning at the middle and high school levels, grammar is still taught but more as a part of the writing instruction, although there can be optional grammar lessons as well at the end of the 7th and 8th levels.
One thing that is notably missing from Essentials in Writing grammar is sentence diagramming, as EIW doesn't really believe it to be an effective strategy for learning writing skills.
Those that do still wish to teach sentence diagramming will therefore have to supplement the program with additional instruction and practice in this area.
How it Works
As we've mentioned, there are two components to Essentials in Writing – a video lesson and their associated workbook sheets, which together form what the program calls a session.
Depending on the level, there are between 43 and 83 video lessons to go through, and about 143 to 241 workbook pages, making an estimated 100-150 sessions to work through in a year, depending on student ability.
While it is left up to the parent to ultimately decide how to schedule and pace the sessions, EIW does include a suggested 34 week schedule in its workbook that works off a 3 day a week schedule.
Following this schedule, students work through around 3 videos a week, completing approximately 2-3 worksheets for each.
Each session of Essentials in Writing begins with the student watching a short instructional video where writing concepts and structures are introduced, explained and modeled by the host.
Following the video, students then turn to the relevant pages in their workbook.
The workbooks contain a mixture of explicit instruction in a topic, complementing the videos' modeling with more formal and direct instruction, and exercises.
When it comes to the instruction component, students are encouraged to read and think aloud, which serves to focus their attention and reinforce what they are learning.
Students then progress to the exercises.
By and large, the exercises tend to follow the same gradual, step-by-step format as the lessons.
Whatever the concept, students tend to start off with simple practice exercises, underlining or circling certain grammatical or narrative features, before moving on to more complex activities, such as planning out and writing a work of their own.
For example, in a lesson on the use of proper nouns, a student might first learn about what defines a proper noun and how they are used.
They might then be given a word list and start working on identifying what is and what is not a proper noun, before progressing to replacing highlighted common nouns with proper ones in a paragraph.
Students might then progress to learning to properly capitalize these nouns in a written piece.
They would start by correctly rewriting sentences, progress to creating their own and, finally, rewriting a complete paragraph while capitalizing proper nouns on their own.
Similarly, in a writing lesson, students might first learn what a closing sentence is in a paragraph, pick a good closer from a list and finally create their own to finish off some sample sentences.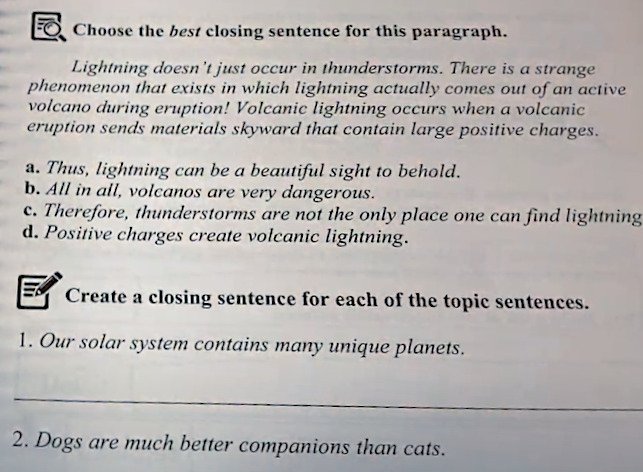 As we've mentioned, the lessons progress in complexity until a student is ready to produce their own written work.
That is, students first learn to build sentences, then paragraphs, then learn to organize and string those paragraphs together into a narrative, letter, formal essay or research paper.
And, like the workbook exercises, these written works are also done in an approachable, step-by-step process.
Students first work to identify a topic and learn to organize their thoughts using a graphic organizer.
Following this they might have a lesson where they create a first draft, perhaps using certain words or ideas and referring back to their graphic organizers.
The following lesson will have them learn to properly revise their draft, adding flourishes or narrative elements as necessary, while the next lesson will have them create a final version. 
Finally, students will go over their final draft, working with a checklist to make sure their work is ready for submission.
When complete, parents can then use a rubric or key to go over the student work and issue corrections, or submit the work to the Scoring Service if they so choose and if they've signed up for it.
Finally, parents to level 8 can choose to include assessments they can if they purchase the optional Assessment and Resource Booklet for their student's level.
Containing a variety of exercises, such as fill in the blanks, identification, writing assignments and more, assessments can be included every few lessons (e.g. every 2-4) to make sure students are absorbing the material properly.
The Assessment and Resource Booklet also tends to contain two comprehensive exams, one for each unit (grammar and composition).
Our Thoughts on Essentials in Writing Lessons
Overall, we feel that Essentials in Writing is a pretty straightforward writing program that can make the process of writing a lot less intimidating and a lot more understandable for students.
Mr. Stephens does an excellent job at modeling writing in the video lessons, not only showing students examples of proper writing, but also providing them with insight into the process of writing and walking them through his thought process in real time.
As students follow along, for example, he might explain why he or another author chose certain writing techniques or elements, make a mistake and need to correct it or even change his mind, erase a complete sentence and rewrite it entirely.
Further, Essentials in Writing's step-by-step approach, which features both in its video lessons, its workbook exercises and its general structure, does an excellent job at breaking down the process of writing into more manageable and less intimidating pieces.
As writing concepts and skills are introduced slowly and sequentially, students can really take their time to work on them.
Once they learn to put sentences together into a paragraph, be it argumentative, descriptive or narrative, building (and then editing) a longer writing piece can seem a lot more doable.
Similarly, EIW lessons are kept short and to the point.
Other than the fact that it keeps busywork to a minimum, 20-40 minute writing lessons a couple times a week can be a lot less intimidating to students, particularly those who have had a hard time with writing in the past and those whose attention tends to wander.
We also liked that Essentials in Writing is quite well designed as a self-study program and feel it can really reduce the burden of teaching writing for parents.
The video-workbook lesson structure can be quite effective, providing clear and understandable instruction through its combination of modeling (the videos) and written instruction (the workbooks).
Although younger students will probably need to work alongside a parent to keep them on course, by and large everything is very clearly laid out and there isn't much room for students to get lost.
On the downside, while the videos do an excellent job at modeling writing, with Mr. Stephens presenting and introducing concepts in a concise and uncomplicated manner, some parents may feel that they contain a little less explicit mechanics instruction (like diagramming) than some other writing programs out there.
Another issue for some parents is the fact that, as of writing, EIW charges an extra fee for its DVDs.
While the shift to streaming video is more in line with current trends and is far more convenient for most families, the lack of a free offline video instruction can be an issue for those uncomfortable with leaving their student online and those who live in areas with slower internet access.
Is Essentials In Writing Secular?
Although the program's author is Christian, Essentials in Writing is a completely secular writing program that makes no references to religion, God or the Bible.
Consequently, it can meet the needs of strictly secular and faith-neutral homeschools.
That said, EIW really doesn't contain anything that might be considered offensive, controversial or morally questionable and so can be a good fit for faith-based homeschools as well if they don't mind working with a secular curriculum.
Pros And Cons
Pros
Affordable and compact
By and large, Essentials in Writing really only requires access to its video lessons, which are online, and a single workbook per year.
Other than the optional assessment books, there are no other writing handbooks, style guides, charts, cards, activity books or other materials that parents will have to buy and keep track of.
Further, at around $100 for a full grade's worth of multimedia writing instruction, EIW can be surprisingly affordable and fit most homeschool budgets.
Self-study program
Between its video lectures and workbook instruction and exercises, Essentials in Writing can guide students pretty effectively through its lessons without the need for a lot of parental involvement or action, saving them a considerable amount of time and effort while also promoting independent learning.
Effective and interesting video lessons
Hosted by the founder of the program, EIW's video lectures are engaging, short and highly focused.
Rather than lecturing students, Mr. Stephens models proper writing techniques on a whiteboard, explaining his reasoning as he does so.
In doing so, students are able to both get a good idea of how writing elements are properly used and get a deeper, real-time insight into the writing process.
Incremental and systematic approach
Essentials in Writing can make the process of writing a lot less intimidating for students by breaking concepts and writing tasks down into pieces and introducing them one at a time in short, focused lessons.
Further, it takes a very structured, step-by-step approach to teaching writing, having students start out with the most simple tasks (forming sentences and paragraphs) before progressing gradually to more complex pieces (essays, research papers, etc).
Short, to the point lessons
Lessons in EIW are kept fairly short, usually taking between 20-40 minutes per day, which means that they are a lot easier for students to work through and fit into their schedules.
Further, lessons are quite focused and there isn't a lot of busywork to annoy or frustrate students.
Encourages a structured approach to writing
Essentials in Writing emphasizes a structured approach to writing, teaching students a step-by-step process of writing (e.g. brainstorming, organizing thoughts, first draft, editing, final draft, checklist) that they can fall back on in their future endeavors.
Encourages self-editing and revision
As part of their lessons in writing, students will learn to cast a critical eye over their own work before submitting it, going through a formal process of editing and revision, as well as checking their work with a checklist.
As a result, it can help students become more confident writers (by teaching them that everyone makes mistakes and that these can be fixed), and can help them develop the skills to critically assess and further improve their own work, a skill every writer should develop.
Cons
Non-streaming video options can cost extra
While streaming video is quite convenient, not every parent prefers online learning for their child or has the speed of internet connection to enjoy the experience properly.
Such parents may prefer the DVD version of the video lectures, which unfortunately are sold at an extra cost.
Assessments are also extra
Similarly, those who want to add writing or grammar assessments to the course will have to purchase a separate Assessment and Resource booklet.
While not exactly uncommon with ELA courses and while not every homeschool necessarily wants to include formal assessment, the fact that EIW doesn't otherwise offer much in the way of built-in quizzes means that those who do want to add testing will have to pay for it.
Who Is EIW Ideal For?
Students who have hard a hard time with writing in the past
Essentials in Writing uses a gentle, approachable teaching style that, over the course of a level, guides students through the process of writing in a step-by-step manner that can make essays and longer pieces of writing a lot less intimidating.
As a result, it can be a good option for reluctant writers and those who have struggled with learning to write in the past.
Busier parents looking for an effective and complete self-study writing program
Essentials in Writing is a self-study program that allows students to work through lessons in grammar, composition and writing pretty effectively without a lot of time or effort on the part of parents, freeing them up to work on other tasks.
Parents who aren't sure about their ability to teach writing
Essentials in Writing offers students clear and comprehensive video and written instruction and guides students pretty effectively through the process of learning to write and provides parents with clear answer keys and rubrics that make it very easy to score work. .
Further, the company also offers the option of purchasing a professionally staffed Scoring Service that can help students by delivering constructive feedback and correction on their completed work.
As a result, the program is quite easy to use and pretty straightforward, meaning it can be a good option for new homeschoolers and those who are unsure about their own ability to teach writing.
Students who prefer learning by modeling or watching others do, rather than lectures
Unlike some other video-based writing programs out there, Essentials in Writing avoids endlessly lecturing students about writing and theory and instead has its host model writing directly on the board, demonstrating the writing process and writers mindset in real time.
Students who have a hard time with long lessons
With focused videos that take less than 10 minutes to go through and only a couple associated worksheets, sessions in EIW are pretty short and to the point, making them ideal for students who tend to zone out during longer lessons.
Who Is It Not Ideal For?
Parents looking for a pen and paper curriculum
While workbook activities are a critical component of the program, Essentials in Writing uses a good deal of video, particularly online streaming video, to teach its material.
As a result, it may not be the most ideal for those looking to limit screen (or internet) time.
Homeschools who prefer long, in-depth and explicitly-taught lectures
Although it does formally teach grammar and writing rules, lessons in EIW tend to be short, modeling-based and overall more focused on getting students learning to write rather than providing long and detailed explanations of writing elements, grammatical theory and mechanics.
While this can be a boon to students who roll their eyes at the excessive review of grammar and language arts that many other programs are known for, some parents may still prefer longer and more formal, lecture-style lessons.
Students who want to dive right into more complex writing formats
At each level, Essentials in Writing adopts an incremental and step-by step approach to writing.
By and large, students begin by learning to create specific types of paragraphs and then progress to increasingly more complex writing assignments, such as letters, narratives, essays and research papers.
As a result, it may be a bit frustrating to students who simply want to dive in and work on their narrative or essay writing skills.
Price
Note: Prices correct as of writing. All prices in USD.
Essentials in Writing is available in a couple different formats.
There is a print bundle, which includes streaming video, teacher's manual and a pre-printed spiral bound notebook, and a digital bundle, which includes streaming video and PDF versions of the workbook and manual.
Parents should note that, as a digital subscription, the streaming video lectures are only available for a 12 month period, although the company will extend this upon proof of purchase.
Grades 1-8
Digital bundle: $87 per year
Print bundle: $107 per year
Digital bundle with assessments: $97 per year
Print bundle with assessments: $127 per year
Grades 9-12
Digital Bundle: $67 per year
Print Bundle: $87 per year
Optional DVDs: add $15-45, depending on level
Scoring Service (grades 6+): $107 per school year
As always it is important that parents check for current pricing, as well as for any discounts or offers that may exist.
Or
Is It Worth The Price?
Overall, we feel that Essentials in Writing can provide a lot of value for homeschooling parents, particularly for families with students who struggle with writing.
For around $100 per year, EIW provides a complete, grade-level homeschool writing program that provides students with clear and straightforward video instruction, as well as workbook exercises, that will help them hone their knowledge and skill in both grammar and writing in a more engaging manner.
Further, Essentials in Writing lessons break down the writing process into more manageable components, with short, focused lessons that start with the simplest sentences and let students gradually develop their ability to produce more advanced writing in a step-by-step manner, rather than forcing them into the proverbial deep end from the start.
In this way, and as students succeed in producing increasingly complex pieces, students learn that they can indeed write properly and that the process of creating narratives, essays and other endeavors is perhaps not as intimidating or scary as they might have thought.
Finally, EIW is a well-designed and well laid out self-study program that guides students through its lessons with a minimum of parental involvement, freeing parents to focus on the many other tasks that homeschooling may require.
Bottom Line
For some students, writing can be a very stressful and even frightening task.
With its clear and engaging video lessons, guided workbook exercises and systematic, step-by-step approach, Essentials in Writing is an independent learning program that can teach students to write, but more importantly can help them develop the self-confidence they need to really blossom as writers.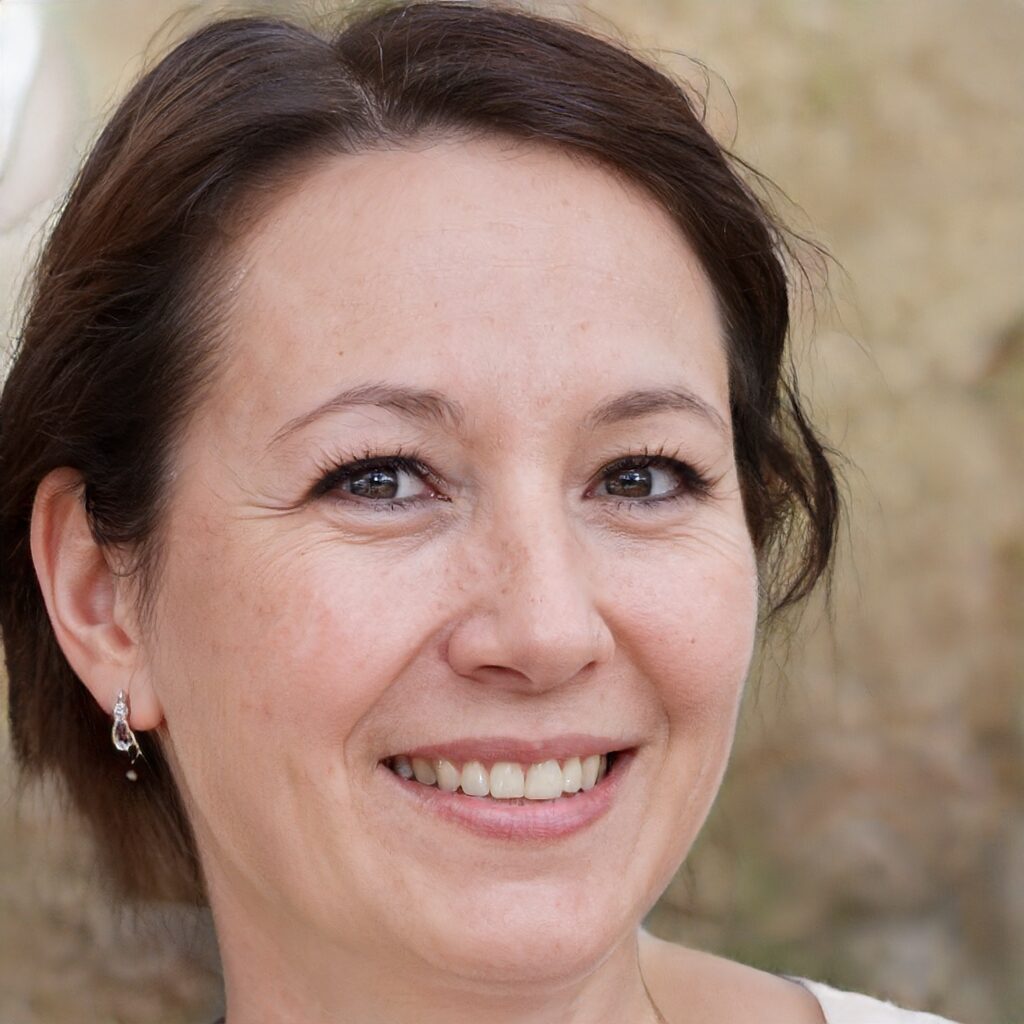 About the Author
Anne Miller is the editor of The Smarter Learning Guide and is a passionate advocate for education and educational technology. A mom of two, she majored in English Language and Literature and worked as a substitute teacher and tutor for several years. When not writing she continues to root for the Yankees and the Giants.