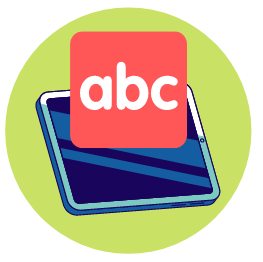 With its wealth of well-scripted teaching materials and resources, easily differentiated learning plans and interesting online writing environment, Writing A-Z can make teaching writing at home a far simpler, more structured and easier task for parents, and does so at a reasonable price.
What is Writing A-Z
Writing A-Z is a K-6 writing program developed by Learning A-Z, the makers of Reading A-Z, Raz Kids, Science A-Z and other learning products.
Popular in schools, Writing A-Z is also offered for homeschool use and gives parents access to a wide variety of comprehensive, leveled and easily differentiated process writing plans and lessons, a wide variety of printables, writing-specific grammar and vocabulary help, as well as a suite of interactive online writing tools that can help manage and implement the whole process.
For Which Ages or Grades is Writing A-Z Intended?
Broadly speaking, Writing A-Z is aimed at students in K-6.
Rather than separating students by grade, however, Writing A-Z is a leveled skill-based program that separates its resources along 5 writing levels or stages:
| | |
| --- | --- |
| Development Stage | Approximate Grade |
| Emergent Writing | Pre-K, Kindergarten |
| Beginning Writing | Grade 1 |
| Early Developing Writing | Grade 2 |
| Developing Writing | Grade 3 |
| Fluent | Grades 4-6 |
Writing A-Z then offers a variety of resources and lessons for each of these stages, matching the lesson depth, text difficulty, challenge of assignments and expectations accordingly.
The program begin with focused emergent writing, with students still working on reading, matching words to concepts, drawing letters and learning to convey their thoughts, and then gradually increases through the introduction of process writing and grammar, style and writing conventions until the fluent stage where student can attempt complex writing assignments, like essays and opinion pieces.
Overall, this approach does make a lot of sense as far as teaching kids to write, especially compared to a standard grade-level division.
Students do go through a number of stages as they learn to write, and while they do hit certain milestones within a certain age range, no two children really develop the same way or at the same speed, since writing can be heavily dependent on their experiences with the world, their ability to read, how they organize their thoughts and so on.
More practically speaking, for homeschoolers this means that, while Writing A-Z does provide approximate grade levels for each writing stage, they aren't hard and fast rules and parents can easily use the program's materials and content to teach kids who are progressing at a different pace.
For example, parents of more precocious writers can easily take advantage of the program's more challenging material and assignments, while parents of those who struggle a bit more with writing can move down a stage or use the differentiation tips to work on the fundamentals.
In fact, because students never really see any kind of grade level association with the program, those who are struggling a bit can have an easier time since they won't feel embarrassed by using materials aimed at younger grade levels, which we like.
That said, while teachers may be fairly used to working with programs built around developmental theory, it can be a little trickier and less intuitive for parents to figure out where their child should be placed compared to age- or grade-based programs.
Without a placement test, essentially parents use the approximate grade level and then adjust based on how they are handling the lessons, texts and assignments they are given. While definitely doable, it is a little more intensive and requires parents to be a little more familiar with their students' abilities.
Writing A-Z's Approach to Teaching
Writing A-Z is based around process writing.
Process writing is an approach to teaching writing where parents and students focus strongly on the steps involved in producing a text, usually in a collaborative manner.
This method of teaching gets students to approach writing in a more systematic and step by step manner, getting students to carefully think about what they are going to write, produce drafts and self-edit before producing a final result.
This is in contrast to methods such as product writing, where students and parents analyze and then mimic a model text, with the overall focus is on the end result.  
With Writing A-Z, students generally follow the following steps when producing a writing piece:
Prewriting
A particular genre or style of writing is introduced (either by the parent or the student), parents and students go over it, analyzing its characteristics and see some samples of it.
Students and parents then begin brainstorming and use one of Writing A-Z's Graphic Organizer or their online tools to organize their ideas and generally plan out their writing. 
This stage is usually pretty collaborative with Writing A-Z, which is nice, with lesson plans encouraging a lot of back and forth discussion between parents and students, with parents generally providing guidance and teasing out ideas from the student.
Draft
With their ideas fairly organized, students begin preparing a first draft.
Using the information on their Graphic Organizer, students then plot out their introduction, body and ending, with parents continuing to guide students, provide tips and help them stay on track. 
Revision
Having produced a first draft, students use a checklist to make sure that they've included things like an introduction, that they have their ideas down, that their writing makes sense and so on. 
Editing
Before creating a final draft, students are encouraged to self-edit, using an editing checklist or guide to make sure their work is grammatically sound and that it adheres to proper writing conventions and mechanics. 
Publication
Students create and submit a final copy of their work for assessment and feedback.
Overall, Writing A-Z makes writing into a very organized and systematic process.
Students approach a writing assignment, whatever that may be, using a series of steps to help organize and outline their ideas, and then are encouraged to use checklists and guides to make sure their writing is logical and adheres to proper writing guidelines.
Aside from being a fairly organized and systematic approach to writing, one thing that parents should note about Writing A-Z's approach is that it can be quite collaborative.
The lesson plans and activities provided by the program do encourage parents to engage with students, giving them someone to bounce ideas off of, receive feedback from, and someone to help make sure that they understand what they're doing and stay on track during the writing process.
We like this collaborative approach to teaching writing when it comes to homeschooling, as it can create a stronger bond between parent and child, giving parents greater insight into how their students think about the world and allowing them to experience their child's creative process in real time, which is fun.
On the downside, this isn't a program based on simply imitating a given text and so it can be a little more time consuming and intensive. 
Before even creating their first draft, students are expected to assess what they're being asked to do, brainstorm and lay out their ideas in an organized way, which can take time, and parents do need to be more involved in providing feedback and writing assessment
How Writing A-Z Works
To help parents teach writing, Writing A-Z offers parents a pretty full-suite and comprehensive bank of writing lessons and resources to help teach proper writing structure, grammar, mechanics, and style, and an online writing environment where students can practice and hone their writing and parents can oversee their work more effectively.
Setting Up an Account
Before doing anything, parents have to create an account with Writing A-Z.
The process is very simple, and the company has created a specific option for homeschooling parents in the account set up, which is nice.
After creating their own account, parents add their students, each of whom has their own unique account and password that the parent sets.
Interestingly, this password can be text-based or use a couple icons or pictures that students pick in order.
In our opinion this is a far better system for students who may be approaching the program at different stages of reading, and is far more intuitive to use for younger students and can give them a much needed sense of control.
Following the creation of a student account, parents can select a stage for their child (from Emerging to Fluent writing ability).
Parents are always free to change this level whenever they choose, which is great for homeschoolers working at a different pace than grade-standard.
Once this is complete, the program actually automatically generates a login letter and card that contains information on how to access the site and their login information, which students and parents can print out and keep nearby, which is actually kind of cool and thoughtful.
Writing A-Z Instructional Resources
Once parents create an account, they can freely access Writing A-Z's bank of instructional material and resources.
And there are a lot of resources available to parents with this program.
Writing A-Z is, overall, a full-suite writing resource that offers parents a fairly comprehensive writing curriculum for elementary age students.
In general, parents can access resources for:
Emergent Writing (pre-K, K students)
Process Writing Lessons
Skill Development
Instructional Support and Activities
Emergent Writing
Because of the challenging nature of instructing emerging readers and writers, who are often students in Kindergarten (and below) and are still often learning to read, Writing A-Z somewhat splits it off into its own category.
Parents can access six full lesson plans aimed at these students that progress from labeling pictures and diagrams with single words to learning their first lessons in grammar and mechanics, until finally students build their very own sentences.
Parents can also access a suite of printable resources with focused activities to help emerging students through letter recognition with word cards, handwriting exercises, basic writing prompts, and so on.
Process Writing Lessons and Resources
Writing isn't always so intuitive for parents to teach and, recognizing this, Writing A-Z provides parents with essentially everything they need to teach their students Process Writing.
Parents can access lesson materials and for each different writing genre that students tend to need/encounter at the grades 1-6 level, such as:
Informative/Explanatory writing
Narrative writing
Opinion Writing and Argumentative Writing
Transactional Writing (letters, emails, invitations, speeches, interviews, etc)
Writing A-Z also dives deeply into each of these different genres, providing full lesson plans and associated printable worksheets for different common examples of these writing styles, as well as sample writing appropriate for each developmental stage.
For example, for informative writing, there are full lesson plans and worksheets for teaching students how to write biographies, essays, reports, how-tos, experiments and more.
These lesson plans are pretty comprehensive, offering parents a good deal of background about the genre and providing fairly detailed instructions on how to lead a student through each of the process writing stages and an idea of how long it should take to complete a lesson.
Interestingly, each lesson plan covers the information for every developmental stage Writing A-Z teaches to, differentiating the learning and objectives with little triangular icons that pop up here and there in sidebars, as well as unique sections that are fairly clearly marked.
Beyond offering resources to help parents teach process writing, Writing A-Z also offers parents all the tools they are supposed to use with the program that can be printed out or used online, such as:
Graphic Organizers for helping students organize their thoughts and plan their writing
Editing guides
Revision checklists
Abridged lesson booklets that outline the writing process for students
Printable posters for each type of writing that breakdown a sample, highlighting its structure
Assessment rubrics
And more
Skill Development
Beyond simply teaching students writing, Writing A-Z actually goes a step further and provides a fair amount of resources covering common writing conventions and writing-related mechanics and grammar, under what they call Critical Writing Skills.
In terms of writing conventions, as with Process Writing, Writing A-Z offers full lesson plans and worksheets covering topics that can help strengthen student's writing, such as:
Common writing conventions (capitalization, letter/word order, paragraph structuring, punctuation, spelling and more)
Openings (fiction and nonfiction)
Endings (fiction and nonfiction)
Sentences (simple, combined, compound and complex)
And word choice (how to make sentences more compelling to read with synonyms and more careful word selection)
As with the Process Writing lesson plans, these are quite detailed, providing suggested lesson scheduling and pace and giving parents a lot of help in teaching these concepts to a child and providing help for differentiation.
In addition to the skill lessons on writing convention, Writing A-Z also provides a fair bit of focused grammar and mechanics practice.
The program offers about 30 weeks worth of exercises for students to practice what they've learned in terms of writing conventions.
There are Cloze Stories, for example, wherein students figure out what words would best fill in the blanks in a given story using various clues, as well as more conventional worksheets and word lists. 
Instructional Support and Activities
Finally, with Writing A-Z parents have access to an assortment of daily writing practice, called Quick Writing Activities.
Parents can print these out and use them to supplement the assorted lesson plan worksheets, so that students have extra practice with what they're learning.
These include:
Story cards for students to mix together and build their own prompt, they have various ideas for character, plot and setting
Various writing prompts
Illustrated books for students to come up with their own narratives
Bookmark reports to summarize a writing sample, so they can learn to take notes and identify main points
Writer response, where students answer questions to hone their reading comprehension and critical thinking skills
And more
It is important to note that Writer Response requires resources from Reading A-Z, which is a separate program, as it contains the books upon which the questions are based, and unfortunately may represent an extra cost.
There are also a variety of instructional support that parents can use to help students in different types of writing.
For example, there are sources of information students can use in their writing should parents and students not want to use external sources. For example, there are research packs with facts students can use in nonfiction writing and videos containing interviews with authors that students can use for biography writing.
Similarly, there are bibliography guides to help students easily learn to create citations for reports, which is convenient.
Overall, we think Writing A-Z does an excellent job at providing comprehensive and detailed instruction for homeschooling parents to actually teach process writing without themselves having in-depth knowledge about or experience with English Language instruction.
The lesson plans for each topic are well-scripted and fairly detailed, providing parents with a fair amount of detail and background on various writing topics, tips for conducting a lesson, pacing, differentiation, exercises, topics of discussion and more.
Combined with their worksheets, we feel that they can be a valuable resource for parents, especially those new to homeschools or those uncertain about their own abilities to teach writing to their students.
On the downside, the resources provided by Writing A-Z are presented as something of an à la carte experience, meaning rather than being presented as a single book or package, they are individual lessons that parents can pick and choose from.
While this provides a good deal of flexibility for parents to essentially pick and choose which resources they would like to get help in, perhaps while supplementing the program with their preferred ELA curriculum here and there, it does mean that there can be a bit of hunting around for topics and their relevant developmental stage.
Another thing that is less of a downside and more of a quirk of the program is that, while Writing A-Z is fully available for and well-suited for homeschooling, its lesson plans and other resources are clearly written for teachers.
As such, they do make references to teachers, classes, rosters and so forth. While not anything too serious, it can be a bit odd for parents to read through compared to writing programs aimed solely at home instruction that refer to parents and homeschooling more directly.
Writing A-Z Online Writing Environment
In addition to the lessons and resources to help teach students to write, Writing A-Z also has an interactive digital environment to allow students to practice their writing and parents to manage their work.
Student Portal
Students have their own portal or zone that they can log into with Writing A-Z, and this is where they will do much of their writing practice.
Student Portal Look and Feel
The Writing A-Z student portal is pretty interesting as it is something of a gamified environment.
That is, it is designed to look, act and feel a lot like a video game or app, with the idea that a rewarding, colorful and animated environment is more fun to use and will keep kids more engaged.
Rather than looking like a regular website dashboard, depending on a student's age and interests parents can set it up to have one of two environments.
For younger students, parents can select the Primary option, and the entire portal is transformed into a space-faring rocket ship, complete with viewing window and little cartoon controls and, thematically, students click on little space stations that represent each of the areas of the student zone. 
For older students, in the Intermediate option, the look is cleaner and more straightforward, looking more like a piece of software but with large icons and colorful, cartoon details.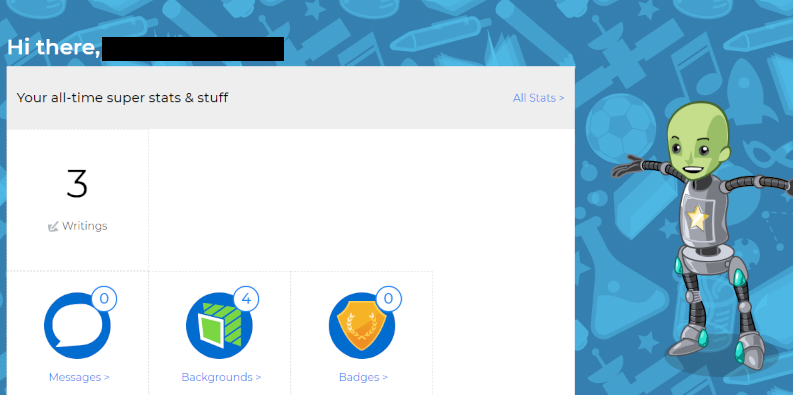 In either environment, students have a little robot representation of themselves, called an Avatar, that they can customize pretty endlessly with stars that they earn from completing assignments, a built-in reward-system that encourages them to keep writing and working. 
Similarly, students are given access to a little lounge-like environment located in a rocket shop, called the Raz Rocket, that they can furnish with plants, aliens, robots, telescopes and more using their stars. 
Finally, students can earn badges for hitting certain accomplishments, such as a Super Saver for accumulating 8000 stars or Book Worm, which they get for completing 5 Build a Book assignments.
Overall, while it leans to the more cartoon-y and probably won't compete with most modern video games, on the whole, we think Writing A-Z did a pretty good job with designing the student portal and feel it can be pretty engaging and fun for kids to look at and use.
Student Zone Writing Practice
Likely the most important area of the student zone is the Writing Room as it is where writing practice takes place.
There are three different kinds of writing practice (fiction or nonfiction) that can be done through the student portal's writing room, which can be either assigned by the parents as work or freely chosen by the student:
Process Writing
The Process Writing Workshop allows students to practice Writing A-Z's method of process writing with various text types. 
Students practice the steps involved in writing, filling in an outline (including an introduction, guiding ideas, details and conclusion), write a draft, check it using built in guidelines, edit it with a built in checklist (including with a spell check function) and then submit it to their parent or teacher.
Build a Book
Build a Book allows students to practice their structured story writing skills.
Much like the Process Writing section, it does get kids to outline, plan, draft, check and publish their work, but works a little differently due to the nature and different structure of storytelling. 
In essence, students are guided through the process of establishing a setting, creating characters, determining a story problem or challenge, figuring out how that problem will be solved, what events will occur and creating a resolution to the story.
Interestingly, it adds a bit of fun and allows students to create their own cover art.
Write Your Way
Designed to encourage kids to write every day, Write Your Way does just that – it allows students more freedom to try freewriting, journaling, and other styles of writing practice, as well as letting them illustrate their work.
While it is much more free than the other interactive exercises, it still guides students through coming up with an idea, planning, drafting, editing and publishing their work.
Students can even use the program to create a drawing using stamps, free drawing tools and more. 
Overall, the writing practice provided by Writing A-Z's student portal is highly interactive and designed to allow students to work through process writing more independently and automatically.
Each writing exercise is set up as a series of sequential stages, taking them through the stages of planning, drafting, checking, editing and publishing, with students being instructed to fill out particular text boxes before being able to move on to the next stage.
Yet, at the same time, while parents can offer a guiding prompt, the program's textboxes are essentially a blank slate, allowing students significant freedom while still helping them stay organized.
Spelling and structure aside, what students actually write is between them and their parents, which we think is great in that it allows students to more fully express their creativity in writing.
It is also a very flexible format that we think can work with many types of homeschool teaching styles.
Parents can assign prompts, making it into a more teacher-led program, or it can be student-driven, with students using it as they will and coming up with their own topics and ideas, which we think is pretty cool.
Parent Dashboard
The parent's dashboard is hosted on Learning A-Z's learning management platform, Kids A-Z, and is where parents will find the tools they need to manage their students work, as well as the many learning materials offered with the program.
The parent's dashboard provides parents with a lot of administrative functions, letting parents manage their account, add/remove students, modify their student's writing level, restrict access to Raz Rocket and the Student Avatar pages (in case students are getting too distracted), and even turn certain writing assignment types on or off.
It also allows parents to assign writing projects to their students, which they will then view from their profile.
Writing A-Z makes assigning work pretty easy to do, parents select which type of writing work they want their child to work on (Build-a-Book, Process Writing, Write Your Way), choose whether they would like it to be fiction/nonfiction or let the student design, choose whether they would like to require the student to use a planner, and even choose whether to assign a topic or let the student come up with one themselves.
Writing A-Z also includes an assortment of stage-appropriate prompts that parents can choose from, which is helpful for parents who are a little short on time or can't come up with a topic for students on the fly. 
When students complete any work, it is sent to the parent's inbox (or Basket), and they can easily assign grades by clicking on 1-4 scale rubric, give students bonus points as they'd like and even have space to leave notes for their child or themselves, which is nice.
Finally, and importantly, parents do have access to progress tracking features, which we always like.
Writing A-Z's progress tracking system allows parents to see their child's work, how long they've been using the program, how long they've spent playing with other features, and other important information.
Overall, the parents dashboard is pretty intuitive and straightforward to use.
It's fairly clutter free and there are a lot of help functions built into the program if parents get lost or don't understand an aspect of the program.
With the ability to assign work and topics (or not), change student levels, customize the workload and turn many Writing A-Z features on or off, it is also powerful and highly flexible, giving parents a lot of control over their student's learning, something that's quite important for many homeschoolers.
How Well Can Writing A-Z Fit With Different Homeschool Philosophies?
On its own, we think Writing A-Z provides a comprehensive writing program with thorough lesson plans and other resources that can help homeschooling parents teach writing fairly easily.
And while it does teach writing through a fairly particular model, we also think it is a pretty flexible program overall and can ultimately fit many different homeschooling styles.
Parents can make use of the very many resources that the program offers and receive a fairly thorough process-oriented writing course that teaches students to approach writing in a logical, collaborative and sequential manner.
On the other hand, parents can also pick and choose what resources they would like to use, using Writing A-Z's library of instructive materials and resources as something of a supplement to a different method of teaching should they so choose.
For example if parents prefer a more open, freewriting approach they can use many of the worksheet materials to get a stronger background on grammar, writing conventions, and so on.
Similarly, its interactive learning environment is also highly customizable, with many of the default settings, incentives and even activities able to be turned on or off to better suit a homeschool's preferences.
That said, Writing A-Z and its materials are not designed as an independent learning program.
Unlike more self-study writing programs aimed at younger kids it does not teach through videos and self directed work, nor does it offer a cadre of professionals to go over their work and leave comments.
Its materials and resources do assume a relatively high level of parental involvement, with a lot of back and forth between parent and student ,and in our opinion it's probably not the greatest option for parents looking for a hands-off, self-study writing program.
Writing A-Z Pros and Cons
Pros
Affordable
Considering that a subscription to Writing A-Z includes access to a full suite of teaching resources, worksheets, practice materials, an online practice environment and more, for about $10 a month, it is a fairly affordable way to help students learn to write.
Highly comprehensive writing program with lots of resources
Writing A-Z provides parents with a full complement of lesson plans and worksheets covering the most common writing genres at the K-6 level, as well as lesson plans and worksheets for writing conventions, vocabulary and mechanics, scoring rubrics and various supporting resources for writing.
As such, we consider it a very comprehensive writing program overall.
Wide variety of worksheets and practice resources
Writing A-Z provides a good deal of variation in its practice sheets, as well. From story cards to writing prompts to Write Aways and illustrations, there is a lot of different activities that students can try to put what they're learning into practice, which can help prevent the learning from becoming stale and boring.
Well-scripted lesson plans and teaching aids
Although they are written more to teachers in a traditional classroom setting, the lesson plans available on Writing A-Z are well-scripted, providing background knowledge, clear directions and a rough pacing guide to make teaching process writing fairly open and go.
Highly flexible and adaptable to different homeschool styles
Writing A-Z is very flexible, while it is a process writing method, parents are free to use as many or as few resources as they'd like, allowing them to either use the program in full or as a supplement to some other curriculum.
Similarly, the online learning environment is fairly customizable as well, allowing parents some freedom in configuring what types of practice their student can engage in, control of topic selection, what features or incentives they would like their student to be able to access, and more.
Online learning environment is easy to use, student portal looks great
Both the Writing A-Z parent's area and student portal are simple and fairly straightforward to use. The parent's area has very little clutter and the student portal has read-aloud functionality for students who have a hard time reading a lot of text.
Similarly, the student portal is designed in an attractive cartoon style that gives students something nicer to look at than a standard app.
Lots of helpful online tools for parents
Aside from the teaching resources, with Writing A-Z's online environment, parents have the ability to immediately assign work, correct assignments quickly, select from a wide variety of prompts and track student behavior and performance to see how well they are learning.
Very easy to differentiate learning according to student needs
Most of the learning materials included in Writing A-Z include a variety of tips that can help make learning easier and more effective for students of differing abilities and skill levels, while the company offers worksheets aimed at different developmental stages for each topic.
In addition, the company offers a fairly detailed ELL guide to help better teach English Language Learners, such as ESL students and those with language learning challenges.
Can be expanded to be full ELA program with Learning A-Z's other programs
Writing A-Z can be used as a stand alone program or integrated with many of Learning A-Z's other language arts programs, such as Reading A-Z and Raz Kids. These progams can be quickly added and integrated into the Kids A-Z online learning platform, where Writing A-Z's practice area is located, providing immediate access to eBooks and literacy instruction.
Cons
Not every homeschool is a fan of process writing
At its heart, Writing A-Z takes a specific and structured process approach to writing that, while encouraging collaboration and creative expression more than typical product writing methods, isn't every parent's cup of tea.
Those who wish to take a more free, unstructured approach to writing, or those pursuing a more genre-based approach to writing, may not appreciate it as much.
The huge library of teaching resources can be a lot for some parents
Writing A-Z has an easily accessible library of resources for writing that contain a wealth of teaching information and practice materials. Located on a website as individual items, it can be a lot for less digitally-inclined parents to sort through, even with the search function.
Does require a fair bit of time from parents
Writing A-Z does require parental involvement in teaching, guiding, collaborating, encouraging and eventually assessing students and their work.
Unlike some other writing programs it is not a self-paced program that parents can leave their student to work with.
Who is Writing A-Z Ideal For
Parents looking for an affordable writing curriculum
Coming in at just under $10 a month and providing access to lots of printable and online resources, we feel that Writing A-Z is very affordable and represents excellent value for homeschooling parents overall.
Parents looking for a comprehensive, structured and thorough writing program
Writing A-Z teaches writing, grammar, writing conventions, mechanics and writing skills and more through a comprehensive library of lesson plans, mini lessons, worksheets, graphic organizers and more.
Parents who enjoy working alongside and with their students
A very collaborative and interactive program, parents and students using Writing A-Z will ideally spend time learning, brainstorming and discussing their ideas during lessons.
Students looking for a more fun and engaging environment in which to practice
Writing A-Z's student portal is pretty engaging for kids, with a fun design and gamified nature that encourages their writing by rewarding students with stars they can use to customize their avatar and learning environment.
Students who get bored without some variety in practice
Writing A-Z offers a diversity of worksheets and activities that they can use to practice and hone students' writing, so that students don't have to always be stuck doing the same kind of work.
Students who enjoy having a little more creative control over their writing topics
Writing A-Z can be used as traditional teacher-led instruction, with parents giving kids prompts to write about, or it can be configured so that students have a lot more control over the topics they would like to write about.
Students who do best having a framework of writing to fall back on when given a prompt
Writing A-Z is a process writing program, which means it teaches students to follow a series of steps when planning, writing and editing their work. This method can give students a systematic framework for approaching writing that they can use when approaching any writing task, so they don't need to fear blanking out or braindumping when given a writing prompt.
Who is Writing A-Z Not Ideal For
Parents looking for a self-study homeschooling writing program
While practicing in the online learning environment does allow for some independence, Writing A-Z's lesson plans are teacher-led and do encourage a lot of interaction between parent and student along the way.
Similarly, parents are expected to guide and correct student work along the way.
Parents and students who prefer a less structured way of learning to write
Many parents prefer a structured writing program, but others find that a strong writing framework can be creatively stifling and prefer to encourage a more freeform approach to writing and may not appreciate Writing A-Z's methods as much.
Parents who don't have a lot of time to work with their students on writing
Writing A-Z is teacher-led and does require parents to read and correct students work themselves, and can take a little time and effort to work through compared to self-study programs or those that have a team of tutors to help out.
Students looking for a multisensory writing program
While Writing A-Z does have a lot of in-depth and clear lessons and interesting worksheets to work on writing and style, it is still largely uses a traditional reading and writing method of teaching and there isn't much in the way of tactile or kinaesthetic activities.
Price
Note: All prices current as of writing. All prices in USD.
⭐ 14 day Free trial
For homeschoolers, Writing A-Z is available to purchase as a yearly subscription online, and prices are per student.
| | |
| --- | --- |
| Length of subscription | Price |
| 1 Year | $114 |
| 2 Year | $228 |
| 3 year | $342 |
Overall, Writing A-Z is fairly affordable, costing just $9.50 a month or so per student for access to all its instructional material and the online learning environment.
In terms of price, it is roughly comparable to other online writing programs for elementary students, such as Night Zookeeper, and somewhat less expensive than more traditional writing programs such as IEW and Brave Writer. 
That said, parents should always check current prices and offers that might be available for Writing A-Z.
Is it Worth the Price
Overall, we feel that Writing A-Z offers a lot to homeschooling parents interested in teaching their students how to read and can be well worth its price.
For less than $10 per month, parents and students receive access to a wealth of well-designed and well-scripted process writing teaching material and practice worksheets that they can use pretty much at any level of writing development.
In addition, the program also provides parents with access to teaching material for essential grammar and writing mechanics and convention, broadening the coverage and usefulness of the program significantly.
Finally, parents and students are given access to a well designed online platform where students can practice their writing skills and parents can manage the process easily and effectively with a host of online tools.
Finally, as a fairly flexible curriculum, if parents feel they need to they can fairly easily adapt the program to their own homeschooling style.
Bottom Line
Teaching students to write isn't always the easiest task for parents. Parents may be unsure of their own skills and no two kids develop their writing abilities in the same way or at the same rate.
With its wealth of well-scripted teaching materials and resources, easily differentiated learning plans and interesting online writing environment, Writing A-Z can make teaching writing at home a far simpler, more structured and easier task for parents, and does so at a reasonable price.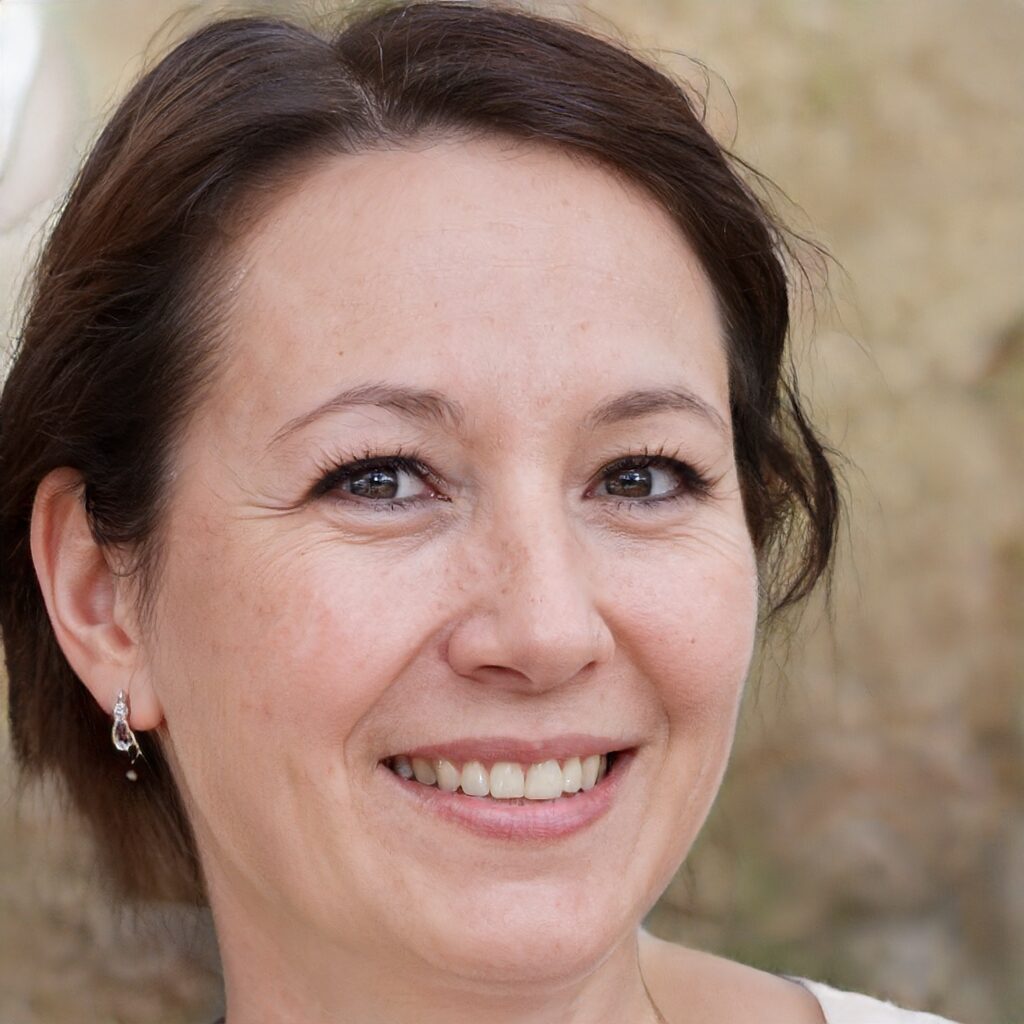 About the Author
Anne Miller is the editor of The Smarter Learning Guide and is a passionate advocate for education and educational technology. A mom of two, she majored in English Language and Literature and worked as a substitute teacher and tutor for several years. When not writing she continues to root for the Yankees and the Giants.