"Ghotit Real Writer and Reader can be an incredibly powerful aid to students with dyslexia or dysgraphia. It vastly simplifies the process of writing and corrects many of the mistakes people with those difficulties may make. While it's price may seem a bit high, it's not that far off from its competitors and we feel that the cost is justified by the assistance it offers."
Minimum Requirements
| | |
| --- | --- |
| Desktops/Laptops | 4 GB RAM |
| | 1 GB free space |
| Windows | 7+ |
| Mac | OSX 10.10 and up |
| iPhones/iPad | iOS 10+ |
| Android | Chromebooks and Android 4.4 + |
| | |
| | |
Dyslexia and dysgraphia can be challenging enough in a child's day to day life. When you add in schoolwork, where students can be expected to complete writing assignments and read longer texts, things can get even more difficult and can make going to school a nightmare.
For dyslexic and dysgraphic students, and their parents, the goal of becoming independent readers and writers can seem, at times, impossible. But, as we know at the Smarter Learning Guide, nothing is impossible.
Ghotit Real Writer and Reader is an assistive software that claims to be able to help students struggling with reading and writing improve their skills. Its advanced algorithms are designed to help produce more error free text, letting students with dyslexia and dysgraphia better cope with their schoolwork.
But does it really work?
Well, we decided to find out.
What is Ghotit Real Writer and Reader?
Founded by people who actually have dyslexia, Ghotit Real Writer and Reader is a powerful reading and writing assistive technology app tailor-made for students with dyslexia and dysgraphia.
At its core, Real Writer and Reader is a specialized word processing tool that helps students with dyslexia and dysgraphia improve their writing via a suite of in-built tools that can help correct misspellings, word confusions, homophone errors and grammar mistakes in real time. It can also read text out loud, which is nice because it can help with proofreading and comprehension.
Ghotit Real Writer and Reader can be used either as its own little word processing software or it can integrate with a number of other programs, like Google Docs, Microsoft Word/Office, Pages, and more.
Price: How Much Does It Cost
Note: prices correct as of writing
Ghotit's Real Writer and Reader is available on a wide variety of platforms. While pretty cool and versatile, this means that there are a number of different pricing options that may be a little confusing at first.
A desktop or laptop license for Ghotit Real Writer and Reader on Windows or Mac will cost $199. This is per device, per user, and includes 1 year of support.
The company also offers a pretty generous 4 year support plan you can buy as well, which includes updates for an extra $129.
Now, you should note that this is the price per license, per device. If you want to run Real Writer on multiple devices, or for multiple users, you will need to buy multiple copies. This can get expensive depending on the number of users and devices you may need, but to be fair isn't that uncommon in the educational technology and assistive software fields.
A second license, it should be noted, can be purchased for the same user at checkout for a 50% discount ($99), which is helpful.
The iPad and iPhone versions cost $69.99 and $49.99, respectively, and the app supports family sharing, so up to 6 family members can use it. However, if you want Ghotit's excellent dyslexia keyboard to go with it, you should note that it is a separate app (although you can get them bundled together for a discount).
Finally, there is the option to purchase a version of Real Writer as a Chrome OS extension, so it can used on a Chromebook. This extension will run you $129 per year per device.
Windows/Mac
| | | |
| --- | --- | --- |
| Standard License (per device) | Optional: Second License | Optional: 4 Year support (including updates) |
| $199 | +$99 | +$129 |
Ipad/IPhone App
| | | |
| --- | --- | --- |
| IPad Real Writer Editor | IPhone Real Writer Editor | Dyslexia Keyboard App |
| $69.99 | $49.99 | +$49.99 |
Chrome Extension
At first glance, Ghotit Real Writer doesn't exactly seem to be the cheapest bit of tech to buy- getting the whole package (desktop/laptop licenses for two devices plus 4 years of full support) will run you almost $500 at checkout. However, this kind of software doesn't usually come cheap (as you may know) and Ghotit Real Writer and Reader's price is more or less in line with other software with similar capabilities, despite having an often wider range of user friendly tools, which makes it pretty good value for money.
We really liked the fact that the desktop and iOS app versions are perpetual licenses, meaning you buy them once and that's it. A student can use it though high school and still use it in college, for example, which is neat. Many other competitors in this space charge slightly less up front, but charge annually or monthly, which can add up in the long run.
We do feel the single license per device per purchase can be a bit restrictive. As noted above, however, single user/device licenses aren't uncommon in the educational/assistive technology field, and the 50% discount on a second license can certainly be of help and is a deal that many other competitors do not offer.
Bottom Line:
All in all, we therefore feel Ghotit Real Writer and Reader is well worth the price, as all platform versions offer a vast combination of excellent assistive tools that you don't find in many similarly priced competitors.
It's also worth noting that both the desktop versions and the chrome version come with a 30-day no-questions-asked money back return guarantee, while the desktop versions also offer a 30 day free trial, so you can see if Ghotit is right for you before making a commitment.
How does Ghotit Real Writer and Reader work?
Ghotit Real Writer and Reader is actually a number of powerful assistive technologies bundled into one application. These include:
Contextual spell checker- figures out if the word is the correct one for the sentence its in
Phonetic spell checker – figures out from the way a word would be pronounced what the intended word is and corrects the spelling, e.g. lettis to lettuce
Grammar and punctuation correction
Detection and correction of commonly confused words and homophones
Word prediction with instant correction and word banks
Advanced proofreading technology with highlighting that uses two contrasting colors to help focus attention
Screenshot reader – uses optical character recognition technology to figure out and turn text from images, PDFs and more into an editable format
Read Aloud technology for reading text in any application
One thing we found really cool is that the program does not require an internet connection (unless you're using a Google Docs editor, obbviously), so that no matter where you are (or what your data plan is like), you can use all of Real Writer's features.
How its Used
To get started students either open the Real Writer text editor or open Word, Docs or other word processor. Floating at the top of the screen is a little tool bar with a number of assistive tools, like spellcheck, proofreading, read aloud and more.
From there, students can either import some text they are working on or simply start typing. And that's when Real Writer gets to work.
If they like, students can start using Ghotit Real Writer and Reader just like any word processor. Big friendly buttons on each side of the text editor let you select a spell check, prediction software, and read aloud functions.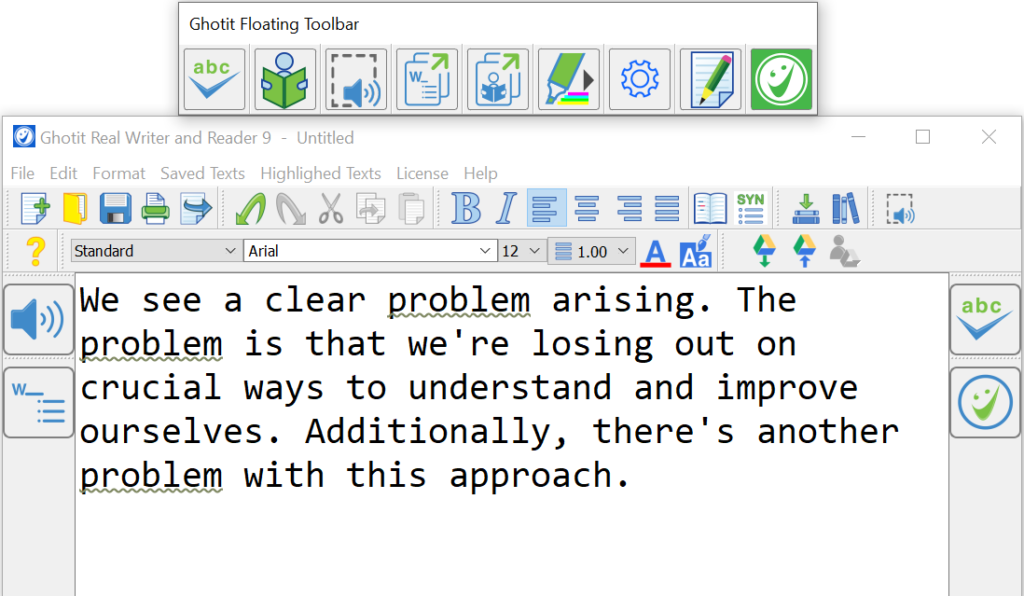 From there, errors are underlined in a number of colors (red for misspellings, blue for misused words, green for grammar and punctuation mistakes, grey are words that need to be merged/compounded).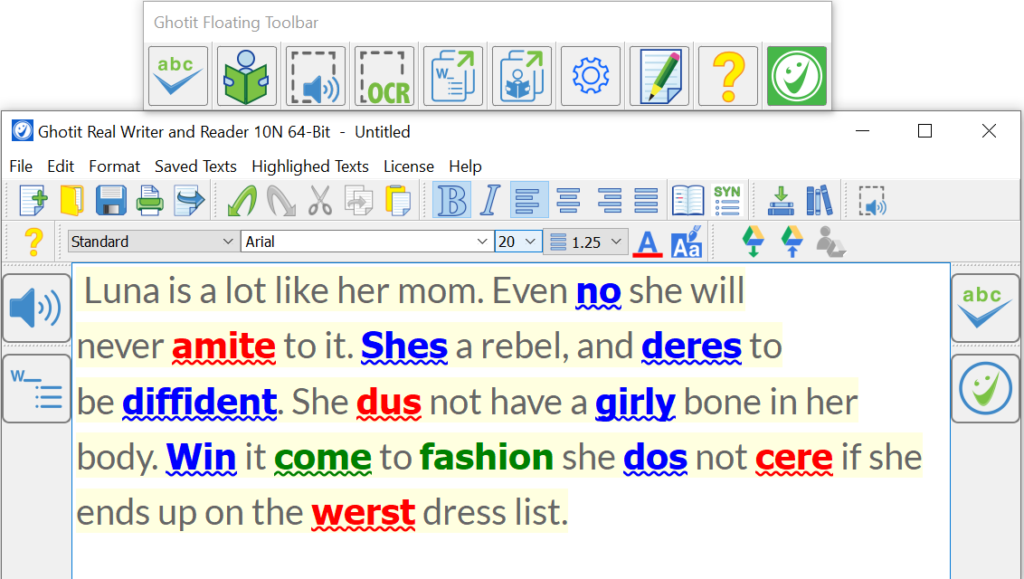 Users can click on each underlined word and a little window pops up with correct spellings and alternative suggestions that, if you hover over them, can all be read out loud for easier comprehension. It also gives a dictionary definition of the word, which we think is really cool. You can also choose to ignore suggestions and add them to the dictionary so they're not treated as errors in the future.
If you're using Real Writer with another program, like Word, students can easily copy and paste whatever they're working on into the Ghotit text editor. Once the text has been fixed up, a big smiley face button will automatically send back the now-corrected text to the original program.
Finally, all text entered into the application can be read aloud by the softwares built in text to speech. This is very helpful, we feel, for proofreading final text and making sure everything sounds and reads correctly.
Pretty simple and pretty powerful, overall.
How Well Does It Work

Ease of Use
We found Real Writer and Reader to be really easy to use and fairly intuitive. The built in word processor is pretty clutter free and easy to use, with large and easy to find menus and buttons. Overall, it didn't take us long to figure out how to use everything and there there are some shortcuts you can learn to make things speedier.
When taking the functions to other programs, like Word or Docs, the Real Writer's floating toolbar stayed pretty discrete and didn't really distract us from working, which we liked. It can even be hidden if you feel like it.
Spell checking
Lots of programs have spell checking and grammar checking. That's not new or groundbreaking.
The difference Ghotit Real Writer offers lies in its sophisticated and highly sensitive phonetic and contextual algorithms that allow it to recognize words even when they are so far from the correct spelling that standard programs would not be able to help.
We found that the spell check and correction functions of the application were actually quite impressive and head and shoulders above what you might find in a regular word processor.
Word Prediction
We found that Ghotit's 'Word Prediction' feature worked pretty impressively (although depending on the user it can get annoying after a long time, but that's the nature of word prediction – luckily you can turn it off).
Overall, we found it to be highly accurate and it offers a number of options, letting you pick the ones you think fit best. One feature we really liked is that you can add subject specific vocabulary banks to it, so if you're studying a subject with very specific or unusual words you might need help inserting (biology terms, for example).
Text To Speech Reading
We found the TTS or Text to Speech software used by Real Writer to be highly accurate, reading even newly added words pretty well, if a bit robotically. It can be set to male or female, depending on your preference or comfort and can be adjusted to slow down or speed up, which is cool and great for kids with processing difficulties. On the whole, however, we didn't find it to be the most sophisticated or natural sounding TTS system out there and we can see how it may annoy some users after a long period.
What we really liked about the read aloud functions is that it is integrated into most functions in the program, which is great for dyslexic students. You can select text you've written to read out loud to help with proofreading, and you can have the application read dictionary definitions and spelling corrections/substitutions out loud, which can help you find the right word when you need it.
One thing that is really interesting is the speech feedback system, which reads text back to you as it's written. We feel this could be very helpful for students with severe dyslexia if they're having trouble reading what they are writing to make sure they're not making mistakes on the go.
Dictation
Real Writer also comes with the ability to integrate dictation functions from your operating system (Microsoft Dictation or Siri, for example) which could be a lifesaver for people with severe dysgraphia.
It's all fairly straightforward: set it up, speak into the mic, and the words you say will be typed on screen. It worked fairly well, despite not being the main function of this type of program. These are not the most sophisticated systems out there, Dragon Naturally Speaking for example outstrips them in both accuracy and sensitivity in our opinion, but they work, are more versatile on the whole, and Real Writing will give you editing capabilities so you can fix it up on the fly.
System Requirements
Ghotit Real Writer and Reader does not have the most strenuous system requirements, as you would expect from a word processing application. For desktop versions you'll need a computer with 4GB of RAM, pretty standard for any computer, and about 1GB of free space.
Windows users will need at least Windows 7 (supports 32 and 64 bit)
Mac users will need OSX 10.10 and up
IPhones and Ipads are supported from iOS10 (devices from 2016) and up
Android is supported on Chromebooks and Android 4.4 and up
Conclusion
All in all, Ghotit Real Writer and Reader can be an incredibly powerful aid to students with dyslexia or dysgraphia. It vastly simplifies the process of writing and corrects many of the mistakes people with those difficulties may make. While it's price may seem a bit high, it's not that far off from its competitors and we feel that the cost is justified by the assistance it offers.
FAQ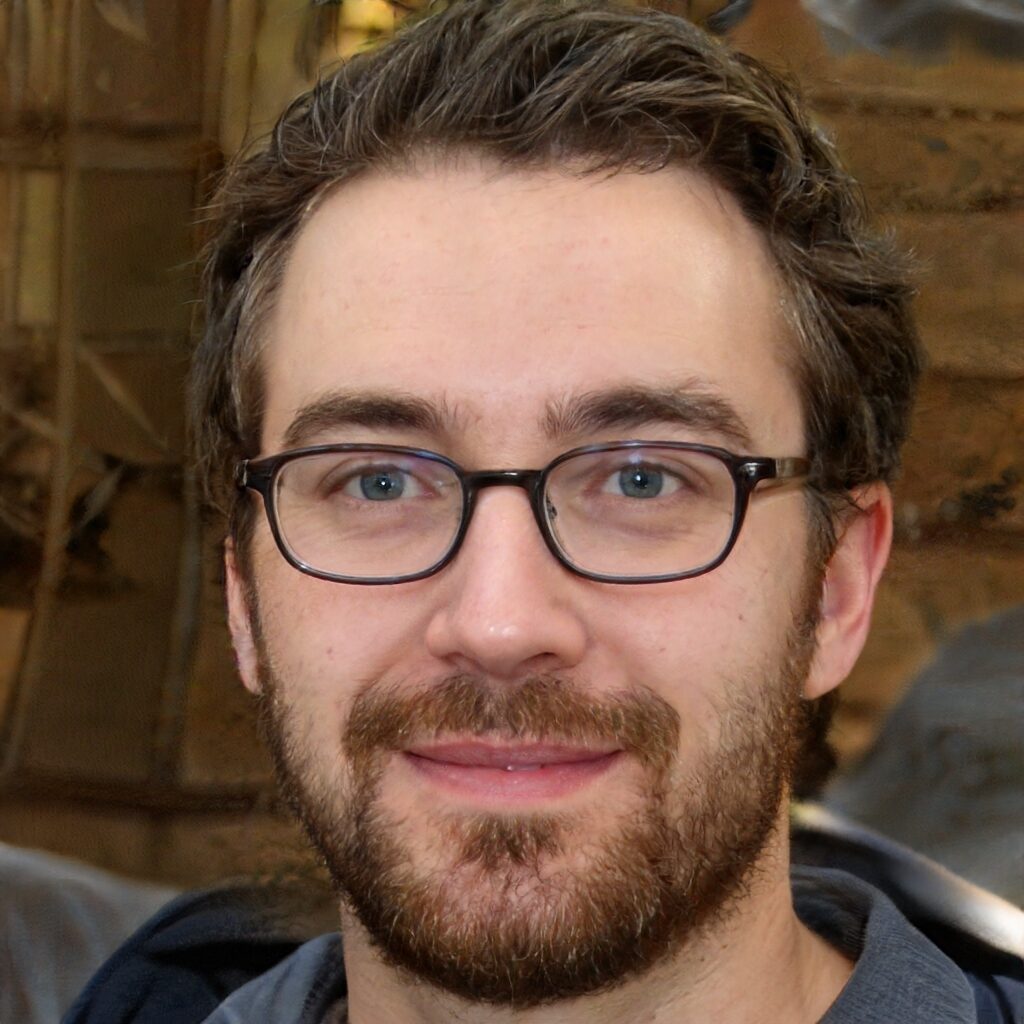 About the Author
David Belenky is a freelance writer, former science and math tutor and a tech enthusiast. When he's not writing about educational tech, he likes to chill out with his family and dog at home.