"Man, this homeschooling stuff is so easy." – Nobody, ever.
With issues like overcrowding, costs, curriculum disagreements, underfunding and bullying all on the rise in schools, parents are increasingly taking charge of their children's education and deciding to homeschool.
But once you start homeschooling, you can quickly find that reality is very very different from the happy, smiling families you've read about online. Preparing, tracking and grading assignments and exams, managing lesson plans, balancing extracurricular activities, homeschool groups making sure chores get done…honestly, homeschooling can be a lot of work and can quickly overload even the nicest schedules you've made.
And it doesn't get any easier the more kids you have.
That's where homeschool planning software come in. These systems take a lot of the hassle out of homeschooling, helping you create, schedule and monitor lessons from one central account. Manage everything from the comfort of your home computer, or take it on the road and log in from anywhere you have access to the internet, these programs can help you become a lean, mean homeschooling machine.
But that leads to a different problem – with so many choices out there, how do you pick the right homeschool planner for you? Don't worry, we're here to help! Below you'll find out top picks for the best homeschool planners, and you'll be on your way to more organized and effective homeschooling.
In a rush? Here is our list of the best homeschool planners:
| | |
| --- | --- |
| Homeschool Planet– Hassle-free and flexible automated homeschool planning, with some great helper tools | Check out Homeschool Planet |
| Homeschool Tracker-Super-powerful and customizable with downloadable community-driven lesson plans and a ton of features | Check out Homeschool Tracker |
| Lessontrek- – Simple to use with clear, drag and drop scheduling for easy homeschool planning | Check out Lessontrek |
How we picked the best homeschool planners
In order to help homeschooling parents figure out which planners are the best for them, we weighed each program against a number of criteria we thought were important, such as:
| | |
| --- | --- |
| Price | Is the planner good value for money? |
| Ease of Use | How easy is it to set up? To use every day? |
| Flexibility | How much can you customize the features and schedules to better suit your child? How flexible are their subscription costs? Can you alter the program and lesson plans at need? |
| Security | Is your data kept private and secure? |
| Mobile Friendliness | Is there a mobile app? Can you work on it or make changes through a mobile device? |
Homeschool Planet- Flexible and Automated Planning for Homeschooling and Beyond
Overview:
If you're looking for a program that can help you build and manage a comprehensive online schedule for your homeschoolers and your family, Homeschool Planet might be just what you're looking for.
Homeschool Planet has a ton of features you can adjust for your needs, including attendance tracking, transcript generation, grading management and lesson plan creation. While it can take some time to get the hang of the program, once you do you'll find that Homeschool Planet has a number of built in guide tools and widgets that walk you through the process and make building, organizing and reorganizing schedules a snap. You can even connect Homeschool Planet to your phone and send reminders and to do lists to your family on the go, taking the program beyond homeschooling to being a great option for organizing your family's general day to day life.

Interestingly, uif you're a parent who has a hard time coming up with lesson plans, Homeschool Planet also has a marketplace where you can buy, download and integrate professional lesson plans from respectable educational institutes to suit your needs.
Best of all, Homeschool Planet comes with a 30 day free trial that doesn't require a credit card, so you can easily try it out for yourself.
Read our in depth review of Homeschool Planet to learn more.
| What We Like | What We Don't Like |
| --- | --- |
| Easy set up | Mobile is more limited than desktop version |
| Doesn't automatically renew subscriptions | A little more manual input that some other options |
| Helpful built in options for scheduling, can reshuffle automatically | Lots of options might take a little time to get used to |
| Flexible purchase plan | |
| Marketplace for lesson plans | |
| Grading flexibility, transcript generators | |
| Clever and cute widgets that can help you schedule more than just school | |
| Can send important day to day lists to your phone/emails on the go | |
Our Verdict:
Powerful and with highly flexible and helpful scheduling features, Homeschool Planet hits all the right notes from the start.
Homeschool Tracker- Powerful and Feature-Rich Homeschool Planning
Overview:
Homeschooling families are often known for thinking outside the box, and that means they sometimes need a planner that can be highly customized to fit their life, and not the other way around.
Homeschool Tracker is a very powerful and feature rich homeschool planner that can do just that. Powerful scheduling tools let you lets you plug in multiple items, dates, resources, subjects to create calendars that are as customized to your life and needs as your teaching. And with up to 20 accounts per subscription (and 3 teacher accounts), it can be customized to fit families and homeschool pods of nearly any size.
On top of all that, the planner also allows you to easily make room for chores, set days off, set a custom school year, schedule appointments, and easily manage and reschedule assignments, while helping you reshuffle everything if (when) life happens.
Homeschool Tracker has a number of advanced tracking and reporting tools, such as Scope and Sequence (for setting course goals), Supplies and even a tool for tracking skill development.
One really cool feature is that, if you're the type that would rather focus more on teaching than creating lesson plans, Homeschool Tracker lets you find, preview and import plans created by other users for free, creating its own little community.
Read our in depth review of Homeschool Tracker to find out more.
| What We Like | What We Don't Like |
| --- | --- |
| Share and download lesson plans with other Tracker users on HSTOnline for free | Lots of features and options make it a little less intuitive than some others |
| In depth manual and videos to help you learn the program | Can take some time to get the hang of |
| Doesn't automatically renew subscriptions | No phone support, email only |
| Super helpful built in options for scheduling, can reshuffle as needed | |
| Lesson plans can be downloaded, exported into CSV file | |
| Advanced reporting in areas like scope and sequence, skill development and supplies make it very complete and powerful tool | |
| Multiple Students can have their own accounts (up to 20!) | |
Our Verdict:
Packed with useful tools and features to get organized, Homeschool Tracker is a powerful and highly customizable planner for homeschooling parents.
Lessontrek- Simple, Easy to Use Homeschool Planning
Overview:
Sometimes you need the power, complexity and sophisticated features of planners that can manage your whole household from a central program, and sometimes…well, you just need something that's easy to use in order to quickly organize your homeschool-related chaos.
With a clean and highly visual drag and drop layout, Lessontrek makes creating and managing your homeschooling a breeze. Lesson planning is easy and automated, while scheduling (and rescheduling) is even more intuitive: just drag-and-drop color-coded blocks around a calendar interface.
Now that's not all there is to Lessontrek, by any means. While it lacks some of the more sophisticated scheduling tools of some competitors, such as automatic schedule reshuffling, you do have access to important features like selecting grading options, creating transcripts and tracking attendance. Also, if you have multiple children or are part of a co-op or pod you can sync subjects and lesson plans across accounts. They even have added a Gradebook Analytics feature, where you can look for trends in real time across different subjects to see where your child excels and where they need more help.
Lessontrek also offers a 14 day free, no credit card required, free trial so you can see if it's right for your family.
Read our in depth review of Lessontrek to learn more.
| What We Like | What We Don't Like |
| --- | --- |
| Easy, very visual, drag and drop schedule | Not as sophisticated as some of the other options, lacks some features like automatic schedule shuffling |
| Simple Timeline scrollbar navigation | Only syncs to google calendar for now |
| Subject syncing across children's accounts | More limited manual |
| Gradebook Analytics | Automatic subscription renewal |
| Very responsive to questions on social | |
| New features added frequently | |
Our Verdict:
Simple and extremely easy to use, and with new features being added all the time, Lessontrek is a great option for those looking for a quick and easy, drag and drop homeschool planner.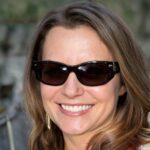 Jennifer Keenes is a writer and a new mom living in Florida. She studied education and, prior to becoming a freelance writer, worked as a substitute teacher at the elementary and middle school level. She is a big fan of the beach, working out and homeschooling her two daughters.
Jennifer