With cutting edge adaptive learning technology, powerful diagnostic tools and premium packages containing content created by the test creators, TestInnovators is a effective SSAT prep solution that will take your child's test prep into the modern day and beyond.
Who are TestInnovators?
Founded in 2013, TestInnovators is a company that tries to help students boost their standardized test scores by creating a personalized online test prep experience with their adaptive learning technology.
The company offers online test prep, tutoring services and live online classes for the SSAT, as well as for other tests such as ISEE, ACT, SAT and the PSAT.

How does Testing Innovators work?
TestInnovators provides the student with online SSAT testing and then produces a report of test results, as well as an estimated percentile score (based on reports from previous test takers). The software then produces a report that breaks down the student's performance in each subject, including how well they did on questions of various difficulties, to help you better understand where the student needs improvement the most.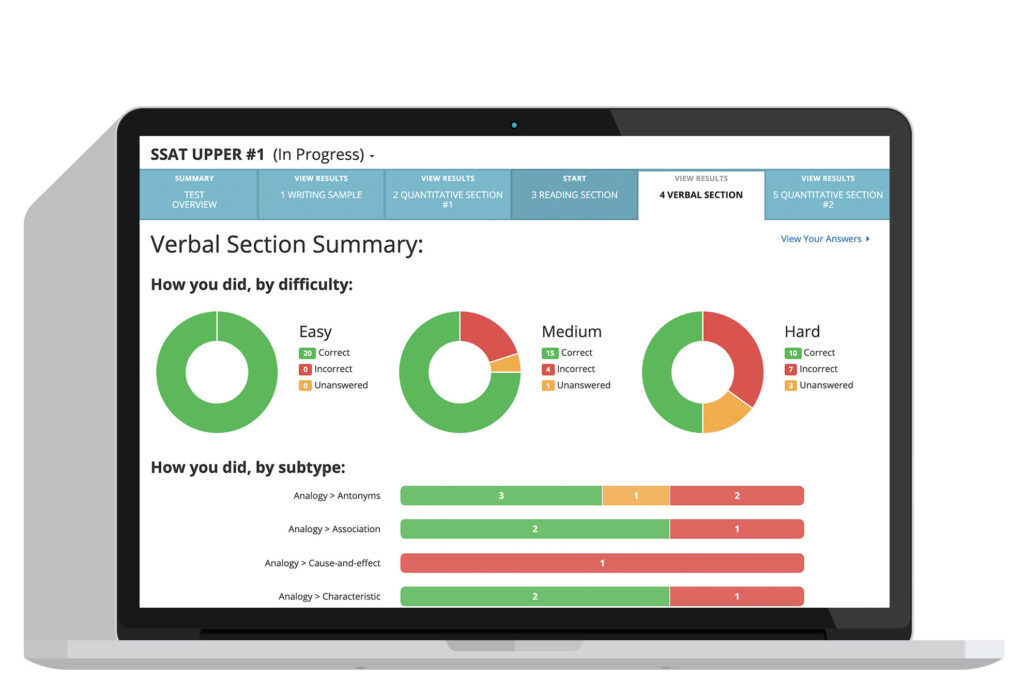 TestInnovators personalizes the prep experience by using adaptive learning technology to track your child's practice test results and show where they need to focus their attention.
The general idea is to make more effective use of prep time by helping you create a plan to really focus on and practice the areas your student is weak in, rather than going over material in which the student is already strong.
Practice Testing
One of the best ways to study for the SSAT, or most standardized tests really, is to take practice tests. Practice tests are a great way to get students used to the format of the test and types of questions.
Depending on the level and subscription you buy, TestInnovators offers either 1, 3 or 6 full SSAT practice tests.
Tests can be done offline or printed as PDF, but it's really the online version that unlocks the full potential of these prep tools. Using the online portal, enter their test information and target school and then can take an SSAT test. Online, their system has real time tracking of timing, that is how long a student takes to answer a question, and subject proficiency, honing in on strengths and weaknesses.
If you choose to use a printed PDF, you can also input the results into the system and receive results.
Upon completion, the results are analyzed in real time and give a full breakdown of your students performance. The system produces a detailed report that includes how your child did compared to students admitted to target schools (based on data they've collected from previous students), how they managed their time, how they performed on each subject/question/difficulty level, and more.
The software then produces recommendations for areas of improvement and a personalized prep plan, which are regenerated if the student has a package with multiple tests. This lets you get the most up to date data on student performance on the SSAT and their areas of strength/weakness.
Interestingly, Test Innovators are certified content partners with EMA (the people who created the SSAT). Their more expensive package,the Valedictorian, actually contains official SSAT practice tests, as well as practice material co-developed by both companies.
The Valedictorian plan also gives students access to extra materials to help them get better scores. These include a question bank codesigned by the EMA, which allows a student to work more intensively on problem areas with questions that are closely related to the actual SSAT.
This plan also offers over 60 instructive videos to help students with specific concepts and skills, such as test taking strategies, problematic questions and even simulated test proctoring for a more realistic test taking experience.
Past students have found the practice tests offered by Test Innovators to be very consistent with the actual SSAT test, with some saying that the materials and tests were even a little harder than the actual test, making them good preparation tools in our opinion, especially when you consider the official involvement of the company that actually makes the SSAT test itself.
All paid plans also offer a free short consultation (about 20 mins) with experienced SSAT tutors, another service the company offers. These tutors can go over test results and the personalized prep plan and can answer questions and offer advice on how the student can best move forward with their prep.
Online access to their materials is good for 9 months, which is something to consider as you set up your prep schedule.
In addition to their testing, the company also offers live three-hour SSAT "crash courses" that go over each test section, offering test strategies and tips and are run by experienced SSAT tutors. These classes are limited to between 4 and 12 students and are recorded so students can go over the material covered.
Unfortunately, the live crash courses are only offered at the moment for middle and upper level testing.
Test Innovators also offers one on one online tutoring with SSAT specialist tutors that is conducted over recorded video chat.
What levels of SSAT Prep do they offer
Unlike many other prep companies, Test innovators offers prep material that covers all levels of the SSAT: Elementary (going into 4&5), Middle (going into 6-8) and Upper (going into 9-12), making it an option for all students looking to take the test.

How much does TestInnovators SSAT prep cost
Note: Prices correct as of writing
Self paced SSAT Courses
Test Innovators offers a number of packages for each test level. Elementary ranges from $79.99 to $149.99, and Middle and Upper Level Prep ranges from $79.99 to $399.99.
The company does offer a limited free trial for Middle and and Upper, although not Elementary at the moment.
However, if you're considering purchasing a subscription, there are a number of packages with different options to consider.
Elementary Level SSAT Test Prep Packages
Pricing differences aren't wide between Elementary packages, the main difference is in how many full length tests you get for your money.
| What's included | Starter | Scholar | Ultimate |
| --- | --- | --- | --- |
| Full Length Tests (number) | 1 test | 2 tests | 3 tests |
| Online test portal | ✔ | ✔ | ✔ |
| Printable Version | ✔ | ✔ | ✔ |
| Score Report | ✔ | ✔ | ✔ |
| Interactive diagnostics | ✔ | ✔ | ✔ |
| Tutor consultation | ✔ | ✔ | ✔ |
| 12 extra essay prompts | x | ✔ | ✔ |
| Practice Exercises | x | x | 750 |
Lower, Middle and Upper Level SSAT Test Prep Packages are similarly set up:
| What's included | Free Trial | Starter | Scholar | Valedictorian |
| --- | --- | --- | --- | --- |
| Price | Free | $79.99 | $199.99 | $399.99 |
| Full Length Tests (number) | 1 Mini Test | 1 test | 2 tests | 3 tests |
| Online test portal | ✔ | ✔ | ✔ | ✔ |
| Printable Version | x | ✔ | ✔ | ✔ |
| Score Report | ✔ | ✔ | ✔ | ✔ |
| Interactive diagnostics | ✔ | ✔ | ✔ | ✔ |
| Personalized Prep Plan | x | ✔ | ✔ | ✔ |
| Tutor Consultation | X | ✔ | ✔ | ✔ |
| Video Courses | x | x | x | ✔ |
| Practice Exercises | x | x | x | 2200 |
| Official EMA Practice Tests | x | x | x | 3 |
You can check the latest info and prices below:
Live Classes and Tutoring
Their live online class costs $249.00, and their price for one on one tutoring depends on the tutor and amount of hours booked (you can get a price reduction the more hours you book), but generally runs between $150-200 per hour.
Although these methods of instruction are of very high quality, we think they can be expensive compared to some alternatives. The live online class can cost as much as many full courses and students can often find an online SSAT tutor for less than $100 per hour.
Conclusion
TestInnovators is an excellent and adaptive self study system, with interesting and useful diagnostics that can help set and assess target school goals as well as identify weaknesses
While students with a number of weaknesses or who have a hard time self-studying might be better served with other alternatives, but we feel it's an excellent prep tool independent students who are comfortable with self study will be best served by a thorough and realistic practice and analysis of their performance.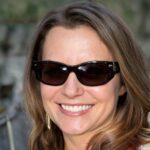 Jennifer Keenes is a writer and a new mom living in Florida. She studied education and, prior to becoming a freelance writer, worked as a substitute teacher at the elementary and middle school level. She is a big fan of the beach, working out and homeschooling her two daughters.
Jennifer