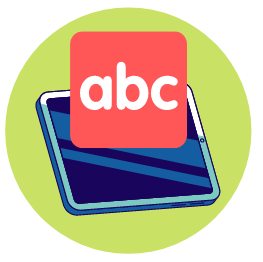 With its attractive graphics, online community, fun game play and interesting and sometimes highly relevant prompts, Night Zookeeper is a supplemental language arts program that may entice even reluctant students into getting much needed writing practice and encouragement.
What is Night Zookeeper
Founded in the UK in 2011, Night Zookeeper is an online English Language arts learning platform for kids ages 5-12.
Night Zookeeper uses a beautifully rendered animated world, interesting storylines, engaging writing prompts and gamified learning to inspire and motivate kids to start and improve their writing skills, and is accessible through most web browsers. 
Due to the popularity of the app, a cartoon show airing in the UK has been created that is based on the program, its characters and even creatures created by its user base.
Age Level
Night Zookeeper is officially recommended for kids ages 5-12, and we tend to agree with this age range.
It is possible that some kids outside this age range may be able to use and enjoy Night Zookeeper, such as precocious readers and writers and early middle schoolers who are a bit behind in their ELA studies.
However, because Night Zookeeper does require fair keyboard and typing skills, as well as developed hand eye coordination, decent reading/writing ability and sustained concentration, we think that most kids under 5 or 6 will not really be able to make as much use or receive as much benefit from the program.
Similarly, early middle schoolers who struggle with English or who are English as a second language can, in theory, be able to benefit from the program's ability to encourage writing as well as some of the drill games.
However, the content will likely not interest them and the obvious references to age (as well as the community of users) may further damage their self esteem.
Consequently, we think they could benefit from more age-appropriate software.
Devices
Being a browser based program, Night Zookeeper is accessible on most devices as long as they have a compatible web browser and internet access.
This means that kids can work on their writing wherever they are, a for larger families this means they can freely switch kids around shared tablets, computers and laptops without too much complaining or fighting.
In our own experience, we tested Night Zookeeper on a desktop and android tablet running Chrome and it ran quite smoothly with no real issues to speak of.
How it Works
Background and Setting
In Night Zookeeper, kids take the role of the Night Zookeeper and are given the task of raising and taking care of a variety of quasi-mythical creatures that live in a zoo.
When first starting out instead of receiving a pre-animated creature, kids actually draw their own animals using the program's in built sketching software. They then customize their new friend by giving it a name, a distinctive sound, a general description and so on.
All of this gives the program a pretty unique level of customization from the start that can really get kids pretty attached to their little creatures and invested in the program itself.
The Zoo
The main "game" of the program takes place in The Zoo.
As the zookeeper, kids have access to their own zoo, which is really a large map that's initially shrouded in fog.
Every so often, or after a period of inactivity, the user's animals will begin to light up.
When clicking on them they offer various challenges and activities, generally in the form of writing prompts, which kicks off the learning component of the game.
As an interesting redundancy, if student's ignore their creatures' demands for attention, eventually their flashlight will run out of power and students have to engage with the learning components to advance in the game setting.
As kids complete challenges they "charge up" their zookeeper flashlight. They can then begin to push the fog away and find eggs (to hatch new animals), items and places to explore.
They'll also have to periodically defend the Zoo from the forces of evil, a little game component that we will discuss later.
Challenges
The main mechanism of the game is the writing challenges that are issued by the student's zoo creatures.
These usually take the form of various writing prompts that students complete for points, powerups and experience.
Some prompts explain, and then test, certain language arts concepts, such as verb tenses and adjectives.
Others are direct writing prompts. These prompts are quite clear and give specific instructions as to what they want and typically follow a particular format:
A subject to write about
A minimum of words
And instructions to incorporate some element or elements of grammar, vocabulary or general writing, such as justifications or clauses, a certain number of adverbs or adjectives, transition words or even using specific punctuation
When they've answered these prompts, kids gain experience points, items and orbs which they use to "level up" their creatures, power their flashlight and purchase stylish accessories and objects for their creatures to wear.
Prompt answers are also sent to the company's tutors for eventual feedback and can be published to the wider audience, although this feature can obviously be turned off for privacy reasons.
Guided vs Free Writing Options
When presented with a writing challenge or activity, students are typically offered the opportunity to choose between a guided or freestyle writing process.
In the guided process, students construct writing by answering specific questions that the program asks relating to the challenge.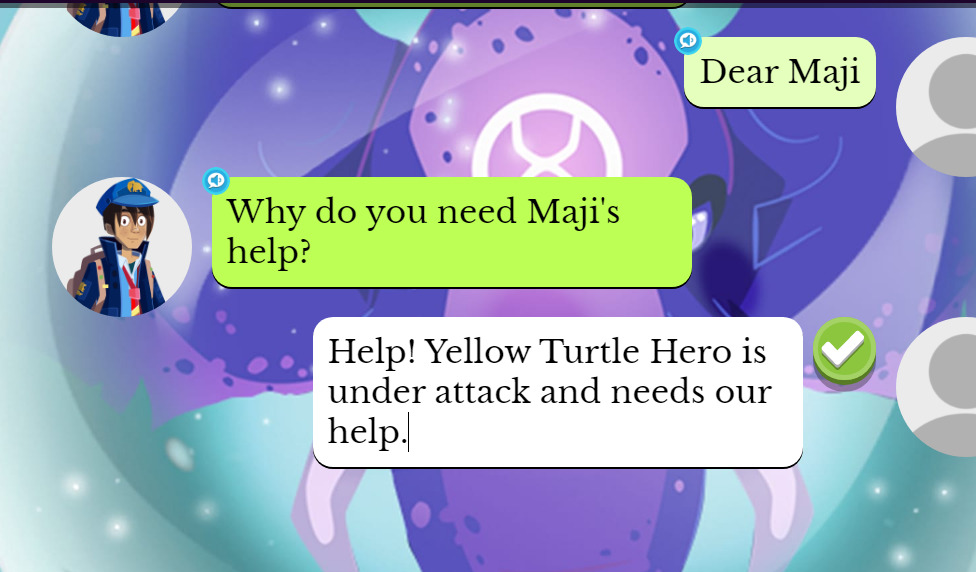 Ultimately, this generates a piece of text (that may need minor editing with spacing and punctuation).
If the student decides not to use a guided writing process, they can take control of their own writing and start typing away freely in a text editor.
While it can get a little annoying to be asked this in every challenge, the program does not save preferences in this regard, having the option to get a little extra help can be hugely beneficial to reluctant writers or those struggling with writing or reading comprehension.
For these students, being offered step by step help with responding to a challenge can be a lot less intimidating and more effective than being suddenly presented with a blank screen and expected to write something meaningful.
Students can eventually move on to free writing when they feel more comfortable and certain about their writing skills, although it is up to parents to ensure they do not use guided writing as a crutch, as this can eventually limit their progress and development.
Assessment
There are two methods by which Night Zookeeper assesses' student responses to prompts when they are submitted.
As with most writing programs, there is an automatic assessment, which checks basic spelling, grammar, and adherence to instructions.
Beyond that, however, submitted writing is also sent to tutors – actual educational professionals working for the company – who will offer some more specific feedback to the student about what they are writing.
Due to the volume of requests, responses can take up to 2 days and are generally limited to a couple suggestions, but these personal assessments can be quite insightful and go a long way in making Night Zookeeper far more individualized and human for students.
And as a bonus, kids even get rewarded for responding to these suggestions and making edits, which helps get them into a more critique-accepting mindset and can help them learn to polish their work.
Other Ways Night Zookeeper Gets Kids Writing
In addition to the Zoo, kids can get on-demand Writing practice in a section called "Writing."
There are three main components to this section of the program: Star Writing, Free Writing and the Reading Light.
Star Writing
On the front page of the Writing section are a variety of mildly structured challenges that let students earn orbs by answering and submitting prompts. These prompts are generally centered around a general theme or concept around which students write a story.
These prompts still offer kids a substantial amount of freedom in the story they write, but also focus their writing along a particular theme or storyline. This can be very helpful for reluctant writers who may not have the experience (or desire) to come up with their own stories and ideas when pressed.
Free Write
The Free Write section allows kids a great deal more freedom and an opportunity to do creative writing, and is a section we really liked.
It presents students with a lot of different formats for kids to practice writing, such as:
Stories
Newspaper articles
Reports
Poems
Letters
Persuasive arguments
Explanations
Scripts
Instructions
And more
Every time a student clicks on one of these options, they are presented with a different prompt that gives them some goals to hit, such as a particular word limit or the use of certain grammatical concepts.
This section is a really great opportunity for kids who like to write, letting them explore the limits of their creativity and try their hand at a variety of different styles of writing, all while still giving some educational focus in the form of instructions and goals.
Reading Light
This section allows students to add books that they are reading by inputting the book title or ISbN number.
Once entered, Night Zookeeper can track their progress in reading and reward them in the form of orbs for finishing books.
This can be an interesting addition for parents if they're not using another reading program or digital library to work on reading practice.
Other Night Zookeeper Activities and Features
TV Lessons
TV Lessons are the main formal instructional component of the program.
Twice a week kids are supposed to watch short animated videos that, in addition to being very entertaining and designed to get kids invested in the program and its characters, cover a variety of topics and concepts in writing.
In these lessons kids go over writing styles and types of literature, persuasive writing, figurative language, creating and setting up dialogue and more, as well as covering a wide scope of grammar and vocabulary learning objectives.
Each topic contains a variety of lessons or "episodes" that touch on a key concept.
For example, the topic about establishing a setting has five episodes:
Ep. 1 – The use of senses (narrative and adjectives)
Ep. 2 – Sentence length variation (conjunctions and sentence writing)
Ep. 3 – Verbs
Ep. 4 – Establishing an environment (adjectives, verbs and personification)
Ep. 5- Creating Tension (adverbials, fronted adverbials, adjectives, verbs and narrative)
These episodes are self-contained and can be viewed out of order, but we recommend that students follow the episode guide and let the knowledge build gradually and naturally.
Despite the name, kids don't just sit and watch these lessons. These are active learning lessons and frequently demand student input, through interactive questions and writing assignments for example, which is helpful in preventing kids from zoning out.
It also helps with getting kids to actually remember the material presented, since they get a good dose of revision and focused practice during and following the lesson.
Games
If kids want a way to take a break from writing, Night Zookeeper also contains a variety of educational, mobile-app style games that kids can play.
Interestingly, kids use their creatures to "play" these games and can earn orbs and experience for them in that way.
And that's fine because, like the main program, these games are also centered around developing reading and writing skills.
These games are fairly simple and quick and act as a kind of "drill" for English Language skills.
Some games are solo play and others let kids compete against other students, letting them earn points to get placed on a leaderboard, which is pretty cool and can be an effective motivator for more competitive kids.
One example our tester really liked is Night Zoom, a multiplayer racing game that has kids click on the response to rapid paced questions to speed up their car.
With every right answer the car goes faster, with every wrong answer or hesitation it slows down.
While these games are fun, colorful and educational, depending on a child's distractibility and competitiveness, parents might want to keep an eye on the progress tracker (or use old fashioned supervision) to make sure kids are actually doing their work and not gaming.
There is always the option to disable access to the gaming environment if things get out of hand, however, which is nice.
One thing parents should consider is that many of these games do require some fair skill at typing in order to win, which can frustrate kids who are a little weaker with a keyboard but still want to get the high score.
Projects
Night Zookeeper has a variety of constantly updating writing projects that are designed to connect writing activities to things kids can enjoy in a much more casual way.
Students can explore topics like sports, book clubs and even various pop culture projects centered around fairly famous video games and movies, such as Luigi's Mansion, Minecraft, Roblox, Star Wars and more.
Once they find a topic they like, kids can contribute to the project by writing things like fan fiction, reports, diaries, add tips and tricks for games and more.
They can also read items submitted by other fans, which is kind of cool and adds a controlled social element which is kind of impressive.
Challenges
Finally, there are a variety of individual challenges available for kids to do on demand.
These are different educational activities that act more or less like focused practice on various topics and can be a good way to drill ELA concepts in a way that kids will be interested in, as challenges let them gain experience points and orbs, power up their flashlight and even get competitive on the leaderboard.
Challenges tend to revolve around practicing proper vocabulary usage, verb tenses, paragraph construction, conjunctions and more, and there are a variety of challenge types available to try.
Some challenges are straightforward questions while other take the form of little mini games, like word jumbles or fill in the blanks.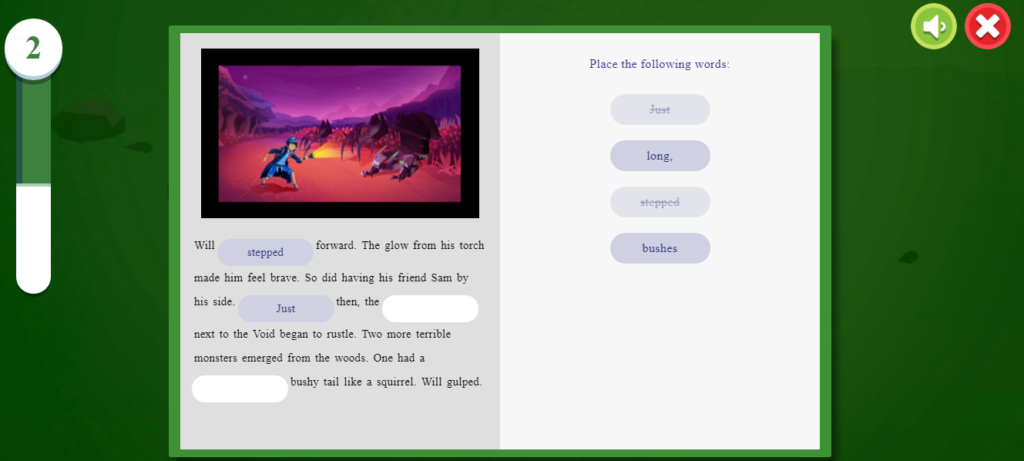 Night Zookeeper's Use of Gamification
Beyond the story-based mechanics of the program, to help keep kids interested in writing Night Zookeeper has included a variety of gamified elements to its app.
As kids complete challenges and hit certain writing milestones (writing their first 1000 words, for example) they can accumulate awards and badges, as well as an in-game currency called Orbs.
Kids can use these orbs to purchase power ups and accessories for their creatures, "Leveling them up" and making them stronger and more able to defend the zoo by battling the evil Voids.
Battling
As part of Night Zookeeper's gamification process, periodically kids will have the opportunity to take a break and defend the zoo against an invading race of robots known as Voids by "battling" them in a little in-app game.
These battles take place on a 2D map and plays out like a game of Risk or similar strategy video game.
Kids position their defending zoo animals and then click on the enemies to attack. If their animal friends are stronger, they defeat the Voids if not they lose and have to start over.
Interestingly, with these randomly occurring battles, Night Zookeeper has created a little loop system to keep kids interested in continuing writing and answering prompts.
Not only does it provide a periodic break from their work, but by answering writing prompts kids level up their zoo.
This lets them battle stronger Voids and win more orbs, which makes them want to level up more, which means they'll answer more prompts.
And so on.
Overall, Night Zookeeper makes effective use of its game elements and gamification.
Combined with the apps stellar graphics, Night Zookeeper feels like a well-made video game at times, rather than a learning program.
The elements don't feel hokey or tacked on as they can with other educational programs and, together with the battling system, can be a great way to get more reluctant readers into doing their writing practice if the storyline and other features aren't enough.
Night Zookeeper also does a good job at balancing its game elements with learning in our opinion.
Not only do kids need to do the learning material in order to play effectively, but things like battling occur infrequently enough that the focus still remains pretty squarely on writing, which is a plus.
Progress Tracking and Assessment
Since there's a lot to do and a high potential for distraction with Night Zookeeper, keeping an eye on student progress is pretty important.
Night Zookeeper helpfully provides parents with fairly complete progress tracking from the parents dashboards.
Although it perhaps doesn't dive into the precise skills and tracking development as deeply and thoroughly as programs like IXL, parents actually can get a surprising level of insight into their child's writing progress.
They can see how their kids are progressing in the program and their challenges (and if they're not spending all their time gaming) as well as seeing their actual writing prompts and responses.
They can also see the feedback kids receive from tutors, which, in addition to keeping kids on track with their editing, is also a good idea from a security and safety standpoint.
Night Zookeeper: What Can It Teach And Where It Fits Into A Curriculum
In our opinion, Night Zookeeper can be an excellent writing tool and a great addition to a more formal ELA program.
Despite the game-like mechanics of the program, it offers a solid foundation in many literacy and English language concepts and skills and can provide much needed intelligent and focused writing practice, something that many ELA programs lack.
Some of the educational concepts and topics covered in Night Zookeeper are:
| | |
| --- | --- |
| Grammar | Use of pronouns, proper capitalization, conjunctions, pronouns and proper noun use, use of adjectives, suffix use, use of adverbs, sentence structure, construction and arrangement, proper punctuation use, sentence expansion, the use of conjunctions, verb tenses, use of transition words and more |
| Comprehension | Drawing inferences, fact vs opinion, story coherence, identifying themes and conventions, significance, identifying subjects, identifying topics, identifying and using using similes and metaphors, identifying and using figurative vs literal language, identifying and using arguments, justification of ideas, and more |
| Spelling and punctuation | Difficult suffixes, apostrophes, run on sentence, comma usage, silent letters, exclamation and question marks, proper capitalization, bracket use, quotation marks, proper spacing, paragraph structuring, headings and subheadings and more |
| Vocabulary | Formal and informal vocabulary, rhyming words, prepositions, homophones, affixes and word building, word families, autonyms, alliteration, root words |
Look, Feel and Usability
The quality of animation and graphics is excellent and makes Night Zookeeper feel like a real video game.
Throughout the program there is a very high quality modern cartoon design that is not only appealing to kids, but has actually inspired its own tv show in the UK.
The main menu for kids is well laid out, without too much clutter. On a desktop it feels a lot like Netflix or streaming site, and it is a little more game-like and simplified on tablet or mobile device.
Night Zookeeper is pretty easy for kids to navigate, as well. The lessons, writing, games, blog and other features are all given large and clear buttons that jiggle and let kids know when something new is available.
Although the overall background color scheme is fairly dark (fitting, we supposem the night part of Night Zookeeper) and heavy on dark purple and blues, it does help make the textbox-based prompts stand out.
This can make it a lot easier for kids to pick out what they're writing on the screen, and can be very helpful for those with poorer eyesight.
Although text-heavy, as you might well expect from a writing program, Night Zookeeper offers audio buttons for dialogue and text.
The program can read text aloud if a little button next to it is pressed, which can be a helpful and considerate feature for students with dyslexia or other reading difficulties.
One thing that parents should know is that Night Zookeeper is British in origin.
While it does an excellent job at globalizing the content, some of the read aloud and animation have accents that might be unfamiliar to students.
There are also some occasional Britishisms in instructions that are kind of fun for adults, but might confuse younger kids. Words like "mate" occasionally pop up, for example, that kids might not understand.
The only real issue we found is that the spelling standard is British English, so instructions might contain an extra "U" here and there, for example.
Overall, however, when selected for US, Night Zookeeper adapts well to US spelling conventions and should be perfectly usable for US families.
How safe is Night Zookeeper for kids
We think Night Zookeeper is an extremely safe program for kids to use.
The program goes to great lengths to prevent any personal or identifying information being spread to the point of assigning users names at random when you sign up and using cartoon avatars rather than photos.
Although kids don't always like the names they are given (or the cartoon avatar system), this is actually a pretty safe way of protecting their identity and ensuring anonymity online.
Similarly, there is a process built into the system that detects and then flags, moderates and removes any personal information that is entered.
For example, writing samples are scanned before being published and the system will even flag writing that seems like it might be personal information.
Further, while kids can interact with other kids, offering feedback on each others blogs and writing, these interactions are never live and comments are moderated by the company, so the risk of bullying or abuse is quite low.
Finally, Night Zookeeper does not access a device's camera at any time (if they have one), which prevents kids from uploading selfies or accidentally photographing themselves and publishing it.
Parental controls
In addition to Night Zookeeper's own focus on keeping things safe, the program also gives parents an impressive level of control over their kids' accounts, which lets them make the program as limited or as open as they feel comfortable.
Parents can fully manage interactions with other users, preventing or allowing sharing of material, turning off community features and commenting and even limiting whole sections of the game.
All this not only can give parents greater peace of mind, but can allow them to maximize learning as they go along, tweaking available features depending on their students' use and distraction.
How does Night Zookeeper differ from other ELA programs out there?
Scope of Learning
Night Zookeeper is not really a full ELA curriculum, but rather a writing-focused ELA learning supplement in our opinion.
While this sounds like it might be a downside, and it can be if you don't have another curriculum in mind to work with, it is actually nice to have a more dedicated writing platform for kids to work on.
Most ELA programs out there treat writing, especially creative writing, as more of an afterthought, focusing more on phonics, spelling, vocabulary development and reading comprehension, since these tend to be more of a focus for standardized testing.
Night Zookeeper manages to help kids work on their writing in a more focused and structured way and, more importantly, can get them excited about writing with a number of features that we think can improve the writing quality and enjoyment of even reluctant and struggling students.
Use of Tutors
Going beyond the regular spellcheck and grammar checks, Night Zookeeper is a little different in that after an automatic, technical assessment, writing submissions are sent out to the company's cadre of tutors who then can give more professional and individual feedback on a student's writing.
While parents shouldn't expect a ton of feedback at one time, and while it can take up to a couple days to hear back, this ultimately goes a long way in creating a personalized learning experience for writing and is above and beyond what most programs will offer students.
Program customization
While most programs contain some ability to customize their use, with Night Zookeeper parents have a greater level of control.
At any time, parents can adjust the learning difficulty and expected age range for learning, allow or revoke access to the community, and even turn off entire features and sections of the program.
This makes the program quite adjustable to the way in which a student learns best.
Those who have students that are are easily distracted by features like games can turn the program into a straightforward and simple writing program with just a few clicks, while those who are nervous about online communities can disable these features and turn the program into a single-user learning platform.
Who is Night Zookeeper best for?
When it comes down to it, we think Night Zookeeper can be an excellent addition to an ELA curriculum. We think it can be particularly well suited to:
Parents looking for ELA enrichment
Night Zookeeper can give students structured exposure to a wide variety of writing styles that they may not encounter in a typical curriculum.
With a variety of engaging writing prompts, kids can have a great time creatively exploring and practicing their poetry, scriptwriting, journalism, and more.
And because the program offers individual feedback from professionals, Night Zookeeper can help hone the skills of even strong writers.
Parents and students looking for structured writing practice
Sometimes it can be hard for parents to find engaging and creative writing prompts that also focus kids' attention on the skills they need to develop and thereby fit it into a more formal learning program.
Each prompt offered by Night Zookeeper is not only designed to be engaging but also comes with a variety of goals that students have to meet in order to submit it, such as word minimums or the use of certain grammatical expressions or punctuation.
Reluctant Writers
Regardless of reading ability, not every student enjoys the process of writing. Without adequate practice in writing, a student's academic results can suffer.
With its gamified learning system, cool projects, and even guided writing practice, Night Zookeeper has a lot of fun and interesting features that can help draw reluctant writers into the process of writing and get the practical experience they need.
Who is it not ideal not for?
While Night Zookeeper is certainly impressive and well made, it is perhaps not the best solution for every student out there. In our opinion, it might not be the first app we'd go to to help:
Parents full curriculum
While Night Zookeeper does cover a great deal of vocabulary, spelling and grammar in addition to its writing practice, we feel it really works best as a supplement in our opinion.
Lacking some of the more technical components of a full curriculum, such as in depth work on reading comprehension, formal and technical paragraph and essay construction, or creating and supporting an argument, it itself is not a complete resource for homeschooling English Language Arts.
Parents looking for a full digital curriculum would be better served by integrating Night Zookeeper into a more structured homeschooling curriculum, such as Time4Learning.
Kids who are weak at typing
It should be mentioned that students who aren't very good or quick at typing may have trouble advancing in the game or making use of many of its features, such as the games, which can lead to undue frustration.
It shouldn't come as a surprise that a digital writing program requires some keyboard skill, but in this age where kids are more used to touch screens, there are quite a few younger kids out there who are actually more used to jotting things down by hand and may not have developed strong typing skills by 6+.
If this is the case, these kids may need to complete a typing course before beginning the program to make best use of it.
Price
⭐ 7 day free trial (with sign up)
Note: All prices are in USD and are current at time of writing.
Night Zookeeper has three subscription options that parents can choose from – a month to month, a 3 month and a 12 month plan.
All plans have access to the same program, and the difference is really in the length of commitment that parents are willing to sign up for.
Parents should note that on the longer plans, payment is taken up front.
| | | |
| --- | --- | --- |
| Month to Month | 3 Month | 12 Month |
| $12.99 | $11.33 | $9.92 |
| Total: $12.99/mo. | Total: $33.99 | Total: $118.99 |
Overall, Night Zookeeper is around the same price as other ELA educational web apps, such as Hooked on Phonics or Homer reading.
Parents should note that unlike other ELA apps for kids in this age range, which focus more on early reading development and practice, Night Zookeeper provides practice in an important but often underserved skillset – writing, and this should be taken into account when considering its relative price.
That said, Night Zookeeper does frequently offer discounts and rebates on its subscriptions, so we always recommend checking their latest price below.
Is Night ZooKeeper worth the price?
In our opinion, Night Zookeeper is definitely worth the price and is an excellent supplement to any English Language learning curricula.
With tons of creative prompts and many different areas to explore, as well as games, projects, multimedia lessons and even a decently sized and moderated online community, there is a ton for kids to do in this program.
In addition, with its professional animation, online community and gamified nature, it arguably offers far more of an engaging and entertaining educational experience for kids than most programs out there for English learning.
While it is perhaps not as comprehensive in scope and sequence as a full ELA curriculum, Night Zookeeper certainly can be an excellent and valuable addition to an elementary school English curriculum, providing effective and structured writing practice delivered in a way even reluctant readers can get excited about.
One thing to be aware of is it is a subscription model, so accounts automatically renew. Parents will have to actively cancel their accounts when their subscription period ends or they will be rebilled, which can be annoying.
Bottom Line
While many kids learn to enjoy reading, sometimes it can be hard to get them as excited about writing.
If you're a parent of a budding writer that could benefit from creative enrichment, or even if you're a parent of a student who struggles to get a paragraph down, we think Night Zookeeper may be a program worth looking at.
With its attractive graphics, online community, fun game play and interesting and sometimes highly relevant prompts, Night Zookeeper is a supplemental language arts program that may entice even reluctant students into getting much needed writing practice and encouragement.
And in writing, as with all things, practice makes perfect.
FAQ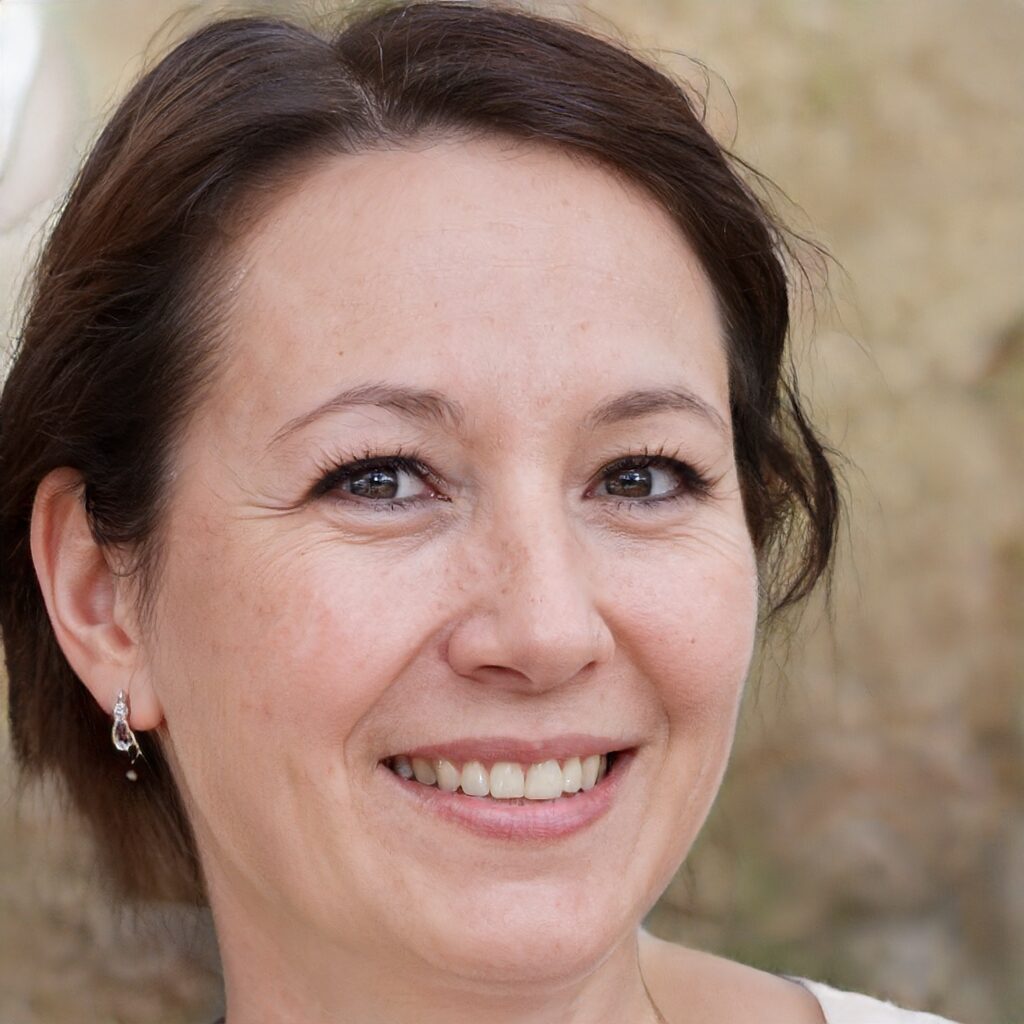 About the Author
Anne Miller is the editor of The Smarter Learning Guide and is a passionate advocate for education and educational technology. A mom of two, she majored in English Language and Literature and worked as a substitute teacher and tutor for several years. When not writing she continues to root for the Yankees and the Giants.